By Lambert Strether of Corrente.
TPP/TTIP/TISA
"EU READY TO GO ALL THE WAY: The European Union is ready to make difficult concessions to conclude talks on the Transatlantic Trade and Investment Partnership with the United States by the end of the year, despite the uncertainty thrown into the negotiations by the United Kingdom's decision to leave the EU, European Trade Commissioner Cecilia Malmström said Wednesday" [Politico]. Yikes!
"The Office of the U.S. Trade Representative is pushing full steam ahead on TPP-related requirements despite the possibility that Congress might not act on the pact this year or possibly for several years, depending on who wins the White House" [Politico]. It's almost like they feel TPP passage isn't impossible at all, which seems odd, given Clinton's declared opposition to it.
"Investor-to-state dispute settlement is a rigged system" [Foundation for a Free Information Infrastructure]. The US controls the appeals process:
The appointment of arbitrators is not neutral. One arbitrator is appointed by each of the disputing parties. In which supreme court can parties bring their own judge? The third arbitrator, the presiding arbitrator, is appointed by agreement of the disputing parties.

The US appoints the president of the World Bank. This president

– is ex officio chairman of the International Centre for Settlement of Investment Disputes (ICSID) Administrative Council,

– proposes the ICSID secretary-general,– appoints all three the arbitrators in appeal cases under ICSID rules.

The secretary-general of ICSID

– appoints the third arbitrator if the parties can not agree on the third one,

– will decide over conflicts of interest. (ICSID, articles 5, 10, 38, 52 and Commission, 2014b, Table 8, article x-25.10)

The ISDS system gives the US an unfair advantage. Adjudicative processes have to be free of reasonably perceived bias. This is not the case with ISDS.
Great! You might say. But a rigged system is easier to delegitmize than a system perceived to be fair.
2016
Policy
"So far, Sanders has been effective in influencing the writing of the Democrats' 2016 platform, and Clinton's forces, by past standards in these matters, have been remarkably accommodating to his wishes" [E.J. Dionne, RealClearPolitics]. "Sanders did not get everything he wanted. There was no call for a ban on fracking, no endorsement of a Medicare-for-all health care system, no backing for a carbon tax. The drafters also declined to oppose the Trans-Pacific Partnership, but its silence represented deference to President Obama, whose administration negotiated the trade deal." I don't believe that "deference" crapola for a minute; the body language of official Washington is entirely different. I want receipts; Dionne, a liberal goodthinker, says, once again, "trust us!"

"GOP National-Security Experts Are #ReadyForHer" [Daily Beast]. No doubt!
Our Famously Free Press
"Bernie Sanders just gave an amazingly condescending interview about Hillary Clinton" [Chris Cillzza, WaPo]. "That's a stunning answer from Sanders. What he's saying — if you read between the lines — is that the ball is in Clinton's court when it comes to winning his endorsement." That's only "condescending" if you think (a) the left has no muscle and (b) should never exercise the muscle it was. Cilizza needs to wake up and smell the smoking brake pads on the Acela.
Conventions
"Cleveland quintuples RNC 'protest insurance' coverage to $50 million, citing increased risk concerns" [Cleveland Plain Dealer].

UPDATE "Black Lives Matter leader warns Clinton of convention protests" [USA Today]. A remarkably swift decapitation.
The Voters
Leadership and the underpants gnomes [Stumbling and Mumbling].

This messiah complex is what I've called cargo cult thinking, the sort of thing that goes like this:

Leadership

?????

Success.

People don't fill in the ?????. They assume that the new messiah will perform some ju-ju and success will follow. They don't ask the question which the late great Andrew Glyn drummed into us: what's the mechanism?

Lest it be thought I'm picking sides, I'd call Clinton's approach "????" ("details" to be worked out), and Trump's approach "_____" ("deals" to be made).

"PPP's newest national poll continues to find the Presidential race shaping up pretty similarly to how the 2012 contest played out, with Hillary Clinton holding a 4 point lead that matches Barack Obama's final margin of victory last time around" [Public Policy Polling].
The Trail
"Trump rips Clinton, courts working-class voters in Bangor" [Bangor Daily News]. Readers, I attended. I'll have a report soon.

"As with the past few elections, we can expect that Trump to carry most counties in western and central Pennsylvania by healthy margins. The problem isn't in the west among blue-collar workers who have Democratic roots. The problem is in the east among voters with Republican roots, especially women" [RealClearPolitics]. Especially professional women in the Philly burbclaves?

Wowsers: "My new favorite political image is of Hillary Clinton sighing, in a speech at the North Carolina State Fairgrounds. And I don't mean sighing like you or I might when letting go of a long audible breath to express sadness or relief. But actually reading the word 'sigh' off her teleprompter" [Boston Globe]. That's as bad as Bush the Elder reading "Message: I care" off a cue card. Some things even the best advance team can't fix. How long before we start hearing about "Scripted Hillary"?

"[W]hen the wily Vermont Senator announced his presidential bid, he never thought in the microscopic terms of White House or bust" [CNBC]. "Up against the entire national, state, and local Democratic establishment, Sanders knew toppling the Clinton machine would be a Herculean accomplishment that might not be reached. Now he's ready for the real campaign—one that has nothing to do with becoming president. No, this is about paving the road for the return of Senator Bernie Sanders, a much more influential—and potentially threatening—force who'll serve as a quasi-check and balance once Clinton shifts from the "progressive who gets things done" back to her natural neoliberal, neocon self." I like "wily Vermont Senator."

"Bernie Sanders inspires challenges to Democratic incumbents" [McClatchy]. "I'm a big Berniecrat," [challenger Andrew] Maguire said. "But I can't say I'm part of the political revolution if all I'm doing is sitting at home sharing posts on Facebook." But: "The group Rhode Island Progressive Democrats of America is endorsing 18 people seeking legislative seats, 12 for seats already held by Democrats. The group's aim is to upend the state's Democratic leadership, which it considers too conservative on issues including abortion and guns. Some of its candidates were involved in the Sanders campaign." Eesh. Why not challenge Rhode lsland Governor Gina Raimondo as the corrupt tool of private equity, of the billionaire class? It would be a miracle if BernieCrats cleaned up Rhode Island, but they'll never do it with this flaccid "progressive" framing.

"Sanders doesn't seem to be doing much beyond sending an email to his donors, though Weigel and Wagner report there's talk in his campaign of setting up a way to do more" [WaPo].

"First Read: Breaking Down Trump's Brutal June" [NBC]. Yes, Trump had a rotten month. And he's still within striking distance. To me, that is the story.

Alert reader Pat sends this email from Democrats.org. From Democrat operative James Carville:

I didn't think it was possible, but it looks like Trump might be pulling a real campaign together.

First, he fired his campaign manager, then he brought on a bunch of new staff, then I'll be damned if he didn't (supposedly) manage to raise $5 million in two days last week. Last Thursday, he even went almost 12 hours without sticking his foot in his stupid mouth — mostly because he was in an airplane, on his way to putz around a golf course in Scotland for the weekend, but still.

If this is a sign of things to come, then Trump is going to be a tougher opponent than anyone thought, and I'll guaran-damn-tee you that we all better take that seriously.

Of course, the Rice-Davies Rule applies. That said, Carville, for a Democrat operative, is a straight-shooter, and this is certainly a more creative approach then the "ZOMG!!! Trump e-e-e-v-u-l-l-l-l!" pitch (though possibly optimized for Pat, if the list thinks she's a political dweeb). I don't know if Carville and his Republican operative spouse discuss mailings during pillow-talk, but if they do, it's unlikely she'd let him embarass himself…

UPDATE "Naked man screaming about Donald Trump shuts down half of Times Square" [McClatchy]. Gaslighting affecting the marginalized?

UPDATE "British Man Indicted In Botched Attempt To Shoot Trump In Las Vegas" [Talking Points Memo]. Despite Democrat liberal goodthinkers clutching their pearls about violence, we have seen that the only documented cases (Ralson's fake airborne seating story aside) are by Clinton supporters against Sanders supporters, or (as here) against Republican candidates. I think there's a lot of projection going on here, since liberal conventions of civility preclude the overt expression of hate (except on Twitter, of course). (I'm leaving aside gatherings and protests as a separate category distinct from one-on-one stuff discussed here.)
Clinton Email Hairball
"FAQ from Guccifer 2.0" [Guccifer 2.0]. With more documents.

"Citizens United is slated to receive all e-mails sent to and from Lona Valmoro, Clinton's State Department scheduler, in the two-week periods before each of 14 international trips Clinton took during her four years in office. David Bossie, president of Citizens United, hopes to confirm suspicions that Clinton maintained an off-the-books schedule, meeting with Clinton Foundation donors on the taxpayer's dime. 'Citizens United wants to know how many overseas dinners Secretary Clinton attended with Clinton Foundation donors that didn't make it on her schedule,' he says" [National Review (Jim Haygood)]. Clever FOIA!

"'I have just realized I have no idea how my papers are treated at State,' Clinton wrote to Abedin in March 2009. 'Who manages both my personal and official files?'" [Bloomberg]. I hate to be cynical, but this reminds me of Nixon saying "It would be wrong" — for the tapes — while discussing how to pay off some blackmailers. Clinton and her crack staff are famously detailed and effective. How can Clinton not know this?
Stats Watch
Jobless Claims, week of June 25, 2016: "One step backward following however two steps forward! Initial claims in the June 25 week did rise 10,000 to a slightly higher-than-expected 268,000 but follow a downwardly revised decline of 19,000 to 258,000 in the prior week" [Econoday]. "The 4-week average is unchanged in the latest week at a 266,750 level that is roughly 10,000 below a month-ago in what is a favorable indication for the June employment report." And: Rolling averages unchanged [Econintersect].
Chicago PMI, June 2016: "Volatility is the name of the game when it comes to the Chicago PMI which surged in June to a 56.8 level that is far beyond expectations and follows a sub-50 contractionary reading of 49.3 in the May report" [Econoday]. "And there was no indication in the May report of the strength to come as both new orders and backlog orders were in outright contraction. But that was for May! For June, new orders are suddenly at their best level since October 2014 while backlog orders are rising at their fastest pace since May 2011… A negative in the report is employment which is at its lowest reading of the recovery, since November 2009. Yet should the strength in orders extend to a second month, employment is bound to get a boost."
Bloomberg Consumer Comfort Index, week of June 26, 2016: "The first glimpse of an indication of a Brexit effect on the U.S. consumer is marginal, as the consumer comfort index for the June 26 week edged 3 tenths lower to 43.9" [Econoday]. "This report next week may offer more telling signals on initial Brexit effects at the consumer level. " A "Brexit effect"? Are they serious? "Honey, let's buy a cheaper brand of charcoal for the grill this month. I'm worried about Brexit." Seriously?
Consumer spending: "With income rising at a relatively modest pace (as personal disposable income rose 0.2% m/m), the rise in spending was underpinned by a further drawdown in savings, pushing the saving rate down to 5.3% m/m from 5.4%. Real disposable income advanced at a slightly more modest 0.1% m/m pace, marking the slowest pace of advanced in this indicator since March last year" [TD Securities, Across the Curve].
Honey for the Bears: "Econintersect's Economic Index continues marginally in contraction but insignificantly improved. The index is slightly above the lowest value since the end of the Great Recession. Although Econintersect does not buy into proposition that Brexit is bad for the global economy, the financial markets do – and their reaction may cause a recessionary dynamic. For those alive in 1973 will remember that the oil embargo triggered a recession. Global events can contract the USA economy" [Econintersect]. "Reflecting on the potential that a recession is underway (or soon to be underway) – I find the prospect unlikely (but far from impossible). It is more likely the economic dynamics have slowed from "muddling along" to a "snails pace". The only group forecasting better economic growth is the self serving forecasts of the Federal Reserve (as they are held accountable for monetary policy) – as well as the components of GDP which do not translate to a better world for those on mainstreet. For the near future, one will need a microscope and a micrometer to measure any improvement."
Supply Chain: Amazon is rolling out private-label packaged foods [Wall Street Journal]. "The launch into the business is starting quietly with coffee and baby food, allowing Amazon to test new products that generally come with high profit margins. Such in-house brands can be lucrative for manufacturers and retailers because of lower development and marketing costs. And they allow Amazon to design packaging to reduce shipping costs. Amazon certainly seems to want the private-label goods embedded in its logistics business: the labor for its new Happy Belly coffee says it's part of AFS Brands Inc.—AFS, for Amazon Fulfillment Services."
Supply Chain: "[Adrian Gonzalez, president of consultancy Adelante SCM] said Amazon is focused on owning the supply chain 'ecosystem' by providing an end-to-end shop of commerce in much the same way Cupertino, Calif.-based Apple Inc. built a closed-loop network of software, hardware, and services" [DC Velocity]. You can't own an ecosystem.
Shipping: "China Cosco Shipping has claimed the Piraeus port sale submitted to parliament in Athens is not the same as what was originally agreed" [Splash 247]. "China Cosco Shipping had planned to make the largest foreign direct investment in Greece ever by taking over the country's top port for EUR368.5m, however the move has faced huge opposition from dockworkers to politicians – and even Greece's own shipping minister."
Shipping: "For the first 25 weeks of this year, U.S. railroads' total combined traffic was 12,479,028 carloads and intermodal units, a decrease of 7.8 percent compared with traffic during the first 25 weeks of 2015" [Progressive Railroading].
Telecom: "A 9,000-kilometer (about 5,600 miles) high-speed, trans-Pacific submerged cable connecting the U.S. West Coast and Japan entered service Friday. Called the "FASTER Cable System," the six-fiber pair cable delivers 60-terabits per second of bandwidth across the Pacific Ocean" [ 24/7 Wall Street]. "Partners include [Alphabet, Inc.,] China Mobile International, China Telecom Global, Global Transit, KDDI, and Singtel. The cable itself was built entirely by Japan's NEC corporation.
"Spanish officials raided Google's Madrid offices on Thursday in a tax probe, authorities said, barely a month after the internet company had its headquarters in France searched on suspicion of tax evasion" [Bloomberg].
"U.S. President Barack Obama says he will quickly sign the Puerto Rico Oversight, Management, and Economic Stability Act (PROMESA) before the U.S. territory faces a possible default on July 1 on $1.9 billion worth of debt payments" [Futures]. "While the government of Puerto Rico says it cannot honor all of its debts, and will likely default for a fourth time in the last year on some of its bonds, some creditors could get their payments via insurers or reserve funds."
Today's Fear & Greed Index: 58, Greed (previous close: 58, Greed) [CNN]. One week ago: 75 (Greed). (0 is Extreme Fear; 100 is Extreme Greed). Last updated Jun 30 at 11:55am. Mr. Market seems to be unwilling to jam his foot on the accelerator. Looking nervously in the rear-view mirror?
Corruption
"Every enforcement portfolio comprehends a multitude of discrete decisions: bringing an enforcement action or deciding not to bring an action, putting extra resources into investigating a target or pursuing a complaint, adding charges designed to increase pressure on the enforcement target or compromising or dropping an action. Each of these decisions is to some degree discretionary, necessarily guided by something other than black letter law" [RegBlog]. "The 'regulatory capture' thesis is that in exercising this discretion, officials too often take steps that benefit well-placed entities and individuals. For example, the frequently voiced complaint that no Wall Street executive or bank official has gone to jail for conduct linked to the economic recession of 2008 to 2010, is commonly joined with the assertion that this shows that these business interests have outsized influence over government officials."
Enforcement decisions that appear questionable might reflect regulatory capture, but that is neither obvious nor easily encapsulated in a simple story line of who is doing the capturing. Yet, in a system that, intentionally or not, confers enormous discretionary power on enforcers, any potential source of bias merits scrutiny. Whether enforcement decisions are products of reasoned choice, mere chance, or administrative chicanery, scholars, businesses, politicians, and citizens should look for ways to limit enforcers' discretion. Paring back the range and complexity of the rules to be enforced is an excellent place to start.
Here one might compare the simplicity of Glass-Steagal to the complexity of Dodd-Frank.
Class Warfare
"Unlike the effect of offshoring, with its relocation of jobs and plants abroad, economists know relatively little about the extent and effects of decades of subcontracting production and services to third parties in the U.S. But suggests the practice has played a significant role in the nation's troubling trends of stagnating wages and rising inequality" [Los Angeles Times]. Well, yeah. Otherwise, the credentialing process in the economics profession might reward research that could help working people, and who wants that?
"What we have observed in Britain and what we are observing in the U.S. with Trump is a growing mistrust of voters toward experts" [Pro-Market]. "My ancestors in Sicily did not go to doctors because they mistrusted all experts: they thought they were all just trying to cheat them. They suffered the health consequences of this decision. Today the consequences would be much worse. In a world that is increasingly dependent on technical expertise to function, we cannot afford to mistrust most experts."
News of the Wired
"When we talk we take turns, where the 'right' to speak flips back and forth between partners. This conversational pitter-patter is so familiar and seemingly unremarkable that we rarely remark on it. But consider the timing: On average, each turn lasts for around 2 seconds, and the typical gap between them is just 200 milliseconds—barely enough time to utter a syllable. That figure is nigh-universal. It exists across cultures, with only slight variations. It's even there in sign-language conversations" [The Atlantic]. Cultural universals are hard to find, are they not? Fascinating article, well worth a read.
"An extreme method for breaking your bad habits" [Medium].
"What to Make of Finnegans Wake?" [New York Review of Books]. Try reading the famous first sentence — "riverrun, past Eve and Adam's, from swerve of shore to bend of bay, brings us by a commodius vicus of recirculation back to Howth Castle & Environs" — in the voice of Paul McCarthy's grandfather. It will make a lot more sense.
* * *
Readers, feel free to contact me with (a) links, and even better (b) sources I should curate regularly, and (c) to find out how to send me images of plants. Vegetables are fine! Fungi are deemed to be honorary plants! See the previous Water Cooler (with plant) here. And here's today's plant (RH):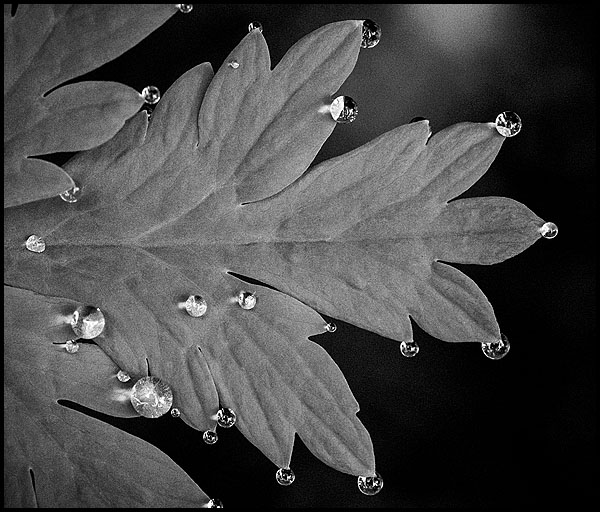 Readers, if you want to send me some videos of plants in whole systems (bees and blossoms, for example, or running streams) — I can use them to practice with FFmpeg and hopefully post them. Because of download times, they'll have to be measured in seconds, rather than minutes. Thank you!
Adding, thank you again readers for last week's rapid and successful Water Cooler Mini-Fundraiser. Checks are arriving in the mail. I'm still writing thank you notes! Yours will arrive!
* * *
Readers, if you enjoyed what you read today, please use the dropdown to choose your contribution, and then click the hat! Your tip will be welcome today, and indeed any day. Water Cooler will not exist without your regular support.