Yves here. I imagine some readers will object to this piece, out of the view that "relocalization" is desirable and/or that we should be using existing housing stock, not building more housing. But detached homes are costly in energy terms, and refitting a house to be eco-friendly is often not attainable. And some people may object to density, but many countries, even those with a lot of land, still have most of their population living in urban setting. For instance, 85% of Australia's population lives in cities.
In the US, we have a different obstacle to this type of housing. Public housing is almost never nice. The unstated philosophy seems to be if lower income groups get support from the government, they should be made to suffer for it via indignities like long lines, difficult bureaucracies, and dreary settings.
By Nathaniel Berman, the managing editor at Housely. Orginally published at Alternet
We are living through what the United Nations has described as "the largest wave of urban growth in history." Today, around 54 percent of the world's population—nearly 4 billion people—live in cities and towns. By 2030, the U.N. projects, that number will grow to 5 billion.
With such a crowded future in store, governments worldwide are struggling to provide for people who need help with housing. But it's one thing to provide low-cost spaces for individuals and families. It's another thing to make those spaces well-designed and attractive. In previous generations, many countries simply built square apartment buildings that were designed with one goal in mind: To accommodate the most people for the least cost. Indeed, it has always been challenging to make governmental budgets stretch to help all those who are in need of place to live.
But today, architects, designers, urban planners and housing authorities are increasingly interested in creating public living spaces that are cost-efficient, but also eco-friendly and beautiful to look at and live in. Some of the top new technology trends in these buildings include:
Solar heating and cooling
Rainwater recycling for gardening systems
Urine and feces separating, or composting toilets
Solar panels for harvesting energy
Use of recycled materials to cut down on cost
Use of modern architectural designs to achieve stylish dwellings
Improved social connections via Internet access
Improved social gatherings via built-in communal gathering places
Refurbishing existing structures and repurposing unused locations
The most successful buildings utilize smart designs and innovative technologies, proving that you can create dazzling, eco-friendly buildings with tight budgets, all without sacrificing style and character. Here are five exemplary social housing projects that are not only beautifully designed, but use innovative technologies to achieve energy efficiency and eco-friendliness.
1. The Savonnerie Heymans (Brussels, Belgium)
Located in the center of the Belgian capital, Savonnerie Heymans repurposes a site originally used by a soap factory and employs a range of sustainable measures across a complex of 42 apartments, duplexes, lofts and small homes. This impressive social housing project won the 2012 Prix Bruxelles Horta Award, which is awarded every two years to remarkable architectural works carried out in Brussels. That year, it also received a special mention at the Belgian Building Awards.
Some of the eco-friendly, energy-saving features of Savonnerie Heymans include solar power generation, rainwater harvesting and glass-enclosed bioclimatic loggias, which provide acoustic and thermal barriers along with privacy. Where possible, structural elements from the soap factory were used, and the original chimney remains as a landmark.
2. Bondy Social Housing (Paris, France)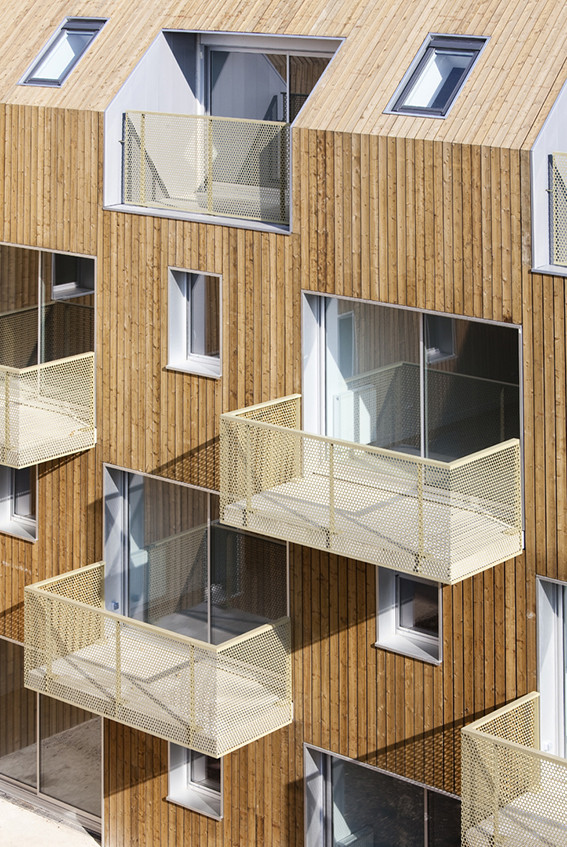 (Social housing in Bondy, France / Architect: Atelier du Pont / Photographer: Luc Boegly)
In northeastern Paris, the municipality of Bondy has an energy-efficient building for 34 families. Built by Atelier du Pont, a Paris architect studio, the building was designed in a U-shape in order to preserve some beautiful trees. What resulted was a central courtyard embracing the existing trees, a roof with a high ceiling, plenty of natural light and balconies.
(Atelier du Pont – ZAC Clichy Batignolles – Timelapse from Atelier du Pont on Vimeo.)
In addition, the Bondy housing complex uses efficient passive solar design energy and collects rainwater to provide cooling. Built for low-income families and funded by Immobiliere3F, the building has classic apartment dwellings with an exterior typical of suburban Paris.
3. Carabanchel Social Housing (Madrid, Spain)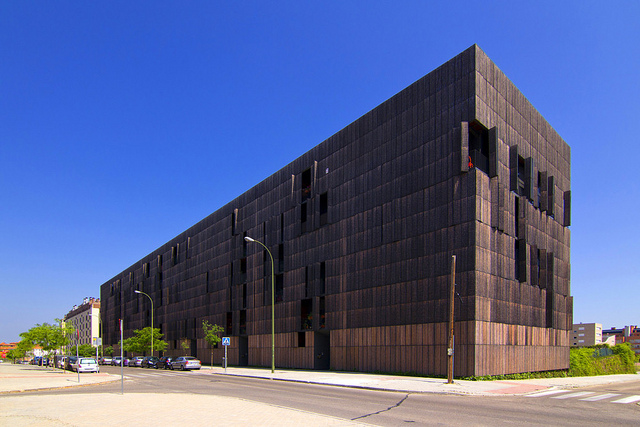 (image: Wojtek Gurak/Flickr CC)
In Carabanchel, a district located in the southwestern suburbs of Madrid, this housing project has an interior structure of 100 units and an exterior that covered with climate-controlling louvers made out of bamboo, which keeps the heat during winter months, while providing shade from the summer sun.
The housing unit also features the ingenious "Air Tree," a tree built out of recycled materials that includes fans, water sprays, ivy plants and solar panels, which provides both shade and clean air for the residents.
4. Sinclair Meadows (Newcastle, England)
Northumbria University has learned from the behaviors of social housing residents who live in an eco-friendly community of energy saving apartments. Five hundred applicants were evaluated based on their levels of environmental awareness, and then selected to live in the complex because of the various skills they brought to the collective. Some are gardeners, some work on the maintenance crew and other serve as ecologists who, among other things, are encouraging birds to live there by creating decaying spots that attract the insects the birds crave.
"Early findings from this two-year experiment suggest that house bills at Sinclair Meadows are about £30 ($42) per month, compared to £30 per week in an average UK house," reports the BBC's Fiona Trott. One innovation that helps keep bills down is that each kitchen is fitted with a monitor that calculates energy usage.
Though the experiment was planned to last for two years, most residents planned to stay in the eco-friendly community for years.
5. Tuggelite Eco-Village (Karlstad, Sweden)
A longtime leader in public housing, Sweden benefits from extraordinary government support, a result of high level of income tax—nearly 75 percent tax—that help provide for senior housing and care as well. The country focuses on many different sustainable building practices; Tuggelite is one of the most prominent.
Located near the city of Karlstad in southern Sweden, Tuggelite embraces the concept of the eco-village as a community where developments in sustainable urban living can be tested. It's no surprise that this small village street of houses was a pioneer in many sustainability strategies, such as the use of energy-efficient wood pellet stoves, passive solar heating, recycling, urine separating toilets, triple-layered windows, garden composting, promoting the growth and use of local organic foods, and using biogas from organic waste materials to operate city buses.
One of the long-term goals of this ecologically aware community is that its location near the large city of Karlstad will ultimately influence urban use of its pioneering practices.
Technological innovations in New York and Denver
In addition to these five impressive social housing projects, there are technological innovations being made in New York and Denver that address low-income housing and mixed-use community spaces.
In 2015, the New York City Housing Authority announced that the city will begin to wire buildings at five of its poorest complexes with high-speed internet connections. This would provide free online access to over 16,000 residents living in the city's massive public housing system and help to bring New York's public housing system into the modern era.
The problem is that low-income housing in New York has been in disrepair for a long time. The city owns at least 178,000 public housing units, many of which often suffer from lack of regular maintenance. These properties were already struggling before Superstorm Sandy ravaged the city in 2012. During the storm, floods filled electrical closets and boiler rooms, which led to no light, elevators or heat. Electronic Benefit Transfer cards didn't work, so neighborhood stores accepted only cash, and deliveries of fuel and food did not return to normal for days. Residents helped each other by carrying water up stairways for elderly and disabled residents. Others held cookouts outside where everyone was welcome.
For those with cellphones and Internet; service was down in many areas. In order to begin the extensive process of rebuilding the complexes within the city, providing access to better communication and information was considered the first step toward bracing for the future.
Though not a public housing project, the repurposing of Denver's Stapleton Airport is a model for reclaiming areas and recycling materials. The former airport land has become a mixed-use community with homes ranging from affordable to expensive. In addition to building seven new neighborhoods on the site, the 6 million tons of concrete that was once made up the airport's runways has been recycled and 27,000 trees were planted. The children that live in Stapleton can walk to school, and 93 percent of community homes participate in the city of Denver's recycling program. The new Stapleton community is one exemplar of what is possible when city planning and people work together using the best of ecological concepts to create something beneficial.
Thanks to advances in technology and innovative design solutions, public housing—which has traditionally been plagued by poor design—has been transformed into some of the most cutting-edge housing solutions in the world. As the world become more populated and urbanized, these advanced designs will serve as examples that can be copied, repurposed and developed wherever more public housing is needed. Governments of the world, take note.