By Lambert Strether of Corrente.
What was once the Bastille is now a traffic circle with a ginormous phallic symbol in the middle of it. But the peasants burnt the records of feudalism. Too soon to tell?
Also, as soon as I post this, I need to catch the bus to go pick up a repaired computer, and I won't be able to check the comment queues as I would normally do. So some of you may be hung up in limbo by Skynet for longer than you would normally be. Sorry!
TPP/TTIP/TISA
"According to a new report from the Institute for Agriculture and Trade Policy (IATP), a non-profit that works to promote sustainable food, farming, and trade systems, the trade agreement is likely to expand factory faming and corporate control of meat and livestock production. In doing so, the group believes it could undermine existing local animal welfare and food labeling laws" [Defend Democracy].
"Investor State Dispute Settlement (ISDS) provisions in TTIP are likely to thwart efforts to effectively regulate the global meat industry's growing power and will exponentially expand the number of corporations empowered to use these provisions. With ISDS, transnational meat corporations such as JBS and Smithfield–present and expanding on both sides of the Atlantic–could be newly empowered to challenge regulations that hurt their bottom line, even if they are nominally headquartered in other countries such as Brazil and China" [Institute for Agriculture and Trade Policy]. Yum! Corporate meat!
"[O]ur state governors — including two Republicans and two Democrats — will stand alongside U.S. Trade Representative Michael Froman in Des Moines this morning to call for approval of the TPP, despite Donald Trump and Hillary Clinton's opposition to the pact" [Politico]. "The group includes Republicans Terry Branstad of Iowa and Brian Sandoval of Nevada and Democrats John Bel Edwards of Louisiana and Terry McAuliffe of Virginia. Iowa Lt. Governor Kim Reynolds will also announce her support for TPP at the event on the sidelines of the National Governors Association's summer meeting." McAuliffe was Clinton's campaign chair in 2008 and is closely tied to them, so that gives you a clue to what Clinton really thinks on TPP, as opposed to what she says.
Yellow peril: "'At the end of the day, I don't think Congress is going to want to be responsible for handing the keys of the castle over to China,' [US Trade Representative Michael] Froman said Thursday. "That's why I'm confident at the end of the day we'll get TPP passed." He warned that if TPP is not done this year, 'it's quite unclear when it would get done given the broader political developments'" [Politico]. An October surprise incident in the South China Sea would be a two-fer, wouldn't it?
"Last January, Trade Commissioner Malmström told participants at a consumer conference that the EU would never give up the precautionary principle. She has repeated that promise many times since" [BEUC (European Consumer Organization)]. "On 15 June the Commission nevertheless broke its promise. How so? By defining endocrine disruptors (or EDCs for short) in a way that contradicts the precautionary principle.
2016
Policy
"On Wednesday, speaking on the same site where Abraham Lincoln delivered his 'House Divided' speech just over 150 years ago, Hillary Clinton addressed race in a very modern fashion: by calling for a 'conversation,' with the goal of bringing us all together" [New York Times]. Dear Lord. A "conversation." And the venue: Chutzpah!
Conventions
Paul Manafort: "So now do you finally accept the fact that the 'Never Trump' is nevermore? Period. End of sentence" [WaPo].

"A well-organized effort by a squad of veteran Republican operatives, working on behalf of the Trump campaign and the Republican National Committee, dealt the "conscience vote" effort a stinging defeat in the convention Rules Committee. The motion didn't get anywhere close to enough votes to send it to the full committee" [Yahoo News]. "Trump's supporters on the committee and at the RNC went out of their way to ensure the effort's defeat, preventing Lee and the other su\porters of the measure from debating it, and not even allowing anything more than a voice vote."

"In the end, the threat to Mr. Trump seemed small. A voice vote in the convention's rules committee that could have opened the door to candidates who wanted to challenge him was so overwhelmingly in his favor that the presiding officer did not need to call for an official count" [New York Times].

Philadelphia Convention: Philly is a wonderful city, and I used to live there. Here is a guide to Philadelphia's trees [Hidden City]. And a "liberty tree" at the Museum of the American Revolution [CBS Local].
The Voters
"A handful of young Bernie Sanders supporters convened on a riverbank in White River Junction last Wednesday evening. As the burgeoning politicos grilled hot dogs and hamburgers from the local co-op, they chatted about something that doesn't usually come up during a summer barbecue: the best techniques to identify likely voters" [Seven Days]. It is Vermont, but there's a lot of good detail, some encouraging to the left, some not.
The Trail
Polls: "A flurry of polling in key battleground states in recent days suggests three bottom-line readings of the 2016 presidential race at this point: The race is growing closer, but remains Democrat Hillary Clinton's to lose; the presence of third-party candidates scrambles the equation but not to either major-party candidate's obvious benefit; and, an intriguing question going forward is whether polling is finding a ceiling of sorts for Republican Donald Trump" [Wall Street Journal, "Swing-State Polling Shows Cautionary Notes for Both Trump, Clinton"]. If I were more Machiavellian than I am, I would welcome emergent parties as a way of denying legitimacy to the legacy party victor, and as encouraging gridlock.

"What isn't known is whether the new surveys are capturing Clinton at a low that will prove temporary, as voters react to Comey's criticism and the renewed attention to her use of a private email server, or whether they reflect a more lasting shift that could hobble the presumed Democratic nominee for the remainder of the campaign" [Los Angeles Times]. We should watch for the "bounce" that each post-convention candidate gets.

Moar polls: "Hillary Clinton leads Donald Trump in four of the most diverse presidential battleground states, according to NBC News/Wall Street Journal/Marist polls" [NBC]. Colorado: Clinton 43%, Trump 35%; Florida: Clinton 44%, Trump 37%; North Carolina: Clinton 44%, Trump 38%; Virginia: Clinton 44%, Trump 35%.

Normally, I avoid any form of product placement, but these word clouds from a search vendor are revealing [ClearVoice].

Sourcing and methodology: "We wanted to look at the most-talked-about subjects for each candidate. Again, we focused our search on articles on all types of sites with headlines that explicitly contained a candidate's first and last names." So, that's "the buzz," which is media-generated. Still…

Paul Ryan on Trump: "I just think improving temperament and inclusive rhetoric, and an agenda that invites people into our party, is something that I think anybody going from a primary to a general election needs" [NPR]. Sounds like Ryan married Trump thinking he would change….

On Obama's speech in Dallas, which Bush attended: "But those comments spoke to the complicated relationship between Obama, who powered his two history-making runs for the White House with relentless assaults on his predecessor, and Bush. Behind the scenes, the Democrat has found his erstwhile target to be a likable member of the world's most exclusive support group [of former Presidents], according to current and former aides to both men" [Yahoo News]. The headline calls this "unilkely," but Obama normalized and rationalized Bush's war powers and destruction of the Fourth Amendment. So what's "unlikely" about them bonding?

"Cornel West endorses Green Party candidate Jill Stein" [HuffPo]. It will be interesting to see what Adolph Reed does…
Stats Watch
Industrial Production, June 2016: "Vehicles held down industrial production in May but not in June, making for a big 0.6 percent gain that is just outside Econoday's high-end estimate" [Econoday]. "Looking at details deeper in the report, the output of business equipment rose a solid 0.7 percent but the year-on-year rate, in what is definitive evidence of weakness in business investment, is in the negative column at minus 0.6 percent. The output of consumer goods, up 1.6 percent on the year, rose 1.1 percent in the month in what is another good showing in this report." However: "The headlines say seasonally adjusted Industrial Production (IP) improved. The year-over-year data remains in contraction but the trend lines are now pointing towards improvement" [Econintersect]. "Economic downturns have been signaled by only watching the manufacturing portion of Industrial Production. Historically manufacturing year-over-year growth has been negative when a recession is imminent. This index is nearing the warning area for a recession."
Empire State Mfg Survey, July 2016: "The first anecdotal report on the factory sector for the month of July is not very promising as the Empire State index barely held in the plus column" [Econoday]
Business Inventories, May 2016: " Businesses are keeping their inventories in check amid slow sales. Inventories rose only 0.2 percent in May following April's even leaner 0.1 percent rise. Sales in May also rose 0.2 percent keeping the inventory-to-sales ratio unchanged at 1.40, which is a little less lean than this time last year when the ratio was at 1.37″ [Econoday]. "Retail inventories did rise an outsized 0.5 percent in May in a build, however, that looks to be drawn down by what proved to be very strong retail sales in June. Manufacturing inventories fell 0.1 percent in May with wholesalers up 0.1 percent." But: "Econintersect's analysis of final business sales data (retail plus wholesale plus manufacturing) shows unadjusted sales improved compared to the previous month – but due to backward revisions the rolling averages declined. Inventory growth was moderate. The inventory-to-sales ratios remain at recessionary levels" [Econintersect].
Retail Sales, June 2016: "June proved a fabulous month for the consumer though May, after revisions, proved only so so." Above consensus [Econoday]. "Ex-auto ex-gas offers a gauge on underlying trends in consumer spending, a dominant one of which is ecommerce as nonstore retailers popped a 1.1 percent surge in the month which follows even stronger gains in prior months. Department stores, up 0.9 percent, show a big comeback in the month with sporting goods & hobbies strong for a second month. An outsized gain, one that hints at adjustment issues and the risk of a downward revision, is a 3.9 percent surge in building materials & garden equipment, a component that had been lagging…. This report is a major plus for the second-half economic outlook not to mention coming data on the second quarter (sales for April, after the second revision, are at a standout plus 1.2 percent). The job market is healthy and the consumer is alive and spending." A little cold water: "Retail sales improved according to US Census headline data. Our view of this month's data is similar but there was a decline in the rolling averages – and downward revision to last month's data" [Econintersect]. This Maine bear sunk more money into shelter and did a lot of gardening. I hate to think I'm an ideal type.
Consumer Price Index, June 2016: "Price pressures evident the last two months down the supply chain are not yet appearing in consumer prices" [Econoday]. Caveat: "[I]nflation does not correlate well to the economy – and cannot be used as a economic indicator" [Econintersect].
Consumer Sentiment: "In perhaps an early indication of a U.S. Brexit effect, the consumer sentiment flash for July is down a sharp 4.0 points to 89.5. Weakness is centered in the expectations component which fell 5.3 points to 77.1 for one of the very weakest readings of the last two years. Weakness in expectations ultimately points to doubts over the jobs outlook" [Econoday]. But: ""Prior to the Brexit vote, virtually no consumer thought the issue would have the slightest impact on the U.S. economy. Following the Brexit vote, it was mentioned by record numbers of consumers, especially high income consumers," [Richard Curtin, the survey of consumers chief economist] said."
Shipping: "[T]he National Retail Federation is forecasting only a modest pickup at U.S. ports, with container volume that would hardly amount to a peak at all" [Wall Street Journal].
Shipping: "Transportation-sector analysts believe that rail volumes, which have declined over the past year, may be bottoming out. Things are looking brighter for the second half of the year, as natural gas and oil prices recover, driving more energy-related shipments. Seasonal grain exports should also provide a boost" [Wall Street Journal, "Has U.S. Rail Traffic Found Its Rebound?"].
Supply Chain: "By creating a permanent record that can't be altered, blockchain is well-suited for tracking diamonds and other goods where buyers want to know the origins and previous owners, said Bill Fearnley Jr., a research director at International Data Corp" [Wall Street Journal].
Shipping: "UPS and FedEx expand pharmaceutical shipping channels to global market" [DC Velocity]. Seems to be optimized for clinical trials and testing, however. "The international drug market is swelling rapidly to accommodate the 20 to 30 million new Americans who have recently become insured under the Affordable Care Act and, more broadly, the "silvering" of an aging global population with growing medical needs." Because I don't get how the ACA spurs demands for international pharma shipments to patients.
Housing: "Big Wall Street investors stopped buying real estate in large quantities back in late 2014. In many cases big investors had front row seats at banks and were able to buy in bulk and for incredibly low prices not offered to the public. This crowding out of course has caused two major things to unfold: inventory to dwindle and a push up in prices for regular families looking to buy. For the first time in history many things happened in the housing market including nationally falling prices but also a large interest from Wall Street in single family homes. Now with prices near previous peak levels many of these large investors are making the full exit by offering to sell the homes to current tenants, for of course a modest increase. Those bailouts that were geared to helping the public actually created a system that has slammed the homeownership rate lower and has now jacked home prices up once again. Large investors are now making their final play by cashing out" [Dr Housing Bubble]. I'd want Yve's views on this, but selling to the little guy at the peak of the market sure looks like a PE scam to me. Readers, do any of you have direct experience with this?
Helicopter Money: "Monetary financing of public sector spending isn't a giant leap from where Japan is today – it could get there in a series of small steps. It would be more a case of 'drone money' than 'helicopter money' if the BOJ were to go from buying longer and longer-dated debt with lower and lower coupons to something indistinguishable from zero-coupon perpetuals. But away from such idle speculation, with monetary and fiscal policy working hand-in-hand to drive inflation expectations up, and to drive investors out of domestic assets, there's room for the yen to weaken (quite a lot) further; all the more so as the US economy stabilises" [SocGen, Across the Curve]. You can borrow money for free and there's no government infrastructure program. Speaking of cashing out, is that what the elites are doing globally? Not that I'm foily. The best science fiction novel with autonomous vehicles that I can recall is Philip K. Dick's Game Players of Titan, and that was a depopulated world…
The Bezzle: "[F]or Google, the ultimate outcome does not look bright. A new EU competition chief is overseeing this barrage of cases, as European corporate giants line up against the Silicon Valley behemoth. Meanwhile, as Google relies more on artificial intelligence to automate a range of tasks that run its services behind the scenes, it could face a whole new round of conflict with Europe. In the end, Google in Europe could wind up as a very different thing than Google at home" [Wired].
The Bezzle: "BP announced on Thursday it believes the final pre-tax cost of its Deepwater Horizon spill will be $61.6bn or $44bn after tax" [Splash247]. But no jail time for executives, since they have elite impunity, say for ecocide. I say let's look forward and not back.
Political Risk: "[S]hipping companies fear the [Hague Tribunal's] ruling [on the "Nine-Dash Line"] could embolden the Philippines and other smaller nations to assert their rights to the waters more aggressively and that any conflict would disrupt ship-borne trade in the waters between Hong Kong and Indonesia. Thousands of ships transit those waters daily, and a third of the world's liquefied natural gas passes through the Straits of Malacca to the South China Sea" [Wall Street Journal]. " Even if shipping isn't disrupted, companies say they face higher costs if the standoff escalates since insurance companies are likely to drive up rates."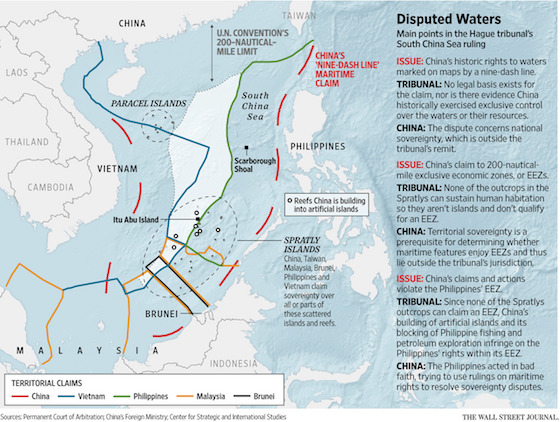 (via). Some damned foolish thing in the Spratlys…
Treasury Revenue: "It was previously noted that Treasury revenue was down, which now is confirmed in this report. This is the beginning of the automatic fiscal stabilizers at work, where weakness translates into a larger federal deficit, and persists until deficit spending is sufficient to more than offset unspent income, as is necessary for growth. Private sector deficit spending would also restore growth. However I see only private sector credit growth deceleration, which is generally the case as the private sector historically has a strong tendency to instead be pro cyclical" [Mosler Economics].
Today's Fear & Greed Index: 89, Extreme Greed (previous close: 90, Extreme Greed) [CNN]. One week ago: 76 (Extreme Greed). (0 is Extreme Fear; 100 is Extreme Greed). Last updated Jul 15 at 11:47am. Still flirting with 90.
Black Injustice Tipping Point
Not a good luck for ABC or Obama. Because Erica Garner is terrific:
ABC's Town Hall Invites then Excludes Erica Garner's Question for POTUS: https://t.co/kGTFG1XVlB via @YouTube

— Benjamin Dixon (@TheBpDShow) July 15, 2016
"Black Lives Matter demonstrators rope off LAPD HQ with crime scene tape after City Hall sit-in" [Los Angeles Times]. More creative methods of non-violent protest and persuasion. IMNSHO a strong sign of health, and a good indicationt the lull over the past year was temporary.
"How Western media would cover Baton Rouge if it happened overseas" [WaPo]. "America's unrest may begin to affect its tourism industry as well, as some countries issued travel advisories for those wishing to travel to the troubled nation."
Dear Old Blighty
UPDATE "BREAKING: Labour are trawling your social media to stop you voting in the leadership election" [The Canary]. It seems that the Labour leadership fight is wonderfully clarifying, just as our own 2016 has been.
UPDATE And remember one of the items not on the agenda that the Labour National Executive Council voted in after the Corbyites (foolishly) left the meeting? Raising the price of joining the party from £3 to £25? Here's the effect:

Labour's NEC wants people to find £25 in 2 days to vote. That is:

43% of Income Support
28% of Statutory Sick Pay
24% of Student Loan

— Shelly Asquith (@ShellyAsquith) July 13, 2016
That's clarifying too, isn't it?
"[T]here is a coherent space to the left of May. There's also – like it or not – space to the right, in the form of free market thinking. What's not so clear is where this leaves the centre-left" [Stumbling and Mumbling]. Good read!
"UK PM Theresa May nukes climate change department, appoints a climate denier as Climate Secretary" [Boing Boing].
Gaia
"The turtle's shell, then, is a wonderful example of exaptation—the evolutionary process where a trait evolves for one function and is then co-opted to serve another. They began as digging platforms and then became suits of armor. Feathers are another example. They now help birds to fly, but they probably originated as ways of keeping warm or signaling to mates and rivals" [The Atlantic]. Word of the day!
News of the Wired
"Artist Dennis Cooper has a big problem on his hands: Most of his artwork from the past 14 years just disappeared" [Fusion]. "It's gone because it was kept entirely on his blog, which the experimental author and artist has maintained on the Google-owned platform Blogger since 2002 (Google bought the service in 2003). At the end of June, Cooper says he discovered he could no longer access his Blogger account and that his blog had been taken offline. Along with his blog, Google disabled Cooper's email address…" There's something to be said for paper as a medium…
iOS 10: "When you type a word that has an emoji equivalent, iMessage automatically suggests the pictograph you might want to use" [New York Magazine]. That's awesome. After a generation or so of teaching kids they don't need to read, only elites will be able to do it. As it should be.
* * *
Readers, feel free to contact me with (a) links, and even better (b) sources I should curate regularly, and (c) to find out how to send me images of plants. Vegetables are fine! Fungi are deemed to be honorary plants! See the previous Water Cooler (with plant) here. And here's today's plant (Malia):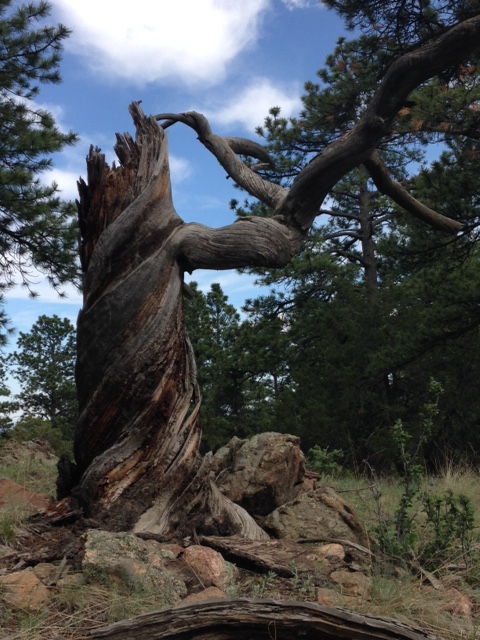 Malia writes: "I'm sharing a few plants I photographed on a nature walk in my hood today. I think the old twisted tree was struck by lightening. It has character."
Readers, if you want to send me some videos of plants in whole systems (bees and blossoms, for example, or running streams) — I can use them to practice with FFmpeg and hopefully post them. Because of download times, they'll have to be measured in seconds, rather than minutes. Thank you! Adding, I got another one today! Please keep sending them; they will ultimately appear!
Adding, thank you for your contributions during the rapid and successful Water Cooler Mini-Fundraiser. It remains only for me individually thank those who sent contributions via physical mail! Now, let me if I can find a physical pen; I don't think I have any, anymore….
* * *
Readers, if you enjoyed what you read today, please use the dropdown to choose your contribution, and then click the hat! Your tip will be welcome today, and indeed any day. Water Cooler will not exist without your regular support.