By Lambert Strether of Corrente.
Readers, Comey coughed up the Clinton Email Hairball, but only part of it! That threw me off my stroke, and so I'll add a few more updates shortly.
TPP/TTIP/TISA
TISA: "U.S. FINANCIAL SERVICES TEXT TO DEBUT AT TISA ROUND: At the 19th round of Trade in Services talks, which kicks off in Geneva Friday, U.S. negotiators are expected to introduce language aimed at easing industry concerns over the cross-border transfer of financial services data. Cleared industry advisers have already reviewed the proposed legal text which expands on a proposal Treasury unveiled in May in a bid to ease Congressional passage of TPP" [Politico]. "Lawmakers and financial services firms complained that TPP left financial services out of a rule that would ban governments from requiring companies to store data within their borders. U.S. financial regulators had secured the carve out after being unable to access certain data overseas during the financial crisis and wanted to leave open the option of restricting data in times of crisis. The new language is generally backed by the industry…" I'll bet!
TTIP: "With Article 50 unlikely to be invoked until David Cameron's replacement is chosen, which will happen by September 2nd, there would seem to be insufficient time to conclude the negotiations before the end of the year, and many in Brussels now want to focus on obtaining the right Brexit terms, pushing TTIP down the list of priorities. With next year's elections in France, Germany, and Holland, EU leaders may lack the political capital to ratify TTIP against the rising tide of popular opinion" [HuffPo]. FWIW.
2016
Clinton Email Hairball

"Statement by FBI Director James B. Comey on the Investigation of Secretary Hillary Clinton's Use of a Personal E-Mail System" [Federal Bureau of Investigation]. Readers are invited to parse it, but excerpting from Comey's statement, I see the key points as:

Clinton's Servers, Plural, Were an IT Hairball: "I have so far used the singular term, "e-mail server," in describing the referral that began our investigation. It turns out to have been more complicated than that. Secretary Clinton used several different servers and administrators of those servers during her four years at the State Department, and used numerous mobile devices to view and send e-mail on that personal domain. As new servers and equipment were employed, older servers were taken out of service, stored, and decommissioned in various ways. "
Clinton Kept No Archives: "Because she was not using a government account—or even a commercial account like Gmail—there was no archiving at all of her e-mails…."
Corruption Was Out Of Scope: "FBI investigators have also read all of the approximately 30,000 e-mails provided by Secretary Clinton to the State Department in December 2014." That is, the material purportedly deleted from the server by Clinton's legal team was not the focus of investigation. But that's were corruption would be, the definition of corruption being the use of public office for personal gain. And:


"The lawyers doing the sorting for Secretary Clinton in 2014 did not individually read the content of all of her e-mails, as we did for those available to us; instead, they relied on header information and used search terms to try to find all work-related e-mails among the reportedly more than 60,000 total e-mails remaining on Secretary Clinton's personal system in 2014. It is highly likely their search terms missed some work-related e-mails, and that we later found them, for example, in the mailboxes of other officials or in the slack space of a server.

It is also likely that there are other work-related e-mails that they did not produce to State and that we did not find elsewhere, and that are now gone because they deleted all e-mails they did not return to State, and the lawyers cleaned their devices in such a way as to preclude complete forensic recovery.

We have conducted interviews and done technical examination to attempt to understand how that sorting was done by her attorneys. Although we do not have complete visibility because we are not able to fully reconstruct the electronic record of that sorting, we believe our investigation has been sufficient to give us reasonable confidence there was no intentional misconduct in connection with that sorting effort.

So it seems that nobody has looked into the half of the mail that about Clinton's yoga lessons and Chelsea's email (except, or course, foreign governments or oppo researchers who hacked the server).

"Hostile Actors" Possibly Gained Access to Clinton's "Account": "With respect to potential computer intrusion by hostile actors, we did not find direct evidence that Secretary Clinton's personal e-mail domain, in its various configurations since 2009, was successfully hacked. But, given the nature of the system and of the actors potentially involved, we assess that we would be unlikely to see such direct evidence. We do assess that hostile actors gained access to the private commercial e-mail accounts of people with whom Secretary Clinton was in regular contact from her personal account. We also assess that Secretary Clinton's use of a personal e-mail domain was both known by a large number of people and readily apparent. She also used her personal e-mail extensively while outside the United States, including sending and receiving work-related e-mails in the territory of sophisticated adversaries. Given that combination of factors, we assess it is possible that hostile actors gained access to Secretary Clinton's personal e-mail account."
Clinton Had No Intent to Violate the Law: "Although we did not find clear evidence that Secretary Clinton or her colleagues intended to violate laws governing the handling of classified information, there is evidence that they were extremely careless in their handling of very sensitive, highly classified information."
Criminal Charges Are Not Appropriate: "As a result, although the Department of Justice makes final decisions on matters like this, we are expressing to Justice our view that no charges are appropriate in this case."
"Administrative Sanctions" Possible: "To be clear, this is not to suggest that in similar circumstances, a person who engaged in this activity would face no consequences. To the contrary, those individuals are often subject to security or administrative sanctions. But that is not what we are deciding now."

Lambert here: From 30,000 foot view, it looks like the Clintons were tipped. Consider the holiday weekend sequence: Bill Clinton has his tarmac tête-à-tête with Lynch, the Clinton camp bribes Lynch over the weekend with an offer of a continued stay in office, Comey exonerates Clinton of criminal intent on Tuesday morning, and Clinton boards Air Force One with Obama to hit the campaign trail on Tuesday afternoon. (The focus on "intent" reminds me of third world countries were elites are presumed to be "good people" because they are elite — possibly because they owe their exalted status to meritorious acts performed in past lives — and therefore, by definition, cannot act from ill intent. I suppose credentialism provides a modern-day equivalent, in meritocracy, for karmic merit.) I'm not sure whether the Democrats are brazening it out, or whether they genuinely believe they've put the toothpaste back in the tube. I don't think so.

If Clinton were the CEO of a tiny non-profit instead of running for President of the United States, her board would fire her immediately, and for cause. Multiple email servers, lost email, no backups, and doing your personal work at the office? "You're fired." Next, "gross negligence" does not require proof of intent, and surely Clinton's IT hairball was grossly negligent. Further, the entire issue of the (presumed) relation between Clinton's actions at State and the Clinton Foundation was not addressed by the FBI; all the investigators, from Comey through gormless Trey Gowdy, have been unwilling to touch this. Surely that data is out there somewhere, waiting to be disclosed at an opportune time? Finally, I think, come January and assuming a Clinton victory, the Democrat Party will be seen to have created a legitimacy crisis, not merely for themselves and the Clinton dynasty, but the Republic. If the Republicans retain the House, they could impeach Clinton immediately. And they have a case.
The Voters
"Donald Trump's Appeal to Rust Belt Workers" [Steve Greenhouse, New York Times]. Times reporter visits Westmoreland County, PA, and quotes a member of the machinists union, a unionized corrections officer, chairman of the Republican committee, a professor of public affairs, the political director of the United Steelworkers, the A.F.L.-C.I.O.'s political director, a Republican congressman, and 50-year-old steelworker. Alrighty, then.

"[Sidney] Blumenthal was 'obsessed,' [Heilemann and Mark Halperin wrote], about the possible existence of a so-called 'whitey tape,' supposedly made at a Chicago church, in which Michelle Obama could be heard ranting against 'whitey'—a tape that could have changed Clinton's political fortunes during her primary fight, but that did not in fact exist. ('They've got a tape, they've got a tape,' Clinton told aides)" [Vanity Fair]. I remember that well; it never came to anything. Clinton does seem rather credulous, at least where sycophants like Blumenthal are concerned, doesn't she?

"Hillary Clinton's path to the White House relies on reassembling the winning Obama coalition of minority voters and women, but her campaign is vying for a demographic long out of reach for Democrats—college-educated whites—that could reshape the map of U.S. swing states this year" [Bloomberg]. Notice how the "Obama Coalition" is taken for granted as a concept; it shouldn't be. And since when is it a revelation that the Democrats represent the credentialed 10% who are doing well?

"Fivethirtyeight.com founder: Blowing Trump's primary win made me humbler, smarter" [Politico]. Of course, "humbler" and "smarter" doesn't actually mean "humble" or "smart," but let that pass. "'My gut is that there is going to be a fairly significant third- and fourth-party vote, and people under-voting the top of the ballot,' Silver said — and that's why Clinton is leading recent polls with a modest 43 percent of the vote to Trump's godawful 37 percent."

UPDATE "It has not occurred to the stateless, rootless, global-citizen Amanpour that people might prefer their own customs and sovereignty to getting rich. Having no loyalty to any particular place, Amanpouristas find the love of one's people, land, and traditions simply bizarre. So they denounce it as racist. I don't believe this is cynical. I think they honestly believe it. And here is why it's tribalism: they see anyone outside the tribe as barbarian. The fact that they see themselves as sophisticated and advanced instead of mere partisans of a different tribe, with their own prejudices and limitations, is what makes them so hard to take. Technocratic liberalism is their religion, and its god is a jealous god" [The American Conservative]. Elegantly sets up a "Cosmopolitans vs. Nationalists" frame (recently pioneered by Douthat) vs. a "Racist/Sexist vs. Identity Politics" frame. In "Overton Prism" terms, then, the conservatives have defined the battle they want to fight, and the liberal goodthinkers have defined the battle they want to fight, both battles support and conceal the neoliberal assumptions that liberals and conservatives share, and that the left (the emergent third pole) does not share. (I mean, surely it's possible for a working class person to be cosmopolitan, in any sense of the word? Is the argument really that the "free movement of labor" produces no cultural effects except among the worthy?)
The Trail
Lambert here: I'm starting to be counter-suggestible on Democrat frothing and stamping on Trump, especially on the Twitter. It's noteworthy that all of the scandals, or memes, or whatever they are, are digital. In other words, Brock's oppo is producing exactly the sort of oppo it is paid to produce. The latest one is that Trump is anti-semitic (based on a tweet). Well, last I heard, Trump was in New York real estate, and Manhattan isn't famous for being run only by the goyim. Do we have anything non-digital? Say from Trump's business dealings? Ditto for accusations of racism and sexism; these, too, are all based on verbiage, mostly digital. I understand how these claims would be immediately convincing to creative class symbol manipulators already in Clinton's base, but again, what about Trump's business dealings? Racist and sexist behavior in the workplace can lead to lawsuits. Are there any against Trump? If so, could Democrats consider focusing on the real world, and not the digital one? (On racism, it's also not clear to me how to weigh Trump's verbiage and associates, both very ugly, against the charred bodies from Clinton's excellent Libyan adventure, bodies that were, last I checked, those of people of color most likely to be Muslim.)

"Democrat Hillary Clinton's lead over Republican Donald Trump has narrowed to five percentage points, a new USA TODAY/Suffolk University Poll finds, in a groundbreaking presidential election that is sparking feelings of alarm for most voters" [USA Today].

"At fundraising events, the president has already been road-testing his attacks on Trump. He long ago proved himself adept at handling the wildcard behavior by Trump that chronically worries the Clinton campaign, responding to the schoolyard taunts and personal invectives with stinging mockery that is not a strong suit of the more cautious Clinton" [Los Angeles Times]. Yeah, mockery works. Especially when you can't run on your record.

"Donald Trump Meets With Senator Joni Ernst, a Possible Running Mate" [New York Times]. Ernst is the one who castrates hogs. Works for me.

"Donald Trump's team promises an extraordinary display of political entertainment at this month's Republican National Convention, with the accent on entertainment" [AP]. Republican Establishment that Trump gutted takes its balls, if any, and goes home. Film at 11.

"Mrs. Clinton would even schmooze differently than the past few presidents have. Not one to do business over golf or basketball, she would bring back the intimate style of former Presidents Ronald Reagan and Lyndon B. Johnson, negotiating over adult beverages. Picture a steady stream of senators, congressmen and other leaders raising a glass and talking policy in the Oval Office with her and her likely chief of staff, John D. Podesta, as her husband pops in with a quick thought or a disarming compliment" [New York Times]. A pervasive and destructive myth among the political class. And it's hard to believe that "adult beverages" was written without irony, but I can believe anything of the Times these days.
The Hill
"Sen. Bernie Sanders (I-Vt.) announced Tuesday he will put a 'hold' on a proposed Senate bill that would create a federal law governing the labeling of food that contains genetically modified organisms" [Seven Days]. "The bipartisan Senate proposal was announced last Thursday. It would allow food manufacturers to provide GMO information by labeling products with codes that consumers could scan via smartphone, or to provide phone numbers for information. By contrast, Vermont's law [which the Federal Law pre-empts] requires the labeling of food products."
Stats Watch
Factory Orders, May 2016: "May was a weak month for the factory sector as new orders fell 1.0 percent and show specific weakness in capital goods" [Econoday]. "Weakness in capital goods means weakness in business investment and reflects weakness in business expectations. And expectations aren't getting any lift from Brexit. Weakness in capital goods also means extended trouble for the nonresidential investment component of the GDP report, here trouble for the second quarter." And: "The health of manufacturing is gauged by the growth of unfilled orders. The 3 month rolling average rate of growth is currently flat but negative year-over-year" [Econintersect].
Gallup US Economic Confidence Indicator, June 2016: "Confidence ticked slightly higher earlier in the month with the index averaging minus 12 in each of the first two weeks but retreated near the end" [Econoday]. "Gallup's June data show no immediate effect on Americans' confidence in the U.S. economy. The [Brexit] referendum did cause instantaneous turmoil in U.S. markets, which have since recovered, but the long-term effect of Brexit on the U.S. economy — and by extension, Americans' confidence in it — is unclear."
Gentlemen Prefer Bonds: "Lo and behold, after all the talk of interest rate hikes and gradually tightening monetary policy from the Federal Reserve, interest rates on the 10-year bond have touched record lows yet again" [247 Wall Street]. "For bond investors this is great news, but there are hidden dangers here in the yield spread. The Federal Reserve, despite not raising rates this year, did raise the effective federal funds rate back in December, which means that the overnight rate has risen slightly while long-term rates keep falling to record lows. Higher short-term rates and lower long-term rates mean a negatively sloped yield curve, commonly defined as 10-year minus two-year rates." And for those who came in late:
Every recession since at least 1976 has been closely preceded by a negative yield curve. The functional reason for this is that the smaller the spread between long-term and short-term rates, the less money banks can make by borrowing short and lending long, which is basically the entire business model of the entire global banking system. When the curve goes negative, it means banks are paying more to borrow than they earn to lend, which obviously discourages banks from lending money and this slows down monetary expansion, leading to business cycle crashes. This is why the yield curve rarely fails to predict an imminent recession.

The yield curve has trended downward for over five years now, since February 4, 2011, when it hit a record high of 2.91. We are in an era of continuous record-breaking it seems, and the yield curve is no exception.
Hmm. "[T]he entire business model of the entire global banking system." Not broken by the new normal of free money for rich people and negative interest rates? Readers?
Housing: "The reality is, today's renters are worse off than their parents. Over the last decade we've added 10 million renter households while homeownership has been stagnant – largely by 7 million completed foreclosures. How bad has the rental situation gotten?" [Dr. Housing Bubble]. "Inflation adjusted rents have gone up by 64 percent since 1960. During this same period real household income is up 18 percent. What this means is that more net household income is locked up by rents. In places like Los Angeles it is not uncommon for households to spend 50 percent of their net income on rent. In San Francisco you have many high paid tech workers shacking up with roommates just to get by. On a nationwide scale this trend has been happening consistently." And: "While everyone is now trying to be on the home buying train, sales figures don't really reflect a major shift. Desires don't always coincide with what the market is doing. Prices are largely being driven by tight inventory, investors, and low interest rates. Prices can be boosted by low rates but rents need to be paid out through real earned income." Take a look at the million-dollar "crap shack" in the photo (with price history).
Vehicle sales: "Sales of North American-made vehicles fell 3.7 percent to a 13.2 million pace from 13.7 million with imports down 5.4 percent to 3.5 million. Data on cars and light truck show similar declines" [Mosler Economics]. Mosler: "This is a major negative. Along with today's construction report seems to me my narrative of a general deceleration since oil capex collapsed is intact. Particularly the part about no recovery until after deficit spending- private or public- accelerates."
Shipping: "Greece, Cosco China finally seal Piraeus port sale" [Journal of Commerce]. "But Athens has resolved the outstanding issues, enabling Cosco and the Greek privatization agency to sign the agreement in Beijing on Monday in the presence of Greek Prime Minister Alexis Tsipras, who is on a five-day visit to China."
Supply Chain: "Manufacturers of warehouse automation have emerged as hot takeover targets, the WSJ's Joshua Jamerson and Robbie Whelan report, as an online shopping surge fuels an arms race among retailers to make distribution more efficient. Honeywell says it sees growing demand for 'warehouse, logistics and fulfillment solutions that can increase productivity and lower costs for our customers'" [Wall Street Journal].
The Bezzle: "Just received and Email saying 'Your Google AdSense account was recently cancelled'" [AdSense Help Forum]. A fine example of the miserably inadequate customer service to be expected from a giant monopoly.
The Bezzle: "One problem with the obscenity of using "poverty porn" to raise money is that it works. These images do not aim to tell the truth; they sell a product. Besides its profitability, these images work as tourist brochures. As Lindsay Murdoch wrote in a previous article, "Orphanages are often run as businesses, the children being the assets." " [Nonprofit Quarterly].
Today's Fear & Greed Index: 67, Greed (previous close: 71, Greed) [CNN]. One week ago: 46 (Neutral). (0 is Extreme Fear; 100 is Extreme Greed). Last updated Jul 5 at 11:47am. Nervous stomach after the Nineteenth Hole on the holiday Monday.
Our Famously Free Press
UPDATE "Facebook adjusts News Feed to favor friends and family over publishers" [The Verge]. "On its face, the move seems likely to favor buzzy, water-cooler chatter over, say, the often mundane proceedings of your state and local governments, or the policy discussions that will shape the future of the internet." Did Zuckerberg get his Harvard degree in Agnotology, or what?
UPDATE "Each raw document offered by the Cryptome library is thought of as a public good invested at the scale of informed individual agency. This is meant to counter the anomic scales of Big Data algorithmics and analytics. Communities of engaged readers complete the collection's circadian feedback circuits 'from below' with ongoing contributions cycling via Twitter and other non-hierarchical platforms for exchange" [Techno-Grafias].
UPDATE "Who is this man who seems to die in every terrorist attack?" [France24]. Surprised he hasn't "appeared" at a Trump rally.
Dear Old Blighty
"After a mind-blowing display of support for Corbyn, the Labour coup has careered swiftly into a legal brick wall. Labour party legal advice states the leader will automatically be on the ballot paper in the upcoming leadership election" [Defend Democracy].
"Labour Party gains 60,000 new members in one week following attempted coup against Corbyn" [Independent].
Imperial Collapse Watch
"Revolving Doors, Robust Rolodexes, and Runaway Generals" [TomDispatch]. Fabius Maximus (!) summarizes: "Something broken in our military that neither candidate will fix: generals prosper from leading lost wars."
"Despite months of repeated promises, the White House has yet to release its estimate of civilian casualties from the administration's drone program – a delayed disclosure the New York Times Editorial Board described as 'too little, too late'" [The Intercept].
"Former Chilean Army Officer Found Liable for 1973 Murder of Víctor Jara After U.S.-Backed Coup" [Democracy Now].
Corruption
"L.A. education foundation became a lucrative source of income for USC's Pat Haden and his relatives" [Los Angeles Timesd].
The State
"The news that the government might need to hire hundreds of immigrants to negotiate post-Brexit trade deals isn't merely a delightful irony. It raises a serious question about the UK's state capacity" [Stumbling and Mumbling]. "This refers (pdf) to the ability of governments to implement policies to achieve their objectives. Although it is usually discussed (pdf) in the context of less developed nations, it applies to the UK government now. Does it have the capacity to negotiate difficult trade deals, or to implement complex points-based immigration controls? The fact that we lack people capable of doing the former suggests perhaps not." Extends on "Britain turns to private sector for complex Brexit talks" Yves linked to in the Financial Times this morning. Very important!
"The Elusiveness of Regulatory Capture" [RegBlog]. Not airbrushing, but a call for careful analysis.
"[U]nless one appreciates that the driving historical force that has brought us to this impasse is the decay of one constitutional order, the industrial nation-state, and the emergence of its successor, the informational market state, the crises brought on by Brexit will simply confound us" [Phillip Bobbit, Stratfor].
Class Warfare
"The United Kingdom's narrow vote to leave the European Union had specific British causes. And yet it is also the proverbial canary in the coal mine, signaling a broad populist/nationalist backlash — at least in advanced economies — against globalization, free trade, offshoring, labor migration, market-oriented policies, supranational authorities, and even technological change." [Nouriel Roubini, MarketWatch]. "[D]espite the growing number, organization, and mobilization of globalization's losers, globalization itself is not necessarily doomed. For starters, it continues to yield net benefits for advanced and emerging markets alike, which is why the losers still tend to be a minority in most advanced economies, while those who benefit from globalization are a large — if at times silent — majority. In fact, even the "losers" benefit from the lower prices of goods and services brought about by globalization and technological innovation." Ah, "innovation." I do like the "winners" and "losers" frame; I didn't know all those diagrams Operative K draws on his chalkboard were for winners only! Really puts the "political" in "political economy," doesn't it?
News of the Wired
"Don Eyles Walks Us Through the Lunar Module Source Code" [Hackaday].
UPDATE And then, in the fog… [Simon Stalenhag]. Ultra-spooky photo-realistic artwork well worth spending time with. I think there's a story in these images of a dystopian future… that looks a lot like our present with just a few changes…
* * *
Readers, feel free to contact me with (a) links, and even better (b) sources I should curate regularly, and (c) to find out how to send me images of plants. Vegetables are fine! Fungi are deemed to be honorary plants! See the previous Water Cooler (with plant) here. And here's today's plant (AM):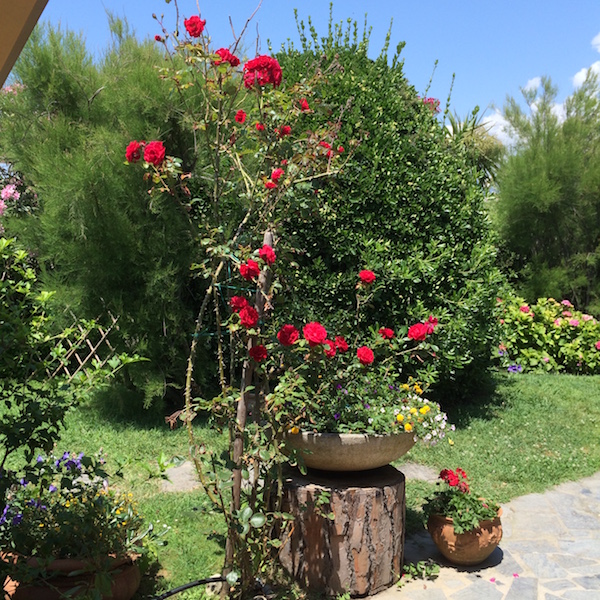 AM writes: "From Bagno Flavio in Forte dei Marmi." I should know the history of roses, and I don't. However, I'd guess that roses are just as much world travellers as we two-legged humans are. Beauty, it seems, is adaptive, and how not?
Readers, if you want to send me some videos of plants in whole systems (bees and blossoms, for example, or running streams) — I can use them to practice with FFmpeg and hopefully post them. Because of download times, they'll have to be measured in seconds, rather than minutes. Thank you! Adding, I got another one today! Please keep sending them; they will ultimately appear!
Adding, thank you again readers for last week's rapid and successful Water Cooler Mini-Fundraiser. Checks are arriving in the mail. I'm still writing thank you notes! Yours will arrive! Adding, to me, a reader's reality is their handle, and even more their actual comments. I don't mentally connect handle to email, let alone to contribution. So if I've snarled at you, take comfort that all are snarled at equally!
* * *
Readers, if you enjoyed what you read today, please use the dropdown to choose your contribution, and then click the hat! Your tip will be welcome today, and indeed any day. Water Cooler will not exist without your regular support.