By Lambert Strether of Corrente.
(By Betteridge's Law, no.) Readers will recall that I have often flagged "innovative," along with "disruptive," "startup," "founder", and (in the business context) "ecosystem" as bullshit tells, and recommended that if you hear such con artist's patter in a crowd, you should put your hand on your wallet or clutch your purse more tightly. I just finished Thomas Frank's excellent Listen, Liberal, and he has a great rant about "innovation," of which I will show a great slab here, from p 186 et seq. Frank even helpfully quotes the more egregious bullshit tells, so I don't have to highlight them! Do read it in full. After visiting hollowed out mill town Fall River, Frank goes to Boston: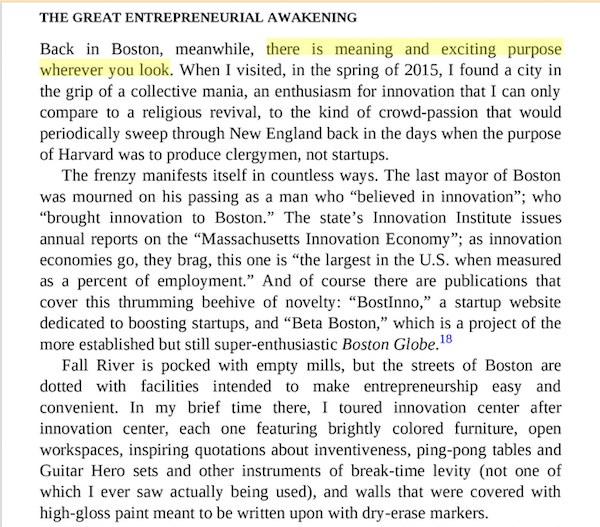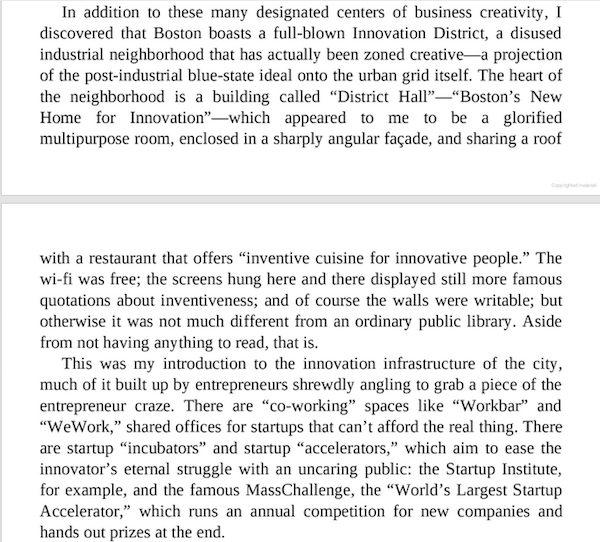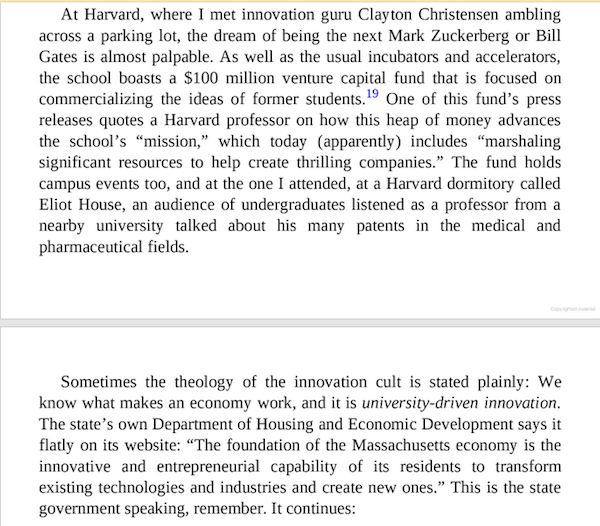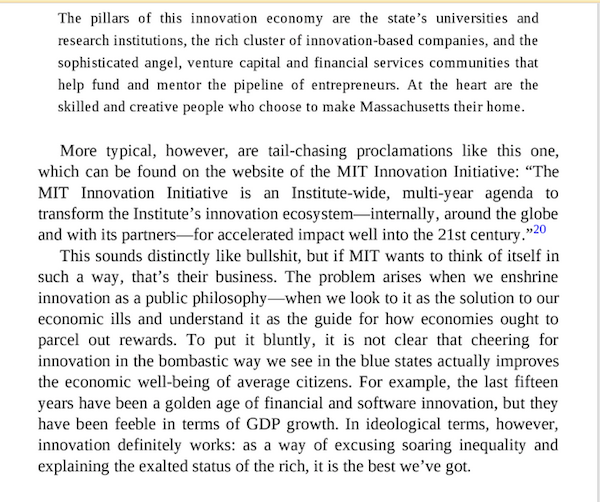 Frank's book is a great read; he's outraged about all the right things. However, toward the end of this passage Frank is a little too kind. He writes:
It is not clear that cheering for innovation in the bombastic way we see in the blue states actually improves the economic well-being of average citizens. For example, the last fifteen years have been a golden age of financial and software innovation, but they have been feeble in terms of GDP growth.
But let's look at Pavlina Tcherneva's famous chart one more time: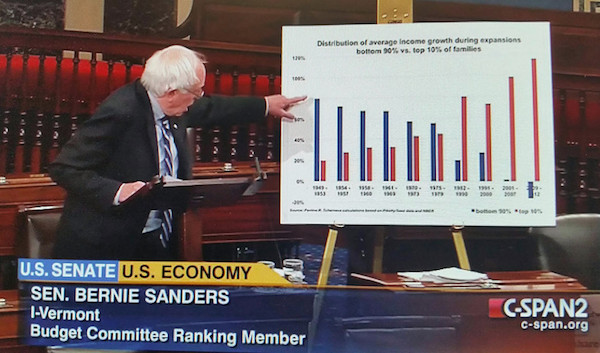 Therefore, in the passage above, it would perhaps have been better to replace the bloodless " they have been feeble in terms of GDP growth" with something along the lines of " they have been marked by the top 10% creaming off all economic gains for themselves, and squandering them." (Frank makes this point strongly in other passages of Listen Liberal, so this isn't so much a criticism as a caution that eternal vigilance is the price of a class-based approach.)
Back to "innovation." Here's the thing: There are massive gains to be had for the ordinary shlub from "common sense" public policy. Since "common sense" is defined by liberals and conservatives as neo-liberal market-based solutions, I'll hijack their term and redefine is as a style of social engineering optimized for solutions that are simple, rugged, and proven. (I felt I needed that talking point and that definition, but both may need work, so reader suggestions are welcome. After you read the post!)
In this short post, I'll mention three "common-sense" public policy proposals:
Single payer health care
Post Office Bank
Paper Ballots
This proposals are not innovative in the least. But they are simple, rugged, proven, and would provide enormous public benefit.
1. Single payer health care
If you're following the 2016 electionMR SUBLIMINAL With your plastic bag and little shovel you'll have noticed Democrat liberals like Clinton carefully airbrushing away a single payer system that spans an entire content, as if everything sixty miles north of Burlington, Vermont were some kind of weird fantasy for people who survive by eating round bacon. As I wrote in 2013:
[W]hy do I say that ObamaCare is like a tapeworm, a parasite that exists for no other reason than to extract nourishment from its host? Because it is, that's why. This chart (again) tells the story:

We are blessed, on this continent, with the closest thing you can get to a controlled experiment in the real world on how to do health care right, and how to do it wrong. We have two countries, of continental scale, both from the English political tradition, each with a Federal system of government, and similar economies. The two countries are similar enough culturally that their citizens can move with ease from one country to another. Canada has a single payer system; the United States has a private health insurance system. And Canada "bent the cost curve" in the mid-70s, when it adopted single payer, and the United States did not.

What the chart shows is that the our private health insurance system is purely parasitic; it is useless; it exists solely for the purpose of rental extraction from its host, the body politic. Abolish it, and you bend the cost curve to look like Canada's. If single payer had been adopted in 2009, and given a year to implement (like Medicare) the country would already have saved a trillion dollars, and several thousand people would not be dead. That is the cost, the harm, of the tapeworm that is the health insurance industry. Not science fiction; sober fact. (Because Canadians are always sober!) And ObamaCare seeks to fasten that tapeworm's hooks and suckers to our body politic's gut. Forever.
Single payer is not innovative. If anything, it's ObamaCare that's "innovative," but only in terms of rental extraction (and the staggering complexity of its implementation (in essence a jobs program for lots of credentialed 10%-ers (ka-ching (Clinton's base))). Single payer is simple, rugged, proven, and provides enormous social benefits. Why, in heaven's name, have we as a society been unable to adopt it?
2. Post Office Bank
Many countries have or had post office banking, including the United States. This passage from 2015 is probably too long, but since readers may not be familiar with post office banking and the rationale for it, I'll quote it all:
[In 2012, there] was an interesting but all-too-temporary Post Office Bank boomlet (link, link, and link for example) touched off by this report (PDF) from the Post Office Inspector General[1] (and not, mind you, the neo-liberal infested USPS management). For our purposes, we can reduce the report to four points. From the 2014 version:

1. There are 68 millions "financially underserved"[2] adults. Page 6:

[M]ore than a quarter of American households are left outside or on the fringes of the traditional financial system. Some have no bank account whatsoever. Others have a checking account, but do not qualify for traditional forms of credit, forcing them to use costly services like payday loans and car title loans — which can often do more harm than good. Many of the 34 million financially underserved households — representing 68 million adults — are treading water very close to the economic edge.1 Unexpected expenses can push them over the brink into homelessness or bankruptcy, which come with broad social and economic costs. In addition to this at-risk population, there are many other Americans who are simply looking for new financial options.

2. The "financially underserved" must use crapified financial services like check-cashing agencies. Page 7:

The underserved are a geographically, economically, and demographically diverse group of people who, by choice or circumstance, operate partially or completely outside the traditional banking system. We define underserved as primarily consisting of two main groups: the unbanked, who have no checking or savings account, and the underbanked, who have a bank account but also used at least one non-bank financial service during the past year. These non-bank financial services include check cashing, money orders, remittances, payday lending, pawnshops, rent-to-own agreements, and other similar products and services.

And when I say crapified — ever cashed a check at a check cashing place? — I mean just that. We're talking usury:

Being underserved often comes at a hefty price. The average underserved household has an annual income of about $25,500 and spends about $2,412 of that just on alternative financial services fees and interest. That amounts to 9.5 percent of their income. To put that into perspective, that is about the same portion of income that the average American household spends on food in one year. In 2012 alone, the underserved paid some $89 billion in fees and interest.

3. A Post Office bank would help the "financially underserved" , both at a profit, and bringing great benefit to society. The profit part, page 21:

Financial services are hugely profitable for postal organizations around the world. Whether using a fully chartered "postal bank" or partnering with private institutions, postal financial services account for a major portion of postal profits and revenue in many countries. For more on the financial services offerings of foreign posts, please see Appendix C.

To get a ballpark figure, one can look at revenues in terms of the size of the alternative financial services market in the United States. If 10 percent of the $89 billion spent on alternative financial services was instead spent at the Postal Service, it could bring in $8.9 billion a year. That amount would be in line with the results seen by other industrialized countries. In 2012, postal financial services made up an average of 14.5 percent of their total revenue. For the U.S. Postal Service, that percentage would translate to $9.5 billion in additional revenue.58 In addition, the alternative financial services market is expected to continue growing in the coming years, and is "ripe for innovation."

(Note that as we saw in USPS is a quasi-private entity with a universal mandate that nevertheless does not depend on government funding; if it were (again) a branch of government, the issue of profit would not arise.)

And now for the benefit to society part. Just by taking usury out of the equation (pages 19-20):

For the most vulnerable Americans — including many of the underserved — the difference between making it and not is a small amount of money. Among the 1.1 million people who filed for personal bankruptcy in 2012, their median average income of $2,743 a month was just $26 less than their median average monthly expenses.54 Put another way, these people were just $26 a month away from making ends meet.

[T]he Postal Loan product outlined in this paper could, by itself, save the average payday loan borrower more than $100 a month in fees and interest. With this kind of cost savings, users of postal financial services would have much more financial security. If this helped decrease personal bankruptcies by just 5 percent, it would not only help more than 50,000 people a year avoid the lasting stigma and financial effects of bankruptcy, it also would potentially keep some $10 billion a year in loans and other debts from being dragged through bankruptcy court, where much of it would be canceled at tremendous expense to creditors (most of whom are financial institutions).55 That would be good for American families, for banks, and for the entire country.

4. The Post Office is well-suited to help the "financially underserved." Page 6-7:

The Postal Service has numerous competencies and assets that would be critical for providing non-bank financial services. The first and possibly most important factor is the sheer ubiquity of the Postal Service. The vast retail network of more than 35,000 Post Offices, stations, branches, and contract units is spread out across the country and is particularly well established in small towns. Banks and other financial institutions still maintain tens of thousands of branches and other locations across the country, but that network is fragmented among thousands of players and is inextricably linked to population density and centers of economic growth. The postal network, on the other hand, is a single, unified network that is linked to geography. … 59 percent of Post Offices are in ZIP Codes with one or no bank branches.

A second factor is Americans' trust and familiarity with the postal "brand." Trust is a crucial asset in financial services, especially when considering bank-wary unbanked and underbanked households that have been dealing with sometimes untrustworthy alternative financial services providers.

(Note that both the universal scope and the public trust are public assets the neo-liberals are working busily to eat away at and destroy, through branch closings and public cuts.)
Readers might also consider the idea that the concrete material benefits of combining post office banking with a jobs guarantee would do more to empower working class women than any number of virtue signaling workshops on microaggression, "lean in" programs, or seminars on the glass ceiling (more jobs for lots of credentialed 10%-ers (ka-ching (Clinton's base))). Now, there are some aspects of this particular proposal I'm not that fired up about; financial services can be tricky! And do note that [genuflects] Elizabeth Warren was strongly in favor of this program in 2012; somebody should ask her if she's changed her mind. But the key point:
A postal savings bank is not innovative. Like single payer, it's simple, rugged, proven, and provides enormous social benefits. Why, in heaven's name, have we as a society been unable to adopt it?
3. Paper Ballots
Bradblog has been my goto blog on matters electoral for some time. Here's Brad on the international standard for voting (I wish he wouldn't bill this as the "gold standard," for obvious reasons). From (sigh) 2009, and again I'll just quote most of Brad's post:
Hand-Marked, Hand-Counted Paper Ballots, Publicly Tabulated at Every Polling Place in America…

Last March, the country's highest court found that secret, computerized vote counting was unconstitutional. Unfortunately, the country was Germany, and the Constitution violated by e-voting systems was the one that the U.S. wrote and insisted Germans ratify as part of their terms of surrender following WWII.

Paul Lehto, a U.S. election attorney and Constitutional rights expert, summarized the German court's unambiguous, landmark finding:

"No 'specialized technical knowledge' can be required of citizens to vote or to monitor vote counts."
There is a "constitutional requirement of a publicly observed count."
"[T]he government substitution of its own check or what we'd probably call an 'audit' is no substitute at all for public observation."
"A paper trail simply does not suffice to meet the above standards.
"As a result of these principles,…'all independent observers' conclude that 'electronic voting machines are totally banned in Germany' because no conceivable computerized voting system can cast and count votes that meet the twin requirements of…being both 'observable' and also not requiring specialized technical knowledge.

After the verdict in the case — filed by a computer expert and his political scientist son — Lehto wondered how it could be that open, observable democracy is seemingly an inviolable right for "conquered Nazis," but not, apparently, for citizens of the United States…

Hand-counting paper ballots is no good at all, argue critics, unless you really want to know who the actual winner of the election was…

It was the fully public counting of hand-marked paper ballots that gave evidence that the unofficial, electronically-scanned election night results in Minnesota's recent U.S. Senate race were wrong. A hand-count settled the results of Washington State's Gubernatorial contest in 2004. And in the 2006 Republican Primary election in Pottawatomie County, Iowa, a hand-count found that seven races had been tallied incorrectly by the county's optical-scan system. Unfortunately, that sort of publicly observable counting has become the exception rather than the rule in this country, and it happens only rarely, in elections where the candidates can afford the extraordinarily high legal costs of a contest, or when the results are so obviously twisted that officials are left with little choice but to count the ballots by hand.

"Hand-counting paper ballots is recognized as the gold standard in state laws across the country," Ellen Theisen of the non-partisan election watchdog organization VotersUnite.org told me. "Why settle for anything less?"

Theisen's thoughts echoed Lehto's interpretation of the findings of the High Court in Germany. "By letting software count our votes," she said, "we give software control over our government."

She's right. Theisen, like myself, has spent years observing, reporting, and documenting election failure after election failure as democracy's corners were cut and voters rights stolen with proprietary, unaccountable, secret electronic vote-counting systems. She once thought, as I did, that hand-marked paper ballots, counted by optical-scan systems, coupled with post-election "audits" (really, "spot-checks" of a tiny percentage) would be reliable.

But then, for me at least, came the final straw: Iran. Yes, they had hand-marked paper ballots in the country's contested Presidential election. The hard evidence of who actually won and who actually lost certainly existed at some point. But, as those ballots were never counted publicly, in front of the citizenry, all interested parties, and video cameras, we're all left with the guessing game of who won and who lost, as based on our cleverest best assessments taken from selected pre-election polls, analysis of historical voting patterns, and the declarations of disbelief from passionate partisans.

Sound familiar? Unfortunately, it's not just Iran. Post-election second-guessing and charges of foul play have become more and more the norm, rather than the exception, with each passing election cycle in the U.S.· — from Florida to Ohio to New Hampshire and to virtually every state and county in the country – and for good reason. 'Democracy,' as it's practiced in our 'shining city on the hill,' has become Russian Roulette without the certainty.

"Hand counted paper ballots are the best available technology for conducting accurate, transparent, and observable elections," John Washburn, a Republican/Libertarian-leaning election integrity expert from Milwaukee says. He has testified before the U.S. Election Assistance Commission on computer voting system requirements and he is no "Luddite," as opponents to computerized democracy have long been derisively characterized by those who stand to profit in the e-voting industry. Washburn happens to be a long-time computer expert and programmer.

"I love technology and am not adverse to using technology to aid in the administration of elections." But, he cautions, any "new technical solution should be no worse than hand-counted paper ballots when measured along the dimensions of security, observability, transparency, and accuracy."

"I know of no electronic or Internet system which meets this simple axiom; i.e., 'First, Do no Harm,'" he added. "I fear many of us technophiles are so blinded by the possible that we overlook the actual."

For those who don't understand how fully observable, precinct-based, Election Night hand-counting of hand-marked paper ballots works, one need look no further than those polling places in New Hampshire where the entire process is a matter of civic pride and community participation. We are not speaking about the centralized, behind-closed-doors, party-boss-counted paper ballots of the days of Boss Daley in Chicago or Landslide Lyndon in Texas.

In short, after polls close, a new, bi-partisan counting crew is typically brought in to relieve tired poll workers at each precinct. Each precinct's crew counts its own ballots in carefully overseen, publicly observed groups of four – two calling out every vote, two marking each one down – as the citizenry watches, video tapes, and otherwise assures the process is on the up and up. The results are posted publicly before ballots are moved anywhere. They are never out of public oversight until the counting has been completed, which is usually done by enough counting groups to be completed before midnight on Election Night (often before some machine-counted precincts have finished!) It's a very difficult system to game – at least without being easily caught.

It was, in fact, the public posting of precinct-counted paper ballots which tipped off the world to Kenya's recently contested Presidential election, when the results announced by the central government didn't match up to those posted at the polling places on Election Night.

I still remain open to other, equally transparent, equally accurate, equally observable, equally democratic methods for tabulating elections. But after more than five years of research, study, observations, and reporting, I've yet to come across any. To paraphrase Churchill, it may be the worst method for counting elections, except for all of the others.

Yes, if hand-marked, hand-counted paper ballots are good enough for "conquered Nazis," Kenya, many citizens of New Hampshire (the site of our 'First-in-the Nation' Presidential Primary Election), and for elections when you absolutely, positively have to know the correct results, aren't they good enough for every election, every time?

It's time to demand that we begin moving forward, toward Democracy's Gold [sic] Standard for all elections. Now. Not after computers have made voters completely irrelevant. It's time for us to insist on pilot projects — not of new, even higher-tech vote-counting computers — but of publicly-overseen, hand-counted paper ballots at every precinct in our own localities, with the ultimate goal of extending that Gold Standard to all of America.
Hand marked paper ballots counted in public is not an innovative proposal. It's simple, rugged, proven, and provides enormous social benefits. Like knowing who really won! And after the vile shenanigans by party regulars in the 2016 Democrat primary (not to mention Ohio 2004 and Florida 2000), I've had it. Enough is enough, as liberals say of matters far less important systemically than the integrity of our election system. Why, in heaven's name, have we as a society been unable to adopt this idea?
Conclusion
For some crazy reason, a common-sense proposal like single payer heatlh care is just barely within the Overton Window, thanks to heroic efforts by activists like National Nurses United (NNU) and Physicians for a National Health Program (PNHP), as well as the Sanders campaign. The common-sense proposal of a Post Office bank had a brief moment, having been advocated for by liberal darling Elizabeth Warren — somebody should ask her if she still supports it — before falling into obscurity. And the possibility of not voting electronically or by machine isn't even "on the table." One might wonder why change to the health care system, the financial system, and the electoral system present increasing orders of difficulty for seekers of humane public policy solutions, but that's a topic for another day.
In the meantime, remember these bullshit tells! And when some member of the political class, or somebody from our famously free press, or your favorite bloated university administrator starts yammering about "innovation," ask them why it's so necessary to innovate when we, as a society, can't even manage to do what's been proven to work. Does our political class have any common sense at all?
NOTES
[1] I'm so old I remember the "creative class" in the 2008 election! The PBR, the lofts, and so forth. Richard Florida seems to have been patient zero for this virus, but "creative" seems to have leaped across the continent and mutated into "innovative," possibly at "startup" bezzle-inducer "incubator" YCombinator. I wish I had a history of this cultural moment.