By Lambert Strether of Corrente.
"The principle of association" is a phrase that comes from De Toqueville's Democracy in America (1835), Chapter 12. It's worth quoting a big slab of it as a reminder of what one foreign observer thought made America exceptionally, and exceptionally great, and to form a mental contrast with where the country is today, and with the political conventions we have seen the Republicans and Democrats put on:
In no country in the world has the principle of association been more successfully used or applied to a greater multitude of objects than in America. Besides the permanent associations which are established by law under the names of townships, cities, and counties, a vast number of others are .

The citizen of the United States is taught from infancy to rely upon his own exertions in order to resist the evils and the difficulties of life; he looks upon the social authority with an eye of mistrust and anxiety, and he claims its assistance only when he is unable to do without it. This habit may be traced even in the schools, where the children in their games are wont to submit to rules which they have themselves established, and to punish misdemeanors which they have themselves defined. The same spirit pervades every act of social life. If a stoppage occurs in a thoroughfare and the circulation of vehicles is hindered, the neighbors immediately form themselves into a deliberative body; and this extemporaneous assembly gives rise to an executive power which remedies the inconvenience before anybody has thought of recurring to a pre-existing authority superior to that of the persons immediately concerned. If some public pleasure is concerned, an association is formed to give more splendor and regularity to the entertainment. Societies are formed to resist evils that are exclusively of a moral nature, as to diminish the vice of intemperance. In the United States associations are established to promote the public safety, commerce, industry, morality, and religion. .

An association consists simply in the public assent which a number of individuals give to certain doctrines and in the engagement which they contract to promote in a certain manner the spread of those doctrines. The right of associating in this fashion almost merges with freedom of the press, but societies thus formed possess more authority than the press. When an opinion is represented by a society, it necessarily assumes a more exact and explicit form. It numbers its partisans and engages them in its cause; they, on the other hand, become acquainted with one another, and their zeal is increased by their number. An association unites into one channel the efforts of divergent minds and urges them vigorously towards the one end which it clearly points out.
Things look a little different today; one answer to the question of what young working class men who aren't in the labor force are doing is: Playing video games. (I'll note in passing that "association," to DeTocqueville, is distinct from "faction," to Madison, because to Madison factions are formed on property interests, and associations, in DeTocqueville's telling, are not. Whether the modern political parties are aggregated factions, or aggregated associations, or aggregated associations drawn from certain factions is left as an exercise for the reader. I certainly don't know.)
Now let's jump immediately to what we might label The Question of Fascism: What is Fascism? Along with: Who can be said to be a fascist? Is there more than one kind of Fascism? Let me say immediately that I'm not going to answer that question today. I am, however, going to propose a different approach to answer. Most answers to The Question of Fascism take the form of a checklist. Sam Ro's, drawn from the Italian semiotician Umberto Eco's work, is typical:
I see seven items that potentially match current events:

a cult of tradition
rejection of modernism
opposition to analytical criticism
appeal to a frustrated middle class
obsession with a plot
humiliation by the enemy
machismo
(One notes immediately that Ro's list is ahistorical: Does "modernism," for example, really exist out of time? (Post-modernism, for example, became visible as a movement in the 1980s, at the start of the neoliberal dispensation. One might also note that "opposition to analytical criticism" and "obsession with a plot" are broad tendencies in America today, and by no means limited to "the loony right.")
However, if we look at how fascism has appeared historically, we may come to a different answer (or, at minimum, another bullet point for Ro's list). From the Italian theorist Antonio Gramsci, who died in one of Mussolini's jails:
What is involved is the possibility of meeting; of discussing; of giving these meetings and discussions some regularity; of choosing leaders through them; of laying the basis for an elementary organic formation, a league, a cooperative or a party section. What is involved is the possibility of giving these organic formations a continuous functionality; of making them into the basic framework for an organized movement. Fascism has systematically worked to destroy these possibilities.

Its most effective activity has, therefore, been that carried on in the localities; at the base of the organizational edifice of the working class; in the provinces, rural centres, workshops and factories. The sacking of subversive workers; the exiling or assassination of workers' and peasants' "leaders"; the ban on meetings; the prohibition on staying outdoors after working hours; the obstacle thus placed in the way of any "social" activity on the part of the workers; and then the destruction of the Chambers of Labour and all other centres of organic unity of the working class and peasantry, and the terror disseminated among the masses – all this had more value than a political struggle through which the working class was stripped of the "rights" which the Constitution guarantees on paper. After three years of this kind of action, the working class has lost all form and all organicity; it has been reduced to a disconnected, fragmented, scattered mass. With no substantial transformation of the Constitution, the political conditions of the country have been changed most profoundly, because the strength of the workers and peasants has been rendered quite ineffective.
In other words, for Gramsci, Fascism violates the principle of association[1]. The historian Richard Evans, in his magisterial Coming of the Third Reich, descries the Nazi variant of the same violation, called gleischaltung, where even stamp collector's clubs were Nazified (and of course workers' institutions were systematically destroyed, as we also saw in the neoliberal variant of fascism installed in Chile). Now, I'm not claiming that violating the principle of association is sufficient to answer The Question of Fascism — that would make Andrew Carnegie and George Pullman fascists, for their lethal efforts at strikebreaking — but I do urge that it is necessary, and if you look at history, obvious.
So fast forward to the Democratic Convention. Sanders clearly understands the principle of association. In fact, it was central to his campaign (though I'll have more to say about the contradictions of his speech when I have Clinton's to lay beside it). He said:
I understand that many people here in this convention hall and around the country are disappointed about the final results of the nominating process. I think it's fair to say that no one is more disappointed than I am. But to all of our supporters – here and around the country – I hope take enormous pride in the historical accomplishments have achieved.

Together, my friends, have begun a political revolution to transform America and that revolution – Revolution – continues. Election days come and go. But the struggle of the people to create a government which represents all of and not just the 1 percent – a government based on the principles of economic, social, racial and environmental justice – that struggle continues. And I look forward to being part of that struggle with you.
(Now, it may be urged that Sanders is in fact advocating reform, and not revolution, that he's a "sheepdog," even a betrayer, etc. But Bill Clinton is a smart politician, fully invested in his consort's election, and I don't think Bill Clinton believes that for a minute, and in fact sees Sanders as a thread. Here he is, during the first part of Sanders speech: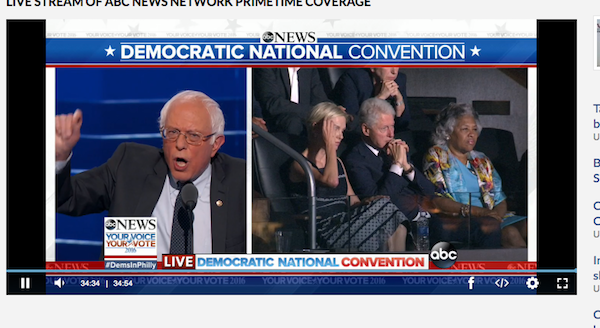 The Big Dog is cogitating mightily, and so he ought to be.[2])
That's Sanders and the principle of association which, you will recall, is important for anti-fascists to uphold, and whose violation is at least one sign of fascism's onset. Where does the Clinton Dynasty stand on the principle of association? I argue (a) evidence is absent to show they[3] support it, and (b) evidence exists to show they oppose it.
Let's look at the text of Bill Clinton's speech. I redacted the sentences and phrases whose subject is "She" (that is, Bill Clinton's consort, Hillary), including the verb but editing out detail (and I hope I got them all; it's a long speech and I processed the text by hand). I invite you to examine these sentences as phrases as closely as you can. They are sorted to make them easy to scan for similarity, which is why "She actually" is first:
She actually took an extra year in law school working at the child studies center to learn • She also served on a … commission to propose changes • She also served on a special Pentagon commission to • She also started the first legal aid clinic • She also teamed with the House Minority Leader Tom DeLay • She always does new things, by listening and and learning • She always wants to move the ball forward • She and Senator Schumer were tireless • She backed President Obama's decision to go after Osama bin Laden • She became the de facto economic development officer for the area of New York • She became the first senator in the history of New York ever to serve • She became… our family's designated worrier, born with an extra responsibility gene • She began her campaign the way she always does new things, by listening and and learning • She came up with really ambitious recommendations • She compiled a really solid record, totally progressive on economic and social issues • She filed a report about • She filed a report on that • She flew all night long from Cambodia to the Middle East to get a cease-fire • She got longer family leave • She had also begun working in the Yale New Haven Hospital to develop procedures • She held listening tours in all 75 counties with our committee • She joined the oldest law firm west of the Mississippi • She just went out and figured out what needed to be done and what made the most sense and what would help the most people. And then if it was controversial she'd just try to persuade people it was the right thing to do • She launched a team to fight back against terrorists • She lost a hard-fought contest to President Obama in 2008 • She loved her teaching and she got frustrated when one of her students said • She met one of the nicest fellows I ever met, the wonderful union leader Franklin Garcia, and he helped her register Mexican-American voters • She negotiated the first agreement ever • She put climate change at the center of our foreign policy • She said she thought it would work in Arkansas • She said, oh, I already did it. I called the woman who started the program in Israel, she'll be here in about 10 days and help us get started • She sent me in this primary to West Virginia • She started a group called the Arkansas Advocates for Families and Children • She took a summer internship interviewing workers • She tried to empower them based on their abilities • She tried to expand and did expand health care coverage to Reservists and members of the National Guard • She tried to make sure people on the battlefield had proper equipment • She tripled the number of people with AIDS in poor countries whose lives are being saved • She voted for and against some proposed trade deals • She went to Beijing in 1995 and said women's rights are human rights and human rights are women's rights • She went to South Carolina to see why • She worked for farmers, for winemakers, for small businesses and manufacturers, for upstate cities in rural areas who needed more ideas and more new investment • She worked for his election hard • She worked for more extensive care for people with traumatic brain injury • She worked hard to get strong sanctions against Iran's nuclear program • She worked to empower women and girls around the world and to make the same exact declaration • She's a change-maker • She's been around a long time, she sure has • She's insatiably curious, she's a natural leader, she's a good organizer, and she's the best darn change-maker I ever met in my entire life….
Recall that DeTocqueville defines associations as "formed and maintained by the agency of private individuals." Did you see any examples Hillary Clinton creating associations in Bill Clinton's list of her achievements? Of people being directly empowered, of becoming agents? I see a ton of "She filed a report," "she tried to," "she went to, and "she became," and of good programs as Clinton defines good — what we might call, following Lakoff, maternalism instead of paternalism, where others in the professional classes are called to assist — but virtually nothing that implements what Gramsci calls "continuous functionality" by and for working people. In the 50 sentences that list Hillary Clinton's accomplishments, I can come up with a bare three:
(1) "She started a group called the Arkansas Advocates for Families and Children." The AAFC itself says it was founded by "a group of prominent Arkansans" — in other words, an association — although Wikipedia says is was founded by Hillary Rodham, personally. Anyhow, that was 1977, so I'll treat that as a gimme for Bill. Forty years later, AAFC seems to have evolved into a typical non-profit whose mission is "leadership, research and advocacy."
(2) "She met one of the nicest fellows I ever met, the wonderful union leader Franklin Garcia, and he helped her register Mexican-American voters." This, too, seems to have been back in the 70s, but somehow I think "he helped her" probably underestimates Garcia's role, and over-estimates Clintons. Who, after all, already had the association in place, on the ground? That would be the union leader Garcia.
(3) And then Bill tells this story of Clinton as a teacher. Strictly speaking, this is not a story of association, but the lesson it teaches is all about association, so I'll quote it:
Didn't take them long to find out what she was like. She loved her teaching and she got frustrated when one of her students said, well, what do you expect, I'm just from Arkansas. She said, don't tell me that, you're as smart as anybody, you've just got to believe in yourself and work hard and set high goals. She believed that anybody could make it.
This is, of course, credentialism, the Big Lie of meritocracy, as Thomas Frank points out in Listen, Liberal (page 60 et seq):
[Bill Clinton on the campaign trail: "What you earn depends on what you learn.. … I put Clinton's line about "what you earn" in italics because it may well be the most important passage of them all for understanding who his party — how our entire system — has failed so utterly to confront income inequality [for which the less polite word is "class warfare" –lambert]. …[H]ere, in a single sentence, is the distilled essnece of the theory that has governed the politics of work and compensation from that day to this: You get what you deserve, and what you deserve is defined by how you did in school. …[4]
And here is Hllary Clinton peddling this lie to a school child (as opposed to teaching, for example, how important it was to create associations by working with others to achieve common goals.[5]
So much for the absence of evidence that the Clinton Dynasty supports the principle of association; now for the evidence that they affirmatively oppose it. Bill tells this moving little story:
A couple of days later, I saw [Hillary Rodham] again. I remember, she was wearing a long, white, flowery skirt. And I went up to her and she said she was going to register for classes for the next term. And I said I'd go, too. And we stood in line and talked — you had to do that to register back then — and I thought I was doing pretty well until we got to the front of the line and the registrar looked up and said, Bill, what are you doing here, you registered morning?

(LAUGHTER)

I turned red and she laughed that big laugh of hers. And I thought, well, heck, since my cover's been blown I just went ahead and asked her to take a walk down to the art museum.

We've been walking and talking and laughing together ever since.
Clinton herself elaborates on the story:
We both had wanted to see a Mark Rothko exhibit at the Yale Art Gallery but, because of a labor dispute, some of the university's buildings, including the museum, were closed. As Bill and I walked by, he decided he could get us in if we offered to pick up the litter that had accumulated in the gallery's courtyard. Watching him talk our way in was the first time I saw his persuasiveness in action.
Indeed. As for the "labor dispute," Jacobin explains:
The relationship between Rodham and Clinton, two instrumental figures in the decoupling of the Democratic Party from the priorities of the mainstream labor movement, thus began with the crossing of a picket line.

When Rodham and Clinton picked up the garbage strewn about the art gallery courtyard (if, indeed, they ever did so), they were doing exactly what everyone from Sirabella to the Black Student Alliance at Yale had asked students not to do. They were performing — or at the very least offering to perform — the work that members of Local 35's grounds maintenance division, had refused to do.
So, Hillary and Bill began their long — and happy! and loving! — relationship by crossing a picket line and performing scab labor. Bill's speech needs a copy edit:
We've been walking and talking and laughing together ever since.
Fixed it for ya.
Conclusions
I've urged that violating the principle of association should be on any checklist that proposes to answer The Question of Fascism. I've also urged that upholding the principle of association is essential to fighting it. I've argued that Sanders supports the principle of association explicitly, and that the Clinton Dynasty opposes it, both by acts of omission, and acts of commission.
We might also consider whether the Democrat Party, as presently constituted, supports the principle of association. Given that the 17-city paramilitary crackdown on Occupy was orchestrated by a Democrat administration, and carried out by Democrat mayors (with the exception of Michael "Mayor for Life" Bloomberg, a speaker at tonight's Democrat Convention), and given the militarized police crackdown on Black Lives Matter activists, that would be a hard case for Democrat loyalists to make. Making it even harder is liberal purges of political opponents, actual or threatened.
NOTES
[1] One might say that Fascism moves the needle on the collective action problem scale toward the betrayal side, by systematically dissolving altruistic ties. But then neoliberalism does that, too.
[2] Since it would be irresponsible not to speculate, I can also imagine a thought balloon over Bill Clinton's head, something like: "That scrawny little kid Mook told me he showed Bernie the briefcase with the horse's head in it, and told Sanders how it was going to go. And now that son-of-a-bitch isn't going through with the deal!" Bill's subsequent smiles would then be signs of joyous relief. Not that I'm foily.
[3] I'm not sure whether the Clinton Dynasty is a "they" or an "it." I opted for "they."
[4] Frank goes on to write (page 77): "Another reason so many were convinced so completely that education determined everything from personal prosperity to national competiveness was, again, that it was true for them personally."
[5] This is called "cheating."