By Lambert Strether of Corrente.
TPP/TTIP/TISA
"Deputy U.S. Trade Representative Robert Holleyman [is] scheduled to visit Atlanta on Monday for a TPP event hosted by Atlanta's World Affairs Conference. The event — which will also feature UPS CEO David Abney and former Sen. Saxby Chambliss, now a partner at DLA Piper — is sponsored by UPS and YKK Corporation of America, the Marietta, Ga.-based subsidiary of Japan's YKK Group, which makes everything from its iconic zippers to aluminum building products" [Politico]. "The Atlanta visit comes after Treasury Secretary Jack Lew stopped in Minneapolis on Monday. Lew met with Minnesota Gov. Mark Dayton and Minneapolis Mayor Betsy Hodges for a roundtable that also included the CEOs of three Minnesota-based Fortune 500 companies — U.S. Bank, Ecolab and Land O'Lakes — and other company executives and academic leaders, according to a Treasury readout. Commerce Secretary Penny Pritzker last week said the administration is planning at least 30 trade events by the end of the month. That effort, similar to last year's "all of Cabinet" push for trade promotion authority, is expected to shift to Capitol Hill in September when lawmakers return from their summer break." If TPP is dead, the adminstration certainly isn't acting like it. Maybe all those Repubicans Clinton's bringing into the Democrat Party will help him push it over the top.
"No TTIP Deal This Year" [Handelsblatt]. "German Chancellor Angela Merkel and U.S. President Barack Obama's goal of ironing out a trade agreement between the United States and the European Union by the end of the year has "no basis" in reality, according to Handelsblatt's sources in the German economics ministry. Negotiators in Brussels and Washington haven't finalized a single chapter of the Transatlantic Trade and Investment Partnership, or TTIP, according to an internal ministry report obtained by Handelsblatt."
Tim Kaine: "The deal that's on the table now, the TPP, which has to be voted up or down, it's not enforceable in so far as the environmental and the labor standards. If a company doesn't like an action the trade partner takes, then the company can file a lawsuit in a private court against the nation seeking billions of dollars. But if a labor union says a nation has violated the labor standards of the deal or an environmental group says 'wait a minute' or environmental standards of the deal,' they're not even allowed to go into the tribunal to challenge it. So a deal is only as good as it can be enforced and there is a huge and fatal flaw in this deal in terms of the environment and for that reason I cannot vote for it'" [KERA]. So, labor and environmental groups (too bad I can't just say "the left") are to be allowed into the rigged tribunals? Is that the shape of the lame duck deal?
" [Wisconsin Challenger Paul] Nehlen's attempts to paint [Paul] Ryan as a 'soulless, globalist snake' because of his support for TPP seemed to have fallen on deaf ears — he received 15 percent of the vote to Ryan's 85 percent" [Politico]. Factory manager Nehlen was right, of course, but that didn't help. Neither, apparently, did Trump's (temporary) support.
Also in Wisconsin, Ron Kind "won his 11th term in Congress. But, his opponent, newcomer Myron Buchholz, got close to 20 percent of the votes in a campaign aimed at challenging the status quo and slamming Kind for supporting the TPP trade deal" [WIZM]. "Kind was a superdelegate that ignored the vote of his district in the Democratic presidential election. Bernie Sanders defeated Hillary Clinton by 13 points in the district, yet Kind remained in support of the now Democratic presidential candidate."
Is anybody encouraged by Stiglitz's body language on TPP in this video? I wasn't [Democracy Now]. Stiglitz starts at 1:36:23.
"If the point of the TPP was to advance U.S. strategic goals in the region, President Obama should not have had Pfizer, Disney, and other major corporations determining the framework for the agreement. He may be able to sell this strategic concerns story to the Washington Post editorial board, but not to serious people" [Dean Baker, CEPR]. Dean, Dean, Dean: The goals of Pfizer, Disney, and other major corporations are U. [sic] S. strategic goals! Think!
2016
Corruption
Lambert here, tl;dr: It's all true. Donors to the Clinton Foundation got special treatment at State. Emails released by State, showing this, were not released by Clinton, even though they weren't about yoga lessons and Chelsea's wedding. Shocked, shocked, I know, but the Clinton Dynasty's effrontery continues to amaze. Even though Judicial Watch isn't on my side of the ideological prism, kudos to them for their patience and persistence in getting this material released. (The headlines, incidentally, show far too much deference.) Cue the "no quid pro quo" therefore no corruption crowd. (The irony of liberals accepting the doctrine of Citizens United to save their corrupt candidate is corrosive. Or not ironic at all. At this point, I'm not sure.)

"The new emails, released by the group Judicial Watch, offer fresh examples of how top Clinton Foundation officials [on behalf of big donors] sought [and gained] access to the State Department during Mrs. Clinton's tenure." (I've helpfully added some clarifying material in square brackets.) [Wall Street Journal, "Newly Released Emails Highlight Clinton Foundation's Ties to State Department "]. Huma's three hats are interesting, too.

"The State Department has turned over 44 previously-unreleased Hillary Clinton email exchanges that the Democratic presidential nominee failed to include [attempted to conceal] among the 30,000 private messages she turned over to the government last year. They show her interacting with [pedding influence] lobbyists, political and Clinton Foundation donors and business interests as secretary of state." (Here too, I've helpfully added some clarifying material in square brackets.) [AP].

UPDATE "New Emails Appear to Show Clinton Foundation Donors Called In Favors to State Dept" [LawNewz]. "Newly released State Department records, including previously unreleased emails from Huma Abedin, appear to show Clinton Foundation donors calling in favors from then-Secretary of State Hillary Clinton."

UPDATE Good, low-key summary from The Young Turks:
The Voters
"This campaign could get worse — a lot worse. Here's why." [ Eugene Robinson, WaPo]. "I expect Trump to double down not just on his attacks against Clinton but also on the two issues that won him his white working-class following: immigration and trade. That means more bigotry, more xenophobia and more totally unrealistic promises about the miracles that he and his team of rich-guy economic advisers will magically perform."

Saint Garrison Keillor [genuflects], fuckhead [WaPo].

And so a large contingent of people who sat way in back in high school history class and now need to blame foreigners for their lack of progress in the world have nominated a bloated megalomaniac for president, running on a platform of contempt and fantasy. It seems to make them happy, judging from the crowds who attend the gentleman's performances.

As I keep saying: If you want to see real hate, get a liberal talking about the working class. Nice going, Garrison. Maybe you should tell your "friends in Copenhagen" about the Case-Deaton study.

Lambert here: 2016 isn't my first rodeo. And one of the advantage of being an old codger is memory (and I have a long one, especially for grudges). So let's look at the record:

2016: What Trump said [Guardian].

[TRUMP:] Hillary wants to abolish, essentially abolish, the second amendment. If she gets to pick her judges, nothing you can do, folks. Although the second amendment people, maybe there is, I don't know. But I'll tell you what, that will be a horrible day.

(WaPo, interestingly, omits the qualification that it will be a "horrible day.")

2008: What Clinton said [New York Times].

[CLINTON:] My husband did not wrap up the nomination in 1992 until he won the California primary somewhere in the middle of June, right? We all remember Bobby Kennedy was assassinated in June in California.

Both Trump's statement in 2016, and Clinton's statement in 2008, provoked a moral panic — "[She|he] wants her opponent assassinated!!!" — in the dominant faction of the Democrat Party, and in an ironic twist of fate, that faction supports Clinton today (which is, perhaps, why nobody in that same faction wants to bring forward the 2008 episode). I will leave it to readers to discern which gaffe is the worst. (I thought then, and think now, that Clinton's remark was at most due to fatigue, and I think now that Trump's trying to juggle the flaming torches and edged weapons of our many political tropes, and he's not good at it, since he has no experience doing that. Of course, this should not be interpreted as support for either candidate today.) Now, the Democrat faction of 2008 is far more dominant in the political class today than it was then, and Republicans are joining it, or at least becoming fellow travelers, and so the panic is more pervasive.

But to me, it's the class nature of the panic that's more interesting than its trigger: Apparently, somewhere in the depths of the hive mind of the dominant faction of the political class, the thought leaders think somebody's coming to kill them and take their stuff. And they have good reason to fear blowback, not merely from failed imperial adventures, but from — to pick an example at random — a working class population undergoing an AIDS-level death rate caused by the neoliberal policies that same political class has espoused since the first Clinton administration, and before. So there you have the reason for the panic: Liberal guilt, the hysteria and double standards being the exact measure of its repression.
The Parties
"19 percent [of registered Republicans] think [Trump] should drop out, 70 percent think he should stay in and 10 percent say they 'don't know,' according to the Aug. 5-8 poll of 396 registered Republicans. The poll has a confidence interval of six percentage points. Among all registered voters, some 44 percent want Trump to drop out" [Reuters].
Squillionaires and Establishment Republicans for Clinton
"[Trump] described the [50 top GOP former national-security official] signers of the declaration as 'nothing more than the failed Washington elite looking to hold onto their power,' and thanked them 'for coming forward so everyone in the country knows who deserves the blame for making the world such a dangerous place'" [RealClearPolitics]. I hate it when Trump's right. But what other word is there than "failed" for losing the Iraq war, losing the Afghanistan war (that was the "smart" one), and setting the Mediterranean and Black Sea littoral on fire, thereby creating a refugee crisis that's eating away at the foundations of our largest military protectorate?
Stats Watch
MBA Mortgage Applications, week of August 5, 2016: "Purchase applications for home mortgages were up 3 percent" [Econoday].
JOLTS, June 2016: "Job openings rose 2.0 percent" [Econoday]. "The quits rate, which offers indications on worker confidence to shift jobs, is once again unchanged, at 2.0 percent. This report shows new punch on the hiring side and favorable conditions on the breakup side in what is the latest good news out of the labor market." If workers were all that confident, the quits rate would be up, not flat.
Household Debt: "Very modest household credit expansion coincided with very weak growth for the last several quarters" [Mosler Economics].
ETFs: "Over the last year or so, we've seen more large financial institutions enter the ETF industry as issuers, names like Goldman Sachs, John Hancock; Principal Financial Group; Oppenheimer, Legg Mason, USAA and Franklin Templeton" [ETF.com]. Next: Wells Fargo, Nuveen, Prudential Financial, and Voya.
Shipping: "The USPS says its revenue is growing but the postal operator is struggling to handle the flood of online goods efficiently… Postal revenues for the quarter ending June 30 rose 7% to $17.72 billion, driven by e-commerce demand, but operating expenses increased by 12% in the same period" [Wall Street Journal]. "As more profitable letter mail fell the shipping and package segment increased by 14%, pushing transportation and compensation up because the package business is 'much more labor intensive' and air freight use has increased to meet the delivery demands, says USPS CFO Joe Corbett. It's a problem facing a range of businesses: retailers and private parcel operators have struggled to manage the push by consumers to online sales while maintaining profit margins." So the public is covertly financing Amazon's robot build-out?
Shipping: "Following unprecedented low container volumes in the first six months of 2016, analysts have been forced to slash their full-year growth forecasts even further.According to Alphaliner, total volumes handled by the world's box ports will increase by just 0.3% this year" [Lloyd's List].
Productivity: " U.S. Productivity: Is there a Crisis?" [DC Velocity]. This is a concise statement of the conventional wisdom, well worth a read.
The Bezzle: "Your 'Smart' Thermostat Is Now Vulnerable To Ransomware" [Tech Dirt]. "
We've noted time and time again how the much ballyhooed "internet of things" is a privacy and security dumpster fire, and the check is about to come due. Countless companies and "IoT" evangelists jumped head first into the profit party, few bothering to cast even a worried look over at the reality that basic security and privacy standards hadn't come along for the ride. The result has been an endless parade of not-so-smart devices and appliances that are busy either leaking your personal details or potentially putting your life at risk." As usual, when you hear the word "smart," look for the scam.
The Bezzle: "New study estimates that the total costs of America's flawed financial system–rents, misallocation costs, and the costs of the 2008 crisis–will add up to an estimated $22.7 trillion between 1990 and 2023" [Pro-Market]. Terrific interview with Gerald Epstein.
The Bezzle: "'The fee pool in corporate-bond trading is somewhere in the $8 billion range,' [said Mike Sobel, President of Trumid] said'" [Business Insider]. "'From a business perspective, we only need a very, very small share of it for this to be a fully self-sustaining business.'" Theil and Soros are both investors.
The Bezzle: "[W]ith global Internet traffic growing by an estimated 22% per year, the demand for bandwidth is fast outstripping providers' best efforts to supply it" [Nature]. "The resulting digital traffic jams threaten to throttle the information-technology revolution. Consumers can already feel those constraints when mobile-phone calls become garbled at busy times, data connections slow to a crawl in crowded convention centres and video streams stall during peak viewing hours. Internet companies are painfully aware that today's network is far from ready for the much-promised future of mobile high-definition video, autonomous vehicles, remote surgery, telepresence and interactive 3D virtual-reality gaming."
The Bezzle: "The $65 million Bitfinex hack shows that it is impossible to tell a good bitcoin company from a bad one" [Quartz].
Coops: "It has often been said that cotton is king in West Texas, which is home to the world's largest region of cotton-producing counties, with 41 counties comprising the area. There are 45 cooperative gins that deliver cotton to FCC facilities. FCC warehouses and delivers about 35 percent of the cotton ginned in Texas, which accounts for roughly 17 percent of the U.S. crop. Founded 68 years ago by producers who had a vision they could accomplish more collectively than individually, FCC was established as a way to successfully and affordably house cotton domestically and distribute it globally from West Texas" [PR News Wire]. Hmm.
Political Risk: "The downturn in business investment is hitting logistics-industry providers. Bar-code company Zebra Technologies Corp. 's sales slipped in its latest quarter as customers reined in spending… Zebra believes the downturn won't accelerate during the second half of the year but the company's results highlight how the cautious outlook for many businesses is coursing through supply chains" [Wall Street Journal]. "Business investment in equipment fell back 3.5% in the second quarter, suggesting companies are hunkering down amid wavering global economic signals and political uncertainty.
Gentlemen Prefer Bonds: "There is something fishy going on in U.S. credit markets and it may give stocks at least a temporary boost" [MarketWatch]. "Companies sold $70 billion of bonds in the six-day stretch, already more than half the normal monthly average issuance of $125 billion. Why sell? Companies are aware of hungry buyers, among cash-flush public pensions in particular, so they're more than happy to come to market now. Pension funds are itching for yield in a low-return world and are now allocating much of their cash stash to company bonds, even if typically higher risk than government bonds…. "There has never been an August like this in the history of finance, and it isn't close," said Brian Reynolds, chief market strategist at New Albion. … The really strange thing is that this new wave of issuance has coincided with a sharp tightening of credit spreads, lowering the "payout" an investor receives for accepting the perceived long-term risk of a company's inability to make interest payments or repay its bonds. Those spreads hit yearly lows in spring and are now poised to push even lower, say analysts."
Today's Fear & Greed Index: 76 Extreme Greed (previous close: 84, Extreme Greed) [CNN]. One week ago: 81 (Extreme Greed). (0 is Extreme Fear; 100 is Extreme Greed). Last updated Aug 9 at 11:35am. Mr. Market sinks back on the couch.
Black Injustice Tipping Point
"How Black Co-Ops Can Fight Institutional Racism" [VICE].
Gaia
"10th Annual ARRI – Mined Land Reforestation Conference" [OFFICE of SURFACE MINING, RECLAMATION and ENFORCEMENT (cwaltz)]. I'm glad there are reforestation efforts taking place in Appalachia. That's a good thing. And when a candidate explicityly espouses a massive jobs program to reforest a lot more than we're doing now, that will be not just good, but great. Obviously, such a program is not on offer from either legacy party, so there you go.
Class Warfare
UPDATE Excellent article by Stoller as usual [Matt Stoller, New York Times]. Read it all — and leave nice comments! — but here's the bottom line: "The development of good policy demands the reduction of specific conflicts of interest and the maintenance of so much diversity of financing that the public interest emerges. As revolutionary era weaver-turned-politician William Findley put it, 'Wealth in many hands operates as many checks.' It also produces good ideas." Brilliant framing of how to thnk about checks and balances when, as today, finance capital has the whip hand.
"Often, via reengagements with Marx's writings, system-critics refocused their general attention on production, and more specifically, on the organization of the enterprise. Capitalism was redefined as a specific relationship among participants in producing goods and services. Much as slavery was defined in terms of slaves and masters and feudalism in terms of lords and serfs, capitalism was to be defined in terms of employers and employees. What became the crucial issue and focus was that relationship inside enterprises and not the secondary matter of whether the employer was public or private. What defined capitalism was the employer-employee relationship; what defined the preferred other system — whether called socialism or communism or neither — was a radically different relationship" [Richard Wolff, Truthout]. "Posing the question of the exact nature of another system with a production relationship radically different from capitalism's led many critics to rediscover worker cooperatives (sometimes called producer cooperatives)." 30,000 foot view. (Many disagree, however, that slavery in the pre-Civil War slave states was failing. Certainly an enormous amount of capital was destroyed when slavery, at least as a legal regime, was ended.
News of the Wired
"I Peeked Into My Node_Modules Directory And You Won't Believe What Happened Next" [Medium]. This is another technical detective story that dull normals can read with enjoyment. Spoiler alert: IT is totally crapified. Just because it's JavaScript doesn't mean it doesn't suck!
"Tella Ball Shake?? Nutella, Doughnut, Milkshake. It's popular and trending in Australia" [Reaper Message Boards]. Western Civilization: "This is fine."
"Coffiest is a balanced breakfast and your morning coffee, all in one convenient bottle. Each great-tasting bottle contains 400 calories of complete plant-based nutrition and the same caffeine as a strong cup of coffee" [SFist (AH)]. Presumably the brand "Coffiest" is a loving tribute to Pohl and Kornbluth's wonderful The Space Merchants: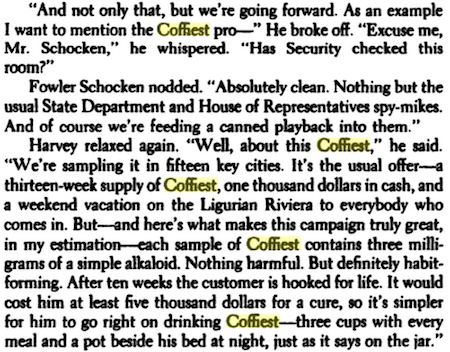 "Gathering honey from a weed… " [The Life I Read]. Excellent example combining critical thinking and research skills!
* * *
Readers, feel free to contact me with (a) links, and even better (b) sources I should curate regularly, and (c) to find out how to send me images of plants. Vegetables are fine! Fungi are deemed to be honorary plants! See the previous Water Cooler (with plant) here. And here's today's plant (pq):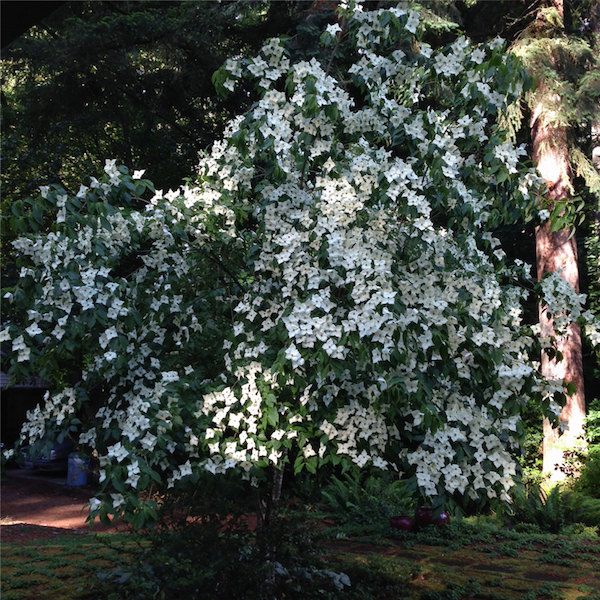 PQ says: "My neighbor's dogwood." Perennials, people. Perennials!
Readers, if you want to send me some videos of plants in whole systems (bees and blossoms, for example, or running streams) — I can use them to practice with FFmpeg and hopefully post them. Because of download times, they'll have to be measured in seconds, rather than minutes. Thank you! Adding, I got another one today! Please keep sending them; they will ultimately appear!
* * *
Readers, if you enjoyed what you read today, please use the dropdown to choose your contribution, and then click the hat! Your tip will be welcome today, and indeed any day. Water Cooler will not exist without your continued help.