By Lambert Strether of Corrente.
TPP/TTIP/TISA
"'Trade has big benefits, and I am in favor — totally in favor — of trade,' Trump said during a nearly hourlong economic policy speech at the Detroit Economic Club. 'But I want trade deals for our country that create more jobs and higher wages for American workers. Isolation is not an option. Only great and well-crafted trade deals, where we as a country for once benefit instead of being taken advantage of'" [Politico]. Politico frames that as "softening harsh criticism," but no.
"There are some problems with the TPP, [Chamber of Commerce] President Tom Donohue noted, and some downsides with trade more broadly that need to be addressed, but the answer should be to redouble efforts to provide those hurt by trade with training and support" [Politico]. Of course, Donohue wouldn't even be saying this if Trump (and Sanders) voters hadn't put an electoral gun to his head. And as for "redouble efforts," two times zero is still zero. And we've been hearing about "training" for forty years and it hasn't done squat (except insofar as it provides walking around money to the trainers).
"'President Obama is playing into Trump's hands by keeping the TPP alive, allowing Trump to question Democrats' commitment — even though Clinton is standing with working families on this key economic issue," [Progressive Change Campaign Committeex] said in a statement. 'Democrats must maintain the high ground on economic populism issues by being united in saying no to the TPP in lame-duck Congress.'" [Politico]. Democrats have no high ground to maintain on economic populism; and as soon as the campaign dust settles, Obama and/or Clinton will work some kinda "national conversation" to buy off labor with some token concessions and jobs for the boys, and that will be that. Note the phony "stand with" and "working families" (no singles work?) bloviation.
2016
Policy
UPDATE These people are insane and shouldn't be anywhere the nuclear button. You must listen to this:

"I ran the CIA now I'm endorsing Hillary Clinton and I want Hillary to kill lots of Russians and Iranians in Syria":https://t.co/Ka7oSby9kk

— Christoph Germann (@newgreatgame) August 9, 2016

Mike Morell's Op-Ed, "I Ran the C.I.A. Now I'm Endorsing Hillary Clinton," ran in the New York Times five days ago. Presumably, therefore, when Morell writes that "our nation will be much safer with Hillary Clinton as president," her willingness to accept Morell's recommendations defines "safety" for him. (Although it's only fair to say that Vox has deployed a new article arguing that the theatres in which Clinton could make war are more constrained than we think.)

"To judge by the daily parade of headlines and sound bites, the 2016 presidential election has boiled down to one steaming mass of invective, calumny, character assassination and contempt: the madman versus the prevaricator, the bully versus the biddy, the devil you know vs. the devil you don't" [Politico]. Funny the relative quiet on policy now that Sanders is out of the race.

UPDATE "Donald Trump on the stock market: 'It's all a big bubble'" [CNBC]. Pop…
Money
UPDATE "Clinton readies for Hamptons fundraising blitz" [Politico]. Hillary Clinton is planning to forgo her annual Hamptons vacation and accompanying luxury beach rental this summer – embarking instead on a condensed three-day fundraising blitz in the moneyed East End in late August." Populism!
Corruption
DNC email shows favors for cash scheme [Wikileaks]. Shocked, shocked, but this is pretty blatant.
Our Famously Free Press
"Journalists applaud Clinton at event" [The Hill]. Could have been ironic, given Clinton's non-appearnce at pressers. But I doubt it.

UPDATE "The growing consensus that Trump isn't fit to run the country means that too many people have decided it's too dangerous to even criticize — or even ask tough questions of — his opponent Clinton. If you're a Democratic Party operative, you're probably delighted by this. As a journalist, I find it alarming, even scary — this idea that a candidate should become the 45th president without the tough questioning this demands" [Will Bunch, Philadelphia Daily News]. Bunch finds this "frightening" only because he's an actual journalist; he's not angling for press secretary, or for an exciting and lucrative position in the burgeoning field of public relations.
The Voters
"[T]o ignore the real pain experienced by Trump voters is an even bigger mistake. As a practical matter, we will not ease the divisions in our country his candidacy has underscored if we do not deal with the legitimate grievances of his supporters" [E.J. Dionne, WaPo]. "As a moral matter, writing off Trump voters as unenlightened and backward-looking is to engage in the very same kind of bigoted behavior that we condemn in other spheres."

Hillary Clinton's campaign is clearly aware of the fury, and she regularly declares that 'creating good-paying jobs and raising incomes is the defining challenge of our times.' Her endorsement of progressive economic proposals reflects an attempt not simply to draw in Bernie Sanders' supporters, but also to speak to at least some of Trump's sympathizers.

Which is, of course, totally consistent with Clinton's appeal not only to finance, her base in the 10%, and her very successful appeals to the Republican nomenklatura. I suppose the old stand-by, military Keynsianism, could square the circle, though. So there's that to look forward to. What could go wrong?

UPDATE On the 10%, Neera Tanden agrees: "Neera Tanden, who was Clinton's policy advisor in 2008, says that if the Democratic nominee wins, her agenda could be shaped in large part by how Republican lawmakers perceive her victory. Tanden expects those lawmakers would take a hard look at which voting groups abandoned the GOP and seek compromises with Clinton that could help lure those voters back" [Los Angeles Times].

"If support for Democrats becomes the new normal among college-educated white women, the Republican Party's current constituency could not win a presidential election" [Bloomberg].. That would make this election not about "populism" at all, but about realignment within the 10% ("glass ceiling," not piso Mojado…)

"[A]bout a third of Sanders's voters are undecided or still going with a third-party candidate when given the choice" [FiveThirtyEight]. "[T]he sizable portion of Sanders supporters defecting from Clinton when given other options could still be a problem for the Clinton campaign if the election tightens."

"Bernie Sanders and the New Class Politics" [Jacobin]. Must-read interview with the great Adolph Reed:

[REED:] I agree as well about the hope the Sanders campaign embodied. The campaign showed that it is possible to connect with the broad working class, and I have become increasingly conscious of the extent to which we, including leftists, permit the other side to define the boundaries of the working class for us.

[A]s you know, much ink has been spilled in generating exceptionalist accounts of why the United States never developed a system of public social protection as extensive as most of Europe. However, the explanation of the difference can be very simple; after [World War II] the bourgeois classes in much of Europe were weakened and discredited by their association with fascism. Our bourgeoisie came out of the war more powerful than ever and politically rehabilitated through their participation in the war effort.

In any event, everything now hinges on how we can build on the momentum the campaign generated, deepen and broaden contacts in unions, workplaces, communities, campuses — recognizing that the pace is going to be slow, probably decades, as we should see ourselves now really as at the beginning of a long organizing drive.

One of our concerns is, or should be, the tendency among a strain of exuberant leftists to proclaim programmatically diffuse coalitions and subordinate the class program to counter-solidaristic identity politics.

I think we should build on the more visionary aspects of the program, e.g., the demand for free public higher education, decommodified health care, etc and the vital fight to stop the TPP, and yes of course against discrimination on the basis of race, gender, sexual orientation, etc and also against neoliberal policing and the constantly expanding public/private carceral apparatus, which we have to understand and insist that others also understand is a class issue.
The Parties
Reports from the field at the Democrat National Convention continue to appear (and it's certainly odd how little coverage there has been) [Orange Juice Blog]. This caught my eye:

The confirmed Bernie delegates were conducting organizing meetings in a room in back of the indoor pool location. The management learned of this and told us to leave. They returned about 10 minutes later and informed us that they were allowing us to use a couple of meeting rooms in the hotel for our meetings. They provided the room numbers and told us they would be ready in about 15-20 minutes. The Hillary campaign knew in advance what we were planning to chant, when we were planning to do these and the Hillary delegates were provided with counter chants. For example, when we chanted "No More Wars" … they began chanting "USA!, USA!" and other appropriate counter-chants. They were also provided with the "appropriate counter signs" to wave and hold and were told to hold multiple signs in order to block our protest signs from cameras. Because the Hilary campaign knew in advance EXACTLY and SPECIFICALLY what chants and actions we were planning to carry out for the next day, it appeared to us that our room had been bugged.

Or the room wasn't bugged, and there were Clinton informers and/or ratfuckers. Basic lesson is that an insurgent party operation needs to think through the inevitabilty of infiltration by malevolent actors. The same applies inside or outside the Democrat Party.

Hoisted from comments [JohnnyGL, Naked Capitalism]:

It's really crazy, who'd have thought that we'd have FOUR republican candidates for President.

1) The one who collects donations from GW Bush donors and gets endorsed by his former staff.

2) The one that won primaries and was nominated at the party convention.

3) The Libertarian candidate who actually was a Republican and did nothing to decriminalize drugs.

4) The new guy.

"Nearly $100 million has been spent on general-election TV advertisements in the presidential race since the primary season ended, but Donald Trump's campaign still hasn't spent a single cent on one of them" [NBC]. No wonder the media have decided to hate him.

UPDATE "On protest voting" [Carl Beijer]. Since everybody likes a good stomping, in this case of a post by Democrat loyalty Clay Shirky against third-party voting:

I don't want to lean too hard on the credentials of the overwhelming consensus of scholars and intellectuals who think that internet personality Clay Shirky simply doesn't know what he's talking about; I guess it is entirely possible that all of them are wrong, and a certain kind of person will always insist that we take this possibility quite seriously. Here, I just want to point out that right or wrong, Shirky isn't doing the work he needs to do to make his case, and doesn't even seem to be aware of how heterodox his argument actually is. Simply by name-dropping Ralph Nader and Ross Perot and invoking loyalist truisms about how resistance is futile, Shirky thinks that he has overthrown volumes of scholarly works affirming the power and significance of protest voting. For anyone interested in a realistic understanding of strategic voting, this degree of hubris should not inspire confidence.
Swing States
UPDATE "Suddenly, states that haven't voted for a Democratic presidential candidate in this century are up for grabs," like AZ, GA, and UT [McClatchy]. "If those states continue to emerge as battlegrounds, Trump will be forced to divert precious resources, such as advertising and personnel, simply to hold on to what should be his while Clinton ups her efforts there. They join North Carolina, which voted Democratic in 2008, as states that Trump needs to win but in which he faces a tough test from Clinton."
Squillionaires and Establishment Republicans for Clinton
Susan Collins [Business Insider]. Not sure how much influence this will have on Maine's second district, though.

"Every Republican who has bucked Trump can be pretty easily categorized. A clear pattern emerges: The less directly and immediately accountable to Republican base voters an elected official is, the more likely he or she is to break with Trump" [WaPo]. With a fine round-up of the Republican nomenklatura who are doing that.

UPDATE "If Donald Trump loses in November, as seems more likely by the day, Republican recriminations will be historic. The party as currently constituted cannot and will not withstand the geometric forces acting upon it, both from within and without. While the Establishment wants to grow the GOP, they also have a heavily vested interest in maintain DC's status quo, and that force is pulling on the core. The activists, on the other hand, are trying to consolidate and purify the GOP, pulling it inward. These opposite gravitational poles are as strong as they've ever been, likely since the Whigs went the way of the Dodo" [Medium].
Stats Watch
NFIB Small Business Optimism Index, July 2016: "The small business optimism index rose 0.1 points in July to 94.6, a minute gain but nevertheless a touch higher than expectations and the fourth monthly increase in a row after falling to a 2-year low in March" [Econoday].
Productivity and Costs, Q2 2016 (preliminary}: " Output picked up in the second quarter but not quite as much as hours worked or compensation. Productivity fell 0.5 percent in the quarter for the third decline in a row" [Econoday]. "This is the longest negative streak in the history of this report which goes back to just after WWII." And: "the growth of productivity contracted while the labor costs grew (headline quarter-over-quarter analysis). The year-over-year analysis also shows productivity in negative territory, and negative productivity is a usual indicator of a recession" [Econintersect]. Big caveat: "I personally do not understand why anyone would look at the data in this series as the trends are changed from release to release – and many times significantly between the preliminary and final release."
Wholesale Trade, June 2016: "June wholesale inventories rose 0.3 percent in a build that for a second straight month is too low as sales surged 1.9 percent. The mix pulls down the stock-to-sales ratio two notches" [Econoday]. "And sales strength is impressive and is centered at the heart of business investment, that is machinery where wholesale sales surged 2.8 percent to add onto solid gains over the prior two months. Hardware sales, also key to business investment, surged 7.7 percent in the month. These sales gains hint at rising business expectations which are needed given general weakness in productivity (as seen in this morning's earlier report for the second quarter). Judging by stock-to-sales ratios, both machinery and hardware need to be restocked along with metals and electrical goods which are two other business investment categories."
Consumer Expectations: "[S]teady short-term inflation expectations but a decline in medium-term inflation expectations. Labor market expectations generally deteriorated, with a decline in earnings and job finding expectations. On the other hand, expectations related to household finance were optimistic: there was an increase in household income and spending growth expectations, and an improvement in future perceived credit access and financial situation" [Econintersect].
Shipping: "The Port of Oakland, Calif., reported record container volumes in July, driven by a surge in empty containers on both the export and import side" [Wall Street Journal]. "Empty containers are usually moved, in anticipation of trade growth, to places where they're expected to be filled with goods before shipping back."
Shipping: "[T]oday's big Singaporean shipping acquisition news, namely the takeover by the Singapore Exchange (SGX) of the venerable 272-year-old Baltic Exchange, London's hub for freight data and deals" [Splash247]. SGX paid top dollar. Why? London real estate, partly. And data. But: "Wealthy Singapore, intent on being the world's top maritime hub, is just putting London out of business as a so-called shipping centre and for that the purchase price, you could argue, looks like good value. It's not what it is acquiring, per se, it is where and whom it is taking control from – in Olympic terminology, a passing of the baton, if you like."
Shipping: "However, a coordinated effort within the paper industry to stem the dramatic decline of the box-car fleet could increase the use of [Increased Life Status, which allows the extension of a boxcar's lifetime from 40 years to 65 years]. As the predominant user of box cars, the paper industry is extremely concerned about the fleet's future. Since 2007, about 110,000 box cars have been retired and only 8,500 cars have been built. New box cars are problematically expensive, and the modal-competitive nature of this freight makes new-car investment difficult to justify" [Progressive Railroading].
Shipping: "To assure that the right medications get to patients right away, Toho Pharmaceutical built a distribution center that is so highly automated most of the products processed there are never touched by human hands" [DC Velocity]. "The automation is so extensive that the 130 warehouse workers employed at the facility never touch about 70 percent of the products processed there. This is due in large part to several automated storage and retrieval systems (AS/RS) and a small army of robotic pickers. Tying all of the automated systems together are five kilometers (three miles) of conveyors."
Supply Chain: "The rise of online shopping is forcing warehouse builders to redraw the map of logistics hubs on the East Coast" [Wall Street Journal, "E-commerce Forces Shift in Warehouse Building"] . "Development in Pennsylvania's Lehigh Valley, closer to New York City than other hubs, has surged in the last five years." I wonder what the effects on voters will be? That Amazon warehouse where workers were collapsing from heat stroke was in PA, after all, so jawbz may not be a proven vote-getter. And then: "Since the end of the Great Recession in the second quarter of 2010, no U.S. industrial market has grown as fast as the Interstate-78/Interstate-81 corridor, which includes the Lehigh Valley and parts of Central Pennsylvania, but excludes the Philadelphia market. Developers have added 56 million square feet of space, increasing the size of the market by 25% over that period, exceeding double-digit percentage growth in Houston; Columbus, Ohio; and the Inland Empire area east of Los Angeles." Capital is betting big on continued globalization (and bringing about a situation where people who shop like me — I just ordered garden twine online because the chains, now being killed by Amazon, killed my local hardware store — will become much more the norm. My garden twine will come in a UPS Truck. How is that in any way sustainable, or even sane?) Capital is also betting on rail to feed those warehouses. Finally, capital, as you have been reading in this section, is also betting big on robots. So, in Pennsylvania, the good steel jobs "went away." And soon the crapified warehouse jobs will "go away." I'm long tumbrils. Funny how many stories these days could also be filed under Political Risk.
Political Risk: "Shippers and carriers holding out hope that states would tackle aging roads, bridges and other infrastructure are in for a long wait. Municipal bond issues have dropped to levels not seen in the past 20 years, even as borrowing costs plumb record lows" [Wall Street Journal]. "City and state government officials still have memories of the deep budget cuts they were forced to make during the recession, and are putting spare cash toward rising Medicaid and pension costs. As a result, spending on capital projects is at levels not seen in 30 years." Good call on the size of that stimulus package, Obama. Well played. And eight years later, here we are. Maybe I should file this one under Imperial Collapse Watch. Ever get the sense that the elites have just written the whole country off? Except for their own special enclaves?
Housing: "One of the easiest house humping marketing ploys is when the numbers are crunched with a 20 percent down payment. "Sure, look how great things are when you put 20 percent down." However, for a Bay Area crap shack costing $1.2 million that means $240,000. A small caveat. They provide fantastic numbers on the purchase of the house but fail to crunch the numbers of how one is going to get that $240,000 without a generous gift from the bank of mom and dad" [Dr. Housing Bubble]. But there's a startup for that: "[Landed will get] investors to pay for half of a standard 20 percent down payment in exchange for some of the house's future appreciation — or depreciation — in value when eventually the house is sold or refinanced. In the case of the Bay Area, investors' share is 25 percent. For example, investors would collectively get $250,000 if a house that originally cost $1 million doubled in value by the time it changed hands. If homeowners aren't ready to sell or refinance within seven to 10 years, Landed helps them enter a similar agreement with a new set of investors who can pay back the old ones." And you can crowd-source the other half!
ETFs: "Because ETFs are exchange-traded (it's in the name, after all) and settle just like a stock, it can be very difficult to know with absolute certainty who has beneficial ownership of every share. Even the Depository Trust Company, which has the ownership records for all ETFs and stocks in the U.S., doesn't actually know which funds an individual owns. Instead, it just knows that a certain number of shares are sitting at Charles Schwab or Etrade, and from there, it's that custodian's responsibility to maintain the individual ownership records" [ETF.com]. "But there are ways of ferreting out some of this" (see the tables in the article). The conclusion: "The beauty of the ETF wrapper is that there's something for everyone." Hmm.
Today's Fear & Greed Index: 82 Extreme Greed (previous close: 84, Extreme Greed) [CNN]. One week ago: 77 (Extreme Greed). (0 is Extreme Fear; 100 is Extreme Greed). Last updated Aug 9 at 11:35am. Mr. Market, dull as a dad bod….
Health Care
UPDATE "ObamaCare Appears to be Making People Healthier" [New York Times]. No way! If this were true, Democrats would be advocating Medicare for All to save lives!
Gaia
A new forest planted in the Midlands: "Around dozens of former mining and industrial communities, in what was the broken heart of the old Midlands coalfield, a vast, splendid forest of native oak, ash and birch trees is emerging, attracting cyclists, walkers, birdwatchers, canoeists, campers and horse-riders" [Guardian]. "'This is one of the largest landscape transformations in the United Kingdom, the first major forest to have been planted in England for 1,000 years. We have taken a black hole and given it a new lease of life; given people a new landscape they can identify with. We can say that air pollution is better, the rivers are cleaner, the water is being retained better and soil is being better conserved." This would work in Appalachia; good for the enviroment and a jobs program, too, assuming locals do the planting. If liberals didn't hate the working class, it would already have been proposed.
Imperial Collapse Watch
"Coming to Terms with Secret Law" (PDF) [Harvard National Security Journal]. From the abstract:
The allegation that the U.S. government is producing secret law has become increasingly common.This article evaluates this claim, examining the available evidence in all three federal branches. In particular, Congress's governance of national security programs via classified addenda to legislative reports is here given focused scholarly treatment, including empirical analysis that shows references in Public Law to these classified documents spiking in recent years. Having determined that the secret law allegation is well founded in all three branches, the article argues that secret law is importantly different from secrecy generally: the constitutional norm against secret law is stronger than the constitutional norm against secret fact.Three normative options are constructed and compared: live with secret law as it exists, abolish it, or reform it. The article concludes by proposing rules of the road for governing secret law, starting with the cardinalrule of public law's supremacy over secret law. Other principles and proposals posited here include an Anti-Kafka Principle (no criminal secret law), public notification of secret law's creation, presumptive sunset and publication dates, and plurality of review within the government (including internal executive branch review, availability of all secret law to Congress, and presumptive access by a cadre of senior non-partisan lawyers in all three branches).
The horse may already have left the barn; after all, Obama's set up a system where U.S. citizens can be whacked on the say-so of the executive branch alone, which seems to violate the Anti-Kafka principle. "Sovereign is he who decides on the exception," cackles Nazi legal theorist Carl Schmidt.
Class Warfare
"Women's gymnastics, in its current form, owes a lot both to second-wave feminism and to Title IX—which brought about the general de-dainty-ization of the traditionally balletic sport" [The Atlantic]. 'An Under Armour ad that went viral in the lead-up to the Rio Games showed Madison Kocian training, with other women gymnasts, for her Olympics debut. The ad featured inspiring music. It featured the brand's tagline of of-the-moment empowerment: "Rule yourself." It featured scenes of the gymnast who is currently one of the best in the world sacrificing, striving, hurting, pushing … and getting her nails done."
News of the Wired
"Library anxiety is real" [Atlas Obscura]. "Some students in Mellon's study did their best to avoid the library altogether. 'I know that nothing in here will hurt me,' wrote one freshman, 'but it all seems so vast and overpowering.' Another first-year student described the library as "a huge monster that gulps you up after you enter it.'"
"Researchers crack open unusually advanced malware that hid for 5 years" [Ars Technica]. Tick tick tick..
"Read the CIA's Simple Sabotage Field Manual: A Timeless, Kafkaesque Guide to Subverting Any Organization with "Purposeful Stupidity" (1944) [Open Culture]. Weaponized agnotology. How nice.
* * *
Readers, feel free to contact me with (a) links, and even better (b) sources I should curate regularly, and (c) to find out how to send me images of plants. Vegetables are fine! Fungi are deemed to be honorary plants! See the previous Water Cooler (with plant) here. And here's today's plant (SB):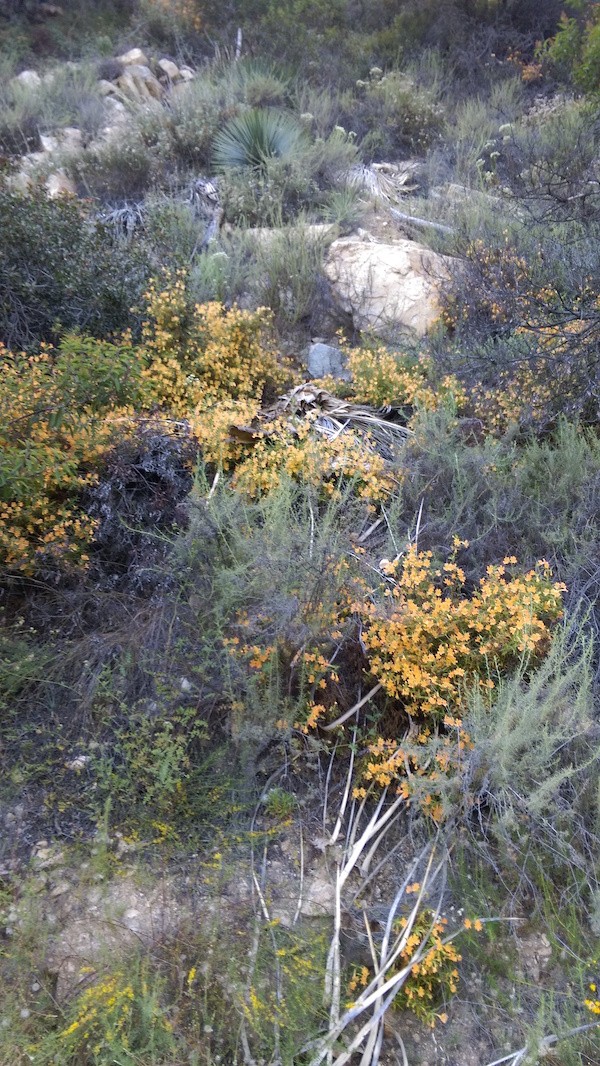 Very inviting! From Southern California.
Readers, if you want to send me some videos of plants in whole systems (bees and blossoms, for example, or running streams) — I can use them to practice with FFmpeg and hopefully post them. Because of download times, they'll have to be measured in seconds, rather than minutes. Thank you! Adding, I got another one today! Please keep sending them; they will ultimately appear!
* * *
Readers, if you enjoyed what you read today, please use the dropdown to choose your contribution, and then click the hat! Your tip will be welcome today, and indeed any day. Water Cooler will not exist without your continued help.