Dear patient readers,
Links are again a bit thin. Thanks for your kind notes about my mother. The short version is the drama was way worse than the event.
She only sprained her foot but the emergency room staff told her to stay completely off her foot for three days, which they insisted meant having 24 hour help. They could tell she was not going to comply and called me. It took a huge amount of effort to corner her into agreeing to sort of cooperate (including catching her lying to the woman who acts as an informal health care aide), and she still slipped the leash by cutting back the coverage I'd arranged to a mere 12 hours/day. Mind you, this took hours to sort out, between calls to the woman who helps her for a half day a week, the home health care service, the emergency room staffers, and my siblings.
Monkeys steal human hair to floss their teeth (video) TreeHugger (resilc)
Zebra finch 'heat song' changes hatchling development BBC (Dan K)
NASA Study Nails Fracking as Source of Massive Methane 'Hot Spot' Common Dreams (Dan K)
How the War on Drugs Makes People Eat Other People's Faces After Stabbing Them to Death Alternet (Dan K). A contender for Top Clickbait Headline.
Hong Kong's Sex Workers Are Ditching Their Pimps for iPhones Motherboard (resilc)
Brexit
The retreat of neoliberalism Defend Democracy
Syraquistan
Pentagon Warns Syria to Avoid Action Near U.S. and Allied Forces Wall Street Journal

How Parasitic Finance Capital Has Turned Iran's Economy Into a Case of Casino Capitalism Counterpunch (Chuck L)
Big Brother is Watching You Watch
Oracle Is Funding a New Anti-Google Group Fortune (Dan K)

DJI opens its first drone arena in Seoul, South Korea Quartz (resilc)
Imperial Collapse Watch
The Contemporary Crisis of the American Ideology Defend Democracy

Think the world is on fire? Obama's national security adviser says things are better than ever. Vox (resilc)

Should the U.S. Still Be Sending Military Aid to Honduras? New Yorker (resilc)

How Bill Clinton Made America More Ambitious—and Dangerous National Interest

Casuistry Counterpunch (Chuck L)

Uncovering the brutal truth about the British empire Guardian (Chuck L)
Clinton E-mail Tar Baby
Hillary Clinton's 'Colin Powell did it' defense of her email practices is just plain wrong Washington Post. Li: "Even Cilizza turned on her."
2016
How a Wonky Trade Pact You'd Never Heard of Became a Huge Campaign Issue Mother Jones (JLS)

Will Bernie Sanders' 'Our Revolution' Finance DNC, Clinton's Campaign? Inquisitur. Dan K: "WTF is with Weaver? I was already creeped out by the way he let Mook push him around before the primary. Oh well, more 'clarification' if nothing else. Fool me once…" Moi: It is possible that the Sanders team is taking a page from the Japanese: Never get into an open conflict (particularly given how pushy and fabulously vengeful the Clintons are). Make a show of agreeing and then do the least important 40% of what they want you to do very very slowly.

Hillary's Neoconservatives American Conservative

Now the Clintons Tell Us Wall Street Journal (Li). On the Foundation.

Hillary Clinton's Ethics Problems Are Worse Than She Understands New York Magazine (resilc)

Hillary Goes With the Flow Andrew Levine, Counterpunch

Hillary Clinton's Fundraising Pace Accelerates Wall Street Journal (Li)

Trump stays on script to hammer Clinton The Hill (Li)

Yes, Obama and Clinton Created ISIS – Too Bad Trump Can't Explain How It Happened Glen Ford

Dilbert Explains Donald Trump Wall Street Journal. Our EM put NC readers onto Scott Adams' take on the race more than a month ago.
A tale of two Louisiana disasters and media bias The Hill (Li)
The Anti-Democratic Urge New Republic (resilc)
Aetna, Obamacare and health insurers' 10 dirty secrets MarketWatch (resilc)
Judge Refers Arizona Sheriff Joe Arpaio for Criminal Prosecution New York Times (Scott)
A Blow to Voting Rights in Illinois Alternet
Work stops at Dakota Access Pipeline site North Dakota News (martha r)
Corruption
Lawmakers Overseeing Wall Street Given Bigger, More Favorable Loans Than Others: Study International Business Times
Class Warfare
The wealthy have nearly healed from recession. The poor haven't even started. Washington Post. Like Lambert, I loath the application of health imagery to things that are not even remotely organic, like a balance sheet. Dan K provides the link to the underlying CBO study.

Lyft Is Said to Seek a Buyer, Without Success New York Times

It's Not Just Texas. Maternal Deaths Are High Across The U.S. Huffington Post (Dan K)

America's cash-strapped teachers are a target for predatory lenders Guardian (resilc)

The Limits of Excellence Jacobin. Martha r flags this part: "But if the valorization of women's achievements fills a harmful cultural gap, it also risks turning feminism into a project of moral sorting and reward — ultimately obscuring, naturalizing, and enforcing the power systems it purports to challenge."
Antidote du jour. IsabelPS: "Baby bird saved by its parents after falling from the nest."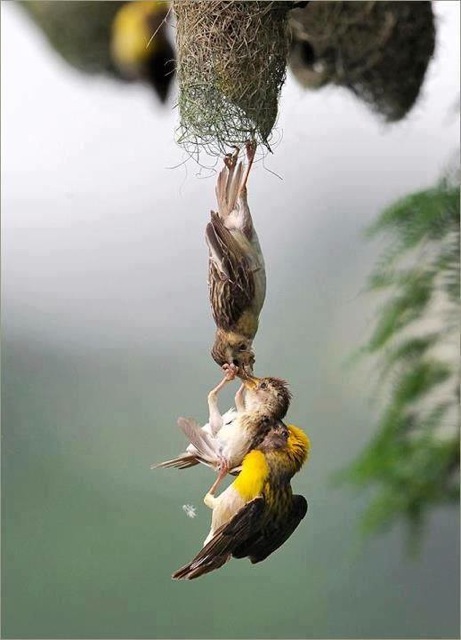 See yesterday's Links and Antidote du Jour here.