Yves here. It's revealing to see the amount of economist hand-wringing in the wake of the Leave vote. And this article, while it makes some good points, makes a strong claim at the very top of the article that was contradicted in an article we ran yesterday, that there was a great deal of agreement among economists regarding the cost of a Brexit. The Institute for New Economic Thinking said the same thing in an earlier post we featured, that there was considerable divergence on the potential impact.
Speaking as an economist, it is totally clear to me that no economically rational voter would pay a moment's attention to any "Brexit" prognostications by any economist. Why? Firstly, because the question to be voted on offers two choices "Stay or Leave" without any clue whatsoever about how either choice would be implemented. "Stay" might seem a simple default choice, but its consequences would depend on the future evolution of an EU already in crisis and heading for major changes with quite unpredictable effects. And "leave," as we all now can see, has so many possible variants that no consensus either on which variant would be chosen or on its effects would be conceivable. Therefore, any pronouncement by an economist being inherently irrational and probably contradicted by the estimate of every other economist, the only economically rational choice for a rational voter was to disregard all the economists. But even that level of analysis leaves out the elephant defecating over the whole thing: the voters were being asked to participate in a purely advisory, legally meaningless, exercise whose only possible direct effects (besides settling a backroom knife fight among several gangs of Tories) would be purely psychological. So actually the rational voters were those who saw through the whole fraud and abstained.
By Nauro Campos, Professor of Economics and Finance, Brunel University. Originally published as a chapter in the VoxEU ebook, Brexit Beckons: Thinking ahead by leading economists, available to download free of charge
On 23 June 2016, 52% of British voters decided that being the first country ever to leave the EU was a price worth paying for "taking back control", despite advice from economists clearly showing that Brexit would make the UK "permanently poorer" (HM Treasury 2016).
The extent of agreement among economists on the costs of Brexit was extraordinary: forecast after forecast supported similar conclusions (which have so far proved accurate in the aftermath of the Brexit vote). Yet the publication of each one of these estimates was followed instantaneously by acerbic criticism which culminated, days before the vote, with the claim that economic experts warning about leaving the EU were like the Nazis who denounced Einstein in the 1930s (Cowburn 2016). Institutions were not immune, with the Treasury, Bank of England, IMF, OECD, and IFS receiving similar treatment. What went wrong? Were economists not ready? Were our forecasts technically poor? Were economic studies fundamentally incomplete and thus flawed? Are we to blame? This column addresses these questions.
How Come Brexit?
In the years to come, there will undoubtedly be many PhD dissertations dissecting Brexit. Economists have been blamed for it, but I don't think we even make the top three cuplrits. The three main culprits for Brexit, in my opinion, are political elites, economic elites, and the media. These are the three Cs – Cameron, the City, and coverage – with a number linked to each: 11, 17.5, and 41.
Former prime minister David Cameron's referendum pledge was a reaction to UKIP's performance in the 2014 European Parliament election. Voter dissatisfaction with the economic policies implemented by the coalition government since 2010 meant severe losses for the two coalition parties. The Conservatives lost seven seats (of 26), while the Liberal Democrats lost 10 (of 11). UKIP gained 11 seats to become the largest UK party.
Economic elites were complacent because they thought common sense would deliver a win for 'Remain'. Those with more at stake, like the City, did not feel the urge to back up the Remain campaign. Hence, the final fundraising total for 'Leave' was bigger than that for Remain by about £3.3 million: £17.5 against £14.2 million (Electoral Commission 2016).  Coincidentally, 17.5m was also the number of pro-Brexit votes.
My third main reason is media coverage. Levy et al. (2016) use a sample of 1,558 articles across nine major UK newspapers to show that 41% were in favour of Brexit, while only 27% were pro-Remain. These are absolute numbers, not weighted by circulation. The authors call the remaining 30% "mixed, undecided or no position".
It is absurd to blame Brexit on economists, especially in light of the three reasons above. Yet economists may have not been fully prepared. The breadth of our knowledge was inadequate. Some examples: two years ago, we were still struggling with the fragility (i.e. lack of robustness) of our estimates of the benefits of EU membership;1 two years ago, we did not have answers to key questions such as how much EU membership increase FDI flows into the UK;2 and, to this day, we have not yet seen time-series data on how the UK financial sector grew after 1973.3
Such gaps are important because the estimates of the costs of leaving the EU are a function of the estimates of the benefits from EU membership adjusted by the size (and time profile) of the entry/exit shock. The latter can be thought of as a turning point, a structural break (Campos and Coricelli 2015), or also as varying across countries with some more capable than others of absorbing the benefits of integration.
The bottom line is that economists cannot be listed among the main Brexit culprits. Yet gaps in knowledge may well have hindered the quality of our advice. Did this happen? In other words, how good were the ex ante estimates of the costs of Brexit?
Looking Back at the Ex Ante Estimates of the Costs of Brexit
Between the outright victory of the Conservative party in May 2015 and the Brexit vote, there was a stream of medium- and long-term forecasts. We can identify three types of estimates.
Type 1 is the one showing gains: Economists for Brexit (2016 ) predict that Brexit will increase UK incomes by about 4% by 2030 (see Dhingra et al 2016b for a thorough assessment).
Type 2 are older (pre-May 2015), mostly done by pro-Leave think tanks and often reporting a zero effect.
Type 3 includes the vast majority of estimates, which show significant medium- and long-term losses from Brexit. To be specific, the Treasury (2016), CEP/LSE (Dhingra et al 2016a), the OECD (2016), and the NIESR (Ebell and Warren 2016) predict short-term income losses of about 3.8%, 2.6%, 3.3% and 2.3%, respectively, and long-term losses of about 6.2%, 7.5%, 5.1% and 7.8%, respectively.4
Figure 1 Recent estimates of the long-term impact of leaving the EU on UK GDP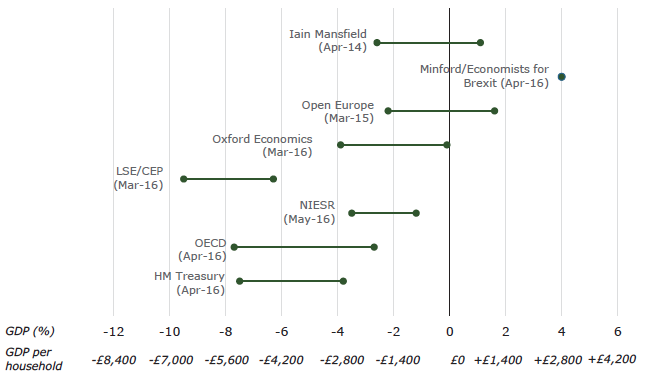 Source: Chadha (2016).
These are central estimates. Type 3 studies often presented three scenarios: the EEA/Norway model, the Swiss model, and WTO rules.5 Although losses from the EEA option are the smallest in per capita GDP terms, there is evidence of productivity losses of 6-9% for Norway vis-a-vis EU membership (Campos et al. 2015). Note that the heated UK 'productivity puzzle' debate is over a similar productivity loss of 6% to 9% (Yueh 2015).
How can we differentiate between these types of estimates? I argue they differ in at least two fundamental ways: in methodological transparency, and in the quality of the assumptions. On the first count, it is abundantly clear that Type 3 studies are superior to the others. They all provide extensive details that make their estimates entirely replicable. The same can simply not be said of Types 1 and 2.6
The three groups also vary significantly regarding their underlying assumptions. An illustrative example refers to EU regulation costs, which are closely associated with the sovereignty debate. Types 2 and 3 correctly assumes these to be small. Type 1 assumes costs of regulation that are about 6% of GDP, which is large and unsupported by international evidence. Clearly, the larger the costs assigned to EU regulation, the better the Brexit option looks.
There is something insidious about reports arguing that the long-run effect is small or zero. They not only cloud the debate, but present Brexit (and, by extension, UK membership of the EU) as immaterial, irrelevant, or even inconsequential.
Brexit May Mean Brexit, but What Will "Success" Mean?
If one silver lining is needed, the referendum focused our minds and pushed us to generate a lot of knowledge that we didnít have before. Almost without exception, the plethora of studies produced in the wake of Brexit will be useful for understanding, reforming, and hopefully improving the EU. A month on, the Type 3 forecasts are sadly proving accurate. We need to wait until 2030 to assess the long-run estimates, but one thing is clear: being ëoutí turns those still ëiní into natural comparators or counterfactuals. In 2030, there will be less need for sophisticated counterfactual estimation because just analysing the economic performance of Germany, France, the Netherlands, Poland and the other EU members after 23 June 2016, may well be instructive enough.
See original post for references