By Lambert Strether of Corrente.
TPP/TTIP/TISA
"The key [to preventing TPP from coming to a vote in the lame duck] is to get House Democrats on record before the election as opposing TPP, and then getting them to lobby the 28 Democrats who supported the "fast track" Trade Promotion Authority (TPA) to oppose a vote after the election. These 28 are: Terri Sewell (AL-07); Susan Davis (CA-53); Sam Farr (CA-20); Jim Costa (CA-16); Ami Bera (CA-07); Scott Peters (CA-52); Jared Polis (CO-02); James Himes (CT-04); Debbie Wasserman Schultz (FL-23); Mike Quigley (IL-05); John Delaney (MD-06); Brad Ashford (NE-02); Gregory Meeks (NY-05); Kathleen Rice (NY-04); Earl Blumenauer (OR-03); Kurt Schrader (OR-05); Suzanne Bonamici (OR-01); Jim Cooper (TN-05); Rubén Hinojosa (TX-15); Eddie Johnson (TX-30); Henry Cuellar (TX-28); Beto O'Rourke (TX-16); Gerald Connolly (VA-11); Donald Beyer (VA-08); Rick Larsen (WA-02); Suzan DelBene (WA-01); Derek Kilmer (WA-06); Ron Kind (WI-03)" [Dave Johnson, CAF]. "Hillary Clinton could help kill TPP by demanding the President Obama withdraw TPP from any possibility of consideration in the 'lame duck' session of Congress." It's certainly odd that she hasn't.
"[A]ll 26 of the 28 pro-TPA House Democrats who have so far undergone primary contests have been successful" [Politico]. "The final two remaining are Rep. Ron Kind of Wisconsin, for whom voters will go to the polls next week, and Rep. Debbie Wasserman Schultz of Florida, whose contest is at the end of the month."
""Look, people said TPA was dead six times,' [Jason Miller, deputy director of the National Economic Council] said. 'And we got it passed. We got it passed with a bipartisan group, a majority of Republicans, but a bipartisan group, and that is the group that we are focused on getting TPP over the finish line'" [Politico]. "The White House official also urged the advisory group not to worry too much about the anti-TPP rhetoric coming out of the Democratic and Republican party conventions. 'The conventions are conventions,' Miller said. 'So they're doing their thing.'" Pesky voters!
"Environmental, consumer, faith, senior, family farm, LGBTQ, Internet freedom, small business, human rights, online activism, and other organizations have made stopping the TPP a major priority because it would undermine decades of their policy achievements and foreclose future progress by requiring signatory countries to conform domestic laws to hundreds of pages of non-trade rules promoted by the corporate interests involved in negotiations" (pdf) [Eyes on Trade]. That list is the glory and tragedy of today's left.
2016
Policy
UPDATE "Clinton's campaign has such strong persuasion going right now that she is successfully equating her actual misdeeds of the past with Trump's imaginary mental issues and imaginary future misdeeds" [Scott Adams]. This is a Rovian strategy: Assault the enemy's strength. You've got to admire the effrontery: The candidate who didn't raise a voice against the Iraq War and tipped the administration in favor of war with Libya (which we're now bombing again) paints their opponent as a lunatic warmonger.
The Money
"Fueled by Small Donations, Donald Trump Makes Up Major Financial Ground" [New York Times]. Wait, wait. I thought the Trump campaign was imploding? Is it possible that the narrative has simply been ginned up by the (deeply threatened) Democrat and Republican establishments, working within the (deeply threatened) political class? That would be huge! Caveat that these are not FEC figures; nevertheless, this is Nick Confessore's beat, so I'd expect him to get it right. More: "Donald J. Trump all but erased his enormous fund-raising disadvantage against Hillary Clinton in the span of just two months… [The new figures] they suggest that Mr. Trump has the potential to be the first Republican nominee whose campaign could be financed chiefly by grass-roots supporters pitching in $10 or $25 apiece, echoing the success of Senator Bernie Sanders of Vermont during the Democratic primary… " And this is important: "Mr. Trump was able to ramp up quickly in part through a digital operation set up by the R.N.C. since that campaign. Even before Mr. Trump was the nominee, the party built out its email list and tested ways of targeting small donors." Wait, wait. I thought the narrative was that Trump and the RNC were at each other's throats? (Oddly, or not, Trump didn't mention the prospect of these figures on his hilarious interview with WaPo's Philip Rucker.)

Best headline: "Donald Trump Implodes His Way To Strongest Fundraising Month Yet" [HuffPo]. "Trump will match small donations up to $2 million, his team said." Smart.

Money in the bank: "Clinton still has significantly more money in the bank than Trump; her campaign has $58 million on hand, compared to Trump's $37 million. However, this is a big improvement for Trump over just a couple of months ago. At the start of June, Trump had only around $1.3 million on hand, compared to Clinton's $42 million" [NPR]. And the air war: "Trump's stronger fundraising could help even out the massive advertising gap between the two candidates. Thus far, Clinton's camp has aired $68 million in ads, compared to Trump's $6 million, NBC News reported on Tuesday. Even more staggering, Clinton had reserved $98 million in TV ad time, compared to Trump's $817,000, NBC also reported." Clinton is ahead. And so she should be. But 95 days is a long time in politics.

"California entrepreneur Reid Hoffman [a cofounder of LinkedIn and PayPal] has purchased $220,000 worth of television, radio and online advertising in support of Democratic gubernatorial candidate Matt Dunne, according to a disclosure filed Thursday with the Secretary of State's Office" [Seven Days]. "Throughout his campaign, Dunne has railed against the influence of big money in politics. At a Wednesday press conference, he framed himself as up against the "establishment." In March, he returned all of his corporate contributions and called on his opponents to do the same. At the same time, he has raised hundreds of thousands of dollars from out-of-state donors and held fundraisers in New York City and Washington, D.C."
The Voters
"Think about it: While Bernie was the oldest candidate running for president, in heart, soul, vigor, and vision he is by far the youngest. He won the majority of voters under 45 years old and a stunning 71 percent of under-30 voters. In the under-30 demographic, Bernie even won decisively among women, including African Americans and Latinas. He also dominated among independents who voted Democratic. There's the future" [Defend Democracy]. Numbers like these should really put paid to the identitarian narrative pushed by the Democrat establishment that kitchen table issues can't appeal across their beloved identity silos. But that zombie narrative just won't die. (UPDATE I love this sentence, because its so totally TNR: "There was a time when Democrats were skittish about confronting the white working class over race." Apparently, a policy of benign neglect that's permitted an AIDS-level epidemic with half-a-million excess deaths isn't "confronting." Fine. If you ever want to see real hate, confront a liberal goodthinker with the working class. Speculating freely: If those same liberal goodthinkers, when they were a lot younger, hadn't insisted on Michael Dukakis instead of Jesse Jackson, a lot of those lives might have been saved. But "they work every day." So, no.)

Two takes, first the conventional one: "The bottom line is that Clinton is up in the polls now. Will it last? Second convention bounces tend to fade; it did for the Republicans in 2004 and 2008 (even before the Lehman Brothers collapse); it did for the Democrats in 1996. Overall, since 1968 the in-party has tended to run behind its showing even two weeks out from the convention, but this is not a hard, fast rule. In this regard, Clinton's lead of about four-to-five points should probably make Democrats nervous" [RealClearPolitics]. The Trump-centric take: "With that said, the model does not include an express variable for a candidate who says the sorts of things that Trump says. It also does not include an express variable for a candidate with the sort of baggage that Clinton has. And it certainly does not include a variable for the probability that Wikileaks will post the contents of Clinton's hard drive, or Clinton foundation emails, to the Internet immediately before a debate, or a week before Election Day." Concluding: "While it certainly feels as though the Trump campaign is approaching a precipice, in reality that probably still lies a bit down the road. With that said, however, a precipice probably is what awaits him on his current path."

"In this frantic rush for 'unity,' the DNC is trying to silence dissent and critical thought about where we are now and how we got here" [Counterpunch]. Not just the DNC, but the political class and liberal goodthinkers everywhere. Remember, that to liberals, just as to conservatives, the left is the real enemy. More: "But behind the Democratic Convention's Hollywood stars, its sea of red, white and blue balloons and US flags, and the 'USA' chants designed to drown out the 'No More War' chants of the Sanders supporters, there was a notable dissent in the crowd, which is reflective of a larger and growing movement against corporate-controlled politics in this country and around the world. Rather than calling it 'disruption,' as so many news pundits have this week, I prefer to call it 'democracy.'" Notice, once more, the pro-war Democrat dogwhistling.
The Parties
UPDATE I want to underline my belief — which is part of the reason for my shift away from horserace coverage — that the emergence of truly independent left entities (and I'm not saying "party" here very deliberately) is far more important than the Presidential race in the long and short term. In the short term, when the (neoliberal) conservatives and (neoliberal) liberals get their party alignment issues sorted, they'll turn on their common enemy, so the left had better have some institutional firepower, no matter how newly organized. (This will be true even in my preferred election scenario, in which either winner is crippled, and gridlock continues.) In the longer term, the left is where all the creative ideas in political economy are coming from, the neoliberal consensus having reached its final flowering, after which decay quickly ensues.)

"In a church meeting hall in Northwest Washington, leaning toward each other in metal folding chairs and talking loudly over cheese pizza, a small group of Bernie Sanders supporters gathered on Tuesday to answer an urgent question: What happens next?" [The Atlantic]. Atmospheric piece, not too condescending. (Personally, I've never understood why the Sanders operation never seriously organized D.C.; a revolution needs its sans culottes, after all, and it's certainly helpful when they're in the capital.)

"[W[e believe that the Bernie Sanders campaign proved that grassroots money and effort can be greater than that of billionaire backed opponents if it is properly focused and utilized. So we think this massive change is possible if we take the same model and apply it to congressional races. Our plan is to recruit and run 400+ candidates as a single, unified, presidential-style campaign" [Brand New Congress]. I see the goals through June marked "done." I don't see the goal in July marked "done," including "60,000 total supporters," and "10,000 total individual donors."

"Since launching in April, the group has amassed an email list of 20,000" [Roll Call]. "Over the past two and a half months they have also raised more than $85,000, according to the most recent Federal Election Commission report for the Brand New Congress political action committee. Roughly 90 percent of the funds came from small donations. "

"[Brand New Congress] is a true bipartisan effort. They're planning to run Democrats in blue districts, Republicans in solid red ones, and independents wherever that makes sense" [Jim Hightower, Sky Valley News]. "But wait — how can they get Republican candidates to run on progressive values? By recognizing that true populism is neither a right nor left theory, but a top vs. bottom reality that even middle-class and lower-income Republicans can relate to."

"First, let me say that switching gears to Congress and the 2018 midterms is a smart way to continue Sanders's fight and channel supporters' passion and frustration into actual electoral change. To quote President Obama this week: "Don't boo, vote." It's not uncommon for failed (and successful) presidential campaigns to shift to transition from getting their guy or girl elected into a broader mission of supporting candidates they agree with. [Howard] Dean for America became Democracy for America. Obama for America became Organizing for Action, and so on. Sanders's campaign itself may even do this" [WaPo]. The "reporter" seems to believe that DFA and OFA magically disappeared. In fact, Rahm and Tim Kaine killed DFA, and Obama killed OFA.

"'Our Revolution,' [Sanders] writes, aims to bring 'millions' of working and young people into the political system; recruit and support the 'next generation of progressive leaders' running for office, from school board to U.S. Senate; and educate the public about 'the most pressing issues confronting our nation' that he says the 'corporate media' fails to emphasize" [USA Today]. "The Vermont senator plans to officially launch the organization later this month with a live-streamed event, similar to his launch of a massive volunteer effort for his presidential campaign last year, said Sanders spokesman Michael Briggs." Sanders is not waiting 'til after the election; that's very good. Note also: "'If you have some strong independents who would like to run, it would be my inclination to support them,' [Sanders] said."

"To nurture the grassroots, Our Revolution will pursue a 50-state strategy, beginning with a challenge to the Democratic Party leadership in many of the states that Bernie carried in the primaries and caucuses. Democratic establishment be warned: Expect Sanders' supporters to run in party precinct elections from Vermont to Hawaii" [In These Times]. "Since its founding 40 years ago, In These Times has advocated an inside/outside strategy vis-à-vis electoral politics. On the outside, we raise Cain, agitate, and describe the contours of a just and more democratic future. On the inside, we promote meaningful change within the existing dominant institutions. The inside game inevitably involves joining forces with people with whom we do not always agree. The alternative to pursuing such a strategy is to cede control of the public sphere to the rich and the powerful." The counter-argument is that this strategy has failed for 40 years. To which the rebuttal is that its time has come, just like Sanders said the same thing for 40 years, and his time came.

"Pramila Jayapal, one of the standard-bearers for Bernie Sanders' Our Revolution movement, won a decisive victory in the primary race for Washington's 7th Congressional District Tuesday night and will advance to the November general election" [Common Dreams].

"Amazingly, 37 'Berniecrats' ran for office in Washington during the primary election. This information comes from the website berniecrats.net, where folks are keeping track of this new movement of activist politicians" [Capitol Hill Times]. Here is a national list of Berniecrats.

"The poll showed that Wasserman Schultz leads 46-38 percent with 16 percent undecided. Her lead narrows after the pollster provided positive and negative information about the candidates, but the press release from Canova's campaign didn't reveal the information provided to voters" [Miami Herald]. "This was the first poll released in the race so far. There have been no public polls and Wasserman Schultz's campaign hasn't commented about polling."

" Wasserman Schultz troubles help produce fundraising bonanza for challenger Tim Canova" [Orlando Sun-Sentinel].
Swing States
Colorado: ""There are a couple things that would make any supporter of Hillary feel confident; one is that a significant part of the Republican Party in Colorado is a family values party, and they've always had some difficulty accepting Donald Trump as the party's candidate," said Colorado Gov. John Hickenlooper. "That's been exaggerated because one of the other key parts of the Republican identity in Colorado is our very close relationship with the military," he said, referring to Trump's recent scrap with the parents of a soldier killed in 2004. "In the last week or two, some of Mr. Trump's comments have been deeply troubling to many people who, before, would never consider not voting for the Republican candidate" [Politico]. Anybody who saw General John Allen beating the war drums before Clinton's acceptance speech at the convention knows this dog-whistling for what it is. Meanwhile, Larry Sabato moves Colorado to Likely Democrat from Leans Democrat [Larry Sabato's Crystal Ball].

UPDATE Pennsylvania: "Hillary Clinton has opened up an 11-point lead over Donald Trump among likely voters in Pennsylvania, according to a new Franklin and Marshall College poll" [The Hill]. "Clinton has 49 percent support among likely voters, and Trump has 38 percent. Clinton is supported by 78 percent of registered Democrats, and Trump is supported by 69 percent of registered Republicans." The article doesn't say where the Republican defections are coming from, but I'd speculate women from the 10% in the Philadelphia burbs, aided perhaps by Lysistratic Nonaction. Kidding!
Squillionaires and Establishment Republicans for Clinton
I really shouldn't go here, but just for fun: Billionaire hedge fund manager Seth Klarman. More Republican establishment figures. What could give a Sanders voter more confidence in Clinton's good faith?
Stats Watch
Challenger Job-Cut Report, Ju;y 2016: "A renewed surge of cuts in the energy sector drove Challenger's lay-off count to 45,346 in July, up from a 34,000 average in the prior two months but in line with the prior trend" [Econoday]. "This report won't be changing expectations for tomorrow's employment report but it does raise the question whether the oil patch, instead of stabilizing, will continue to erode. "
Jobless Claims, July 30, 2016: "Initial jobless claims edged higher the last two weeks of July but remain near record lows" [Econoday]. And: Rolling averages improve [Econintersect]. "After the energy sector, the computer industry has seen the next highest number of job cut announcements this year."
Gallup Good Jobs Rate, July 2016: Improved [Econoday]. "The measure of underemployment in July was 12.7 percent, down from 13.6 percent in June and also the lowest Gallup has recorded since 2010. July's rate also marks the fifth straight month of declining underemployment from February's rate of 14.7 percent. "
Bloomberg Consumer Comfort Index, July 31: "Steady and firm" [Econoday]. "Firm levels of consumer confidence point to optimism for the jobs outlook."
Factory Orders, June 2016: "[1]Anecdotal reports on the factory sector have shown isolated strength that actual government data have yet to show. [2] Factory orders fell a sizable 1.5 percent in June" [Econoday]. (Note the sentence order, which I have helpfully annotated.) "A major negative in the report is a 0.8 percent drop in total unfilled orders where contraction is a negative for factory employment. Total shipments are a positive, up 0.7 percent in a gain that may not be repeated should orders stay weak. A plus is that inventories edged lower, pulling down the inventory-to-shipment ratio to 1.35 from 1.36." And: "US Census says manufacturing new orders declined. Our analysis agrees. The rolling averages declined" [Econintersect]. Uber for Walmart greeters!
Shipping: "The slump in the market for new trucks is getting deeper. Orders for heavy-duty trucks plunged to their lowest level in more than six years in July, tumbling 56% to a net of about 10,400 new Class 8 vehicles" [Wall Street Journal].
Shipping: "Business down, prices up: For LTL carriers, oligopolies are a good thing" [DC Velocity]. "Unlike the much-larger truckload industry that operates relatively straightforward point-to-point services, an LTL network is more complex and resource-intensive, with a phalanx of terminals and lanes with specific origin and end points. LTL carriers must recoup the significant costs of terminal networks to handle their flows of breakbulk traffic. In addition, LTL driver wages are significantly higher than the wages of the typical truckload driver. Faced with high capital expenditures, LTL carriers can ill afford price wars that will compress their bottom lines. What the truckload industry does have that LTL doesn't—regrettably for truckload carriers—is extreme fragmentation."
Shipping: "Demand for air freight rose 4.3 percent in June, the fastest rate for 14 months, according to the International Air Transport Association" [Reuters]. "IATA cautioned against reading too much into June's performance, given the prolonged downturn in cargo markets, which has forced air cargo companies to cut back fleets and seek new products and partnerships." And: "The June data marks the 16th consecutive month the Middle East region reported the fastest growth in freight traffic, and reflects the region's growing prominence on the world's air commerce stage. According to estimates from Dutch freight forwarding and logistics giant Ceva Logistics, Middle Eastern airlines account for 45 percent of the lower-hold, or "belly" space, in passenger aircraft ordered by the world's top 15 carriers" [DC Velocity].
Shipping: "It might be said that greater consolidation of shipowning, which is becoming evident, will have a calming effect on the shipping cycle. This I take leave to doubt. There is no part of our industry more consolidated, and possessed of more computing power, than the liner shipping business – and there is no part of our industry which has knocked the props out of its support mechanisms, and gone on to overtonnage itself, more furiously than liner shipping" [Splash 247]. This is the third part of a really fun series (parts one and two), which makes clear that many, many of these stories could also be filed under "Political Risk." In honor of part two, I post a trailer that explains the allusion in the headline to the British comedy classic Cold Comfort Farm (which has uncomfortable similarities to Game of Thrones, now that I think about it):
"Something nasty in the woodshed…." Words to live by in 2016!
The Bezzle: "'When all of that's lumped together, (it) can be confusing. And then they would think Tesla's a money-losing company but, well, not really. Not if you're growing at like 100% a year,' Musk said" [MarketWatch]. We're losing money on every unit. Let's make more!
The Bezzle: Chart from Cato:
The degree to which IT producing, rather than IT using, industries are driving productivity growth is striking pic.twitter.com/zdl7K5lOvs

— Joe Weisenthal (@TheStalwart) August 3, 2016
Political Risk: "Using algorithms to predict the currency's direction, the index funds choose when to "hedge," buying contracts that fix their exchange rate and protecting investors' winnings if a foreign currency falls" [ETF.com]. "But their predictive models—reset only once a month—may have been caught short by Britain's June 23 "Brexit" vote to leave the European Union, which was followed by an immediate sharp decline in the pound and rally in the yen."
Political Risk: "The fact that yields on top-quality government bonds around the world are at record lows tells us that there is an acute shortage of safe assets – a shortage which is doing terrible damage to people's ability to save for retirement, among other things. The obvious solution to this is for governments to simply create more such assets by borrowing " [Stumbling and Mumbling]. Fixed it for ya.
Political Risk: "That would suggest that the relative price of manufactures properly measured today is not 40% but 12% of its immediate post-World War II level, and that the right 'real' share graph sees not a constant 'real' share of manufactured goods in output, but rather a tripling of the share" [Brad DeLong, Washington Center for Equitable Growth] (in response to this Yglesias article). And: "This has implications for the 'true' rate of economic growth–an aggregate-scale underestimate of 0.3%/year from this channel alone…" Well and good, but a cynical (or realistic voter) might raise some concerns: (1) This doesn't mean we're going to jigger the numbers again, does it? (2) Hasn't this "mistake" been going on for rather a long time? If so, (3) this piece falls into the genre that might be called "Only Those Smart People Who Broke It Can Fix It." The master of the genre is, of course, Larry Summers, but it's a crowded field.
Political Risk: Look at the last bullet point (from Macquarie Research, which looks like a tentacle of Macquarie Group, the largest Australian investment bank.
Macquarie – Our key global message has remained unchanged since the GFC pic.twitter.com/gkESqG5YwX

— Nick (@NickatFP) August 3, 2016
So now would be a good time to buy gold.
Today's Fear & Greed Index: 80, Extreme Greed (previous close: 81, Extreme Greed) [CNN]. One week ago: 82 (Extreme Greed). (0 is Extreme Fear; 100 is Extreme Greed). Last updated Aug 4 at 11:42am. Random twitching?
Our Famously Free Press
"Microsoft Keeps Dossiers on Journalists and Sent Us One By Accident" [Gizmodo].
Class Warfare
"The number of jobs that people ages 16 to 19 secured in May — the start of the summer hiring surge — was just 156,000, down 14% from last year, according to an analysis of government data by career outplacement firm Challenger, Gray & Christmas released this week. And last year, the number of teens who got summer jobs was nearly 11% lower than the year prior… One big reason for the decline? Teens are choosing not to work. "Teens are not pursuing traditional summer jobs like they used to," says Challenger. Instead, many of them are volunteering, enrolling in educational programs or doing other things that may pad their college applications, he explains." [MarketWatch]. Sasha Obama got one, however. On Martha's Vineyard. So we've got the aspirational aspect covered.
"Economists have long expected an aging population to hamper growth for the simple reason that it means a smaller labor force. But new research has identified a potentially more powerful impact: Rapid retirements deprive companies of critical experience and knowledge, which undermines productivity across the entire economy" [Wall Street Journal, "For Economy, Aging Population Poses Double Whammy"]. What crap. Workers are fungible and expendible human resources ("warm bodies"), to be screwed as hard as they can be on the job, after which they should train their successors, be fired, and have their pensions looted. Since when did the communists take over the Wall Street Journal?
"From a capitalist perspective, Trump is a hardworking — if obnoxious — businessman: he inherited money from his father and made it grow. From a socialist point of view, however, he got his wealth by very different means: theft" [Jacobin]. Outright theft, as opposed to mere exploitation.
News of the Wired
A review of Stiglitz's new book, "The Euro: How a Common Currency Threatens the Future of Europe" [Nature].
"British woman held after being seen reading book about Syria on plane" [Guardian]. Pretty soon it's going to be reading any book. "We'll give you any books you need to read when you're boarding the plane."
* * *
Readers, feel free to contact me with (a) links, and even better (b) sources I should curate regularly, and (c) to find out how to send me images of plants. Vegetables are fine! Fungi are deemed to be honorary plants! See the previous Water Cooler (with plant) here. And here's today's plant (Kokuanani):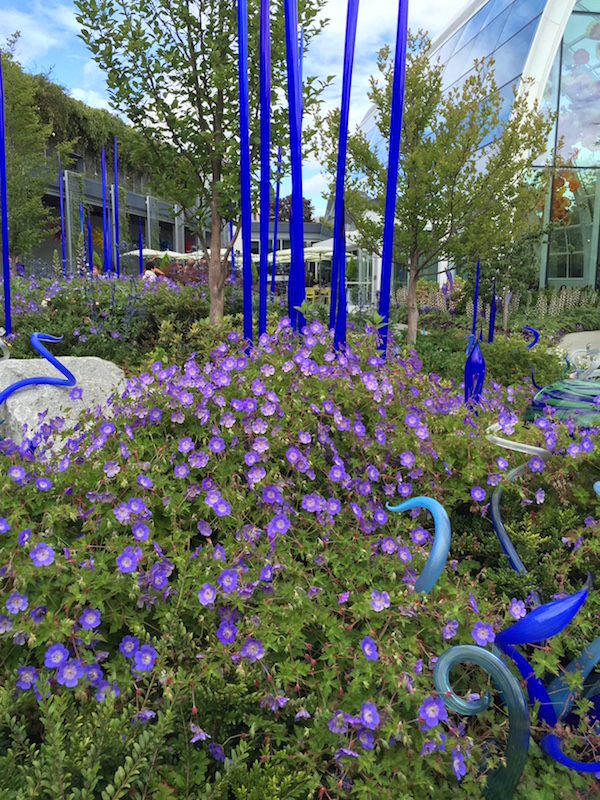 At the Chihuly Glass and Gardens in Seattle, WA.
Readers, if you want to send me some videos of plants in whole systems (bees and blossoms, for example, or running streams) — I can use them to practice with FFmpeg and hopefully post them. Because of download times, they'll have to be measured in seconds, rather than minutes. Thank you! Adding, I got another one today! Please keep sending them; they will ultimately appear!
* * *
Readers, if you enjoyed what you read today, please use the dropdown to choose your contribution, and then click the hat! Your tip will be welcome today, and indeed any day. Water Cooler will not exist without your random acts of kindness.