Girls' Life vs. Boys' Life? Magazine covers spark an uproar MPR News (Chuck L). From everything I can tell, gender role pressures are even stronger now than when I was a kid….and they were plenty strong then.
Want to Slow Climate Change? Stop Having Babies Bloomberg (Jon M)
Poor food 'risks health of half world' BBC
Poor Scientific Research Is Disproportionately Rewarded Slashdot
Liverpool councillors call on shops to stop selling the Sun Guardian. From last week, still of interest. Jon M: "If only this sort of corrective were more widespread… Imagine town councils and shop owners refusing to peddle the NYT and WaPo and WSJ etc. for e.g. WMD war starting government-lie-spewing …"
Google to invest $1m in YouTube Creators for Change Guardian. Resilc: "Wow, a whole one million. How generous."
Brexit
Brexit warning: US bank bosses from Goldman Sachs, Morgan Stanley and BlackRock threaten Theresa May with relocation Telegraph (Dan K). Too funny. This is misleading, and looks to be the Torygraph, which pushed Brexit hard, now trying to blame the US on highly predictable reactions. Theresa May went to the US to find out what Wall Street wanted. This as we noted in a post was really bizarre. Since when does Goldman have a vote? But since she acted as if she valued Wall Street's opinion, one should hardly be surprised that they took the opportunity to give her an earful..
Refugee Crisis
Panic sweeps Calais camp as refugees await the bulldozers Guardian
Merkel Says No Aid for Deutsche Bank; Depositor Bail-In Coming Up? Michael Shedlock (EM). This is a frustrating post. On the one hand, it's a good catch that Merkel is saying privately that there will be no aid to DB; this is consistent with what I've heard from plugged-in contacts, that the hope is that the officialdom can kick the can down the road past the 2017 German elections. The fact that Merkel is also not planning to intervene with the DoJ isn't surprising, but again soft confirmation is useful. However, Shedlock is inaccurate in saying that the DoJ has imposed a $14 billion fine. The leaked story in the WSJ was clear in saying that the DoJ was seeking a $14 billion fine in settlement negotiations. The original article also stated that DB was expecting to pay only $2 to $3 billion. As we pointed out, the very next day DB came out guns-a-blazing and said no way was it paying $14 billion, meaning it's posturing that it will see the DoJ in court instead.
Ukraine/Russia
Sanctions Against Russia Contradict Serbia's National Interests– Sputnik News. Chuck L: "It's possible this is but the first break in the united EU front, however given Serbia's long-standing close ties with their co-religionists who knows?"
Syraqistan
Clinton E-mail Tar Baby
Huge Scandal: Obama Used Pseudonym in Secret Memos on Hillary's Private Server Sputnik News (Chuck L). "Huge scandal" is overwrought, but this does not look good.
2016
Clinton: 'habitual liar' Trump must be curbed in presidential debate Guardian. Um, a President does not get to call in a referee…they have to fight their own fights. Plus trying to renegotiate the shape of the table at this late date, when she's not where she'd like to be, is an admission of weakness. Trump's propensity to make stuff up is hardly new. She can win this debate, but it is more Trump's to lose.

Poll: Clinton, Trump in virtual dead heat on eve of first debate Washington Post

Flowers Says She'll Accept Trump's Invitation to Debate New York Magazine (resilc). What did Clinton think she was accomplishing by inviting Cuban? Showing that Trump is a billionaire that other billionaires hate is a plus in most voters' minds. The Gennifer Flowers move is a clever upstaging, and is also tacky enough that most MSM venues will drop mentioning Cuban because they'd have to mention Flowers. Team Hillary seems to be forgetting the basic rule: Never wrestle with a pig…

2008 Crisis Deepened the Ties Between Clintons and Goldman Sachs New York Times (Phil U)

If Hillary loses, Democrats face a long time in exile New York Post. The inability to see that the so-called left is actually the center of political gravity for voters (as opposed to Big Money) continues.

Why Millennials Don't Like Clinton—And What She Can Do About It American Prospect (resilc). A little late to again try to reintroduce, um, reposition herself.

Frosty Zoom: "Actual Kevin Drum headline: The Clinton Foundation Sure Is a Great Charity Mother Jones. I thought it had to be irony, but alas…Looks like Mr. Drum needs to lay off the catnip."

From Reset to Realpolitik, Clinton's New Hard Line on Moscow Foreign Policy (resilc)

Nobody Knows What Happens Next in the 2016 Election Charles Pierce, Esquire (resilc). Great phrasemaking.

I Was RFK's Speechwriter. Now I'm Voting for Trump. Here's Why. Politico (RR)

US Senate hopeful counters gun control criticism by assembling AR-15 blindfolded Independent (resilc). He deserves to win just on this demonstration of political infighting skills.
Introducing The Clean Money Candidates Revolution! RT (Mason D)
The Weed Industry Now Has Its Own White-Collar Crime Vice (resilc)
The outrageous North Carolina law that could stop the public from seeing police shooting videos Vox
Black Injustice Tipping Point
Guillotine Watch
The $1,000 date night: Has D.C.'s tasting-menu culture hit a tipping point? Washington Post. Kokuanani: "Best line: 'Many people in Washington aren't even footing the bill; they're taking clients out to dinner and billing their companies.'"
Class Warfare
Finance Is Ruining America Atlantic (Phil U)

Autonomous vehicles could cost America 5 million jobs. What should we do about it? Los Angeles Times (resilc). The hype here reminds me of electric batteries for cars circa 1992. The vision of the future then was that all-electrical cars were coming soon, starting with local delivery fleets like Fedex and bus services, since the 100 mile per charge limit wouldn't be a problem (they could go back to their garages and charge overnight). Did this happen? No. And the other impediment, charging stations for passenger cars, is no closer to reality than in 1992 (and there were other too-cute-by-half fixes, like charging stations that would swap in charged batteries for depleted ones so as to minimize driver downtime). The short problem here is we don't have the infrastructure (as in roads) that autonomous cars require and we aren't getting them any time soon.

Walmart's Sam's Club Scan-and-Go App May Make Cash Registers Obsolete TheStreet (resilc). Lordie. As of 2014, nearly 30% of the US households no internet access. How do you think that maps onto WalMart customers? Plue get outside the big cities, you see a big drop in smart phone use. Even in wealthy Mountain Brook, Alabama (yes, believe it or not, it looks like the better parts of Westchester County), you see a fraction of the device use in NYC. These analysts need to get out and see more of the heartland.

As Their Numbers Grow, Home Care Aides Are Stuck at $10.11 New York Times

Class War by Other Means: Tennessee, Volkswagen and the Future of Labor TruthOut (J-LS)
Antidote du jour (Lulu). A hyacinth macaw.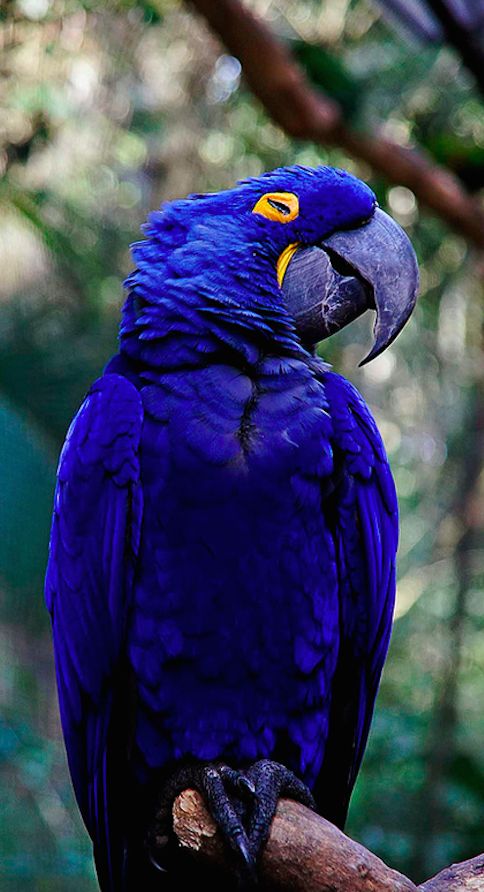 See yesterday's Links and Antidote du Jour here.