This is Naked Capitalism fundraising week. 1293 donors have already invested in our efforts to combat corruption and predatory conduct, particularly in financial realm. Please join us and participate via our Tip Jar, which shows how to give via check, credit card, debit card, or PayPal. Read about why we're doing this fundraiser, what we've accomplished in the last year, and our fifth goal, more original reporting.
By Lambert Strether of Corrente.
Readers, as usual the polling wrap-up held me up, so I'll add a few more 2016 links shortly –lambert
TTP, TTIP, TISA
CETA: "European trade policy has been thrown into disarray after Belgium's government said it could not overcome regional objections to an EU-Canada trade deal despite weeks of fruitless talks to rescue the agreement" [Financial Times, "Belgium sinks EU-Canada trade deal after Wallonia veto"]. "With Ceta all but collapsing, officials said efforts to appease Walloon MPs continue in the hope that it can be salvaged away from the glare of the summit deadline." Where's Belgium's Chrétien when we need him? Ka-ching! But maybe not–
CETA: [The Francophone Socialist Party that governs Wallonia fears that CETA will lead to] "'abandoning all our socialist priorities in Europe,' says Hooghe, who says the real objection is to giant corporations using trade deals like CETA and its U.S.-Europe equivalent TTIP, now under negotiation, to overwhelm European values" [CBC]. And they're not wrong! Good article on Belgian politics, and it should come as no surprise to anyone that what happened to was done to Wallonia echoes what happened to was done to the Rust Belt.
CETA: "'We are not in a position to sign CETA,' Belgian Prime Minister Charles Michel said after talks with Belgium's regional leaders in Brussels" [Deutsche Welle].
Andre Antoine, Walloon parliamentary president and a member of Belgium's center-left Socialist party, said his region is not giving way.

'There's a huge mish-mash of texts. This is not serious international law,' Antoine said. 'Secondly, ultimatums and threats are not part of democracy. We want a deal, we want a treaty, but we want to negotiate it with a minimum of courtesy and respect.'
Hmm.
CETA: "Today's deadline, sources tell our Pro Trade colleagues in Europe, comes from Canadian Prime Minister Justin Trudeau, who is keen to decide whether he'll need to make the trip to Brussels to attend Thursday's summit. After Walloon opposition left Freeland on the verge of tears in Brussels on Friday in discussing her decision to pull back from the talks due to the impasse, the last thing Trudeau wants is another major embarrassment" [Politico].
TISA: "The odds of the Trade in Services Agreement wrapping up by year's end have grown longer after a mini ministerial meeting in Oslo on Friday and Saturday revealed a number of issues remain far from resolved — several of which center on the European Union, for one reason or another. Two of the biggest issues remaining involve data flows and new services (or regulations on services that have not yet been invented)" [Politico].
TPP: "[On Meet the Press,] . 'Again, we haven't talked about that in particular,' Kaine said, adding later: 'A deal has to meet three pillars, and if it doesn't, we can't support it. And TPP doesn't.' Clinton's three criteria for judging a trade agreement are that it must improve national security, raise wages and increase jobs" [Politico]. All eminently gameable, especially if when Big Labor rolls over and plays dead. And: "The Obama administration, pointing to a study by the U.S. International Trade Commission and statements made by national security experts, argues that the TPP already meets all three." Oh, a study!
2016
Days until: 14. That's only two weeks!
Here are the RealClearPolitics polling averages from last week, compared to this week.
| | |
| --- | --- |
| This week:10/17/2016 | Last week:10/10/2016 |
| | |
Oddly, despite the wave of Clinton triumphalism, the "4-way RCP Average" is actually down 0.3 points for her.
Now let's return to the fun Times interactive, "The 1,024 Ways Clinton or Trump Can Win the Election"; it shows the "paths to victory" in tree form. Try it yourself! [New York Times]. Here's some data I put together to play with in the form of a table of swing states:
| | | | | | |
| --- | --- | --- | --- | --- | --- |
| Swing State | Leader | Polling Margin* | SoS Party | A.G. Party | Electoral Votes |
| OH | | 0.6 (0.2) | R | R | 18 |
| NV | C (C) | 4.2 (2.5) | R | R | 6 |
| FL | C (C) | 3.8 (3.5) | R | R | 29 |
| CO | C (C) | 7.2 (9.0) | R | R | 9 |
| NC | C (C) | 2.5 (2.7) | D | D | 15 |
| IA | T (T) | 3.7 (3.7) | R | D | 6 |
| NH | C (C) | 8.0 (3.6) | D | D | 4 |
| WI | C (C) | 7.0 (6.7) | D | R | 10 |
| VA | C (C) | 8.0 (8.7) | D | D | 13 |
| PA | C (C) | 6.2 (7.0) | D | D | 20 |
Legend: Leader and polling margin from RealClearPolitics. SoS's party from WikiPedia. A.G's party from Ballotpedia.
* Previous week's margin in parenthesis (thus). Flipped states ().
Assume Trump wins Ohio and Iowa. Trump (in the Times interactive) has 117 ways to win; Clinton, 136. Clinton's largest leads are Colorado and Virgina (both 8.0%). Give those to Clinton. Clinton now has 46 ways to win; Trump 18. Let's assume Trump pulls off a miracle in Florida: Clinton 15; Trump 16. Give Clinton Pennsylvania because of women 10%ers in the Philly burbs. If Trump wins North Carolina, Wisconsin, and Nevada or New Hampshire, Trump wins. Na ga happen. Even assuming Walker and the Republicans mastermind the mother of election thefts in Wisconsin — and it's not like they wouldn't — Trump still has to win North Carolina and Nevada. And even assuming the North Carolina Republicans mastermind the mother of election thefts in North Carolina — and it's not like they wouldn't — Trump still has to win Nevada. Hi, Harry! [waves].
At this point I should caveat that a "Murder on the Orient Express" scenario is possible; "they all did it." The pollsters are part of the political class, and the political class has decided that Trump is history's worst monster, and anything is justified in defeating him. So it's not, on its face, utterly implausible that the polls are rigged (which is no doubt one reason Trump supporters chant "Brexit"). However, I like things be more solidly grounded than "not utterly implausible," and the United States is a ginormous sloppy continent, not a tight little island like the UK.
At this point, let me note the outliers: the Los Angeles Times "Daybreak" daily tracking poll has Clinton up by only 1.3% (critique of its polling methods); and the Investor's Business Daily Poll has Trump up 2; and FWIW, the IBD poll was the most accurate in 2012. (IBD is averaged by RCP; the Los Angeles Times Daybreak poll is not.) To me, it makes sense that given the Democrat's natural advantage of 4% or so in Presidential elections, Clinton would add a percent or two, given our country's strange consensus on the nature of buffoonery. Can she add four percent, though? Or will the outliers be right? We'll soon know!
Besides the slim chances listed above, the remaining hope for the Republican Party is split ticket voting, along with retention of the House. As you can see, the Democrats are playing the "expand the map" game; notice the number of toss-ups has increased (which doens't mean any seats have flipped, or that enough will flip).
This week: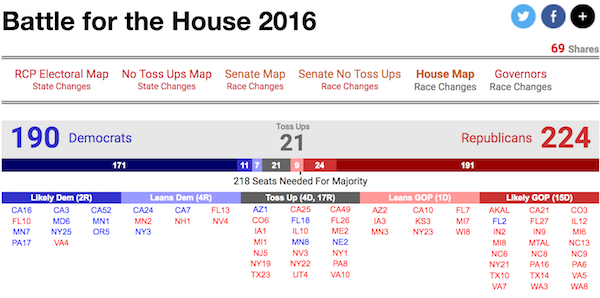 Last week:

And maybe the Senate. As you can see, Wisconsin moved into the "leans Dem" column (caveats as above).
This week: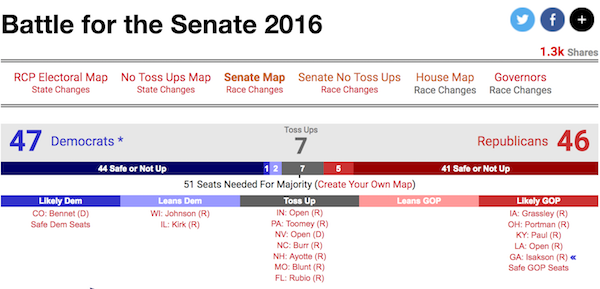 Last week: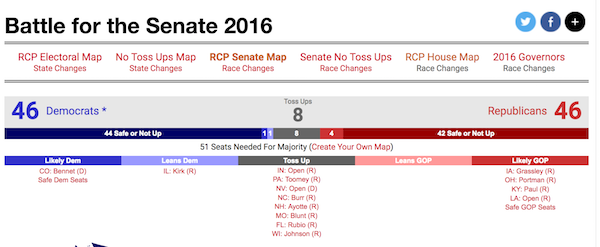 Corruption
"The political organization of Virginia Gov. Terry McAuliffe, an influential Democrat with longstanding ties to Bill and Hillary Clinton, gave nearly $500,000 to the election campaign of the wife of an official at the Federal Bureau of Investigation who later helped oversee the investigation into Mrs. Clinton's email use" [Wall Street Journal, "Clinton Ally Aided Campaign of FBI Official's Wife"]. Musical interlude!
The Voters
"How Democrats Killed Their Populist Soul" [Matt Stoller, The Atlantic] Stoller: "My piece on why the Watergate generation rejected populism, embraced monopoly power, and destabilized politics…" Read and be prepared to discuss further in Links!

UPDATE "In 1996, only 1 in 16 Americans said it would be good if the military ruled the country. By 2014, it was 1 in 6" [Bloomberg].
Our Famously Free Press
UPDATE And then there's this:


NYT prints a list of everything "Donald Trump has insulted on twitter since declaring his candidacy." It's a two page spread. pic.twitter.com/ZVqN5Qe9Di

— Patrick W. Gavin (@pwgavin) October 24, 2016





Sirota comments: "Would be nice if NYT did same thing for #PodestEmails, showing key excerpts & how they relate to policy that will affect millions of people."

Personally, I'm pleased to see the length of the list, because that means that Trump insulted virtually every member of the political class (with, granted, some severe collateral damage). A reason to vote Trump, in my book.
Downballot
"The larger Hillary Clinton's polling margin over Donald J. Trump grows, the louder the question becomes: Is control of the House of Representatives really in play?" [New York Times]. "Among House strategists in both parties, the answer remains the same as it has been all year: not yet. Democrats must gain 30 seats to capture a majority. That requires sweeping nearly all Republican-held seats in which they nurse even small hopes of winning."
The Trail
"Peers call Clinton ally David Brock of Media Matters 'menace,' 'unhinged soulless narcissist'" [Sharyl Atkinson].

UPDATE "There are way too many coincidences in assaults on Trump" [McClatchy]. Opinion, but from sobersides McClatchy. The role of NBC is particularly dubious.

UPDATE Irony-free Clinton schwärmer are deploying "deplorables" feverishly, of course:

Forget Trump and Clinton. 'Black Jeopardy' is SNL's best political sketch this year. https://t.co/zxNzRUvI07

— Eugene Robinson (@Eugene_Robinson) October 24, 2016

As Eugene Robinson comments:

The sketch — written by "Weekend Update" co-anchor Michael Che and SNL co-head writer Bryan Tucker — was smart, funny and topical (a rare trifecta on SNL) and slyly illustrated that America's problems are just as much about class as about race. In a campaign year that's hinged on racial discord, partisan rancor and a deep suspicion of anyone who is "other," the sketch was deliciously cathartic.
Stats Watch
Chicago Fed National Activity Index, September 2016: "The economy expanded at a much better pace in September than in August though, at a sub-zero minus 0.14, was still under the historical average. August is now revised even more deeply into the negative column, to minus 0.72 from an initial minus 0.55. September's improvement is broad-based and centered in production which, helped by gains for manufacturing and mining" [Econoday]. But: "In the table below, see the three month rolling average for the last 6 months – it has been staying within a very tight range. It is telling me that the economy is really going nowhere" [Econintersect]. And: "[E]conomic activity was below the historical trend in September (using the three-month average)" [Calculated Risk]. Moreover: "The latest survey only showed a modest amount of new hires, with a rate weaker than in September despite the overall uptick in the industry" [Economic Calendar]. Nevertheless: "There will be relief that the index pulled sharply away from the -0.70 area as any decline towards this level warns over potential recessionary conditions in the economy" [Economic Calendar]. Unless it's noise.
Purchasing Managers' Manufacturing Index Flash, October 2016: "Markit's U.S. manufacturing sample is reporting sharp acceleration in activity this month, at a flash October index of 53.2 for a nearly 2 point gain from September and the strongest rate of growth since October last year" [Econoday]. "New orders, backlog orders and output are also at 1-year highs with input costs, in what is another sign of rising demand, at a nearly 2-year high."
Retail: "The Weird Economics Of Ikea" [FiveThirtyEight]. Despite the flavor of industrial romance, interesting. Reminds of "fast fashion," except in furniture. I also didn't know Ikea uses 1 percent of the world's lumber.
Concentration: "AT&T/Time Warner deal could be approved without any FCC merger review" [Ars Technica]. "The merger will be analyzed by the Department of Justice, but AT&T has said the FCC will be involved only if any FCC licenses are transferred to AT&T. A TV station is an example of something that requires an FCC license, but AT&T said that it and Time Warner are still 'determining which FCC licenses, if any, will be transferred to AT&T in connection with the transaction. The reason for this uncertainty is that 'despite its big media footprint, Time Warner has only one FCC-regulated broadcast station, WPCH-TV in Atlanta,' Reuters reported. "
Fiscal Policy: "A growing number of investors and policy makers, seeing central banks as powerless to revive an anemic global economy, are championing a resurgence of fiscal spending" [Wall Street Journal, "Investors' New Message to Global Governments: Spend More"]. Ideal opportunity for crony capitalism. Come on down!
ETFs: "Even though the VIX itself is not trading at all-time lows, but rather is up substantially even at present levels from its low $11's registered in August, trouble continues for the largest 'Volatility' based ETPs" [ETF Daily News].
Rapture Index: Closes up one on earthquakes at 189 [Rapture Ready]. Record high on October 10, 2016: 189.
Today's Fear & Greed Index: 53 Neutral (previous close: 43, Fear) [CNN]. One week ago: 33 (Fear). (0 is Extreme Fear; 100 is Extreme Greed). Last updated Oct 24 at 1:14pm. Another ginormous swing! The National Activity Index?
Our Famously Free Press
"Did Newsweek's Kurt Eichenwald Use Threats and Bribery to Silence a Young Journalist?" [Paste].
Water
"Nearly the entire state of Alabama is in the grips of a drought which ranges in severity from moderate in southwest Alabama to severe, extreme or even exceptional drought — the highest classification listed in the Department of Agriculture's U.S. Drought Monitor — in northeast Alabama" [AP].
Guillotine Watch
"Donors Frustrated Over Inability to Purchase a Guaranteed National Championship" [The Mug]. "It's selfish, is what it is," says an anonymous donor. "We spend millions of dollars and hours of our lives bribing recruits to commit and paying for whatever stupid bull**** the kids these days are into. Yet, Alabama and LSU refuse to recognize our hard work and let us take a turn at winning the conference. Louisiana cannot even fund their own flagship university! They should be groveling for whatever money we offer them. It is an absolute travesty," said the donor.
Class Warfare
"Alternative simulations imply that a relatively modest boost in the historical growth rate of government redistributive transfers, accompanied by modestly higher average tax rates, could have achieved small but equal welfare gains for all households. Overall, our results suggest that there is room for policy actions that could offset the negative consequences of rising income inequality" [Federal Reserve Bank of San Francisco]. This is so silly (and shows why "income inequality" is so vacuous a substitute for class warfare. The issue isn't income; the issue is power. For example, suppose that the "welfare gains" got sucked up by a crapified health care system based on profit, as opposed to single payer. Would the "bread" part of the "bread and circuses" model really have made that much of a difference?
" We are about to start a painful learning process about what is "impossible" and what is inevitable. Once it becomes self-evident that the current mode of production is not sustainable, we'll have no choice but to try more sustainable modes of production that are not just more efficient but that offer greater stability, opportunity and social mobility" [Of Two Minds]. The bottom line of an interesting post.
News of the Wired
"Decentralize now?" [O'Reilly]. "By the end of that day [at the Decentralized Web Summit], I had a vision of a very different web, a web of servers combining secure identification with shared publishing responsibility. Instead of posting files or data to "a web server" under my control, I'd just be publishing to the web (using identifiers linked to my identifiers), and letting the web sort out what goes where, optimizing its own storage and delivery structures. That architectural shift takes me into what feels like uncharted territory, but it is clearly technically and financially possible."
"The internet is becoming unreadable because of a trend towards lighter and thinner fonts, making it difficult for the elderly or visually-impaired to see words clearly, a web expert has found" [Telegraph]. The Telegraph, via Drudge, amazingly enough. Here is the original, from [Kevin Marks, BackChannel (DK)]. "There's a widespread movement in design circles to reduce the contrast between text and background, making type harder to read. Apple is guilty. Google is, too. So is Twitter." Well, if the text is harder ot read, that makes people stupider, and also makes video, which also makes people stupider, more attractive. It's easier to sell stuff to stupid people. This is not hard.
"A NASA spacecraft may have spotted the remains of the European Space Agency's (ESA) missing Mars lander. Two new surface 'features' in images from the Mars Reconnaissance Orbiter (MRO) are likely the remnants of the Schiaparelli lander, ESA announced on 21 October" [Nature]. The Mars curse strikes again!
* * *
Readers, feel free to contact me with (a) links, and even better (b) sources I should curate regularly, and (c) to find out how to send me images of plants. Vegetables are fine! Fungi are deemed to be honorary plants! See the previous Water Cooler (with plant) here. And here's today's plant (pq):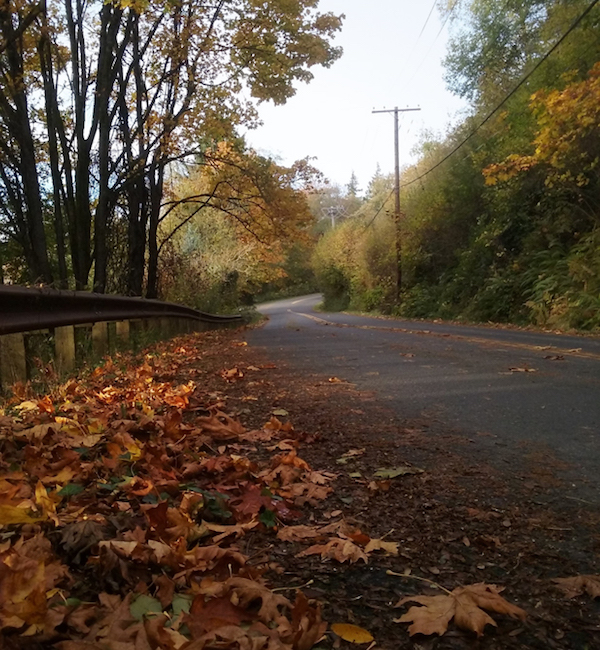 pq writes:
We don't have winter in my area of Puget Sound, but what I call the "rotting season." One of the first signs it's here are the layers of water-logged leaves melting into the road. I took this photo yesterday. The story behind it is too long to post, but I include it in the hopes that it will have some meaning for you, given your affinity for the natural world:

When I moved here from Washington, D.C., it was early December – dark, cold, and soggy, but not freezing like back East. I did all of my errands on foot and walked into town almost every day. One day, there was a dead raccoon in the ditch. A week went by, and it was still there, bloated and stiff, but otherwise intact. Two weeks later, there was no visible change, although it was starting to smell. Another week passed, and another, and the only noticeable change was the intense foul odor. It was remarkable to me that it wasn't decomposing. Temperatures hadn't been cold enough to refrigerate it.

Then, literally overnight, the entire structure collapsed. There was no skeleton or discernible parts, only a seething mass of maggots and a few clumps of fur. All that time it had looked the same on the outside, it was rotting from within. I stood there, staring in amazement. It took the maggots a day or two to finished their work, and then nothing was left but a puddle of black slime on wet, dead grass. That's when I began calling Puget Sound winter the "rotting season."

As I watched the maggots doing their job, a thought came to me that this is how the empire would collapse. Even if everything seemed normal on the outside, the corruption was rotting the system from the inside, hidden from the public eye. At that moment – it was in December 2004 – I understood, or at least thought I did, that the collapse had already started, and that we might not know how far it had gone until after the fact. When I stumbled on Naked Capitalism two years ago, it was reassuring to discover that some knowledgeable people are on top of it. "Imperial Collapse Watch" is my favorite category.