This is Naked Capitalism fundraising week. 210 donors have already invested in our efforts to combat corruption and predatory conduct, particularly in the financial realm. Please join us and participate via our donation page, which shows how to give via check, credit card, debit card, or PayPal. Read about why we're doing this fundraiser, what we've accomplished in the last year, and our initial target, tech infrastructure
Dear patient readers,
A bit behind on links due to fundraiser stuff (and it is going well so far)! Will have a few more by 7:30, particularly on international topics.
Kumbuka the Gorilla is recaptured at London Zoo BBC (J-LS). Very handsome!
Lonely Shanghai seniors now have to buy something if they want to cruise all day in Ikea's cafeteria Quartz (resilc)
America's cheese glut is really getting out of hand Vox (resilc). This is despite my foodie relatives, who eat up and down market, observing that cheese is on just about everything in restaurants in recent years.
43 million gallons of milk have been dumped so far this year TreeHugger (resilc)
Female geoscientists get worse recommendation letters than men do ars technica (Chuck L)
Facebook has repeatedly trended fake news since firing its human editors Washington Post (Chuck L)
AI's blind spot: garbage in, garbage out Boing Boing (resilc)
Thailand Succession
Brexit
Tusk warns UK: 'No compromises' in Brexit talks Politico: "'The only real alternative to a hard Brexit, is no Brexit.'" What we've been saying before "hard Brexit" was a term of art. EU leaders, from Merkel on down, made clear from the very day after the vote that if the UK rejected the free movement of people, it would not have access to the single market. It is astonishing how many times they've had to say this to begin to penetrate the UK's fantasies.
Walloon revolt against Canada deal torpedoes EU trade policy Politico. This is huge. The Canadian deal was seen as easy-peasy compared to any Brexit deal. And BTW that took seven years to negotiate before the approval phase began.
Deeply troubled by blockage of #CETA trade agreement by Belgian regional govt. #EU in true crisis if this cannot be solved urgently.

— John Clancy (@EUJohnClancy) October 13, 2016
Transgender rights: France scraps sterilisation in status law BBC. Wow, I never knew this had been a plan. The one trans-sexual I was friendly with, in Oz, chose to go to Thailand and have the the procedure done. She seemed very happy to have done that. Takes a lot of conviction.
Big Brother is Watching You Watch
George Orwell never dreamed of advertising as invasive as Yahoo's proposal ars technica (http://arstechnica.com/tech-policy/2016/10/yahoo-wants-to-patent-billboards-that-spy-on-the-public-for-targeted-ads/)

How a Facial Recognition Mismatch Can Ruin Your Life Intercept (Brian C). I saw a startup in this area some years back with bleeding-edge tech. It made me really leery. Just the way they conceptualized the problem struck me as too easy to generate false positives (as in the way they look for points on the face to anchor measurements could be distorted by lighting. That's confirmed more recently by the way mere makeup can defeat facial recognition systems).
Ukraine/Russia
Russia Shifts Focus From Oil To Agriculture OilPrice. Russia was always more diversified economically than widely assumed.
Syraqistan
Alleged "Attack" On U.S. Ships To Justify Continued War On Yemen Moon of Alabama

Times Finally Realizes: Netanyahu Doesn't Care What Obama Thinks LobeLog (resilc)
Imperial Collapse Watch
The End of Interventionism Boston Review. Did they not get the memo from the Clinton campaign?

How Hillary Clinton and U.S. officials bungled nation-building in Afghanistan Slate (resilc)
Clinton E-mail Tar Baby
2016
It's Official: This Election Is Driving Americans Nuts Bloomberg

Clinton vs. Trump: a Zero-Sum Game Counterpunch

Clinton Leads by 4 Points in North Carolina, Trails Trump by 1 in Ohio: WSJ/NBC News/Marist Poll Wall Street Journal

Donald Trump claims he is victim of establishment conspiracy Financial Times

How Julian Assange Turned WikiLeaks Into Trump's Best Friend Bloomberg. As the Japanese say, "Teki no teki ga watashi no mikata de ata (Clive helpfully provided: 敵の 敵が 私の味方であった): "Enemy of enemy is friend." (proper Japanese speakers can improve my transliteration in comments).

Republican fundraiser Georgette Mosbacher: Trump is a 'decent man' Financial Times. Mosbacher is seen as a class act among Republicans, but he'd need a small army of female endorsers to even begin to dent the barrage of accusations in the press in the last few days. Actually, even that would fail. The ONLY thing that could begin to turn this around and this is na ga happen, is if some women who knew the Trump accusers personally said their accounts were revisionist history: yes, he had gotten physical with them but the accuser had told them she liked it or at least wasn't bothered by the encounter shortly after it occurred.

Independents Approved of Trump Threatening to Jail HRC New York Magazine (resilc)

Michelle Obama takes the fight to Donald Trump Politico. This appears to have been a very effective salvo.

Former Sanders Supporter Aims To Get More African-Americans To Vote Republican CBS (resilc)

How a President Hillary Clinton will handle a hostile Congress Financial Times

Donald Trump's Legacy Could Live On After the Election Atlantic

Hillary Clinton And Corporate Media Shamefully 'Stronger Together' Mediaite (Phil U)

7 Awesomely Random Food Tips from the WikiLeaks Dump Mother Jones. Frosty Zoom: "Mother Jones, RIP"
How airline executives and Democratic power players have made flying even more miserable ProPublica (resilc)
Liberal groups urge Schumer to reject Bayh for Banking gavel The Hill
New Obama diversity plan welcomed by minorities in national security McClatchy (Chuck L). Movies and TV depict Langley as WASPY…
Journalist Amy Goodman to Turn Herself in to North Dakota Authorities Democracy Now! (Glenn F)
Wells Fargo's new CEO previously denied that the bank's sales culture had any problems Boing Boing
Wells Fargo Profit Slides as Bank Battles to Restore Reputation Wall Street Journal. Um the settlement was IIRC Sept 9 and the outrage didn't really start till a week later. There can't have been enough account cancellation to have an impact that quarter (and the body of the story does say that). The impact will show up in future quarters. But I wonder if they used this quarter to add to loss reserves (which dampens reported profits) to release them later. Wells has been one of the biggest gamers on this front. Paging Chris Whalen…
Elizabeth Warren urges Barack Obama to fire SEC chief Mary Jo White Financial Times. If Obama told her he'd lost confidence in her, she'd certainly go (but what happens if the agency were reduced to three commissioners?). Interesting that Warren is trying to forestall MJW from going into lame duck mode. But this also looks to reflect of Dem confidence in a Clinton win. Warren is sending a big message to Clinton that MJW is not to be held over any longer than minimally necessary and Warren will go after anyone who is not considerably more bloody-minded.
Where Will All the Money Go When All Three Market Bubbles Pop? Charles Hugh Smith (Richard R)
In Defense of the 800 Pound Gorilla of the Public Pension World Tony Butka, CityWatch
Class Warfare
Outsourced IT workers ask Feinstein for help, get form letter in return ComputerWorld

Dangerous idiots: how the liberal media elite failed working-class Americans Guardian (Joe H)

Millennials Are Not Lazier Than Boomers RealClearScience (Phil U). I don't see how anyone can think that. One, young people are always more energetic than older people. Two, everything is massively more time compressed than 30 years ago. Three, people are expected to work all the time unless they are in a blue collar job. Four, juggling multiple jobs is extra work even if it doesn't show up in pay and way many more young people have to do that than older people did (except in chronically marginal economies like Maine).

Independent contractors for Uber and Airbnb live in just a few cities Slate

What a Pizza Delivery Driver Sees Atlantic (resilc). One of our former tech people was a top Pizza Hut delivery person and got a scholarship. Her nickname was Krash. Derived from the opening sequence in Snow Crash, I assume.
Antitode du jour. MGL: "Contented kitty in Colmar, France"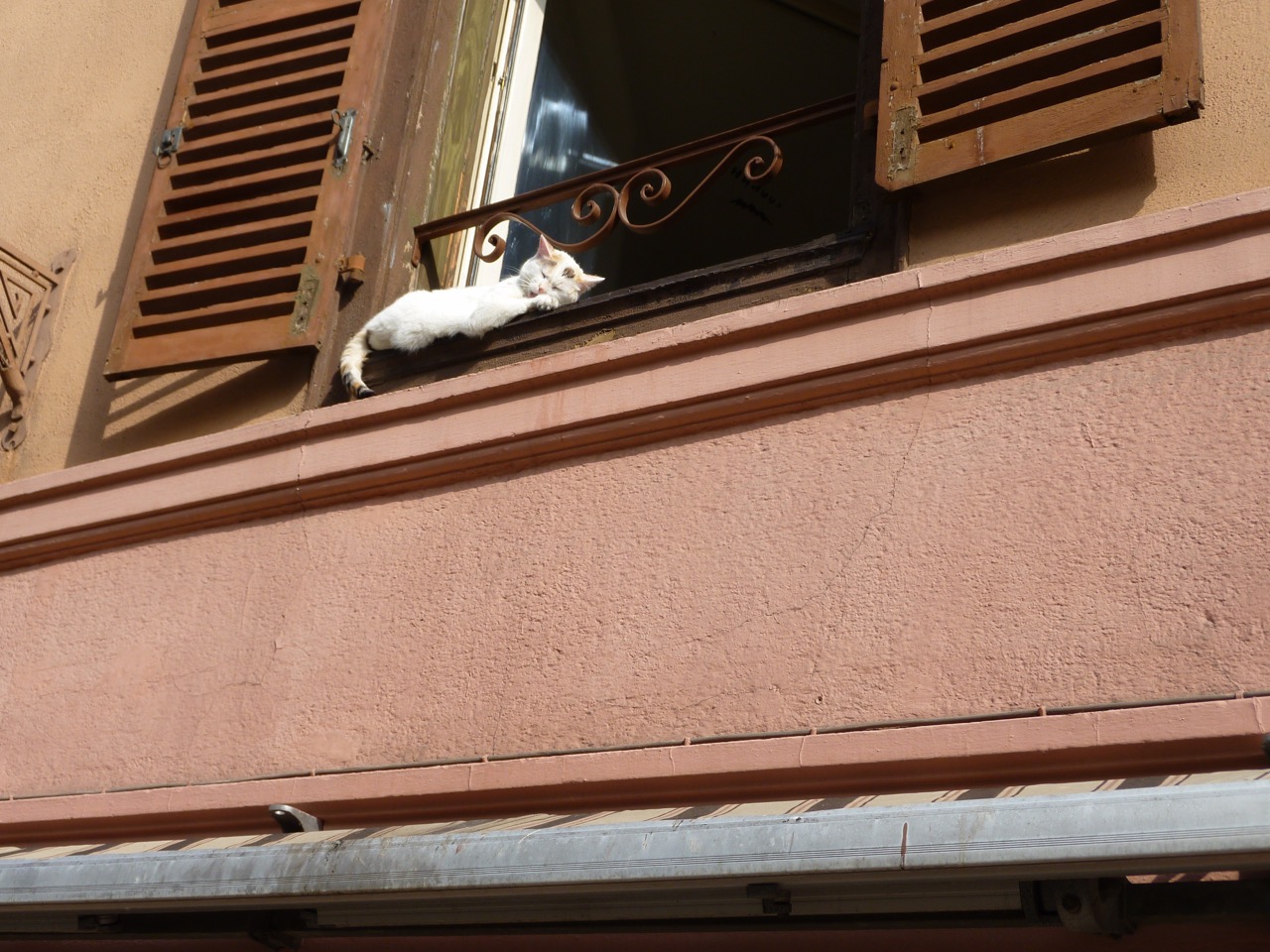 And a bonus antidote:
Changing of the guard#freedom pic.twitter.com/aPhWRfr8Tv

— Michael Keyes (@michaelkeyes) October 14, 2016
See yesterday's Links and Antidote du Jour here.