This is Naked Capitalism fundraising week. 497 donors have already invested in our efforts to combat corruption and predatory conduct, particularly in the financial realm. Please join us and participate via our donation page, which shows how to give via check, credit card, debit card, or PayPal. Read about why we're doing this fundraiser, what we've accomplished in the last year, and our second goal, meetups and travel.
Photo: The subtle sweet beauty of brown pelicans Treehugger (J-LS)
Newly discovered fossils suggest 'unicorns' were real (Wat)
People with autism make more logical decisions Business Insider (furzy). And why would one assume not?
Twitter suitors vanish as Salesforce rules out bid Financial Times. I'd rather not have Twitter messed up by a new owner.
China?
Chinese property owners are going to have have a rude awakening Business Insider

Clinton: If we were China, Pacific would be "American Sea" MacroBusiness
Brexit
Nicola Sturgeon's manoeuvres offer a chance to shape Brexit Guardian (Dr. B)

The City exodus is already happening. It just doesn't look like you expect it to Telegraph. Vlade: "Of course, voters in Midlands/North England couldn't give a toss if a number of people from SouthEast lose well paid jobs. At least until such a time that the London tax take starts to erode significantly (and that tax base is mostly on the back of the middle class well paid jobs, not a few high paid bankers who have ways and means of avoiding it anyways), and the unemployment starts going up."
Ian Hislop: satirist the British establishment loves to hate Financial Times (J-LS)
German Government Has Ruled Out State Help for Deutsche Bank Wall Street Journal
Ukraine/Russia
RUSSIA DROPS FISH BOMB ON NEW ZEALAND AFTER NZ PRIME MINISTER KEY ATTACKS PRESIDENT PUTIN John Helmer. From Helmer by e-mail: The covert story here is the NZ Govt's decision to end the nuclear-free zone ban on US warships.
Syraqistan
Big Brother is Watching You Watch
Want to know WikiLeaks' endgame? Julian Assange told you a decade ago Wired (furzy)
Imperial Collapse Watch
Pentagon Video Warns of "Unavoidable" Dystopian Future for World's Biggest Cities Intercept (Chuck L). Wowsers. They must be desperate for budget. Did they miss that NYC is being gentrified to the degree that poor people are being pushed further and further away by the rents? And that it's pretty hard to have "subterranean labyrinths" when it takes jackhammers to get into the schist? Now 50+ years out, all bets are off (re urban centers falling apart due to general collapse…but we're likely to see big populations declines with that, not teeming hordes)

First Nuclear Strike – the positions of Obama, Trump, Clinton Defend Democracy
Trade Traitors
Ecuador's Legal Battle With Chevron Foreshadows Global Corporate Coup D'état Truthout (J-LS)
Clinton E-mail Tar Baby
'FOBs': How Hillary's State Dept. Gave Special Attention to 'Friends of Bill' After Haiti Quake ABC. Li: "Haiti has very clear pay to play connection."

FBI agents are ready to revolt over the cozy Clinton probe New York Post (g)

Emails Show Aides Pressed Hillary Clinton to Apologize Wall Street Journal (Li)
2016
Why Google News is adding a 'Fact Check' label Christian Science Monitor. Lambert: "I can't think of a worse idea."
#RIPJournalism: Trust falls, Gallup 32%, Pew 18%, Facebook 12%, press group 6% Washington Examiner (Phil U). Of course, it's Trump's fault.
Rethinking automatic insurance coverage for preventive health care Minnesota Public Radio News. Phil U: "​URGH someone needs to take the ACA out back and shoot it."
3 arrested in alleged bomb plot targeting Somalis in Kansas Associated Press (furzy)
Journalist Amy Goodman Shouldn't Be Arrested for Covering Dakota Pipeline Story Matt Taibbi, Rolling Stone
The governor of Oklahoma created 'Oilfield Prayer Day' in hopes of saving the state's oil and gas industry Business Insider (furzy). Only in America…
A flood disaster in N.C.: Satellite photos before and after Hurricane Matthew Washington Post (Lulu)
Noam Chomsky Unravels the Political Mechanics Behind His Gradual Expulsion From Mainstream Media Alternet (furzy)
The Cheap Airfare Party Is About to End Bloomberg. "About to"? I had major sticker shock when I bought my Thanksgiving and Christmas tickets.
Profit Duds Rattle U.S. Stocks in Winding Week Bloomberg
Class Warfare
The American Dream: Rich are fearful for its survival, but poor still believe CNN (Dan K)

Land With Longest Stretch of Negative Rates Finds Rich Are Getting Richer Faster Bloomberg (resilc)

Data Reveals the American Dream Is Alive and Well—in Canada Wired (resilc)
Antidote du jour. John Z: "My daughter, Lynn, took the attached video clip of a praying mantis in her yard. While filming, the insect turned around and looked straight at her. She later found out that praying mantises have ultrasound hearing so apparently the bug heard her and turned to check her out. The still picture is from the video clip."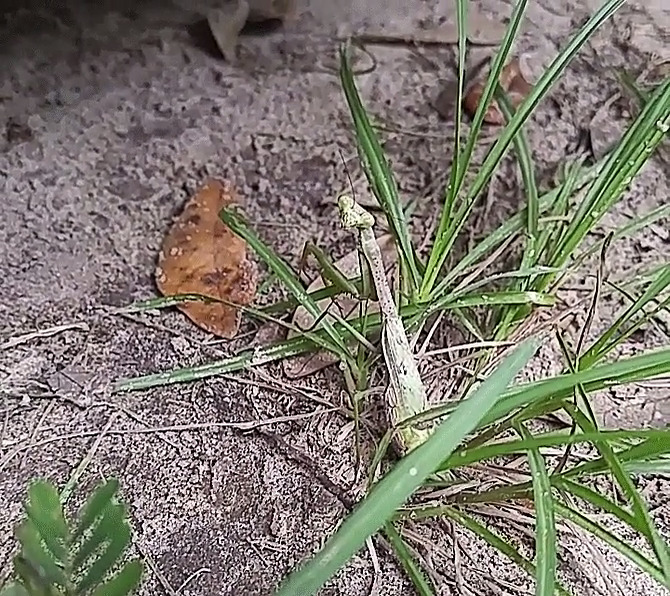 See yesterday's Links and Antidote du Jour here.