By Wolf Richter, a San Francisco based executive, entrepreneur, start up specialist, and author, with extensive international work experience. Originally published at Wolf Street
Over the past few days, the Diamond Producers Association launched its first new ad campaign in five years after watching retail sales of diamond jewelry slow down, as Millennials built on the habit pioneered by prior generations of delaying or not even thinking about marriage, and thus not being sufficiently enthusiastic about buying diamond engagement rings.
The campaign, according to Adweek, is designed to motivate Millennials "to commemorate their 'real,' honest relationships with diamonds, even if marriage isn't part of the equation."
Mother New York, the agency behind the campaign, spent months interviewing millennials, according to Quartz, and learned that they associated diamonds with a "fairytale love story that wasn't relevant to them." So the premium jewelry industry, seeing future profits at risk, needs to do something about that.
A year ago, it was Wall Street – specifically Goldman Sachs – that did a lot of hand-wringing about millennials. "They don't trust the stock market," Goldman Sachs determined in a survey. Only 18% thought that the stock market was "the best way to save for the future."
It's a big deal for Wall Street because millennials are now the largest US generation. There are 75 million of them. They're supposed to be the future source of big bonuses. Wall Street needs to figure out how to get to their money.
The older ones have seen the market soar, collapse, re-soar, re-collapse, re-soar…. They've seen the Fed's gyrations to re-inflate stocks. They grew up with scandals and manipulations, high-frequency trading, dark pools, and spoofing. They've seen hard-working people get wiped out and wealthy people get bailed out. Maybe they'd rather not mess with that infernal machine.
And today, the Los Angeles Times added more fuel. "They're known for bouncing around jobs, delaying marriage, and holing up in their parents' basements," it mused.
Everyone wants to know why millennials don't follow the script. Brick-and-mortar retailers have been complaining about them for years, with increasing intensity, and a slew of specialty chains have gone bankrupt, a true fiasco for the industry, even as online retailers are laughing all the way to the bank.
"For starters, millennials are not big spenders, at least not in the traditional sense," the Times said. Yet most of them spend every dime they earn, those that have decent jobs. But much of that spending goes toward their student-loan burden and housing.
Everybody somehow agrees that millennials as a group prefer "experiences" – eating out, traveling, etc. – over buying merchandise, such as jewelry, clothing, furniture, and cars, though they buy gadgets and services galore. But that "experiences" theory too is running into trouble because restaurants are slithering into a recession as sales have hit the skids recently.
So these spending habits of millennials "may not be great for a U.S. economy driven by consumer spending," the Times points out.
But I wonder: Consumer spending includes a meal from a taco truck along with a craft brew, all made in America, same as a piece of clothing made in Bangladesh. Why would splurging on an "experience" near a taco truck be worse for the economy than buying some imported piece of merchandise? I don't get it.
And travels? Granted, foreign travel is not good for the US economy. But other generations, too, liked and still like to travel – a lot. Some of us were gone for years. I doubt millennials are more damaging to the US economy in that department than we are.
Domestic travel is good for the economy, thought it may be less good for the environment. Every dime they spend getting there and staying there or having fun – all these "experiences" add to GDP.
But millennials have two problems prior generations didn't have – at least not to that crazy extent:
They're bogged down in student loans, the result of rapacious price increases in higher education. The New York Fed estimates that total student debt from federal and private lenders has reached a record $1.3 trillion. An increasingly large part of that debt sits on top of millennials, turning them into debt slaves.
They're facing confiscatory rents and home prices in many cities, thanks to Fed's effort to inflate the greatest asset bubbles the US has ever seen, though few millennials make that connection.
So they rent or stay with their parents or they bunk down together, four or five of them in an apartment in places like San Francisco. Homeownership has plunged to 62.9% in the second quarter, the lowest level since the Census Bureau started tracking it in 1965: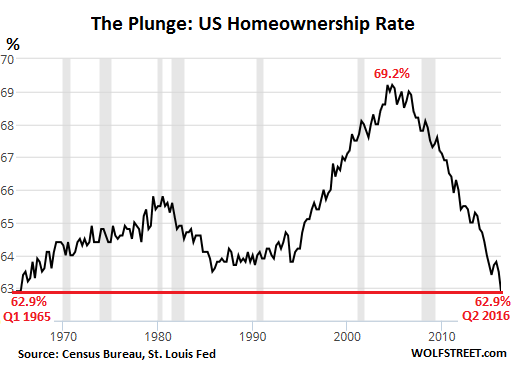 For millennials, the homeownership rate fell to 34%, from around 40% for young adults in prior decades, according to the Times. Given the rents they face, saving up for a down payment has become a herculean task. So forget it. But now the real estate industry is complaining about the millennials. Everyone needs new homebuyers to keep the market propped up and the commissions flowing.
And they're risk averse and not into starting new businesses, according to the Times, which would corroborate Goldman's lament about millennials not digging the stock market:
The rate of new start-ups is higher today than 10 or 20 years ago for every major age group — except those between 20 and 34 years old, according to the Kauffman Foundation's latest annual study of entrepreneurship.

Two decades ago, a little more than 34% of all new entrepreneurs in the U.S. were younger than 34 years old. Today it's just 25%.
That's bad news. But it's logical: burdened by student loans and confronted with confiscatory housing costs, fewer of them have any courage or means left to deal with the extraordinary uncertainties and risks of starting a business in this environment. Given how important small and young businesses are to the economy, to jobs, to invention, to business renewal, and to the middle class, any major reluctance by millennials have in starting businesses will have an impact – or already has an impact.
Over the past three decades, the US averaged nearly 120,000 more business births than deaths per year. But between 2008 and 2011, on average 30,000 more businesses died than were born, according to the Census Bureau. That the core of the US job creation machine has been faltering is not a sign of a healthy or even a "recovering" economy. Read…  "Or We'll Lose the Whole Middle Class": Gallup CEO