By Lambert Strether of Corrente.
Readers, this is a nearly normal-sized Water Cooler, partly because so much has been happening, but also because those few of you who held your tongue and bottled up your emotions over the Thanksgiving table deserve some sort of outlet. I'll be taking tomorrow off. –lambert
Politics
2016 Post Mortem
"Why Trump Really Won Wisconsin And Pennsylvania" [Buzzfeed]. This is from DecisionDeskHQ, "s a nonpartisan group of elections analysts and volunteers whose job is to tabulate votes on election day and project winners in real time, providing an alternative to the Associated Press… We will now explain in detail how Trump's victories in two key states — Wisconsin and Pennsylvania — not only suggest no evidence of fraud, but in fact track with national trends in every conceivable way."

This pattern — of Trump outperforming more traditional Republican candidates in Democratic-leaning working-class regions while performing worse than them in the GOP's historical educated suburban heartlands — is repeated county-by-county, precinct-by-precinct, all across the entire Rust Belt region from New York through to Minnesota. It happened regardless of whether the county in question used paper ballots, optical scanners, or electronic-only voting technology. It was an undeniable national trend. It's also a logical, demonstrated explanation for the election's outcome in these areas.

There's lots more detail in the article. Read the whole thing. On Wisconsin in particular:

Even if all that [fraud] happened, we would have expected to see inexplicable results in certain regions, as outcomes that had been "hacked" in advance ran bizarrely counter to national trends. And yet the vote shift in Wisconsin follows that of every other state across the entire Rust Belt (specifically Pennsylvania, Ohio, Iowa, Michigan, and Minnesota).

That trend is unmistakeable: Donald Trump ignited the white working class of these small towns, exurbs, and rural areas in a way few prior Republican candidates ever had, in many cases converting them from Obama voters to Trump supporters.

"US Green Party raises enough funds for Wisconsin recount" [AFP]. I though election day was Act V — everybody dead on the stage, like Hamlet. Turns out it was Act IV. Who knew?

"The unexpected results of the election and reported anomalies need to be investigated before the 2016 presidential election is certified," Stein said on her website. "We deserve elections we can trust."

Never mind that not one named government official has been willing to go on the record about the "anomolies" (just anonymous sources at the famous 17 intelligence agencies). Never mind the authoritarian followership needed to simple take these these agencies at their word. And never mind that the whole Putin thing was a gaslighting on an epic scale, and meant to gin up a war with Russian to boot.

ELECTION RECOUNT PROCEDURES (PDF) [Wisconsin.gov].

Clinton's chief thug weighs in (which strongly suggests none of this was organic, including the New York Magazine article:

At this point the q's will linger forever if they don't recount & audit WI and MI. Give people assurances on this https://t.co/aYH8WYvTsS

— Neera Tanden (@neeratanden) November 24, 2016

"The Department of Justice is not going to conduct a vote audit based on your phoned-in outrage" [WaPo].

UPDATE "The Obama Republicans backed President Barack Obama in 2012 and then switched parties to support Donald Trump in 2016. Only 4% of voters fell into this unusual, hybrid category, an analysis of Wall Street Journal/NBC News surveys shows. But their role is more important than that small share suggests" [Wall Street Journal]. "For one, each Obama supporter who cast a ballot for Mr. Trump not only gave the GOP an additional vote but deprived the Democratic Party of an expected one. And the analysis finds that these voters lived disproportionately in the Great Lakes area, a six-state region that includes Ohio, Wisconsin and Michigan, which swung from the Democratic column to the GOP in the Electoral College this year"

"But the fact is that generations of people live in those shabby towns you drive through on your way to somewhere better. And Donald Trump's victory means that you might need to learn who these human beings are" [Times Literary Supplement]. From a Mainer.
Trump Transition
"On Sunday afternoon, Cleveland labor and employment lawyer Peter Kirsanow [more] unexpectedly found himself face-to-face with President-elect Donald Trump" [National Law Journal]. "For about 45 minutes, Kirsanow, a partner at Benesch, Friedlander, Coplan & Aronoff, spoke with Trump and several of his top advisers about labor issues—growing the workforce, immigration and increasing wages. It was a broad, "30,000-foot discussion," Kirsanow said…. Kirsanow said he didn't talk about law-related civil rights issues with Trump, but they did talk about Trump's interest in boosting workforce participation among people 'who have been left behind in terms of economic advancement,' including African-Americans…. Kirsanow said he was impressed with how 'efficient and precise' the operation was on Sunday. The meeting was scheduled for 12:50 p.m., and that was exactly when it started, Kirsanow said. There was a large spread of food in the holding room and conference room, but Kirsanow didn't partake. There wasn't much small talk, he said, although Trump did comment on Kirsanow's appearance—he has a distinctive moustache. " got the impression that they knew everything there was to know about me except to explore where I am on certain labor issues,' he said." MRDA.

"Harold Ford, former Tennessee Congressman, tapped as new Secretary of Transportation" [DC Velocity]. "Ford, a moderate Democrat and scion of a prominent Tennessee political family, is currently a managing director in New York at investment firm Morgan Stanley & Co." A cabinet that looks like America! But wasn't Cory Booker available?

"Trump's businesses, which give him an estimated net worth of , are far-flung….. The president-elect could resolve real and apparent conflicts by liquidating all of the assets associated with the Trump Organization—including his golf courses, hotels, licensing arrangements, and office towers in Manhattan and San Francisco. Since his Nov. 8 election, Trump has shown no inclination to divest himself of his business interests. He plans to hand management over to his eldest three children—Donald Jr., Ivanka, and Eric—while he's in office" [Bloomberg]. "Even if Trump wanted to divest, it wouldn't be easy. Many of his assets are in real estate, rather than in simple stocks or bonds, while others depend on his involvement for their value. 'Trump the brand is very closely intertwined with Trump the man,' says Harold Vogel, an expert on entertainment-industry finance…. Rather than taking steps to reduce his conflicts, Trump has rejected the idea that they pose any problems." ? I don't think we've ever had an actual oligarch dispense with the middlemen and run the executive branch; like so much in 2016, this is new. Surely it's not Trump's personal conflicts that are at issue, but his class interests? Speaking of class interests–

"As a Republican power broker with no professional experience in schools, DeVos is an unconventional choice to lead the federal education bureaucracy" [WaPo]. That's the second billionare. And speaking of class interests–

"Wilbur Ross, the investor considered the 'king of bankruptcy' for buying beaten-down companies with the potential to deliver profits, is expected to be President-elect Donald Trump's choice for commerce secretary, two officials with knowledge of the decision said" [WaPo]. More on Ross here and here. Interestingly, Ross, though a vulture, seems to invest in stuff. Here. Anyow, that's the third billionaire. And speaking of class interests–

"President-elect Donald Trump is likely to tap Todd Ricketts, the co-owner of the Chicago Cubs and a member of the powerful conservative Ricketts family, to be deputy secretary of commerce, POLITICO has confirmed. Wilbur Ross remains the likely choice to lead the Commerce Department" [Politico]. "Ricketts is the son of TD Ameritrade founder and conservative donor Joe Ricketts, and the brother of Republican Nebraska Governor Pete Ricketts." And that's one degree of separation from a fourth billionaire. Remarkable. I guess we should really stop worrying about whether John Bolton is going to be Secretary of State. Why not, heck, Bill Gates? Or Larry Ellison?

"Reflecting on Abraham Lincoln's stirring close to his Gettysburg Address, Senator Bernie Sanders (I-Vt.) said to a Brookings audience today that "we are moving rapidly away from our democratic heritage into an oligarchic form of society where today we are experiencing a government of the billionaires, by the billionaires, and for the billionaires" [Brookings Institute] (February 9, 2015).

"Trump turning away intelligence briefers since election win" [WaPo]. Trump probably hasn't found the right snake-handler or weasel-wrangler to deal with these guys, yet. Or Kushner is doing other stuff.
Policy
UPDATE "The Glory Days of Elizabeth Warren's CFPB Are Numbered" [Bloomberg]. "'A lot of the people who voted for Trump are people who got the short end of the economic stick,' says Ira Rheingold, executive director of the National Association of Consumer Advocates. 'And the fact is, the CFPB is an important protector of those people.'"
Realignment and Legitimacy
"Democrats neither can nor should ditch 'identity politics'" [Matthew Yglesias, Vox]. The more I read Matty, the more puzzled I become. Is he stupid, or evil? This: "white Midwesterners have identities, too, and nobody votes based off detailed readings of campaigns' policy PDFs." Straw manning side, gawd forbid the Democrats adopt, collectively, a platform to appeal to the working class as a whole. Cross that one right off. This, after a septuagenerian Socialist gave hour-long speeches less exciting than policy PDFs, and to packed arenas who chanted the lines. A Socialist who, if the Democrat Party hadn't put a thousand thumbs on the scales, might well have won the nomination, and the election.
Stats Watch
The markets are closed.
US Coincident Index: "The sad reality is that most of the economic indicators have moderate to significant backward revision – but this month it seems the rear view mirror says the USA economy is slowing. Out of this group of coincident indicators discussed in this post, only ECRI and the Aruoba-Diebold-Scotti business conditions index have no backward revision – and both have a good track record of seeing the economy accurately in almost real time. For October, it appears the majority of indices show slowing or poor growth – and show that the economy is very weak but not recessionary." [Econintersect].
Chemical Activity Barometer: "The Chemical Activity Barometer (CAB) featured another solid gain of 0.3 percent in November, following a gain of 0.3 percent in October and a 0.4 percent gain in September and August" [Econintersect]. "In November, three of the four core categories for the CAB improved. Production-related indicators, equity prices, and inventory were positive, while product prices were stable at best."
Shipping: "The Baltic Dry Index, which measures the cost of moving commodities like coal, grain and iron ore, is hovering at a two-year high of 1,232 points after hitting its lowest level ever at 292 in February. At its peak, before the 2008 financial crisis, the index had reached 11,000 points." [Wall Street Journal, "Dry-Bulk Shipping Owners Get Reprieve as Rates Rebound"]. "Although much of the recovery is tied to end-year seasonal factors like China's replenishing of coal and iron ore supplies in addition to bumper U.S. grain exports, shipping executives expect a slow but steady recovery will continue through the second quarter of next year."
Shipping: "A strong and 'proper' peak season may have arrived at last for air cargo, but pockets of disruption have emerged" [The Loadstar]. "Cathay Pacific's general manager of cargo sales and marketing Mark Sutch told The Loadstar the seasonal peak had been a marked improvement on 2015, but had not hit the levels reached the previous year when US west coast port slowdowns sent shippers flocking to air transport."
Shipping: "The destruction in equity seen in these ships in the past few years has been devastating," [Tim Huxley, chairman of Mandarin Shipping' said. In his 34 years in the industry, Huxley said he had never seen a subsector in shipping destroyed so fast. He explained that in the wake of the expanded Panama Canal the value destruction in panamax boxships was down to their increasing obsolescence" [Splash 247]. "According to Bimco, 47% of the record 500,000 teu scrapped in the first 10 months this year have been panamaxes."
Big Ag: "Deere continued to forecast weakening demand in North America where it dominates the market for large farm tractors and harvesting combines. But the company sees an upturn in South America propelled by resurgent sales of farm equipment in Brazil and Argentina" [Wall Street Journal, "Deere Signals Better Performance Ahead"].
Fodder for the Bulls: "Five Economic Reasons to be Thankful" [Calculated Risk].
The Bezzle: "Has Apple Innovation Hit a Wall?" [MarketWatch]. "It's hard to argue that the latest iPhones are not significantly better than the 2007 model. Larger, sharper displays, millions of apps, the list goes on and on. However the changes have mostly been incremental — the iPhone's breakthrough features have been there since the beginning." And we've seen Apple exit screens, routers, and start driving away customers from the Mac. Why?
The Bezzle: "At least four companies flush with venture cash are crowding into the local dog-walking game" [Bloomberg].
The Bezzle: "If the [Airbnb Trips] service takes off, it could be what transforms Airbnb from a one-trick Web site into a platform (in Silicon Valley parlance) that eventually will allow individuals to sell all sorts of services, such as guided tours, musical outings, even car rides, which could put Airbnb in competition with Uber. The first batch of Airbnb Trips will include lessons from a samurai master in Japan, training with long-distance runners in Kenya, and surfing with a local pro in Malibu" [Vanity Fair]. I wonder which laws they'll be breaking this time?
The Bezzle: "Toronto convicts first Airbnb owner over zoning violation" [Toronto Star]. "Uyeno said outside court that he made no mention of March 20 — when party-goers fled the house in a panic after a man was shot in the head, according to police — because the zoning bylaw violation relates to specifically to Oct. 9." Ah. A party house.
The Bezzle: "Former executives with Swedish telecoms equipment giant Ericsson say the firm shelled out tens of millions of dollars in bribes between 1998 and 2001, the Swedish media reported Wednesday" [Phys.org]. "[Swedish public radio] said it had testimony from 'several former top executives,' who speaking on condition of anonymity 'recounted how they were guilty of active corruption in securing contracts in a large number of countries.'"
The Bezzle: "Uber wants to usher in the flying car future depicted in science fiction films such as 'Back to the Future' and 'Star Wars' [not to mention The Jetsons]. The company has published a paper explaining how its ride-hailing service could help launch flying cars as a fairly affordable option for commuters" [Discover]. Well, we all "want" to do lots of things, and some of us even write papers.
The Fed: "In the Federal Reserve Open Market Committee (FOMC) minutes from November's meeting, participants generally agreed that the case for raising rates had continued to strengthen even though there had been relatively little in the way of fresh information since the September meeting" [Economic Calendar]. "The minutes overall still indicate a very strong commitment by the majority of members to increase rates at the December meeting. There are, however, still notable dovish voices on the committee and they remained far from convinced over the need for higher rates. The stakes will increase again if there is a dismal employment report at the beginning of December while market developments since the US election will also lead to a very different discussion at next month's FOMC meeting."
"On Monday morning, we all make great quarterbacks. With the benefit of hindsight, the right play to call is obvious. Unfortunately, we also have a tendency to exaggerate our pre-event estimate of the probability of a given outcome occurring. To paraphrase Meir Statman, a finance professor at Santa Clara University: Hindsight bias may lead us to believe that even events that the 'experts' failed to foresee were obvious—even inevitable" [John Swedroe, ETF.com]. "The way to avoid this hindsight bias is to keep a diary of your forecasts. This might prevent you from remembering only your successes. It will also make you humble about your forecasting abilities, thus avoiding the mistake of overconfidence."
Today's Fear & Greed Index: 70 Greed (previous close: 67, Greed) [CNN]. One week ago: 60 (Greed). (0 is Extreme Fear; 100 is Extreme Greed). Last updated Nov 23 at 5:31pm. And today, Mr. Market lets the tryptophan kick in.
Gaia
"According to a recent study released by the Cowles Foundation for Research in Economics at Yale University, the key to understanding this paradox is regulation. The study's authors, Professors Joseph Shapiro of Yale University and Reed Walker of the University of California, Berkeley, argue that changes in environmental regulation beginning in 1990 account for most of the emissions reductions seen over the following 20 years" [RegBlog]. Quelle horreur!
Imperial Collapse Watch
UPDATE The US Navy waited until 5pm Thanksgiving Eve to disclose a data breach affecting nearly 50% of fleet [Stars and Stripes].
Dear Old Blighty
UPDATE "Leadership and technology are needed to meet the health challenge" [Institute for Government]. Also money, which the Tories are denying the NHS in order to destroy it, because markets.
Big Brother Is Watching You Watch
"The FBI recently signed a deal that will give it access to monitor Twitter's "firehose" — every tweet posted publicly each day, roughly 500 million of them" [Boston Globe].
Guillotine Watch
"One easy way to glam up your holiday table? Rent the linens" [Los Angeles Times].
Class Warfare
"Trumpism is a crisis for the most prestigious methods of understanding economic and social life, ennobled and enthroned by the metropolitan academy of the last third of a century. It has caused mainstream 'social science' to fall like a deck of cards. It can only save itself through comprehensive reinvention, from the ground up" [Sanjay Reddy, Institute for New Economic Thinking].
"Nevertheless, of importance is that class consciousness is not in a state of lag but active in its capacity to rally some measure of awareness through an attempt to respond to perceived injustice – however misguided and individualized as they may be. Rather than a lack of class consciousness a more accurate assessment is that there exists a lapse in the ability to articulate our collective alienated relation to capitalism and recognize those there with us" [Counterpunch]. I think this is worth a read, but the language is dense, even for me.
"Walmart ordered to pay truck drivers $54m in minimum wage suit" [Guardian].
"Standoff beneath the 110 Freeway: Homeless man builds a compound, officials tear it down, he rebuilds" [Los Angeles Times]. "'I refuse to let the city beat me down to what they think a homeless person's profile is, living on cardboard,' said Waddell, 59. 'This should be a landmark.'" Great photos! And then there's this: "Sanitation crews receive 100 to 200 reports of encampments a week, and the numbers keep growing." That's odd, with the economy doing so well.
News of the Wired
Happy Thanksgiving!
In his house at R'lyeh, the CthuTurkey ? waits dreaming…
☠️Happy Thanksgiving☠️#TurkeyComaVisions #horror #Cthulhu #Lovecraft pic.twitter.com/L6S1VZNUli

— Sean (@OddNMacabre) November 24, 2016
And:
There's scores of post-Trump "how to talk to your extended family this Thanksgiving" stories, none on how to listen to them.

— Quentin Hardy (@qhardy) November 23, 2016
* * *
Readers, feel free to contact me with (a) links, and even better (b) sources I should curate regularly, and (c) to find out how to send me images of plants. Vegetables are fine! Fungi are deemed to be honorary plants! See the previous Water Cooler (with plant) here. And here's today's plant (Rex):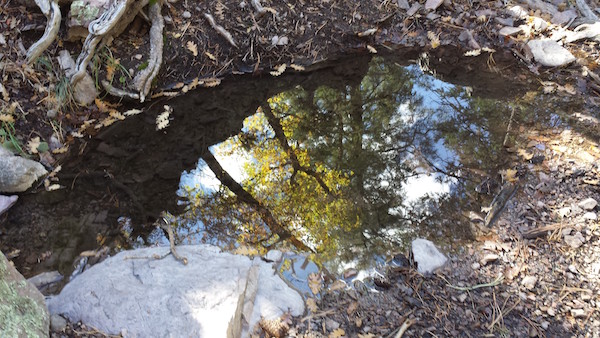 A pause to reflect…
Readers, Water Cooler is a standalone entity, not supported by the very successful Naked Capitalism fundraiser just past. Now, I understand you may feel tapped out, but when and if you are able, please use the dropdown to choose your contribution, and then click the hat! Your tip will be welcome today, and indeed any day. Water Cooler will not exist without your continued help.