By Tsvetana Paraskova, a writer for the U.S.-based Divergente LLC consulting firm with over a decade of experience writing for news outlets such as iNVEZZ and SeeNews. Originally published at OilPrice
All along the campaign trail, Donald Trump promised that he would save the U.S. coal industry by rescinding prohibitive regulations, if elected. As President-elect, Trump is reiterating his vow to lift restrictions on America's energy production. But is it possible to revive the faltering industry?
Of course, the promises were made more emphatically in the heart of coal country—which encompasses heavy coal producers Pennsylvania, West Virginia, Wyoming, as well as sections of other states, including North Dakota, Ohio, Illinois, Iowa, and Missouri.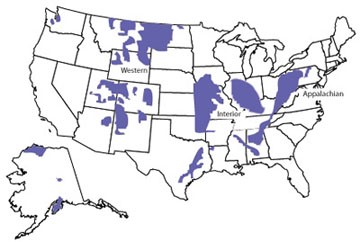 Source: EIA
Not surprisingly, coal country largely voted for Trump, including Pennsylvania, which although considered a battleground state, voted for the Democratic candidate in the previous six elections.
The election of Trump instilled some hope into the coal mining industry, especially compared to the Clinton alternative.
That said, even if Trump were to be able to single-handedly change all the anti-coal energy rules, there are real economic factors that could hinder coal demand and prevent mining jobs from returning to the highs seen in the 1970s.
The first of these real factors is the fact that there is now abundant and cheap natural gas, courtesy of the U.S. shale revolution of the past decade, which is burning coal's market share as an energy source.
Then, there's the global drive toward cleaner energy, and even if the U.S. President-elect is skeptical about global warming and climate change, the fact remains that the world continues to push for cutting carbon dioxide emissions and reducing carbon footprints.
Next, projections for the global coal consumption for the next two decades are not rosy, mainly because China is trying to diversify its fuel mix in its fight against air pollution.
Some electric utility officials in the U.S. see the development of new coal-fired generation as very difficult as well.
Last but not least, the number of mining jobs is unlikely to return to the 1970s boom, not only because of the current state of the industry, but also because technology and higher-mechanized forms of mining are increasingly being used in lieu of human labor.
The day after the U.S. presidential election, the West Virginia Coal Association welcomed the election result, with association president Bill Raney saying, "This election outcome is more than West Virginia's coal industry could have hoped for."
Just a couple of days ago, President-elect Trump outlined executive actions that he vowed to take on Day One of his term in office.
"I will cancel job-killing restrictions on the production of American energy, including shale energy and clean coal, creating many millions of high-paying jobs," Trump said regarding energy.
If he indeed can lift moratoriums on energy production in federal areas, the first immediate beneficiary of such move would be natural gas, not coal.
Last year, U.S. coal production fell 10.3 percent annually to the lowest annual production level since 1986, the U.S. Energy Information Administration (EIA) said. The average number of employees at U.S. coal mines went down 12 percent to 65,971 employees, the lowest on record since EIA began collecting data in 1978.
It's not only the latest available data showing a decline in coal; EIA's projections through 2040 see U.S. coal consumption further declining, especially in the electric power sector. On the other hand, natural gas consumption is expected to grow in the industrial sector and the electric power sector.
The International Energy Agency (IEA) largely agrees with EIA's projections, and sees natural gas and renewables as clear winners in global energy for the next 25 years, with coal consumption near stagnate through 2040, due to China diversifying its fuel mix and fighting air pollution.
Practically speaking, if Trump rescinds all clean energy acts and lifts moratoriums on federal land drilling and mining, it will be in a world that has been shifting away from coal, and as such, demand for coal is not expected to make huge leaps in future.
There are cheaper and cleaner alternatives available today, especially shale gas in the U.S. The tide is turning, and earlier this week, Canada said that it was phasing out coal by 2030.
U.S. electricity utilities are also diversifying energy sources.
"If he were able to do that, I don't know really how much impact it would have because we're moving ahead and rebalancing our portfolio," Nick Akins, president and CEO at American Electric Power, has said for USA Today.
"I think it's going to be very difficult for new coal-fired generation to get developed," Akins noted.
Regulation alone may prove to be an insufficient injection for making U.S. coal great again, despite Trump's pledges, executive orders, and regulation lifting—although it might, at worst, slow its inevitable demise, or at best, modestly boost the industry.
Miner Gary Chapman summed it all up, speaking to Associated Press:
"I believe they'll bring a lot of it back. Do I believe it will be what it used to be? No. It'll never be that again."