Cubs Win! Cubs Win! Cubs Win! Chicago Tribune
Peru releases 500,000 at-risk baby turtles into the wild Treehugger
First discovery of 50,000-year-old human settlements in Australian interior Ars Technica
Exorcisms Are On The Rise: Brownsburg Priest Who Performs Exorcisms Says Number Of People Requesting Them Is Increasing International Business Times
Wanda Chairman Reveals Ambitious Plan to Invest Billions in "All Six" Hollywood Studios Hollywood Reporter
Tippi Hedren accuses Hitchcock of sexual harassment in memoir Reuters (EM)
'I felt like Morse tapping his first code' – the man who invented the podcast The Guardian
Clinton Email Tar Baby
In extraordinary move, Obama condemns FBI for Clinton email disclosure: 'We don't operate on innuendo' SCMP

Secret Recordings Fueled FBI Feud in Clinton Probe WSJ. I was struck while reading this how closely it conformed to the master narrative for many crime shows, thrillers (both film and books), etc.: work of diligent, honest (FBI, DoJ) investigators thwarted by political machinations of their superiors. Almost to the point of cliche.

Huma Abedin Is Still in Fashion With Wintour, Von Furstenberg Bloomberg. Glad to hear it! I was worried there for a moment that she wouldn't get invites to any more A-list parties.

Worse Than Watergate? Revisiting the Clinton Email Fiasco Counterpunch

Bret Baier: FBI Sources Believe Clinton Foundation Case Moving Towards "Likely an Indictment" RealClearPolitics

Why Clinton probably won't ever be charged – even if latest email haul includes classified information SCMP

Leaked emails reveal cast of Clinton's courtiers FT. For those who require a primer.
South Korean PM nominee says president can be subject to investigation Reuters. No comment. And see: Former South Korean presidential aide arrested in political scandal Reuters.
Why it's right to keep the brakes on the Dakota Access oil pipeline WaPo
Why historians would make bad policy advisers Aeon
Planet Earth II and the bloodthirsty evolution of the nature documentary Guardian
Introduction: International security in the age of renewables John Mechlin Bulletin of the Atomic Scientists.  One of many articles in an edition  devoted to renewables.
UN human rights review is largely toothless – but it's giving a boost to Asian civil society groups The Conversation
Syraqistan
The tales of bodies and blood that surround a front line in Syria Independent. Robert Fisk's latest.

Turkey and the Next War The American Conservative
Uber in Pakistan: A Lesson in the Flaws of the Sharing Economy The Wire
Refugee Watch
Refugee crisis: On the largest rescue ship in the Mediterranean as it battles to save lives Independent
Central Europe resents double EU food standard Politico
Meet the US Investors Linked to Koch and Tobacco Making a Play for UK Fracking Firm IGas DeSmog.UK
How Britain Destroyed the Palestinian Homeland Al Jazeera. More history worth remembering, , written on the 99th anniversary of the Balfour Declaration.
Brexit
Russia
The Russian media just loves the campaign to demonise Putin Vineyard of the Saker (Wat)
2016
The Million-Dollar Donors WSJ. A look at who's bankrolling the 2016 general election.

Hostility toward women is one of the strongest predictors of Trump support Vox (ChiGal)

'The fate of the republic rests on your shoulders': Obama delivers impassioned plea to America to reject Trump Business Insider

The Places Left Behind Jacobin. At a time when the flaws in neoliberal thinking are apparent, HRC doubles down. Important. Addresses the ur-problem, and provides a road map to what HRC will try to do as President.

How Donald Trump Used Fine Print To Make It Harder To Sue Wall Street For Fraud International Business Times

Clinton and Trump: The Known And The Unknown Vineyard of the Saker

Opinion: The danger to your portfolio from a Trump win is huge and you need to move now Marketwatch

What would the US economy really look like under President Donald Trump? Independent

Pilloried Clinton TLS. Much to unpack here, and I look forward to seeing readers do so in comments. Showalter sees all  criticisms of HRC as emanating from her gender, and  doesn't admit any other legitimate grounds for criticism: corruption, arrogance, flawed neo-lib and neo-con views.

President Obama: Forever in Dad Jeans Vanity Fair. In what's a very crowded field, VF can be counted on for the most OTT legacy-burnishing.
Antidote du Jour: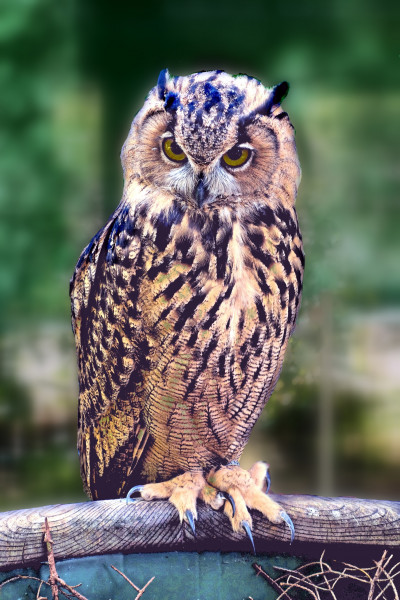 Bonus Antidote (Resilc's North Carolina yard sign)(I know Lambert already posted this in Water Cooler, but it so perfectly captures how many of us feel that I wanted to make sure readers get another chance to see it: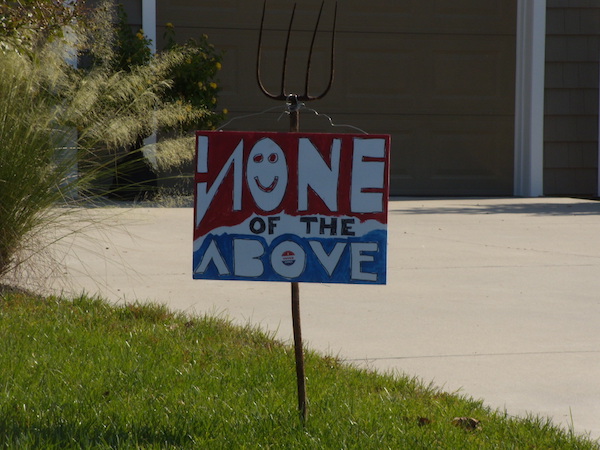 See yesterday's Links and Antidote du Jour here.