By Lambert Strether of Corrente.
Politics
2016 Post Mortem
"The Real Trump" [New York Review of Books]. Not as crazy pants as I expected it to be. "Donald Trump has been the shatterer of norms. Thus far it has been enough. Will he become the breaker of laws? Will he find it necessary? Scarcely a decade and a half ago George W. Bush, when he determined that the country's interest demanded that he torture prisoners, simply found a way to have his government declare legal what was not. It may well be that Trump will do the same. "
New McCarthyism
"The Democrats "Russia Hacking" Campaign is Political Suicide" [Counterpunch]. Here's the stuff to give the troops:

The Democratic Party is doing incalculable damage to itself by shapeshifting into the party of baseless conspiracy theories, groundless accusations, and sour grapes. Hillary Clinton was already the most distrusted presidential candidate in party history. Now she's become the de facto flag-bearer for the nutso-clique of aspiring propagandists at the CIA, the New York Times and Bezo's Military Digest. How is that going to improve the party's prospects for the long term?

It won't, because the vast majority of Americans do not want to align themselves with a party of buck-passing juveniles that have no vision for the future but want to devote all their energy to kooky witch-hunts that further prove they are unfit for high office.

He says "incalculable damage" like that's a bad thing…
Our Famously Free Pres
You know, I think there is a tendency to dismiss the people who spread these ["fake news"] stories as uneducated or simply not understanding the technology they're dealing with. Anything but the case. They tend to be quite educated people. They tend to be people who are very well-connected online. And what they're stumbling into sometimes, first of all, there's kind of a loss of trust" [PBS].
Trump Transition
"McConnell backs congressional investigation into Russian interference" [Politico]. But read the fine print: "McConnell dismissed calls for a select committee specifically designated for the effort, instead indicating that the main responsibility to probe Russian meddling into the election lies with the Senate Intelligence Committee and its chairman, Sen. Richard Burr (R-N.C.)."

"Democrats fear another Trump trouncing" [Politico]. These are the people are going to lead "resistance" against Trump, let us remember:

But the party was caught flat-footed by Trump's victory, and . The widespread expectation was that President Clinton's handpicked choice for DNC chairman would take over on January 21, a day after the inauguration. That Democrat — likely a prominent figure practiced in both fundraising and television pontificating — would be armed with a building brimming with operatives shipped down from Clinton's Brooklyn campaign headquarters.

Working in tandem with a refurbished political wing of the White House, the staff would be tasked with readying the party for a furious attempt to limit Senate losses and gain back governor's mansions in 2018, ahead of a long-brewing plans to reverse Republican redistricting gains two years later. Parts of the party's short-term rapid response operation would be outsourced to Correct The Record, a super PAC established to back Clinton during her campaign.

But Correct the Record — which had clashed with the DNC under former Chairwoman Debbie Wasserman Schultz — has now been shut down. The redistricting push has been largely handed over to a new group helmed by former Attorney General Eric Holder. And the rest of the plan was summarily dismantled by Trump's win, sending the central committee into a period of uncertainty as it now searches for its next chair, a process that won't be finalized until the end of February.

Hillary: "Where is Steiner?!?!?!?" I don't envy whoever's gonna have to take her aside and tell her it's really over. Poor Bill…

If you boil down what Clinton and the Clintonites are saying, Putin stole the election from her, and Trump is a Russian agent of influence. The first is a casus belli, and the second is treason. The first demands a response at the very least of recalling our Ambassador from Moscow. That hasn't happened, which tells you that the people responsible for such things (Obama) don't take Clinton's casus belli seriously. The second calls for a solution "by any means necessary" (exactly as Clinton's previous claim, that Trump is a fascist, does). "By any means necessary" would include anything from a von Stauffenberg solution (no doubt the CIA has a wet team) all the way up to a coup. (This last is hard to imagine, since a coup demands occupying physical space with armed force. Who could Clinton call on?) So what the Clintonites have settled on is trying get the Electoral College to reverse the election. I can't imagine this coming to anything, since the majority of the electors — since Trump won the election — are Republicans. Ian Welsh lays out the logic if the Clinton dog actually catches the car:

If I were a Trump voter, and a bunch of electors, on data that is this uncertain, and which even if it is true amounts to "telling the truth about Hillary and Democrats" were to give the election to Clinton I would be furious.

I would consider it a violation of democratic norms: an overturning of a valid election result because elites didn't like the result.

And while I'm not saying they should, or I would (nor that I wouldn't), many will feel that if the ballot box is not respected, then violence is the only solution.

If faithless electors give the election to Clinton, there will be a LOT of violence as a result, and there might even be a civil war.

Ian is Canadian; then again, installing Clinton in office by retroactively changing the election rules is a "cross the Rubicon" moment. At least in Maine, I wouldn't picture a Civil War, but I would picture shattered windows in every Democrat headquarters in the state, and then we'd go on from there. Welsh concludes:

This is where Nazi/Fascist/Hitler/Camps rhetoric leaves you. Nothing is off the table.

Either decide you mean it, or calm down and take shit off the table that is going to get a lot of people dead if you pull it off.

Exactly.

"CIA admits it broke into Senate computers; senators call for spy chief's ouster" [McClatchy (Re Silc)]. Fooled ya! From 2013. I'm so old I remember when anonymous CIA soruces weren't always revered as truth-tellers.

And speaking of the CIA:

8. Langley is basically Lake Wobegon with drones.

— Jacob Bacharach (@jakebackpack) December 10, 2016
Realignment and Legitimacy
"Labor After Bernie" [Jacobin]. The inside strategy explained: You've got to go where the votes are. The author was heavily involved in trying to start a third party, a labor party.

"Why the Trump Protests, Like the Wisconsin Uprising, Will Fail" [Counterpunch]. A bit dyspeptic (and check out what he has to say about Our Revolution) but I agree with this completely:

As of this writing the Trump protests have not abated, and now this smells of serious failure, the type of total and complete butt kicking that Republicans gave to the so-called Wisconsin Uprising. Almost six years after those massive protests against Governor Scott Walker over his disemboweling of the union movement in Wisconsin, after years of big protests with tens of thousands in the streets and a recall election attempt, the GOP is stronger than ever in the Badger State, with hegemonic control of the government in Uprising Central, Madison.

To be fair, Walker had help from the national Democrats, who cut off funding, and the local Democrats, who ran a mediocre candidate. That said, the Capitol Occupiers were hell-bent on replacing Walker, an election they lost.
Stats Watch
There are no interesing stats today. (I don't cover Fed Auctions.)
Commodities: "Crunch time is coming for the flow of nickel ore from the Philippines to China" [Daily Mail]. "The market is awaiting news of how many more nickel mines might fall foul of a sweeping clamp down on what the Philippine administration terms irresponsible mining. Eight nickel mines have already been suspended. Another 14 have been put on notice.Between them they account for around half of the country's production, putting at risk China's nickel pig iron (NPI) producers who have become increasingly reliant on Philippine supply for their raw material input."
Co-ops: "Bolivia's brutal cooperative mining conflict reveals the growing contradictions and perils of extractivism, as the government and popular sectors struggle to control a dwindling mining surplus" [NACLA]. "Bolivia's powerful cooperative mining sector is a legacy of the 1980s, when pressure from international financial institutions and a catastrophic fall in mineral prices led to a shutdown of the government mines, displacing 25,000 salaried miners. Privatization of the mines in the 1990s further weakened COMIBOL, the state mining company, and destroyed Bolivia's miner-led revolutionary trade union movement, once the most combative in Latin America—and perhaps the world. Encouraged by successive neoliberal governments to buffer the consequences of massive mining dislocations, the cooperative mining sector flourished. Through these informal, self-managed associations, ex-miners could eke out a modest subsistence by excavating the mineral-rich surface dumps left over from centuries of exploitation, and selling their unrefined product—predominantly tin, silver, zinc, and gold—to private operators."
Co-ops: " Turn RBS into a building society says Co-op party chief" [Guardian] "[Gareth Thomas] argued that RBS should become a "people's bank, which every tax-paying British citizen would have the right to become a part-owner of".
"Trading in volatility-linked investments set records in 2016 during a mostly calm year in markets, underscoring the popularity of exchange-traded products that didn't exist a decade ago" [Wall Street Journal, "The Volatility Paradox: Calm Markets but Soaring 'Fear Gauge' Trading"]. "Protecting against losses was once the dominant reason to use volatility products, but investors now are turning to them to make quick profits during isolated periods of market tumult, usually holding them for no longer than one or two days. The VIX measures investor anxiety by looking at the prices they are willing to pay for options tied to the S&P 500 index. But while individual investors and hedge funds have flocked to these exchange-traded products, or ETPs, the products' record tracking Wall Street's "fear gauge" has been poor, making investors vulnerable to big losses if held too long."
Today's Fear & Greed Index: 87 Extreme Greed (previous close: 86, Extreme Greed) [CNN]. One week ago: 25 (Fear). (0 is Extreme Fear; 100 is Extreme Greed). Last updated Dec 12 at 12:57pm. Hoo boy! The Clintonites aren't the only ones going crazy pants!
Health Care
"The Rise and Fall of Obamacare: Will the Inside Story Ever be Told?" [Counterpunch]. This:
I estimate that TIDES and other liberal foundations, individual donors, unions and corporations dumped over $100 million into the Democrats well-oiled NGO lobby and PR effort to pass Obamacare. Much of this money moved through or was coordinated by a rich but short-lived lobby group called Health Care for America Now. HCAN's scores of members included US Action, MoveOn, SEIU, AFSCME, and the usual liberal laundry list of Democrat-aligned NGO organizations. Wendell participated intimately in its PR and lobbying and knows its story well from the inside. That is what I would pay Tarbell to tell, because it is a story that America needs to hear, now that Obamacare is being destroyed by its own contradictions, corruptions, and the rise of Trump.
I remember HCAN. We single payer advocates called it HCAN't. And we were right, weren't we?
News of the Wired
"Dark Corners of Unicode" [EE.ee]. Must-read for font geeks.
"Linux on the Mac — state of the union" [LW.net].
"Why a Post-Nuclear World Would Look Nothing Like 'Mad Max'" [Nautilus]. Friends, there's good news!
* * *
Readers, feel free to contact me with (a) links, and even better (b) sources I should curate regularly, and (c) to find out how to send me images of plants. Vegetables are fine! Fungi are deemed to be honorary plants! See the previous Water Cooler (with plant) here. And here's today's plant: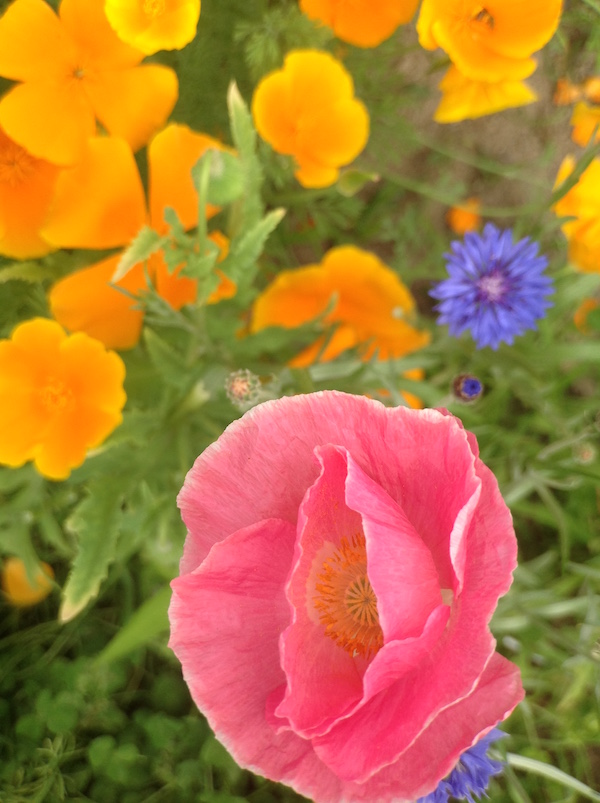 This seems colorful enough….
Readers, Water Cooler is a standalone entity, not supported by the very successful Naked Capitalism fundraiser just past. Now, I understand you may feel tapped out, but when and if you are able, please use the dropdown to choose your contribution, and then click the hat! Your tip will be welcome today, and indeed any day. Water Cooler will not exist without your continued help.