By Lambert Strether of Corrente.
Trade
"TTIP's Next Order of Business: a 'Screenshot': U.S. and European trade officials are taking a "screenshot" of progress made in transatlantic trade talks before putting the TTIP in a deep freeze, EU Ambassador David O'Sullivan said Wednesday" [Politico]. It's not enough to freeze it. You have to kill it with fire.
"Texas lawmakers optimistic about NAFTA future with President Trump in office" [KXII]. "'People recognize there are some opportunities where we can improve cooperation,' said Congressman Will Hurd (R-Texas). … 'I think a lot of us, Democrats and Republicans, are going to make sure that [Trump] understands…that this relationship between the U.S. and Mexico is important to our basic economy,' said [Hurd's colleague Henry Cuellar (D-Texas)]."
Politics
Gnashing of Teeth and Rending of Garments
"Trump's election stole my desire to look for a partner" [WaPo]. "I've lost the desire to attempt the courtship phase. The future is uncertain. I am not the optimistic person I was on the morning of Nov. 8, wearing a T-shirt with 'Nasty Woman' written inside a red heart. It makes me want to cry thinking of that. Of seeing my oldest in the shirt I bought her in Washington, D.C., that says 'Future President.' There is no room for dating in this place of grief. Dating means hope. I've lost that hope in seeing the words 'President-elect Trump.'"
2016 Post Mortem
"Senate Dems, powerless to stop Trump nominees, regret 'nuclear option' power play" [CNN]. "Senate Democrats are eager to make Donald Trump pay a political price for nominating staunch conservatives to fill out his Cabinet, hoping to exact revenge for the GOP's stubborn opposition to President Barack Obama's nominees. But there is little they can do about it — and some top Democrats are now coming to regret it. That's because Senate Democrats muscled through an unprecedented rules change in 2013 to weaken the power of the minority party to filibuster Cabinet-level appointees and most judicial nominees, now setting the threshold at 51 votes — rather than 60 — to overcome tactics aimed at derailing nominations." Nothing shows the strategic — indeed, the moral — bankruptcy more clearly than the fact that they deployed the nuclear option in 2013 to get some appointments passed, and didn't even consider the nuclear option in 2009, when they could have used to pass single payer. Or a decent stimulus package. If they had wanted to. They paid the price for that in 2010. And we're still paying the price for their fecklnessness (or active malice) today, with crap programs like ObamaCare (see Health Care below) and Trump's election.

"This [Republican] strategy of kicking the hell out of Obama all the time, treating him not just as a president from the opposing party but an extreme threat to the American way of life, has been a remarkable political success. It helped Republicans take back the House in 2010, the Senate in 2014, and the White House in 2016. This no-cooperation, no-apologies approach is also on the verge of delivering a conservative majority on the Supreme Court; Republicans violated all kinds of Washington norms when they refused to even pretend to consider any Obama nominee, but they paid no electoral price for it—and probably helped persuade some reluctant Republican voters to back Donald Trump in November by keeping the Court in the balance" [Politico]. "So the party's anti-Obama strategy has ended up working almost exactly as planned, except that none of the Republican elites who devised it, not even Vice President-elect Pence, envisioned that their new leader would rise to power by attacking Republican elites as well as the Democratic president."
Trump Transition
"Biden Tells Delawareans to Give Trump a Chance" [Roll Call]. So either the claim that Trump is a fascist was Clintonian bullshit, or Trump is a fascist, and Biden (and Obama) are on board. Which is it?
Policy
"What President-elect Trump has the opportunity to do now is to launch a third great wave of suburbanization, one that can revive the American Dream for the Millennial generation, produce jobs and wealth that can power the American economy, and take advantage of changing technology to create a new wave of optimism and dynamism in American life" [The American Interest]. "Creating the infrastructure for the third suburban wave—new highways, ring roads and the rest of it for another suburban expansion—will create enormous numbers of jobs. The opportunity for cheap housing in leafy places will allow millions of young people to get a piece of the American Dream. Funding the construction of this infrastructure and these homes gives Wall Street an opportunity to make a lot of money in ways that don't drive the rest of the country crazy."
Realignment and Legitimacy
"There is no better proof that today's populism is deep-rooted and broad-based than Sanders' astounding $234 million contributions from individuals, not elites.Please name me another presidential candidate who raised 97% of their funding from small donors. Hillary Clinton raised a gargantuan $1.3 billion,of which $188 million came from Super-PACs. A tiny percentage of her total funds came from small donors; her campaign raised $556 million and the Democratic Party's (elitist) fund-raising committees ponied up another $544 million. Trump's campaign raised about 27% of its funds from small donors, compared to the Romney campaign's 6% [Of Two Minds]. Today's populism has drawn funding from individuals and enterprises who have been left out of globalism's massive increase in elitist wealth. If we look for issues that crossed party lines, i.e. that drew support from both Sanders and Trump supporters, we find four core issues:

1. Anti-globalism
2. disgust with the Establishment's self-serving corrupt elites, i.e. anti-elitism
3. Economic nationalism
4. Anti-endless-neocon-wars, drone strikes, foreign entanglements

"After several rounds of votes and appointments, however, only four of the top 15 leadership spots are occupied by lawmakers who aren't in coastal states, and only one of those — Rep. Cheri Bustos (D-Ill.) — is from the Midwest" [The Hill]. Like and unlike the Bourbons, the Democrat leadership has learned nothing and forgotten a lot.

"Bernie Sanders Nailed It On Identity Politics and Inequality, and the Media Completely Missed the Point" [Katie Halper, Paste]. "The problem is, for many of the so called intersectionalists who support Clinton and reject Sanders, intersectionality and identity politics include everything except for class. They are so tone deaf about class that they hear the "working class" as a white monolith, as if working class people of color or LGBT people or immigrants don't exist. Yes, Sanders has spoken about the unique challenges of reaching the white working class, something that would make sense to any intersectionalist who thinks that white supremacy is a real thing. But his use of the word white in this specific context is just more proof that his use of working class without "white," includes people of all backgrounds. Sanders; critique of inequality, and his attack on the one percent, is one that champions the rights of people from all backgrounds. At the same time, Sanders acknowledges the singular struggles and double (or triple, or quadruple) burdens faced by different people, and how the economic inequality is compounded by racism and sexism." I think intersectionality, as a method, is excellent, and necessarily includes class. Intersectionality as practiced by neoliberals, necessarily erases class, and degrades intersectionality to IdPol.

"Why "They're Just Dumb Racists" is Liberalism's Climate Denialism" [Umair Haque, Medium]. "The people who deny that extremism has economic origins are essentially liberalism's equivalent of climate change denialists. Conservatives deny the facts on the environment — but liberals do so about the economy. The facts are very clear. Extremism does not rise ex nihilo, from the void. It has a material cause throughout history — whether it is Bolshevik Russia, Weimar Germany, or post-Imperial China. Extremism is always and everywhere a material product of stagnation."
Stats Watch
Jobless Claims, week of December 3, 2016: Fell 10K [Econoday]. "Outside of year-end volatility the last few weeks, unemployment claims remain very low and consistent with strong demand for labor." But: "The general trend of the 4 week rolling average is a slowing rate of improvement year-over-year which historically suggests a slowing economy" [Econintersect].
Quarterly Services Survey, Q3 2016: "Information revenue rose 1.8 percent in the third quarter compared to the second quarter with the year-on-year rate at plus 4.9 percent" [Econoday]. "The Census Bureau quarterly services survey focuses on information and technology-related service industries. These include information; professional, scientific and technical services; administrative & support services; and waste management and remediation services." Why the heck are IT and waste management lumped together? Wait, don't answer that…
Bloomberg Consumer Comfort Index, week of December 4, 2016: Up two-tenths [Econoday]. "Like other measures of consumer confidence, the comfort index has shown a burst of life the last two months that ultimately reflects an improving assessment of the labor market."
Housing: " Just over 2% of properties have 25% or more negative equity. For reference, about four years ago, in Q3 2012, 9.6% of residential properties had 25% or more negative equity" [Calculated Risk]. "A year ago, in Q3 2015, there were 4.2 million properties with negative equity – now there are 3.2 million. A significant change."
Housing: "When people think of gentrification, they normally think of tiny sections within a city. But what we are seeing today is global gentrification. For example, in Orange County, the most expensive county in Southern California many people have been pushed into the Inland Empire. Yet the actual employment boom is happening in LA and OC making millions of people commute ungodly hours on the jam packed soul crushing freeways. The Orange Curtain highlights a subtle massive gentrification of an entire county. You have Orange County with a median home price of $710,000 and just a few miles inward you have Riverside County with a median home price of $330,000. The fastest growing counties in SoCal are with Riverside and San Bernardino. In the end, how much is a commute worth though?" [Dr. Housing Bubbble].
Employment Situation: "[M]y general view is the economy is solid, has room to run, however it is past the peak of the employment gains for this business cycle. It appears the peak job gains in this cycle was in 2014" [Calculated Risk]. " With current demographics, it only takes 60 to 80 thousand jobs added per month to keep the unemployment rate steady (this is far less than in the '80s or '90s). Since we are nearing full employment, my initial guess is the economy will add fewer jobs in 2017 than in 2014 or 2015."
Commodities: "A November to remember: China trade figures trash forecasts" [Asia Times]. "Iron ore imports increased 12% to 91.98 million metric tonnes compared to the same period last year…. Coal imports increased a massive 117% from a year ago, reaching 26.97 million metric tonnes for November. The total volume of coal imports for the first 11 months is now up 9.2% compared to last year. A supply shortage during November spurred the surge in seaborne imports." I assume because iron and coal are stuff that these figures are a lot harder to game?
Commodities: "The copper price hit an 18-month high on an intraday basis last week as global manufacturing activity continues to pick up and hopes about US president-elect Trump's $500 billion infrastructure plans lift sentiment" [Mining.com]. "While it's pulled back from those levels since, official customs data from China, responsible for some 45% of the seaborne trade in the red metal, released on Thursday is seeing the metal turn positive again."
Shipping: "Favourable one-off incidents [Hanjin] and improving performances across European economies caused airfreight to outperform global GDP in 2016, with that growth forecast to continue into 2017" [The Loadstar].
Shipping: "The pending sale of the biggest container terminal at California's Port of Long Beach may trigger more waves of change across container shipping competition" [Wall Street Journal]. Hanjin had to sell off its stake, and now Hyundai Merchant Marine Co. and Mediterranean Shipping Co might buy it.
Shipping: "A coalition of retailers, manufacturers, truckers and other business groups are appealing to the Federal Maritime Commission to stop port operators from charging unfair fees for cargo pick-up delays caused by uncontrollable incidents like storms and worker strikes" [Politico]. "'Recent events involving port congestion, labor strife, an ocean carrier bankruptcy, inclement weather and other disruption events have had crippling effects on U.S. ports and the stakeholders who rely on the efficient movement of goods,' the 25-member Coalition for Fair Port Practices said in their petition."
Manufacturing: "A bigger piece of the Apple Inc. supply chain may be moving to the U.S. Foxconn Technology Group, a major producer of the iPhone and other Apple products, says it is in talks to expand in the U.S." [Wall Street Journal]. "It isn't clear that any Foxconn expansion in the U.S. would be to make Apple products, and shifting the assembly would trigger big changes across the extensive distribution network that pulls high-value components into Foxconn sites." Will they bring their suicide nets?
The Bezzle: "Deutsche Bank's 'smoking gun' evidence to expand U.S. silver rigging case" [Reuters].
Fodder for the Bulls: "Investors have so far managed to find the right balance between taking Trump seriously and literally, to a certain extent. Since Election Day, small-cap stocks have rallied more than 12 percent, suggesting the market sees Trump's 'America First' policies benefiting them the most. Because they have less exposure to foreign markets than blue-chip companies, small caps are in an attractive position to take advantage of lower corporate taxes, streamlined regulations and a stronger U.S. dollar" [ETF Daily News].
Honey for the Bears: "More concerning, though, is the current weakness in U.S. capital goods exports. Capital goods are the complex big ticket items where advanced, technically sophisticated economies are supposed to excel. Aircraft, turbines, semiconductors, oil drilling equipment, telecommunications switching equipment, and the like. The U.S. now runs a deficit in capital goods—$60 billion in the first ten months of the year, which projects out to $70 billion for the full year. U.S. imports of capital goods also now exceed U.S. imports of consumer goods. That is sometimes lost in the coverage of trade issues; the U.S. deficit right now isn't all iPhones and other consumer goods" [Brad Setzer, Council on Foreign Relations]. "Nominal capital goods exports are down around $20 billion year to date (aircraft engines and semi-conductors are up, but almost every other category is down—with the biggest falls in categories linked to oil drilling and mining). Nominal imports are also down, but by less. Real capital goods exports are down 3.5 percent year over year (and 2.5 percent in the last three months of data; October actually had a somewhat smaller fall). They have been held back by the global fall in capital investment in drilling and mining, and by the impact of the strong dollar…. Real capital goods imports are down 1 percent year over year (and are up modestly in the last three months of data). The weakness in capital goods imports earlier in the year likely reflects the broader fall off in investment in mining and drilling that followed the commodity price correction in 2014. A growing economy would—under normal circumstances—lead this to rise."
Today's Fear & Greed Index: 84 Extreme Greed (previous close: 83, Extreme Greed) [CNN]. One week ago: 71 (Fear). (0 is Extreme Fear; 100 is Extreme Greed). Last updated Dec 8 at 11:28am. Big jump!
Health Care
"Life in Obamacare's Dead Zone" [New York Times]. "Excluded from the Affordable Care Act because of politics, thousands of poor Americans grapple with the toll — physical and psychological — of being uninsured."
Of course, just they're insured, doesn't mean they get health care if, for example, they can't pay the deductibles. See this tweetstorm:
OK. a lot of Dems seem confused why more poor ppl don't vote D. i'll try to explain

setting: 2014, doc clinic in the middle of nowhere, TX

— Mark (@haircut_hippie) December 8, 2016
And:
talk to guy. fam history of esophageal cancer. guy has severe acid reflux. recommend endoscopy. he refuses. why?

see his deductible: $5000!

— Mark (@haircut_hippie) December 8, 2016
And:
for you non-Americans: the first $5000 of his medical care in the calendar year, he pays for out of pocket.

answer is obvious: can't afford

— Mark (@haircut_hippie) December 8, 2016
"This study [by the Agency for Healthcare Research and Quality] examined the association between high-deductible health plans and high out-of-pocket burdens among those with employer-sponsored insurance by income level. Two key results stand out. First, the frequency of high family out-of-pocket burdens increased sharply with plan deductible levels among low-income enrollees (those with family incomes below 250 percent of poverty), reflecting both higher health care spending and higher premium contributions. In contrast, there were much smaller differences in high burden frequencies by deductible level in the higher-income groups. Second, regardless of deductible level, those in the low-income group were far more likely to have high burdens compared to those in the higher-income groups" [PNHP].
"The Obama Years: Tepid Palliation for America's Health Scourges" [Steffie Woolhandler and David Himmelstein, American Journal of Public Heatlh]. "Access to care has improved, but remains abysmal, in part because many who gained coverage cannot afford to use it. In 2014, 66 million working-age adults skipped doctor visits, tests, or prescriptions because of costs—down from 80 million in 2012—while collection agencies dunned 37 million for medical debts, a reduction of 4 million.3 Post-ACA, the Consumer Financial Protection Bureau reported that medical debts still account for 52% of all bills sent to collection agencies."
"Insurers' Flawed Directories Leave Patients Scrambling for In-Network Doctors" [New York Times]. ObamaCare's problem with innaccurate directories has been festering since the program was launched. It's still not fixed.
Gaia
"Both the Arctic and Antarctic experienced record lows in sea ice extent in November, with scientists astonished to see Arctic ice actually retreating at a time when the region enters the cold darkness of winter" [Guardian]. On the bright side, the cruise ships won't need ice-breakers.
"'With regard to the Dakota Access Pipeline, that's something that we support construction of and we'll review the full situation when we're in the White House to make appropriate determination at that time,' said Trump spokesman Jason Miller" [New York Daily News].
"The Svalbard Global Seed Vault preserves the world's agricultural heritage" [PRI]. "Inside the vault, rows of shelves hold boxes; each box contains about 400 to 500 seed samples, all in individual packets. Each packet has 500 seeds. Currently, the vault stores about 500 million seeds. Most of these seeds will stay viable for several thousand years. 'You have to walk down the aisles with some humility, because what you're seeing is the results of agricultural evolution over the last 15,000 years,' [founder Cary Fowler] says. 'It's essentially a biological history of agriculture. Everything that agriculture can be in the future is represented in that diversity.'" If you believe agriculture wasn't a terrible mistake. What about wild seeds?
Black Injustice Tipping Point
"The Walter Scott Case Was a Test" [Slate]. "You can think of the Slager trial as a proposition. Given an obvious injustice—the methodical shooting of a fleeing suspect—would a jury convict a police officer of criminal violence? Would it reject the idea that wearing a badge grants almost total impunity for any action? These questions were answered with terrible clarity: No."
"Perhaps better than most on the American left today, the old advocates of the antebellum system of slavery understood the ideological connections between abolitionism and socialism. They were what one could call "intersectionalists of the Right," since they sought to demonstrate how abolitionism, socialism, women's emancipation, and other progressive struggles were all linked to attacks on the rights of property" [Jacobin].
"The Worst States for Black Americans" [247 Wall Street].
Imperial Collapse Watch
"The CIA's Torture Architect Says Harsh Interrogations Needed More Than Ever" [Buzzfeed]. "'I'm not advocating that we torture people. I'm advocating that we have a civil debate,' Mitchell said." Classic.
"Girl Posting to Twitter From Aleppo Gains Sympathy, but Doubts Follow" [New York Times]. Dubious digital evidence from Syria? Incroyable!
Class Warfare
From the Department of America is Already Great: "U.S. life expectancy declines for the first time since 1993" [WaPo]. "A year ago, research by Case and Angus Deaton, also an economist at Princeton, brought worldwide attention to the unexpected jump in mortality rates among white middle-aged Americans. That trend was blamed on what are sometimes called diseases of despair: overdoses, alcoholism and suicide. The new report raises the possibility that major illnesses may be eroding prospects for an even wider group of Americans." Yeah. A "wider group " like everybody but the 10% and up.
"It is increasingly common for governments to give poor people money. Rather than grant services or particular goods to those in poverty, such as food or housing, governments have found that it is more effective and efficient to simply hand out cash. In some cases, these cash transfers are conditional on doing something the government deems good, like sending your children to school or getting vaccinated. In other cases, they're entirely unconditional" [Quartz]. And surprise! They don't spend the money on liquor and cigarettes!
"Some on the Left have taken the view that full employment is a regressive goal because automation is steadily reducing capitalism's need for workers. Better to redistribute to the surplus population through a universal basic income. But the idea that machines are about to supplant workers is a trope as old as capitalism itself. It always looks plausible because so many particular tasks are always in the process of being automated, and new wonders are always just around the corner. And yet new jobs have always come along. Maybe this time of driverless cars and machine learning really will be different, but it would be foolish to place our political bets on it, especially before it starts showing up in the productivity growth stats" [Jacobin].
"Impressive Lyft parents" (backup from the Lyft blog):
Just in case you needed further evidence that neoliberalism is a dehumanizing dystopian nightmare pic.twitter.com/U3ZBNdOxje

— Luke Savage (@LukewSavage) December 7, 2016
And the same story in chart form (Piketty, Saez, Zucman):
Even after transfers, very little growth for US bottom 50% since 1980. In fact, 0 growth for working-age bottom 50% https://t.co/EWl4y401Ab pic.twitter.com/rp2JNWmvoZ

— Gabriel Zucman (@gabriel_zucman) December 7, 2016
News of the Wired
"Does the centralization of the Web change both the diffusion of knowledge and the philosophical definition of knowledge itself? By exploring the origins of the Semantic Web in the philosophy of Carnap and of Google's machine learning approach in Heidegger, we demonstrate that competing philosophical schools are deeply embedded in artificial intelligence and its evolution in the Web. Finally, we conclude that a decentralized approach to knowledge is necessary in order to bring the Web to its full potential as a project for the spread of human autonomy" [First Monday]. Just a little dense… But not bullshit, and right on point when we think about the effects of a centralized (that is, monopolistic) approach to knowledge as exemplified by Facebook, and other Silicon Valley wannabe censors.
* * *
Readers, feel free to contact me with (a) links, and even better (b) sources I should curate regularly, and (c) to find out how to send me images of plants. Vegetables are fine! Fungi are deemed to be honorary plants! See the previous Water Cooler (with plant) here. And here's today's plant: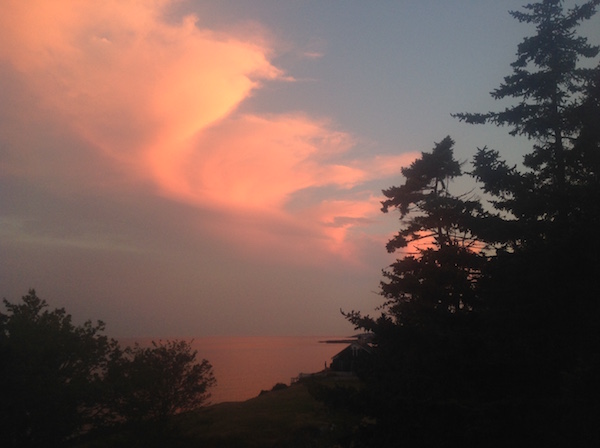 Readers, Water Cooler is a standalone entity, not supported by the very successful Naked Capitalism fundraiser just past. Now, I understand you may feel tapped out, but when and if you are able, please use the dropdown to choose your contribution, and then click the hat! Your tip will be welcome today, and indeed any day. Water Cooler will not exist without your continued help.