By Lambert Strether of Corrente.
Politics
Trump Transition
"To achieve their goals, Republican leaders plan to push through two major reconciliation bills in 2017" [Robert Greenstein, WaPo]. "The first, which could pass as early as January, would repeal the ACA's coverage expansions and most likely take effect at the start of 2019. That would double the number of uninsured Americans, from 29 million to 59 million, and leave the United States with a higher uninsured rate than before the ACA, the Health Policy Center at the Urban Institute estimates. The second reconciliation bill could couple regressive tax cuts with a radical overhaul of Medicaid and possibly the Supplemental Nutrition Assistance Program (food stamps) and even the Supplemental Security Income program for the elderly and disabled poor — three core low-income assistance programs. If previous House GOP budgets are a guide, Republicans will likely seek to eviscerate the basic structure of these programs, under which there are minimum federal eligibility and benefit standards and all eligible families who apply for benefits receive them. Recent House GOP budgets would instead give states fixed, inadequate pots of money (likely block grants), with sweeping state flexibility to respond to the funding reductions by restricting eligibility and cutting benefits." Of course, Obama — had he wanted to be the FDR his mandate allowed him to be, and had the Democrats wanted a second New Deal — could have used the exact same mechanism in 2008-2009. Obama, and the Democrats, squandered that opportunity, and now we see the result. So the headline — "America's concern for the poor is about to be tested" — is on point, but not quite in the way intended. Heaven forfend that the Democrats should do anything more than "fight" to retain existing programs by advocating, say, Medicare for All. I understand it focus-groups quite well across a broad spectrum of dull normals.

"President-elect Donald J. Trump's $1 trillion investment plan, which relies heavily on public-private partnerships, sidesteps the unpopular fuel tax hikes, the near-impossible increase in general spending, and the sticky red tape of business tax reform that doomed President Barack Obama's infrastructure agenda. The Trump team is even reportedly eyeing an infrastructure "task force" to help realize the president-elect's agenda. But neither the plan nor the task force aimed at buttressing it can avoid the opposition of the president-elect's own party for increased spending that doesn't come from cuts elsewhere, more borrowing, or higher taxes" [Journal of Commerce]. "But investment means money, money Obama found it difficult to find. Hiking the federal fuel tax, something that hasn't been done in more than two decades, was floated and sank. The national infrastructure bank, bankrolled through business tax reform — repatriating corporate profits made overseas by US companies — met the same fate." Stephanie Kelton knows where to find the money. Note, though, that if Trump can't deliver on infrastructure, he'll have to fall back on Republican snake oil nostrums to deliver jobs. Therefore, he will fail. Making the Democrat Establishment's absolute refusal to come up with a positive program to oppose Trump all the more delusional and reprehensible. Then again–

"One thing I think we can finally count on is some movement on shoring up the country's crumbling infrastructure. President-elect Donald Trump has released a plan that includes $1 trillion in investment, supported by as much as $140 billion in tax credits. While this would fall short of covering the total cost, at least it is a start, and I believe that for the first time in many years, we might see a workable plan. Having said that, I also believe we will all feel a little more comfortable when we see a sound total funding proposal. Management of the infrastructure initiative will fall to the secretary of transportation—presumably Elaine Chao, who served as secretary of labor under George W. Bush. Some think her marital relationship will help her push the administration's transportation agenda through Congress, but whatever the case, I believe we will see some significant progress on infrastructure. Both Democrats and Republicans in Congress should be willing to get on board since Democrats will like the job creation aspect and Republicans the tax reform" [DC Velocity].

"Rethinking US Financial Regulation in Light of the 2016 Election" [Harvard Law School Forum on Corporate Governance and Financial Regulation]. "Although clarity is not expected for several months, it is possible to identify some likely areas of change, and at least some change seems likely because the Republican Party will control both houses of Congress and the presidency. The President-elect wants to encourage increased lending by reducing regulatory burden in some manner, the Republican leaders in Congress seem intent on achieving regulatory rollback in some form, the principal financial regulatory agencies will have Republican leadership, and the designated Secretary of the Treasury has intimate knowledge of banks and financial markets and appears to be amply equipped to develop and promote a reform agenda for the Trump Administration." That's pretty general, but the article has lots of detail. Well worth a read.

"Some influential voices in Mr. Trump's world insist banks should, as a quid pro quo for rolling back some regulations, maintain higher capital—shareholders' funds that act as a cushion against losses but can also curb profits" [Wall Street Journal, "Trump's Financial Deregulation Might Be Bad News for Banks After All"]. "Mr. Trump's picks of two former Goldman Sachs Group Inc. executives to run his economic team—Gary Cohn, to head the National Economic Council, and Steven Mnuchin, for Treasury secretary—might give Wall Street a powerful voice at the policy table. But at least two candidates for the job of Federal Reserve vice chairman in charge of bank oversight, arguably the single most powerful bank regulatory position in the world, are supporters of tougher capital rules. So is House Financial Services Committee Chairman Jeb Hensarling (R., Texas), who will next year be at the center of reshaping the 2010 Dodd-Frank financial-overhaul law."

"Pence, an alumnus of House Republican leadership, has most aggressively positioned himself as the incoming administration's natural liaison to Congress, very much in the Biden mold" [RealClearPolitics]. As opposed to the Cheney mold.
2016 Post Mortem
"The best photographs of 2016 – in pictures" [Guardian (isolato)]. Many great images, but Isolato suggests this one:

From the story:

There were about 500 people that couldn't fit in the main campaign event in Orlando, Florida [on September 25], so Hillary went and visited them in an adjacent room afterwards. She suggested they could do a group selfie, and then she posed with the crowd for it. It was great fun.

I'll leave any metaphors as exercises for readers, but note the careful advance work: The crowd is fenced off (and there's what looks like additional cordage, in orange, to make the fence even more effective, Clinton has a box to stand on, the edge of the box is marked with colored tape so she doesn't trip and fall, the campaign logos are placed behind her head, and her security is present but not in the shot. That's a rp

"The Clin­ton team was so con­fid­ent in its ana­lyt­ic­al mod­els that it op­ted not to con­duct track­ing polls in a num­ber of states dur­ing the last month of the cam­paign. As a con­sequence, de­teri­or­at­ing sup­port in states such as Michigan and Wis­con­sin fell be­low the radar screen, slip­page that that tra­di­tion­al track­ing polls would have cer­tainly caught" [National Journal]. "Ac­cord­ing to Kantar Me­dia/CMAG data, the Clin­ton cam­paign did not go on the air with tele­vi­sion ads in Wis­con­sin un­til the weeks of Oct. 25 and Nov. 1, spend­ing in the end just $2.6 mil­lion. Su­per PACs back­ing Clin­ton didn't air ads in Wis­con­sin un­til the last week of the cam­paign. In Michigan, aside from a tiny $16,000 buy by the cam­paign and a party com­mit­tee the week of Oct. 25, the Clin­ton cam­paign and its al­lied groups didn't con­duct a con­cer­ted ad­vert­ising ef­fort un­til a week be­fore the elec­tion. In fact, the Clin­ton cam­paign spent more money on tele­vi­sion ad­vert­ising in Ari­zona, Geor­gia, and the Omaha, Neb­raska mar­kets than in Michigan and Wis­con­sin com­bined. It was Michigan and Wis­con­sin, along with Pennsylvania (the Clin­ton cam­paign and al­lied groups did spend $42 mil­lion on tele­vi­sion in the Key­stone State), that ef­fect­ively cost Demo­crats the pres­id­ency." Apparently, a Putin agent was in charge of Clinton's analytical models. It's the only explanation!

"Why Clinton Lost: An exercise in victimology" [Global Guerillas]. "here's a list of 'popular' reasons for why Clinton unexpectedly lost the election to Trump according to the establishment. Notice how all of them blame the 'other.' This is the language of betrayal. The type of language that feeds civil war." I agree, and will have more to say about that.

"It's common for people to put the blame on the non-voters here. They shirked their duty: to vote for the status quo, even if it's slowly killing them. This complaint is usually unpleasantly whiny. The fact that these people feel entitled to make it points to exactly why they keep on losing" [Sam Kriss, Guardian]. "In The Implosion of Meaning in the Media, the philosopher Jean Baudrillard describes this kind of voter alienation as a tactic. The demand political systems make of us – 'of constituting ourselves as subjects, of liberating ourselves, expressing ourselves at whatever cost, of voting, producing, deciding' – are in their own way an exercise of power. In these conditions, takes the form of the refusal to do so: 'the renunciation of the subject position and of meaning – precisely the practices of the masses.' … In the US, mainstream liberals are announcing their "Resistance" to a 2017 that's smashing into the end of December with all the dumb force of a Trump presidency – but their ideas mostly consist of giving money to the Democrats. Whatever form resistance does take, it won't be that." So, one might say that the interesting act of resistance has already taken place. Of course, if the Democrats cared about alienated voters, expanding the franchise would be a core party function. Imagine what the billion dollars Clinton set on fire and threw in the air while losing to Trump could have done, if put to use serving that purpose!
Realignment and Legitimacy
"Defend George Ciccariello-Maher" [Corey Robin]. "[N]o one should be punished by his or her employer for political speech off the job. This is a cornerstone of academic freedom, but many of us believe it should be extended to all forms of employment."

"Imagine what 4 million impassioned Hillary Clinton followers, acting in concert, could accomplish over the next four years. Targeted boycotts — 4 million people have a lot of buying power, and many of them represent households. More millions. Think of 4 million postcards showering down on the offices of legislators who propose to gut Medicare or create registries to track Muslims. That was what I thought I was getting into when a friend invited me to join the secret Facebook group Pantsuit Nation. I imagined we were mobilizing for the political fight of our lives" [Los Angeles Times]. There was a lot of venting, but no action, until " last Monday, when [founder Libby] Chamberlain announced, out of nowhere, that she had filed for nonprofit status and that she was 'beyond excited' because she had signed a deal with Flatiron Press to reprint the stories that people had posted in the group, if only they would give their permission." BWA-HA-HA-HA-HA-HA-HA-HA!!! Pantsuit Nation turned into a book deal! No shame at all, eh?

"Donald J. Trump won the white working-class vote over Hillary Clinton by a larger margin than any major-party nominee since World War II. Instead of this considerable achievement inspiring introspection, figures from the heights of journalism, entertainment, literature and the Clinton campaign continue to suggest that Mr. Trump won the presidency by appealing to the bigotry of his supporters. As Bill Clinton recently said, the one thing Mr. Trump knows 'is how to get angry white men to vote for him.' This stereotyping of Trump voters is not only illiberal, it falsely presumes Mr. Trump won because of his worst comments about women and minorities rather than despite them" [David Paul Kuhn, New York Times]. "But traits are not motives and don't necessarily decide votes. Consider that four in 10 liberal Democrats, the largest share of any group, said in 2011 that they would hold a Mormon candidate's faith against him or her. It would be silly to argue that, therefore, liberals voted for Mr. Obama because Mitt Romney was Mormon. Yet the Trump coalition continues to be branded as white backlash. The stereotyping forgets that many Trump supporters held a progressive outlook. Mr. Trump won nearly one in four voters who wanted the next president to follow more liberal policies."
Stats Watch
Richmond Fed Manufacturing Index, December 2016: "Manufacturing activity in the Fifth district expanded further in December, with the Richmond Fed Manufacturing Index rising 4 points to 8, after coming out of contraction in November with a strong 8-point increase" [Econoday]. "The biggest gains were registered in backlog of orders… On the employment front, hiring softened somewhat, with the number of employees falling to minus 1 from 5, but the average workweek increased, rising from 4 to 12 points, and wages increases were more widespread."
Dallas Fed Manufacturing Survey, December 2016: "broadly higher" [Econoday]. New orders up.
Consumer Confidence, December 2016: "Consumer confidence shows no sign of slowing. The index is up 12.9 points since the November election in gains driven by older consumers. The level for December is 113.7 which is the highest reading since way back in August 2001" [Econoday]. "December's gain is centered in expectations, not in current conditions….. No set of data have been showing the strength of the various consumer confidence readings. Yet this confidence didn't help November consumer spending and how much it helped December's spending has yet to be sorted." But: "…. extreme volatility of this indicator…" (charts of consumer confidence and GDP) [Econintersect]. And but: "Investors and economists need to understand that these gains are actually mixed, even if the new reading is the highest in years. The Expectations Index rose sharply from 94.4 to 105.5, but the Present Situation Index actually decreased from 132.0 last month to 126.1" [247 Wall Street]. And but: "the election of Donald Trump has raised household expectations for the economy to a very high level. It remains to be seen whether Trump can deliver" [Amherst Pierpoint Securities, Across the Curve]. Doubtful. The infrastructure program is already looking sketchy, as Yves points out here (and see in Trump Transition, supra).
State Street Investor Confidence Index, December 2016: "fell 3.4 points" [Econoday]. "The decline in global institutional investor confidence was driven by a decline of 6.7 points in the Asian component to 109.1, and a 6.0 point drop in the North American component to 87.5. In contrast and countering the downward pull was a sharp increase in confidence among European institutional investors."
Case-Shiller Home Price Index, October 2016: "Home-price appreciation isn't spectacular but is steady and firm. Case-Shiller's 20-city adjusted index rose 0.6 percent in data for October with the year-on-year rate unchanged at 5.1 percent" [Econoday]. "Readings on home-price appreciation have been ranging from about 5 percent to 6 percent, which is limited but still ahead of personal income where growth has been trending closer to 4 percent." And: "Many pundits believe home prices are back in a bubble. Maybe, but the falling inventory of homes for sale keeps home prices relatively high. I continue to see this a situation of supply and demand. It is the affordability of the homes which is becoming an issue for the lower segments of consumers" [Econintersect]. And: "According to the data, prices increased in all 20 cities month-over-month seasonally adjusted" [Calculated Risk]. But: "Compared with their peak in the summer of 2006, home prices on both 10-city and 20-city indexes remain down about 9.2% and 7.1%, respectively. Since the low of March 2012, home prices are up 40.4% and 43.1% on the 10-city and 20-city indexes, respectively" [247 Wall Street].
The 420: "According to the 2016 Marijuana Business Factbook published last March, the impact of cannabis products on the U.S. economy will rise from an estimated total of $14 billion to $17 billion this year to an estimated $44 billion by 2020" [247 Wall Street]. "Which companies will be earning those billions? Analysts at Viridian Capital Advisors maintain a cannabis stock index, and for 2016 through December 9, the index is up 175.3%."
Rail: "Feds to study Chicago-Columbus higher-speed rail route" [Progressive Railroading]. "Service could begin as soon as 2020, [Northern Indiana Passenger Rail Association] officials said." High speed.
Shipping: "US shippers forced to look inland for warehouse space" [Journal of Commerce]. "The vacancy rate nationwide, which had exceeded 10 percent in the depths of the 2008 to 2009 economic recession, has been cut in half…. [S]pace at warehouses and DCs that serve West Coast ports was even tighter… A related development, driven primarily by e-commerce fulfillment, was a demand for so-called intermediate facilities located between the large import distribution centers and the urban core locations where the consumers live. The intermediate facilities specialize in breaking down shipments to the package level and delivering those packages to consumers for pickup at the stores or for direct delivery to homes."
Today's Fear & Greed Index: 70 Greed (previous close: 66, Greed) [CNN]. One week ago: 79 (Extreme Greed). (0 is Extreme Fear; 100 is Extreme Greed). Last updated Dec 27 at 1:54pm. Not too much egg-nog, then?
Class Warfare
"The Curse of Credentialism" [Baseline Scenario].
A world in which success means Rhodes/Teach for America/Goldman/McKinsey followed by Yale Law School/Harvard Business School followed by Blackstone/Bridgewater/Facebook is one in which too many talented, well-intentioned people follow the same path and end up doing the same few things. (Since I graduated from college a quarter-century ago, the only real addition to the hierarchy have been TFA and the technology behemoths.) In their famous paper, Kevin Murphy, Andrei Shleifer, and Robert Vishny found that countries with more engineering majors tend to grow faster and those with more law students tend to grow slower. A society in which smart, hard-working young people with generic ambitions tend to become hedge fund and private equity fund managers, management consultants, corporate lawyers, and strategists for technology monopolies is probably not one that is allocating talent effectively.
"Research confirms what already warms the hearts of many parents: spontaneous prosocial behavior exists at a very early age (Eidenberg, Spinrad & Morris, 2013. Toddlers display prosocial and empathic behavior, by offering to help, share food and hug a crying peer, and young kids under the age of two demonstrate a developed sense of fairness" [The FCPA Blog].
If we are hardwired for integrity, as these findings suggest, what are the implications for anti-corruption policy?

One lesson is to incentives (positive or negative) parsimoniously, as they can turn the intrinsic drive for natural moral behaviour into instrumental and incentives-driven behaviour.

Secondly, awareness-raising campaigns and nudges can seek to reinforce natural moral behaviour rather than correcting unethical behaviour.

Thirdly, anti-corruption practices based on fundamental distrust, such as the "four-eyes principle" or multiple layers of administrative control, may be replaced by systems that grant more personal responsibility to staff and managers in carrying out their tasks.
Shrink the administrative layers?! Lotta rice bowls there…
"This Chart Shows Who Marries CEOs, Doctors, Chefs and Janitors" [Bloomberg]. Bloomberg's top-ranked page by hits.
"Is Life Getting Better (or Worse) for the Middle Class?" [Cheat Sheet] (original from Pew Research). If you have to ask…
""Economic possibilities for our grandchildren" by John Maynard Keynes, The Nation and Athenœum, 11 and 18 October 1930 [Fabius Maximus].
News of the Wired
"Hubble's Shining View Of Deep Space Beyond The Stars" [Forbes]. Many gorgeoous pictures of deep space from the Hubble telescope.
"Leonard Cohen Makes It Darker" [The New Yorker]. Lovely profile. Remnick should stick to writing.
* * *
Readers, feel free to contact me with (a) links, and even better (b) sources I should curate regularly, and (c) to find out how to send me images of plants. Vegetables are fine! Fungi are deemed to be honorary plants! See the previous Water Cooler (with plant) here. And here's today's plant (pq):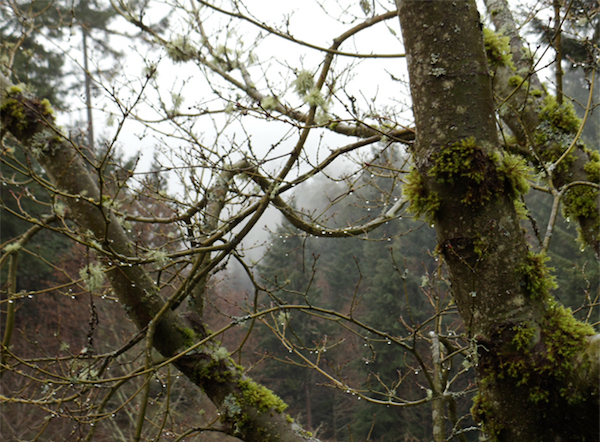 Douglas fir in the the Northwest. It's 40° in Maine today, so I bet there's plenty of melt there, too. Of course, "we'll pay for this" come January…
Readers, I've gotten many more plant images, but I can always use just a few more; having enough Plantidotes is a great angst deflator. Plants with snow and/or ice are fine!
Readers, Water Cooler is a standalone entity, not supported by the very successful Naked Capitalism fundraiser just past. Now, I understand you may feel tapped out, but when and if you are able, please use the dropdown to choose your contribution, and then click the hat! Your tip will be welcome today, and indeed any day. Water Cooler will not exist without your continued help.