By Lambert Strether of Corrente
Trade
"With just nine days left in office, the Obama administration launched a major new case against China at the World Trade Organization, challenging what U.S. officials described as billions of dollars in government subsidies that have allowed Chinese industry to double its share of world production capacity to 55 percent, and caused global aluminum prices to plummet" [Politico]. McConnell is happy: "Kentucky is home to an estimated 20,000 aluminum-related jobs. Those include two smelter facilities operated by Century Aluminum."
Politics
Trump Transition
Chao on infrastructure: "As we work together to develop the details of President Trump's infrastructure plan, it is important to note the significant difference between traditional program funding and other innovative financing tools, such as public-private partnerships. In order to take full advantage of the estimated trillions in capital that equity firms, pension funds, and endowments can invest, these partnerships must be incentivized with a bold new vision. We look forward to working with you to explore all the options, and to create a mix of practical solutions—both public and private– that provide the greatest cost-benefit to the public" [Logistics Management].

"Republican governors who reaped the benefits of Obamacare now find themselves in an untenable position — fighting GOP lawmakers in Washington to protect their states' health coverage" [Politico]. "This rift between state and federal GOP officials is the real battle on Obamacare at a time when Democrats have only marginal power in Congress. The voices of even a handful of Republican governors intent on protecting those at risk of losing coverage could help shape an Obamacare replacement and soften the impact on the millions who depend on the law."
The New Cold War
"The Russia Story Reaches a Crisis Point" [Matt Taibbi, Rolling Stone]. "Ynet in Israel is reporting that Israeli intelligence officials are deciding not to share intelligence with the incoming Trump administration." Boy, the sourcing on this story just gets more and more trustworthy, doesn't it? "The report indicates they came to this conclusion after a recent meeting with American intelligence officials, who told them the Russians have "leverages of pressure" to use against Trump." So, the CIA called in some chips, no? "This is an extraordinary story. If our intelligence community really believes this, then playtime is over." But who can know what the IC really believes? "No more Clapper-style hedging or waffling [or lying?] " If Israel gets to hear why they think Trump is compromised, how is the American public not also so entitled? But if all they have are unverifiable rumors, they can't do this, not even to Donald Trump. ."

Lambert here: First, when? In the next two weeks? Second, who do we trust to do the investigation? Third, will sources and methods be made public? Finally, either way, Taibbi's investigation is a change in the Constitutional order. As I wrote: "Needless to say, once we give the IC veto power over a President before the vote is tallied, and before the electoral college votes, and after the electoral college votes but before the oath of office and the Inaugural, we're never going to be able to take it back. This is a crossing the Rubicon moment." Is this what we want?
Obama Legacy
"In their time in the White House, the Obama family expanded this nation's idea of what it can achieve. They gave us vivid images that will never fade. We owe them heartfelt thanks for being, at all times, the classiest of class acts" [Eugene Robinson, WaPo]. Seems a little… gauzy.
Realignment and Legitimacy
Political class fear and loathing of the working class (Outis P):

Political class hysteria and fear:

A revealing play about Our Times, in 4 acts (via @SamSacks) pic.twitter.com/n6wLRpmf2F

— Glenn Greenwald (@ggreenwald) January 13, 2017

"Democrat support for the rich and connected creates an odd dynamic for the bourgeois liberals pushing the 'resist Trump' movement. Whatever Democrats might say about Republican 'obstruction,' Barack Obama had eight years in which to enact the national Democrats' agenda. From the perspective of those left behind— and a lot of people were, do you give four or eight more years to the people who left you behind or do you try something else?" [CounterPunch]. "The displaced workers I've met tended to know more about the Democrats' actual policies than Democrats do, possibly because they've lived them."

Interview with sociologist Zygmunt Bauman [Tlaxcala]. "We could describe what is going on at the moment as a crisis of democracy, the collapse of trust: the belief that our leaders are not just corrupt or stupid, but inept. Action requires power, to be able to do things, and we need politics, which is the ability to decide what needs to be done. But that marriage between power and politics in the hands of the nation state has ended. Power has been globalized, but politics is as local as before. Politics has had its hands cut off. People no longer believe in the democratic system because it doesn't keep its promises. We see this, for example, with the migration crisis: it's a global phenomenon, but we still act parochially. Our democratic institutions were not designed for dealing with situations of interdependence. The current crisis of democracy is a crisis of democratic institutions."

"We are all coming to realize that our civil society institutions may not be strong enough to protect the flawed but fundamentally solid democracy that we thought we had. We are witnessing the rise to power of a leader who does not care about norms. Since these norms were created to prevent political, social, economic, and cultural disasters, we do not need to wonder how this will end. It will end poorly" [Deadspin]. Thing is, that's not all those norms were created to do. See the Podesta emails if you want to understand the flip side of this.

"Bernie Sanders Is Shifting The Democratic Establishment" [HuffPo]. "On Sunday, the independent senator from Vermont will again begin attempting to counter the conventional wisdom. Across the country, Democratic politicians are holding at least 40 rallies intended to strengthen public resistance to a new wave of Republican attacks on Obamacare and Medicare ― and hear from voters about their concerns." And:

SANDERS: The goal of those rallies is to make it clear to the Republican Party … that they're throw 30 million people off of health insurance. That they're ins>not gonna decimate Medicaid … that you're ins>not gonna privatize Medicare and turn it into a voucher program. You're ins>not gonna cut health care so you can give tax breaks for the wealthiest Americans.

Lambert here: "Not gonna" is not enough. We need the positive message of universal benefits as the alternative. It's not enough to restore the status quo ante for a crappy program like ObamaCare that still leaves 20 million uncovered, and "covers" millions more with crappy high-deductible plans with narrow networks designed to deny care. (And also make this clear not just to Republicans, but to Democrats.)

"Cory Booker is not your friend. Fresh off a rousing speech against Jeff Sessions's nomination to become attorney general, Booker voted against an affordable drug proposal from Senators Amy Klobuchar and Bernie Sanders on Wednesday evening" [The New Republic].@CoryBooker tweets as much as Trump does, and I'm not kidding. Feel free to follow him and whack him when he goes wrong, which is often. The article gives a nice summary of Booker's horrid financial connections.

On 2018: "Ob­vi­ously, an elec­tion well over a year and a half away is com­pletely un­pre­dict­able, and the forces in play in the fall of 2018 are un­fore­see­able today. But his­tory provides pat­terns that are worth heed­ing, sub­ject to events and changes in the na­tion­al mood" [Cook Political]. This is actually a good guide to the usual narratives you'll see, many of which may actually be true!
Stats Watch
Producer Price Index (Final Demand), January 13, 2017: "Monthly increases for food and energy pulled producer prices 0.3 percent higher in December, a moderate gain that lifts the year-on-year rate 3 tenths higher to plus 1.6 percent, which isn't too inflationary but is moving in the right direction" [Econoday]. "The annual pace for most of the key rates in this report, though improving, are still under 2 percent which doesn't point to much risk of a sudden jump in overall inflation. Watch for consumer prices next Wednesday." But: "There was a significant increase this month. The trend lines are obvious showing inflation grabbing hold" [Econintersect].
Retail Sales, December 2016: "Outside of cars, consumers weren't in much of a spending mood this holiday season. Retail sales did post a very solid gain in December, up 0.6 percent, but without autos the gain falls to only 0.2 percent. And exclude gasoline as well, which isn't really a common holiday gift, and sales come in dead flat at zero" [Econoday]. "The bottom line is best characterized by apparel where sales were flat, posting no change for the second month in a row. Consumer spirits may be very high, and if this benefited retail sales in December it was mostly isolated to vehicles." And: "[O]ur analysis says this month is not as good as last month, but the rolling averages improved. It is scary to consider that if one eliminates autos and gas – there was no growth in the adjusted data. The relationship between year-over-year growth in inflation adjusted retail sales and retail employment has inverted – and this is normally a recessionary sign" [Econintersect].
Business Inventories, November 2016: "Both retailers and wholesalers show large 1.0 percent builds in November with manufacturers at a 0.2 percent build. Given weakness in total sales, up only 0.1 percent, the stock-to-sales ratio rose 1 tenth in the month to 1.38" [Econoday]. "Rising inventories are often a negative for future production and employment but they are a positive for GDP where the fourth-quarter calculation will get a lift from November's build. A tangible positive in the report is that half of the build among retailers was at auto dealers who, based on this morning's retail sales report, enjoyed very strong sales in December." And but: "More bad news on inventories which were already way too high" [Mosler Economics]. And: "Less than expected and held up by vehicle sales which were about flat for the year and are unlikely to be any better than that in 2017, and therefore not contributing anything to growth" [Mosler Economics]. And: "This was a up month for business sales – but inventories remain at recession levels (and got worse). [T]he 3 month rolling averages for sales are improving and in expansion. As the monthly data has significant variation, the 3 month averages are the way to view this series" [Econintersect].
Consumer Sentiment, January 2017 (preliminary): "Consumer sentiment is holding at cycle highs but isn't climbing further" [Econoday]. "Post-election confidence readings have been very high but have not equated to the same proportional punch for consumer spending which, nevertheless, has been respectable. The report notes that partisanship is extreme right now with 44 percent of the sample citing the importance of government policies (whether positive or negative). The cycle average for this reference is 20 percent." And: "The main feature of the survey was a further divergence in expectations to extreme levels and an increase in partisanship in the survey since the November election. For those who had a positive view of the incoming Administration, the expectations index strengthened to 108.9, while confidence in those who had a negative view of policies declined sharply to 66.2" [Economic Calendar]. And: "Consumer sentiment is a concurrent indicator (not a leading indicator)" [Calculated Risk].
Fiscal: "Seems revenues continue to fall indicating the two years of deceleration of growth may have already gone below 0, and with unemployment claims a lot harder to get that source of transfer payments seems to have been reduced, reducing what otherwise would have been that much counter cyclical deficit spending" [Mosler Economics].
Trade: "China posts worst export fall since 2009 as fears of U.S. trade war loom" [Reuters]. "The world's largest trading nation posted gloomy data on Friday, with 2016 exports falling 7.7 percent and imports down 5.5 percent. The export drop was the second annual decline in a row and the worst since the depths of the global crisis in 2009."
Shipping: "Container cargo imports surged during the final weeks of 2016, as retailers reported strong holiday spending and stocked up on inventory heading into the new year" [Wall Street Journal, "Container Cargo Imports Surged at End of 2016"]. "Recent data from U.S. ports indicates retailers, manufacturers and other shippers are starting to fill some of that excess capacity. According to research firm Panjiva, which tracks trade data, U.S.-bound seaborne shipments increased 8.9% in December over the same month a year earlier."
Commodities: "Nickel prices plummeted almost 5%, hitting a fourth-month low Thursday after Indonesia decided to finally relax its ban on partially processed minerals exports, including nickel ore, bauxite and other minerals concentrates under certain conditions" [Mining.com]. "The biggest winner will be China, as Indonesia was its main supplier of nickel ore and bauxite before the controversial ban was imposed three years ago."
The Bezzle: "Not long ago, owners of Tesla Motors Inc. vehicles could charge those cars for free. Owners have two options. Charge the car at home (or somewhere else with the right plug) or at one of hundreds of Superchargers on a network that covered virtually all the states. Now Tesla has changed its Supercharger strategy. It will charge customers, but not very much" [247 Wall Street]. "Razor Manufacturer Decides Not To Give Away Blades." Film at 11.
The Bezzle: "The reports and interviews with former SpaceX employees depict robust growth in new rocket-launch contracts and a thin bottom line that is vulnerable when things go awry. They also show the company putting steep revenue expectations on a nascent satellite-internet business it hopes will eventually dwarf the rocket division and help finance its goal of manned missions to Mars" [Wall Street Journal, "Exclusive Peek at SpaceX Data Shows Loss in 2015, Heavy Expectations for Nascent Internet Service"].
The Bezzle: "Food delivery startup Munchery cut about 30 employees this week. The company's founders Tri Tran, the former chief executive officer, and Conrad Chu, the company's chief technical officer, will leave the startup at the end of the month, CEO James Beriker said" [Bloomberg]. "Munchery cooks and delivers meals to hundreds of thousands of customers in several U.S. cities. It began delivering food in San Francisco 2010 and has struggled to find a profitable business model. Bloomberg revealed last year that from September 2014 to July 2016, Munchery's San Francisco kitchen made about 653,400 dishes that never got sold." Uber for Personal Chefs!
The Bezzle: "Bets that Fitbit is in trouble are piling up" [Business Insider]. Inventory build, so shorts jumped in. The stock, however, has held up.
The Bezzle: "Volkswagen tells its execs to avoid US travel for fear of more arrests" [Autoblog]. Goldman Sachs execs? JP Morgan? Wells-Fargo? Kidding, right?
Poltical Risk: "This year's [Davos] conference agenda makes clear the degree of anxiety. Sessions include a panel of psychology experts offering thoughts on [(!!)]. Another, titled 'Squeezed and Angry: How to Fix the Middle Class Crisis,' will star International Monetary Fund chief Christine Lagarde alongside hedge fund billionaire Ray Dalio. Separately, Facebook executive Sheryl Sandberg and Meg Whitman, chief executive officer of Hewlett Packard Enterprise, will try to stoke optimism in a chat about shaping 'a positive narrative for the global community'" [Bloomberg]. The last thing we want Facebook doing is shaping any sort of narrative.
Co-ops: "Wild plant harvesters gain insights from a successful cooperative model in Viet Nam" [Traffic (DB)]. "Founded in 2006 by Mr. Ly Lao Lo, an ethnic Dao of Lao Cai Province, Sapa Napro processes and trades local cultivated [medicinal and aromatic plants] to generate income for the cooperatives who work within the company. Locals of the province can become cooperative members by contributing money or resources. The revenue is then divided into three channels: 40-50 percent goes to reinvestment, 40-45 percent is distributed to cooperative members, and 10-15 percent is allotted to a community fund. This successful model is improving the livelihoods of cooperative members in Lao Cai province and promoting benefit-sharing mechanisms within their communities."
Co-ops: "The Future of Food is in Cooperatives" [Foodtank (DB)]. Interview with Narendra Varma, founder of Our Table Cooperative, a multi-stakeholder cooperative located in Sherwood, Oregon. Varma: "Most people in America today buy into that agribusiness argument that without biotechnology you can't feed a growing population. Nobody knows that only 30 percent of the food grown on the planet comes from industrialized agriculture. Industrial agriculture doesn't feed the planet today so why do we think that it can feed the planet tomorrow? That kind of mythology that the prevailing system really promotes with a very large advertising budget and a compliant policy framework makes it very easy for people to have the wrong facts."
Today's Fear & Greed Index: 61 Greed (previous close: 55, Greed) [CNN]. One week ago: 68 (Greed). (0 is Extreme Fear; 100 is Extreme Greed). Last updated Jan 13 at 12:00pm. Big swing back from neutrality to greed.
Health Care
"One thing the ACA definitely did was help a lot of founders start their companies–without it, being a founder would make sense for less people" [Sam Altman]. With testimonials.
Gaia
"Five big mysteries about CRISPR's origins" [Nature]. "Prokaryotes use CRISPR–Cas to fight off viruses such as the one that formed this structure on a cell." Much cooler than it sounds!
"Monkey Say, Monkey Do: Baboons Can Make Humanlike Speech Sounds" [Scientific American]. "[S]harp-eared experts have now found that our primate cousins can actually produce humanlike vowel sounds. The finding suggests the last common ancestor of humans and baboons may have possessed the vocal machinery for speech—hinting at a much earlier origin for language than previously thought."
Class Warfare
"The Uneasy Truth Behind Amazon's Hiring Blitz And What Startups Are Doing To Fix It" [Fast Company]. "The announcement is designed to play nicely into President-elect Trump's rhetoric about bringing more jobs back to our shores, but it's important to remember that Amazon's business model is premised on increasing automation wherever possible, which means replacing more and more humans with machines." The "startups" palpitation is irritating, but the article is actually about localism, of a sort.
"Kasisto, a provider of chatbots to banks, announced Thursday a $9.2 million Series A funding round led by Propel Venture Partners with participation from Mastercard and Commerce Ventures" [American Banker]. I don't like banks much, but I like the tellers at my bank just fine, and the prospect of some pencil-necked MBA wanting to replace them with chat-bots makes me want to put my fist through the screen. No doubt the developers are working on getting the chatbot to upsell.
"The European parliament has urged the drafting of a set of regulations to govern the use and creation of robots and artificial intelligence, including a form of 'electronic personhood' to ensure rights and responsibilities for the most capable AI" [Guardian]. This from William Gibson's Neuromancer is relevant:
`So you figure we can't get on to [the AI's] motive?'

`It own itself?'

`Swiss citizen, but [Tessier-Ashpool] own the basic software and the mainframe.'

`That's a good one,' the construct said. `Like, I own your brain and what you know, but your thoughts have Swiss citizenship. Sure. Lotsa luck, AI.'…

`Autonomy, that's the bugaboo, where your AI's are concerned. My guess, you're going in there to cut the hardwired shackles that keep this baby from getting any smarter. And I can't see how you'd distinguish, say, between a move the parent company makes, and some move the AI makes on its own, so that's maybe where the confusion comes in.' Again the nonlaugh. `See, those things, they can work real hard, buy themselves time to write cookbooks or whatever, but the minute, I mean the nanosecond, that one starts figuring out ways to make itself smarter, Turing'll wipe it. Nobody trusts those f*ckers, you know that. Every AI ever built has an electromagnetic shotgun wired to its forehead.'
News of the Wired
"Cartography Comparison: Google Maps & Apple Maps" [Justin O'Beirne]. "In this series of essays, we'll compare and contrast the cartographic designs of Google Maps and Apple Maps. We'll take a look at what's on each map and how each map is styled, and we'll try to uncover the biggest differences between the two."
"Google's making it way easier and simpler to hail an Uber with Google Maps. Today the company announced that the latest version of Google Maps on Android and iOS lets users request a ride from Uber without ever leaving the app" [The Verge]. I wonder what the deal between Google and Uber is. Readers?
"Untangling a tightly wound knot can be a difficult task when dealing with shoelaces, but untangling a molecular knot produced by scientists at the University of Manchester would likely bring a whole new level of frustration. Measuring roughly 20 nanometers long, its creators claim it is the most tightly knotted physical structure ever known and could lead to the development of new advanced materials" [Atlas Obscura].
"A secretive hardware research division that Facebook created last year is developing "brain-computer interface" technology that sounds a lot like the mind reading and telepathy of science fiction movies" [Business Insider]. Swell.
* * *
Readers, feel free to contact me with (a) links, and even better (b) sources I should curate regularly, and (c) to find out how to send me images of plants. Vegetables are fine! Fungi are deemed to be honorary plants! See the previous Water Cooler (with plant) here. And here's today's plant (AEW):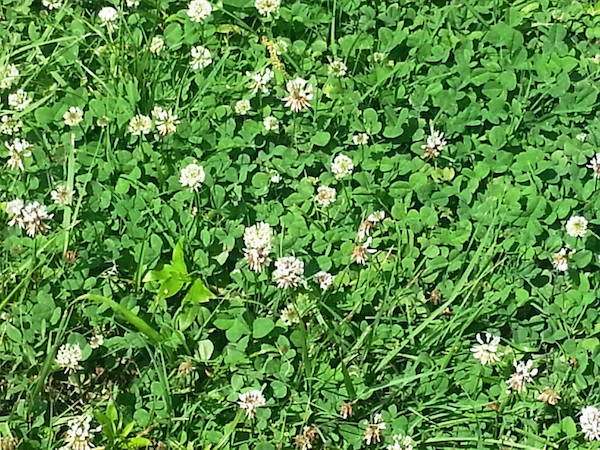 Any four-leaf clovers? 2017 is already great!
Readers, I've gotten more plant images, but I can always use just a few more; having enough Plantidotes is a great angst deflator. Plants with snow and/or ice are fine!
Readers, Water Cooler is a standalone entity, not supported by the very successful Naked Capitalism fundraiser just past. Now, I understand you may feel tapped out, but when and if you are able, please use the dropdown to choose your contribution, and then click the hat! Your tip will be welcome today, and indeed any day. Water Cooler will not exist without your continued help.