Yves here. While this post flags a useful data point, it also repeats a widely-believe economic myth, that of the "dependency ratio" being a Serious Problem so that old people or young people or both can't have nice things.
Now we do have other reasons that that will probably prove to be true, namely, resource constraints. But let's put that aside.
There is tons of labor slack in advanced economies. Lots of people are willing to work, indeed need to work and can't find jobs, or do have work yet are underemployed. Many older people who didn't wreck their bodies during their prime years would also like to work in what what would normally be considered to be their retirement years, both to have a higher living standard and to get out of the house.
Dean Baker has pointed out that "fixing" Social Security, even using conservative assumptions, would require increasing the expenditure as a percent of GDP from 4% to 5%. The US did just fine going from the initial commitment of 1% of GDP to 4%. We have no trouble finding money for the next bombing run in Iraq. We can but don't choose to prioritize social spending.
By Damien Klassen, a research analyst at Schroders. Originally published at MacroBusiness
The WSJ has a piece out on the demographic effects of the baby boomers retiring:
The largest generation in U.S. history has to start pulling its retirement money this year, kicking off a mandatory movement of cash that could total hundreds of billions in the coming decades.

U.S. law requires anyone age 70 ½ or older to begin annual withdrawals from their tax-sheltered retirement accounts and pay taxes on those distributions. The oldest of the nation's 75 million baby boomers cross that threshold for the first time this month, according to a U.S. Census Bureau estimate of when that demographic group began.

The obligatory outflows from 401(k)s and IRAs are expected to ripple through the U.S. economy, the stock market and a money-management industry that relies heavily on fees from boomers' tax-sheltered savings plans and assets.
This is one of our six mega trends, the change in dependency ratios globally: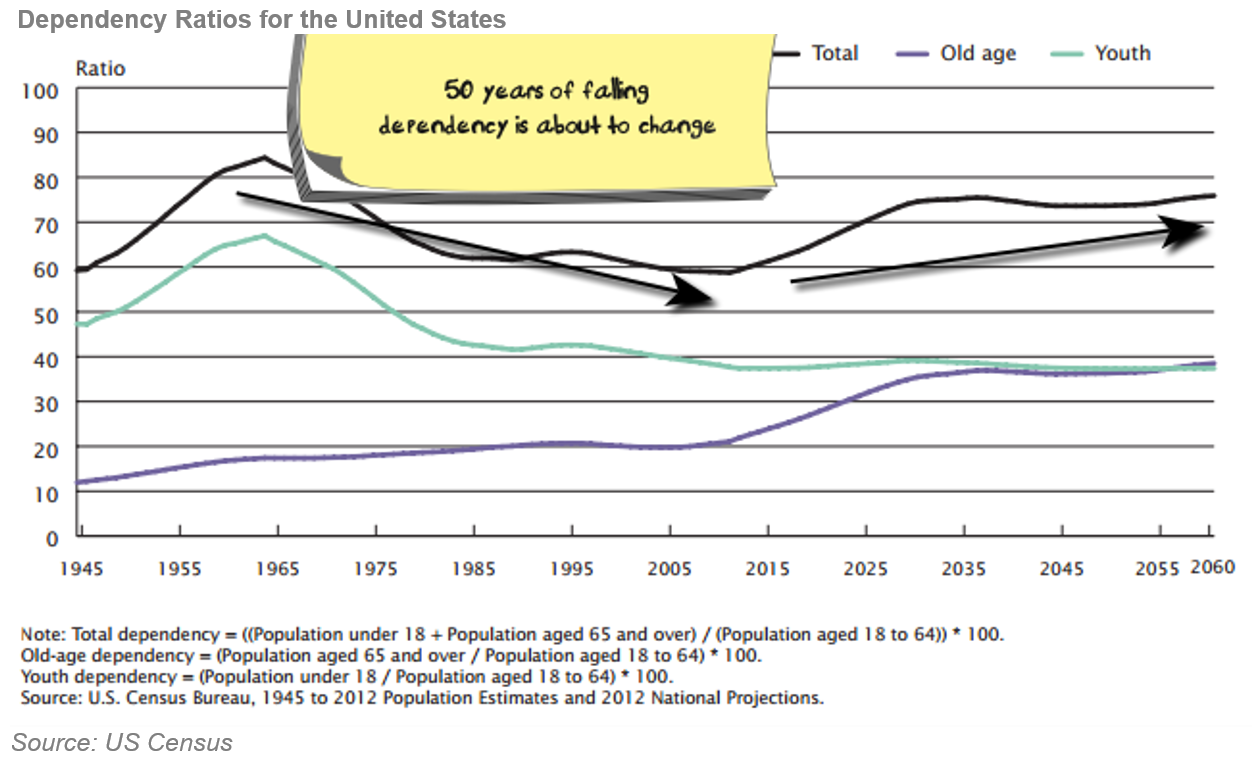 Not really much here to add from the investment side, but I'm sure MBers will understand the pain that the baby boomers feel when they are asked to actually pay tax on investment earnings. I especially love the obligatory quote from a retiree:
Jack Weaver, a retired biopharmaceutical product developer, turned 70 in late 2015 and had to pay taxes on his first required payout of $31,000 last year. "It's unwanted income," he said. He reinvested the money, and says his wife plans to do the same when she takes her first distribution this year.
Based on the size of his required payout, he looks to have over a million Aussie dollars in his own name. I'm also guessing he has been making contributions for his wife or she has been working and so she might have a similar amount in her name. Plus the family home. Plus any other assets that they have outside of retirement savings.
This sounds awfully like a "first world problem"…