By Lambert Strether of Corrente
Politics
Our Famously Free Press
2017 is already great:

don't worry, no one can touch your high score https://t.co/2pzkm7dHEz

— ☕netw3rk (@netw3rk) January 17, 2017
Trump Transition
"A Revolution In Administrative Law" [Richard Epstein, Hoover Institute]. "In all cases, de novo review of questions of law is a matter of the highest importance for constitutional and institutional safeguards of the rule of law. We need it today."

"Sanders wants folks to hound Trump about his campaign vow not to mess with Social Security, Medicare, or Medicaid. Repeatedly in recent weeks—on social media, in interviews, and even on the floor of the Senate—the senator has called on the incoming president to either pledge to veto any bill that threatens entitlements or to admit he lied to the American people" [The Atlantic]. "This was Sanders's first significant foray as the Democrats' head of outreach. (The event was touted as "Our First Stand.") Even more notably, it was also his first attempt to rally the revolutionaries who fueled his White House run around something other than his candidacy."

"In anticipation of [Trump's] speech, U.K. bookies have put together an inauguration speech special, taking bets on which exact words or phrases the new president will use" [MarketWatch]. "Aside from the buzzword betting, gamblers can also try their luck with Trump's tie color and speech length on inauguration day. Both Ladbrokes and William Hill see the Donald picking a red tie for his big day and keeping his speech shorter than 20 minutes."

"Trump inauguration's 'Cabinet dinner' offers access for cash" [Politico]. And read all the way to the last paragraph: "'The way that I think about about is that what is happening right now is that President-elect Trump is pulling back the curtain on what has been going on for a while,' said Meredith McGehee, a government ethics expert and strategic adviser at the nonpartisan Campaign Legal Center. 'These are all of the ways we have of raising money. He's just doing it without shame or compunction.'" As I keep saying, wonderfully clarifying.

"BRAIN DUMP FROM A KEY REPUBLICAN: 'Folks just need to calm down. We're not flying blind here. The president-elect is going to express himself in all sorts of ways but you have to understand that he and his team are talking to Hill leaders about these issues every single day. And all of our conversations are moving us closer, not apart. Tax reform in particular is going to be a long process with many ups and downs, and so everyone should take a breather for now and appreciate that we're working as one team'" [Politico]. So John Dean doesn't have to wake up screaming, any more. Or more precisely, he should wake up screaming, but from different dreams.

"Ivanka gives us true feminist power broker" [Boston Herald]. Indeed! As Madeline Albright said: "There's a special place in hell for women who don't help each other." So I hope those members of the Democratic nomenklatura who are women will put partisanship aside, and work for what's truly important.

"Tough political talk about manufacturing has some companies looking to crunch the numbers behind moving production to the U.S. The studies in many cases are in their early stages, but the WSJ's Richard Teitelbaum reports the economic analyses are coming as an overhaul of the U.S. tax code looms and President-elect Donald Trump seems to be calling out big-name companies on a near-daily basis for plans to expand abroad" [Wall Street Journal].

And for the Black Lives Matter charter supporters counselling "resistance":

Podesta Group's Lauren Maddox, former Sallie Mae/for profit college lobbyist, spotted guiding Betsy DeVos at hearing today. h/t @DaHalperin pic.twitter.com/fbqVFamrwW

— Lee Fang (@lhfang) January 18, 2017

And one more with the same theme:

Betsy's DeVos's response re free college yesterday is nearly identical to John Lewis's attack on Sanders/defense of Clinton in February. pic.twitter.com/HaGZLYK4Aw

— corey robin (@CoreyRobin) January 18, 2017
2016 Post Mortem
"State lawmaker wants students taught about 'Russian interference' in last year's presidential election" [Los Angeles Times]. "Assemblyman Marc Levine (D-San Rafael) said his proposal would require the California Board of Education to develop a curriculum plan that addresses the allegations made in the wake of President-elect Donald Trump's victory on Nov. 8. 'California is the largest textbook market in the nation,' Levine said in a statement Tuesday. 'Through this legislation, we can make sure students in California and across the United States receive accurate information about the 2016 presidential election.' Levine's proposal, introduced three days before Trump takes office, hinges on the Jan. 5 congressional testimony of U.S. intelligence officials that senior Russian officials approved an operation designed to interfere with the presidential race between Trump and Democratic nominee Hillary Clinton." Liberal Democrats really have lost their minds.

"I was stunned to read a recent story in the British Guardian suggesting that the CIA and FBI had "taken various factors into consideration before deciding [the dossier] had credibility. They include Trump's public comments during the campaign, when he urged Russia to hack Hillary Clinton's emails." Is there really anyone who did not hear that 'urging' as a classically outrageous Trumpian joke? Yet that is here cited as major confirmation of his sinister Russian connections" [The American Conservative]. Seriously, but not literally…

"DNC Chair Candidate Tom Perez Refuses to Support Ban on Corporate Money and Lobbyists" [The Intercept]. "We also asked to clarify Perez's position on lobbyist donations to the DNC, given that he did not make his position clear when speaking recently to the Huffington Post. Hinjosa responded with a link to Perez's comments that forum in Phoenix last Saturday, despite the fact Perez again did not take a position." Notice the corruption? They like it.
Realignment and Legitimacy
"When President-elect Donald Trump replaces Barack Obama on January 20, the Democratic Party will find itself more removed from power than at almost any point since the party's creation" [NBC]. "Simply put, Democrats' once vaunted coalition of the ascendant — younger, multiethnic, educated, and urban — failed them in 2016, and in 2014 and 2010 before that. That coalition proved to have major handicaps, part demographic and part geographic, that have been hollowing out the party for years." Not to preen, but NC readers have been familiar with this idea for some time.

"Trump's America: Switching sides in struggling Pa. county" [AP]. Why Trump won Pennsylvania, with a fine Marie Antoinette moment at the end.
Obama Hagiography
Jonathan Chait's new book, Audacity : "Chait believes, is that left and liberal criticism of Barack Obama stems mainly from psychological damage" [Los Angeles Review of Books]. Left-wing criticism of the Affordable Care Act on the grounds that it constituted a massive giveaway to the insurance industry, for example, "made no sense from a liberal standpoint, or even a socialist standpoint. Instead, it reflected a kind of infantile rejection of the compromises inherent in governing.'" Attaboy.

"Chait insists that Obama won decisive victories in the most important battles. The stimulus was "a gigantic success"; Obamacare will be remembered as "one of the most ambitious and successful social reforms in the history of the United States"; and in the war to tame Wall Street, "The good guys won'" [The New Republic]. "What Chait has to leave out to mount his defense of Obama is just as striking as what he includes. On economic policy, Chait passes by the administration's fumbling efforts to relieve households weighed down by crippling debts. On health care, Chait downplays the fact that large stretches of the country, mostly rural and poor, have struggled to attract insurers; enrollment is more than eight million below what the Congressional Budget Office projected. On national security, readers will search in vain for the name Edward Snowden, or any consideration of the surveillance state that thrived under Obama's watch. Chait glides past the escalation in deportations—well over two million—that Obama presided over. And a chapter on racial politics compiles outrageous statements from Rush Limbaugh but doesn't mention Black Lives Matter."

"What will we mean when someday we refer to Obama Lit? I think we'll be discussing novels about authenticity, or about 'problems of authenticity'" [New York Magazine]. "That we've been passing through an era that especially prizes authenticity in fiction is no coincidence. These were years when America was governed by someone who'd written a genuine literary self-portrait, whose identity was inscribed with the traumas of the age of colonialism and its unraveling, whose political appeal hinged on an aura of authenticity and whose opponents attacked him by casting doubt on the authenticity of that identity. Now, as he leaves the scene, we're troubled by questions of fakeness…."
Stats Watch
Industrial Production, December 2016: "A weather-boosted 6.6 percent surge in utility output fed an outsized 0.8 percent gain in industrial production for December, one that follows however a downward revised and very sharp 0.7 percent decline in November" [Econoday]. "The big story in this report, however, is another soft reading for manufacturing production…" And: ". As there was significant downward revision in last month's data, the best way to view this is the 3 month rolling averages which improved but remain in contraction. Manufacturing employment growth has evaporated" [Econintersect]. And: "Despite President-elect Trump's best efforts to keep production on shore, another run-up in the dollar since the election is not going to be helpful for manufacturers. Once tax and regulatory reform begin to kick in (presumably in the second half of this year), manufacturers may have a lot to cheer about, but, for now, the near-term outlook remains tepid at best" [Amherst Pierpont Securities, Across the Curve].
Consumer Price Index, December 2016: Energy prices are moving higher and are lifting the overall rate of consumer inflation, which now nearly matches the core rate (less food & energy). The CPI rose 0.3 percent in December to lift the year-on-year rate by 4 tenths to 2.1 percent. This yearly rate had been badly trailing the core rate for the past 2-1/2 years, since the oil price collapse in the summer of 2014. Now the overall rate compares with 2.2 percent for the core rate which rose a modest 0.2 percent in December" [Econoday]. And: "Those nasty energy prices caused the spike in the headline CPI, This is the highest rate of inflation seen in over one year" [Econintersect]. And: "[T]he Consumer Price Index (CPI) is showing that inflation is at the 2.0% to 2.5% target range that was set by Federal Reserve Chair Janet Yellen" [247 Wall Street]. "If Yellen sees another report like this, it seems safe to at least wonder if the next interest rate hike may come sooner than expected."
Architecture Billings Index: "up sharply" [American Institute of Architects] (leading economic indicator that provides an approximately nine to twelve month glimpse into the future of nonresidential construction spending activity). AIA Chief Economist, Kermit Baker: "However, December is an atypical month for interpreting trends."
MBA Mortgage Applications, week of January 13, 2017: "Purchase applications for home mortgages fell a seasonally adjusted 5.0 percent in the January 13 week, while applications for refinancing rose 7 percent" [Econoday].
Housing Market Index, January 2017: "Home builders are as confident as they have been since the sub-prime boom 10 years ago" [Econoday]. "The rise in mortgage rates isn't denting any of the enthusiasm among home builders for what they see ahead as another strong year, perhaps an even stronger year."
Housing: "Rents rose 4% compared to a year ago in December, the Labor Department said Wednesday. That's the strongest yearly gain since December 2007, the month the Great Recession began" [MarketWatch].
Retail: "The internet is closing a bunch of Iowa mall stores and forcing changes" [Des Moines Register]. "'Retail is different than it used to be,' said Paul Stender, the longtime general manager of Valley West Mall in West Des Moines.' We are doing more things with food and entertainment to give shoppers things they can't get online.'"
Commodities: "The bullishness about the impact of Trump's $500 billion infrastructure plans and solid growth in top consumer China on demand for the bellwether metal [copper] has cooled down considerably" [Mining.com]. "The decline came despite a plunge in the value of the US dollar which usually moves in the opposite direction of commodity prices following comments by president elect Trump questioning Washington's decades old strong dollar policy."
Shipping: "The essence of freight forwarding is to ensure that the cargo is picked up from the seller and delivered to the buyer at the required place, at the right price and in the same condition that it is picked up from origin using the most suitable resources and routing possible" [Shipping and Freight Resource]. Also be aware that a freight forwarder is different from a clearing agent, a NVOCC and a freight broker." Oh…
Shipping: ""The freight brokers are also very fragmented, antiquated, and operate in a closed way. This prevents transparency of information, knowledge of all real-time trucking supply, misses the opportunity to optimise utilization of trucking space and ultimately to drive down prices and costs for the very end customers. This is another incentive driving change." [Lloyd's Loading List].
Shipping: "French container consultants Alphaliner suggest 2017 will be another record year for containership scrapping with some 750,000 teu of ships set to be torched this year" [Splash 247].
Brexit: "The UK's plan unveiled yesterday to abandon the EU customs union's Common External Tariff could lead to a 20% rise in the cost of exports and cost UK businesses £44 billion a year, according to one international shipping expert" [Lloyds Loading List].
Brexit: "HSBC Holdings Plc Chief Executive Officer Stuart Gulliver said trading operations that generate about 20 percent of revenue for the lender's investment bank in London may move to Paris, quantifying some of the aftershocks for the U.K. after Brexit" [Bloomberg].
The Bezzle: "What I Wish I'd Known About Equity Before Joining A Unicorn" [Yossorion, Github]. "The correct amount to value your options at is $0. Think of them more as a lottery ticket. If they pay off, great, but your employment deal should be good enough that you'd still join even if they weren't in your contract."
Today's Fear & Greed Index: 56 Greed (previous close: 58, Greed) [CNN]. One week ago: 61 (Greed). (0 is Extreme Fear; 100 is Extreme Greed). Last updated Jan 18 at 12:09pm. Mr. Market still hiding under his desk?
Gaia
"Bats have brain cells that keep track of their angle and distance to a target, researchers have discovered. The neurons, called 'vector cells', are a key piece of the mammalian's brain complex navigation system — and something that neuroscientists have been seeking for years" [Nature].
"By analyzing the fossil record through molecular data, scientists had estimated that the nightshade family was about 30 million years old, making it a relatively young plant family. But paleontologists in the Patagonia region in Argentina have discovered 52 million-year-old fossilized tomatillos, which are also nightshades. The discovery could push the age of the entire plant family, perhaps, back to when dinosaurs roamed the Earth" [New York Times].
"A Revolutionary Way To Grow Tomatoes!" [Slate (RH)]. Dunno. This sounds like work. "Let vines be vines" is my motto.
"The Discount Rate for the Social Cost of Carbon" [RegBlog]. "[W]hen we discuss regulatory policy, we are taking a societal perspective, in which I am just one of many billions who are affected. From this perspective, a preference for present people over future people becomes a form of moral prejudice, such as caring more about white people than black people. The same issue arises if we care more about co-nationals than about foreigners. From a moral and societal point of view, such preferences for unequal treatment are difficult to justify. If we end up doing so because our self-serving preferences express themselves in the behavior of citizens in a democracy, that is not a justification so much as an unpleasant fact."
Our Famously Free Press
"Campbell Brown, a former CNN anchorwoman-turned-education advocate, will be Facebook's new director for news partnerships, ending her editorial leadership of The 74, an education website" [WaPo]. "Brown, a journalist at NBC News before moving to CNN, entered the world of education advocacy several years ago, working to end teacher tenure and in support of charter schools. She served on the board of directors of the controversial "no-excuses" Success Academy Charter Schools network in New York and co-founded The 74. She has become a prominent — and sometimes combative — voice in education reform." So if Zuckerberg runs for President, this is a signal of what his policies on education and privatization generally will be.
"New York Times Study Calls for Rapid Change in Newsroom" [New York Times]. "In an interview on Tuesday, Mr. Baquet acknowledged that The Times had long valued its meticulous editing, and reducing its editor ranks represented a 'significant cultural transformation.' But, he said, 'I do not believe that eliminating some of that editing will make us a lesser institution.'"
Class Warfare
"NOBEL LAUREATE TAKES ON PURDUE PHARMA AND OXYCONTIN AS A CORPORATE FRAUD" [High Times (!!)]. "At the recent 2017 Allied Social Sciences Association (ASSA) meeting in Chicago, Nobel Laureate Angus Deaton described the American healthcare system as "optimally designed for rent-seeking and very poorly designed to improve people's health." Using the OxyContin epidemic as as example, Deaton referred to the Purdue Pharma-OxyContin situation as a prime example of government-induced fraud." And:
"There are around 200,000 people who have died from the opioid epidemic, were victims of iatrogenic [physician caused] medicine and disease caused by the medical profession, or from drugs that should not have been prescribed for chronic pain but were pushed by pharmaceutical companies, whose owners have become enormously rich from these opioids," said Deaton at the conference.

He pointed to the massive, "deadly fraud" perpetrated by Purdue Pharma on the American people and the agency whose job it was to prevent it—the Food and Drug Administration (FDA).
They call it "class " for a reason….
"How should Deutsche Bank repay consumers for its toxic mortgage mess?" [MarketWatch]. Seppuku?
"What to Make of the 'Davos Class' in the Trump Era" [Andrew Ross Sorkin, New York Times]. Hamburger? "[T]he World Economic Forum has put together an index of what it calls inclusive growth and development, which measures 109 countries according to their progress on economic growth and reducing income inequality and breaks out subsets of those countries to compare with different data sets. According to the index, median income actually declined by 2.4 percent between 2008 and 2013 across the 26 advanced economies where data is available, which may help explain the shifting political winds."
"'We need to go to a system where we are protecting workers, not jobs, and society will help people retrain or reorient,' Richard Baldwin, professor of international economics at the Graduate Institute of International and Development Studies in Geneva, said in an interview in Davos. 'There may just be a need to man up. We have to pay for the social cohesion that we need to keep our societies advancing, and accept that this may be a higher tax burden on people'" [Bloomberg]. Note the confusion on taxes, though of couse elites "manning up" is a pleasant notion….
"Davos Elite Fret About Inequality Over Vintage Wine and Canapés" [New York Times]. The headline is a little too easy, but: "The answers from the corporate executives who comprised a panel could be crudely boiled down to this: The people who have not benefited from globalization need to try harder to emulate those who have succeeded." Yep. The 10% does this too: These people should just move!
News of the Wired
"Five Architectural Easter Eggs Hiding on Gothic Cathedrals" [Atlas Obscura].
* * *
Readers, feel free to contact me with (a) links, and even better (b) sources I should curate regularly, and (c) to find out how to send me images of plants. Vegetables are fine! Fungi are deemed to be honorary plants! See the previous Water Cooler (with plant) here. And here's today's plant (KR):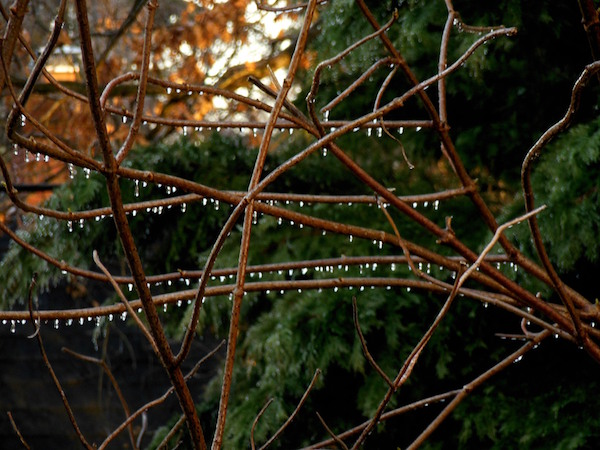 KR writes: "The frozen droplets in sunlight were so wonderful I had to take a picture."
Readers, I've gotten more plant images, but I can always use just a few more; having enough Plantidotes is a great angst deflator. Plants with snow and/or ice are fine!
Readers, Water Cooler is a standalone entity, not supported by the very successful Naked Capitalism fundraiser just past. Now, I understand you may feel tapped out, but when and if you are able, please use the dropdown to choose your contribution, and then click the hat! Your tip will be welcome today, and indeed any day. Water Cooler will not exist without your continued help.