A new Financial Times story helps quantify the degree to which AirBnB is ripping off members of the public generally to the benefit of its suppliers and customers.
A significant source of AirBnB's price advantage in the UK is tax gaming. Commercial properties pay a higher rate of tax than residential. Similarly, AirBnB hosts skirt charging VAT, since the tax applies only on businesses with more than £83,000 in annual revenue. VAT is applicable only to AirBnB's booking and service charges.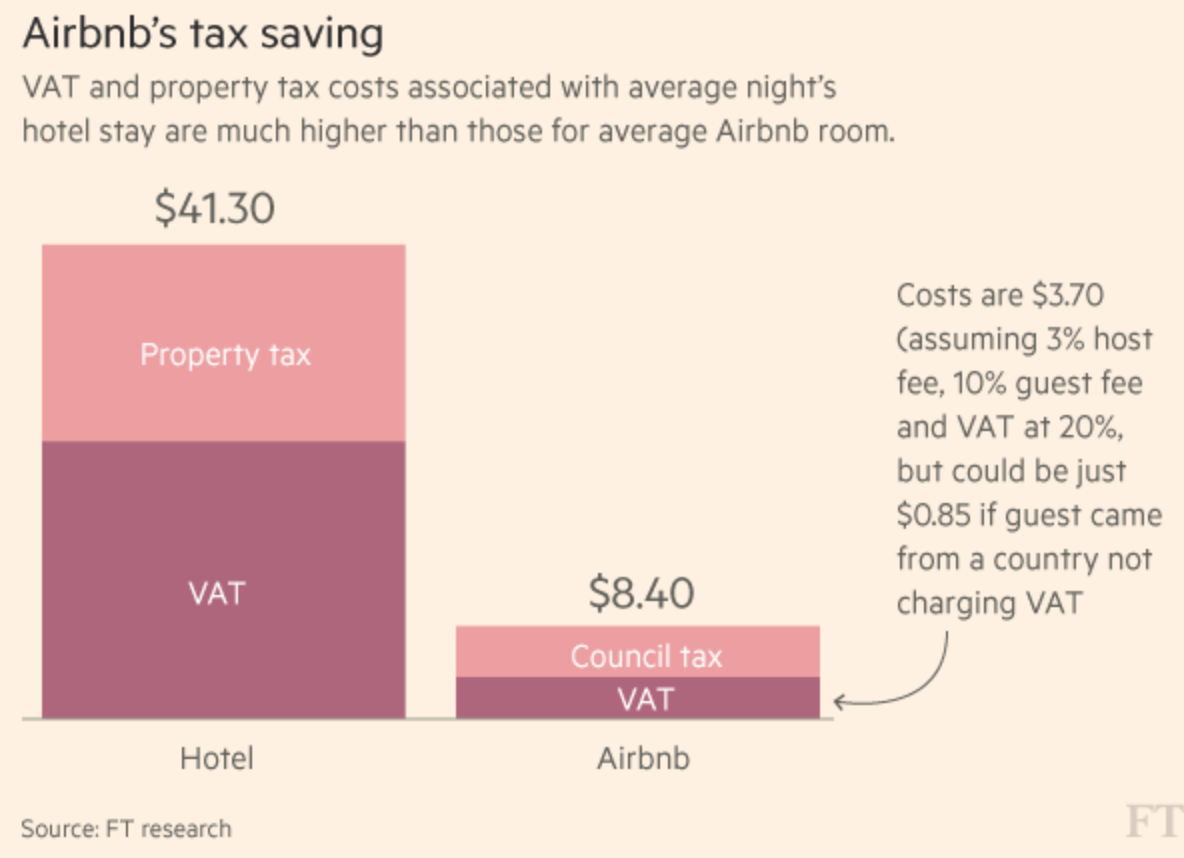 Airbnb says one of the key benefits of what it calls "home sharing" is to reduce costs for travellers and to help hosts earn extra income. But hoteliers complain they face unfair competition, as a result of tax differences and gaps in regulatory enforcement of everything from hygiene to disabled access and fire safety….

VAT and property taxes account for up to 17 per cent of the price of a typical London hotel room after the recovery of VAT paid on costs….

These VAT and property tax differences can add up to roughly third of the extra cost of using a London hotel. On average, guests paid $220 a night for a hotel room in 2015 before VAT, while Airbnb hosts received $142, according to the Hotelschool report, which was calculated in dollars. After taking account of hotel room VAT and Airbnb fees (assuming a 10 per cent guest fee and a 3 per cent host fee, plus VAT) the prices were $264 for the hotel room and $164 for Airbnb. The tax differences are worth tens of millions of pounds, based on FT calculations that assume Airbnb's London bookings were about $600m in 2016.
AirBnB tried disputing this analysis by arguing that individuals renting out a spare room weren't comparable to hotels. But it's spurious to say that most AirBnB hosts are in that category. Over half the London listings are for the entire apartment. Moreover, per the pink paper:
Airbnb is now directly targeting the business travel market, with hosts able to advertise themselves as "business travel ready" if their property meets certain requirements, such as offering WiFi and a 24-hour check-in.
Even though AirBnB has been making concessions to local governments and is collecting hotel and occupancy in more and more communities, but AirBnB users seldom pay the same charges as hotel operators. And the Financial Times analysis shows how much AirBnB depends on tax arbitrage in one of its biggest markets. And that's before you get to the fact, as a tax maven pointed out, that AirBnB hosts in the US are likely to be under-reporting income.
While the Financial Times couldn't quantify the impact, another beef is that AirBnB renters don't have to meet safety standards:
But consumer protection is another emerging issue. David Weston, chairman of the Bed and Breakfast Association, criticises Airbnb for not ensuring compliance with fire regulations. "I think the public assumes some sort of checking if you are booking with a big global brand," he adds.

By contrast, members of his association with as few as three letting bedrooms have been required to install fully wired fire alarms and fire doors. "We have had instances of people having to spend thousands of pounds," he says. "It is extremely galling to find that fast-growing competitors are not complying with anything."
All AirBnB could offer in the way of response was a handwave.
The ability of AirBnB to operate at all is proof of the success of neoliberal indoctrination. Most communities have strict zoning laws. Renting out your home, even on a part-time basis, is a commercial activity. Most localities ignore violations of that distinction for businesses that don't generate traffic, such as a bookkeeper or web designer working from their home. But one of the reasons for this distinction was to preserve the integrity of residential communities and keep transients out. But it seems that nothing is to stand in the way of rental extraction in the name of the sharing economy…even when the sharing consists of pilfering from the very communities that cut businesses like AirBnB slack that they do not deserve.