Everyday phrases Shakespeare made up Business Insider (Chuck L)
Open sourcing Lucy, the world's most famous fossil ars technica (resilc)
The Most Terrifying Weapons of 2016 Motherboard (resilc)
Scientists Loved and Loathed by an Agrochemical Giant New York Times
China smog: millions start new year shrouded by health alerts and travel chaos Guardian
Economists gloomy on prospects for 2017 Financial Times. A UK survey.
Only the guilty will cheer curbs on the press The Times
Migrants storm border fence in Spanish enclave of Ceuta BBC
Building Totalitarianism in Europe – The Last Coup of Victoria Nuland Defend Democracy
New Cold War
U.S. Intelligence Got the Wrong Cyber Bear Leonid Bershidsky, Bloomberg. A great piece. Some key bits (pun intended):

The "Russian hacking" story in the U.S. has gone too far…..The U.S. intelligence community is making a spectacle of itself under political pressure from the outgoing administration and some Congress hawks. It ought to stop doing so. It's impossible to attribute hacker attacks on the basis of publicly available software and IP addresses used.

Archive: NYTimes pushed "Iraqi hacker threat" propaganda shortly before Iraq war nytimes.com/2003/01/17/us/… @@WLTaskForce (martha r)

The Russian Hacking Frenzy in 200 Words Bill Blunden, BelowGotham (see the original here)
Syrasistan
ISIS Will Lose the Battle of Mosul, But Not Much Will Remain Counterpunch (resilc)
Big Brother is Watching You Watch
Superhero Snowden Trashed In Absurd WSJ Op-Ed Michael Shedlock (EM)

Fridges and washing machines could be vital witnesses in murder plots Telegraph (resilc). Recall that yours truly said I didn't like the idea of my refrigerator spying on me?

Algorithms: AI's creepy control must be open to inspection Guardian (resilc)
Trump Transition
Defying Donald Trump's Kleptocracy Chris Hedges, TruthDig

Many in U.S. Skeptical Trump Can Handle Presidential Duties Gallup

GOP Agenda Faces Difficult Path Wall Street Journal. Notice difference between front-page headline and one on the story proper: Republican Congress Promises to Move Quickly Toward Goals.

Republicans Face a Dangerous First 100 Days Bloomberg. Notice how the Dems are perceived to be a non-issue.

Trump: North Korea intercontinental missile 'won't happen' BBC

Inside Trump Defense Secretary Pick's Efforts to Halt Torture New York Times (Dan K)

Trump to name Lighthizer as trade representative, tap Pence adviser for West Wing Washington Post (furzy)

Tension in GOP Rises Over Russia Wall Street Journal

Donald Trump's team says more focus should be on 'punishing' Hillary Clinton than on Russia election hacking Independent (resilc)

This Congress filled the fewest judgeships since 1952. That leaves a big opening for Trump Los Angeles Times (resilc)

Here are the eight Trump Cabinet picks Democrats plan to target Washington Post

This Is the Year Donald Trump Kills Net Neutrality Wired (furzy)

Maine tried allowing the sale of health insurance from other states. It didn't work. Bangor Daily News
"Alan Dershowitz has threatened [promised?] to leave the Democratic Party if Keith Ellison becomes chair" Mondoweiss (Judy B). And this is a negative?
The White House's dirty campaign against Keith Ellison The Week (martha r)
Republicans Have No Choice But to Repeal Obamacare — No Matter the Cost American Prospect (resilc)
House Republicans Fret About Winning Their Health Care Suit New York Times
U.S. judge blocks transgender, abortion-related Obamacare protections Reuters (EM)
Foreign sales of US government debt are largely irrelevant Bill Mitchell (furzy)
'So So much for draining the swamp': Pelosi blasts GOP for gutting Independent Office of Congressional Ethics Raw Story (furzy)
Texas looks set to follow North Carolina with push for 'bathroom bill' Guardian (resilc)
New York tale: a century-old subway dream becomes reality Reuters (EM)
Threat of New Year attack in U.S. low but 'undeniable': agencies Reuters. EM: "Sure, but one can change 'attack' in the headline to 'deadly asteroid strike' and have it still be true. So should I stay huddled in bed or not, guys?"
Study finds more extreme storms ahead for California MIT News (martha r)
NoDAPL
The Fires of Standing Rock: How a New Resistance Movement was Ignited Counterpunch (martha r)
Black Injustice Tipping Point
8th Grader Uses Real $2 Bill For Lunch, School Immediately Calls Cops For Her Arrest AWM (Timotheus)
U.S. stocks riding a bull market in corruption MarketWatch (JTM)
The Ugly Unethical Underside of Silicon Valley Fortune (Li)
Guillotine Watch
This restaurant is serving 24K gold pizza for $2000 because why not? Guardian (J-LS)
Class Warfare
The core of the disagreement between the two factions isn't that one side cares more about poor people than about minorities and the other side cares more about minorities than about poor people. That whole frame is wrong. Both sides, for the most part, care sufficiently about minorities and about poor people. The core of the disagreement is that one side is doing actual politics and the other side is doing cultural criticism but thinks it's doing politics.
Antidote du jour. Tracie H: "Nymph grasshopper on a flower in my front yard."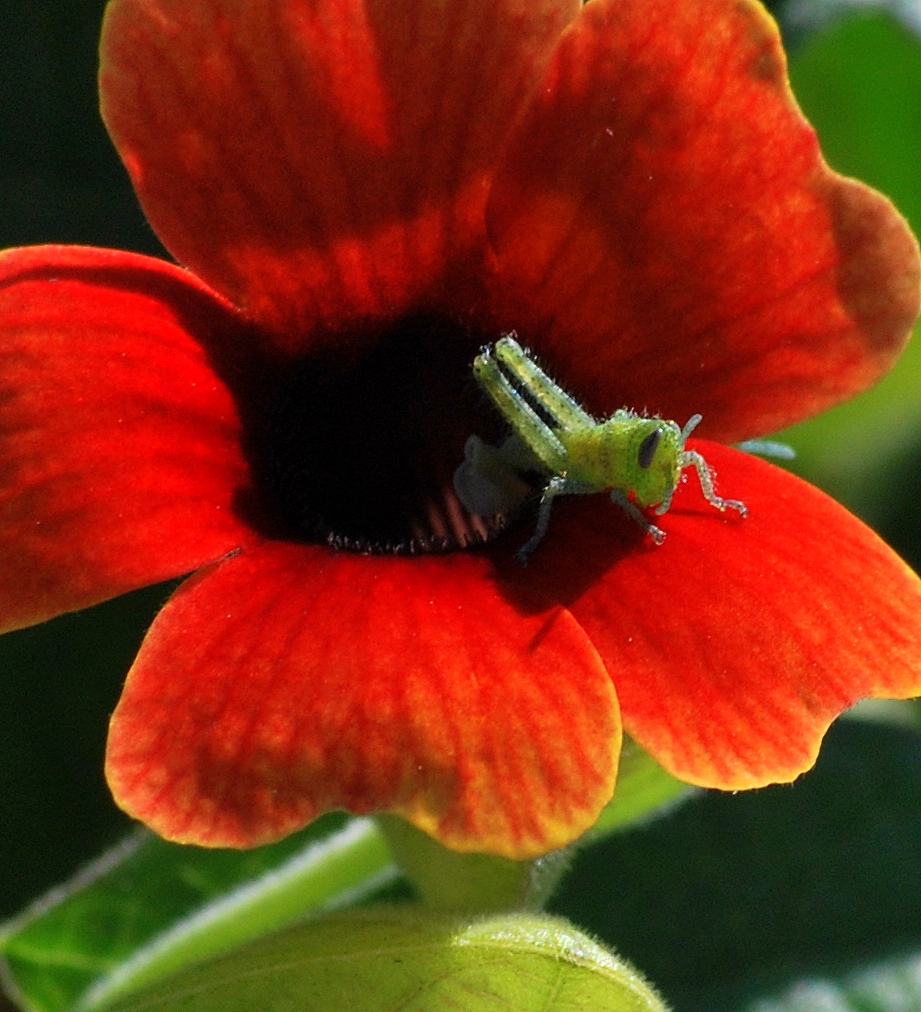 See yesterday's Links and Antidote du Jour here.