By Lambert Strether of Corrente
Trade
"Two key players on Trump's trade team — USTR nominee Robert Lighthizer and Commerce Secretary nominee Wilbur Ross — are still not confirmed, but their workload is already stacking up with word from the White House that they will review all 14 current U.S. free-trade agreements for possible changes in addition to seeking new deals" [Politico]. "The remarks heighten expectations that Trump and Japanese Prime Minister Shinzo Abe could discuss talks on a bilateral deal when the two leaders meet at the White House this month. Last week, Abe signaled he was open to a bilateral trade deal with the U.S. after Trump formally withdrew from the TPP in one of his first acts as president."
Politics
Trump Transition
"Senate Republicans took an extraordinary step Wednesday to move forward with two of President Donald Trump's top Cabinet nominees after confronting a boycott from Democrats. Under committee rules, it is required that at least one Democrat be present for the panel to vote to send a nominee to the Senate floor. On Tuesday, not a single Democrat showed up, putting the two nominations at a standstill. Committee Chairman Orrin Hatch, a Utah Republican, pointed to the 'extraordinary circumstances' surrounding the gathering and allowed the Republicans in the room vote to suspend the rules of the committee. With the committee rules suspended, the 14 Republicans in the room voted to move the Mnuchin and Price nominations to the full Senate, even without the presence of a single member of the opposite party" [CNN].

"'If we end up with that gridlock, I would say, if you can, Mitch, go nuclear,' Trump told reporters during a meeting with judicial advocates in the Roosevelt Room" [The Hill]. Background on the nuclear option at NC here; remember when Obama used the nuclear option to defeat Republican obstruction and pass Medicare for All in 2009? Oh, wait… To be fair, Harry Reid did modify the filibuster four years later, in 2013, to get some judges appointed. And here we are; sow the wind, reap the whirlwind.

"Potential nominee profile: Neil Gorsuch" [SCOTUSblog]. Best background.

"The Daily 202: Supreme Court pick rewards Republicans for sticking with Trump, vindicates McConnell strategy" [WaPo]. This is actually a good round-up, with lots of linky goodness.

"Neil Gorsuch, the Nominee for a Stolen Seat" [New York Times]. "Supreme Court nominations are among the most important decisions a president makes, and certainly the most enduring: A nominee like Judge Gorsuch could sit on the court for more than three decades. At a rally last summer Mr. Trump said: 'Even if you can't stand Donald Trump, you think Donald Trump is the worst, you're going to vote for me. You know why? Justices of the Supreme Court.' That may have played well on the campaign trail, but Mr. Trump's failure to choose a more moderate candidate is the latest example of his refusal to acknowledge his historic unpopularity and his nearly three-million-vote loss to Hillary Clinton." Shaking their tiny fists…

At least this is creative:

Sherrod Brown 1st senator to announce opposition to Gorsuch: 'Cannot support any nominee who doesn't recognize corporations are not people.' pic.twitter.com/BvkqUUxZcA

— Kyle Griffin (@kylegriffin1) February 1, 2017

Good for Sherrod Brown. Cory Booker was probably "nauseated" by this…

"The case for Supreme Court term limits has never been stronger" [Vox]. And how is that going to happen?

This classic piece of Voxness is of a piece with all the Democrat stiffing and blinding since election day. It's all about process. Poor election result? Work the faithless electors (which backfired). Or abolish the electoral college (which they are powerless to do). Or yammer about "democratic norms" (which they are powerless to protect). Or whinge about unfairness (which means is that the Republicans knew how to work the rules better than they did). All this whinging is about process. It has nothing to do with concrete material benefits to voters. I'm gonna go out on a limb here and suggest a radical shift in strategy for Democrats, so radical I'm gonna set it off in bold:

Democrats! Start winning elections!

Then you'll have the power to do stuff! You could even give voters nice things! You can't beat something with nothing, and to voters, process is nothing! It would help Democrats if they stopped reinforcing failure by leaving losers in charge, and if they didn't double down on fail with strategy and tactics. If I never hear another Trump piss joke in my life, it will be too soon. "Progressives" turned making jokes about W's stupidity into an art form — now, of course, he's a beloved figure with a lovely family because Trump — and what did it accomplish? Two terms for the dude, and horrible policies that Obama only rationalized and normalized. Stop it!

"Trump administration is radicalizing Democratic voters, creating a challenge for the party, Rep. Adam Schiff says" [Los Angeles Times]. That's a shame. This is classic:

"We have two of the most capable strategists as the head of our House and Senate Democrats," Schiff added, referring to House Democratic leader Nancy Pelosi of San Francisco and Senate Democratic leader Sen. Charles E. Schumer of New York.

"If anybody can grapple with this, they can, but it's going to be a challenging and moving target day to day."

"I just hope that we can channel that energy in a way where we can provide a check on this administration because I've never been more worried about the country's future than I am right now," he said.

"A check on this administration" says it all. When are Democrats going to be for something? I mean, besides Third Way-style Clintonian excrementalism?

"So most members of Congress had no idea the travel ban was coming, but a handful of congressional staffers helped the Trump administration write it? And they signed non-disclosure agreements so they wouldn't even be able to tell their bosses (members of Congress, and, ultimately, US taxpayers) about the side work? And everyone is OK with this? The disclosure that staffers on Rep. Robert Goodlatte's House Judiciary Committee worked alongside Trump aides on this order should be rocking Capitol Hill. It suggests that the administration was trying to work as quickly as it could and as quietly as feasible – a potentially troubling template for the future. If members of Congress aren't troubled by this, they're missing a big warning sign for the separation of powers" [The Note].

"Lob­by­ists and re­port­ers alike will look back at the eight years of the Obama pres­id­ency as a sleepy peri­od with not that much go­ing on. While it is hard to ima­gine many of Trump's pro­pos­als will ac­tu­ally make their way through the le­gis­lat­ive pro­cess, even the threat of some of these things hap­pen­ing has to be taken ser­i­ously giv­en that Re­pub­lic­ans con­trol not only the White House but the House and Sen­ate as well. Trump can also do a lot of things by ex­ec­ut­ive or­der. Who can be sure of any­thing any­more?" [Charles Cook, Cook Political Report]. Volatility, however, creates opportunity….
Gnashing of Teeth and Rending of Garments
"Clinton will reflect on 2016 race in new book" [AP]. " The book, still untitled, is structured around hundreds of favorite quotations that have inspired her. The publisher said Clinton will use the quotes to 'tell stories from her life, up to and including her experiences in the 2016 presidential campaign' and into her thoughts on the future." So, she can still fund staffers to collect the quotes. "Clinton will also resume her relationship with the Harry Walker Agency. Wednesday's announcements mark a growing re-emergence for Clinton." That was fast.
Realignment and Legitimacy
"Among all Americans in the [collected and reported by communications marketing firm Edelman as a supplement to the firm's annual global trust survey], 57% believe the 'system' is failing while only 10% believe it is working. A third were uncertain" [247 Wall Street]. "More than three-quarters (76%) of respondents said they were concerned about widespread corruption; nearly as many (74%) said they were concerned about globalization; and two-thirds said they were concerned about erosion in social values. Almost as many (66%) said they were concerned regarding immigration, and 61% were concerned about the pace of change and innovation. Along voting lines, 67% of Trump voters were fearful that the system is failing, compared with 45% of Clinton voters. Trump voters were twice as likely to fear immigration and globalization."

"This Is How Steve Bannon Sees The Entire World" [BuzzFeed]. We ran this in Links back on 11/17, but it's worth a rerun. Bannon is certainly crazypants, but is he more crazypants than The Blob? Hard to say.
Stats Watch
Purchasing Managers' Manufacturing Index, January 2017: "[V]ery strong" [Econoday]. "New orders accelerated at a 2-year high in the month with both output and employment also showing gains. In an unusual sign of strength, the sample is intentionally boosting inventories in anticipation of strong conditions this year."
Institute For Supply Management Manufacturing Index, January 2017: "[S]ignaling the strongest conditions in the factory sector since the oil-price collapse of 2014" [Econoday]. And: "[A]bove expectations… and suggests manufacturing expanded at as faster pace in January than in December" [Calculated Risk]. And: "12 of the 18 industries reported growth for the month with business generally optimistic" [Economic Calendar]. But: "Overall, surveys do not have a high correlation to the movement of industrial production (manufacturing) since the Great Recession..Note that new orders sub-index insignificantly improved" [Econintersect].
ADP Employment Report, January 2017: "ADP is calling for substantial strength in Friday's employment report, at 246,000 for private payrolls" [Econoday]. "More negative pull comes from public construction spending which fell a sharp 1.7 percent in the month. Educational spending fell 2.2 percent with highways & streets down 0.6 percent." And: "well above the consensus forecast" [Calculated Risk]. And but: "This report is very good with growth in almost every sector. ADP employment has not been a good predictor of BLS non-farm private job growth" [Econintersect]. And: "ADP is often not exactly in line with the BLS report, but what the report does tend to do is indicate a directional bias" [247 Wall Street].
Construction Spending, December 2016: "Construction spending fell 0.2 percent in December but details show welcome gains for housing" [Econoday]. And: "Public construction returned to contraction year-over-year whilst private construction remained in expansion. Overall, construction ended 2016 on a soft note – but did improve overall over 2015" [Econintersect].
MBA Mortgage Applications, week of January 27, 2017: "[F]ell a seasonally adjusted 6.0 percent" [Econoday]. "Though seesawing weekly on a seasonally adjusted basis, purchase applications have been surprisingly strong given the rising mortgage rate environment… far beyond expectations." And: "Even with the recent increase in mortgage rates, purchase activity is still holding up" [Calculated Risk]. "However refinance activity has declined significantly."
Retail: "Starbucks is also facing pressure from declining traffic at shopping malls and restaurants as customer shopping habits change and people increasingly choose to eat at home" [Business Insider]. "But Schultz insisted that Starbucks is immune to that industrywide trend because the coffee chain provides an emotional experience for consumers, he said."
Coops: "From Grocery Stores to Labor Unions, Cooperatives Were the Answer" [Yes! (DB)]. Round-up of Ohio, Nevada, and North Carolina (part of a series).
Coops: The city just released a report on the second year of the initiative. In fiscal year 2016, it supported 27 worker cooperatives to launch their businesses, supported business development services to a total of 49 worker cooperatives (totaling 280 worker-owners), and saw 164 new hires at worker-owned firms that received support from the city (not all hires are full worker-owners). The city also reports that it supported outreach to 2,164 entrepreneurs interested in converting existing businesses into worker cooperatives. All of those numbers are higher than in last year's report" [Next City (DS)].
Stocks: "Apple adds massive amounts of cash to the balance sheet every quarter, which is obviously a good thing. But as long as the company cranks out cash instead of using it effectively, earnings growth will be discounted" [Thomas Kee, MarketWatch]. Kee recommends shorting Apple. Punish them for taking away the MagSafe Connector!
* * *
Still working through the Bezzle Backlog:
The Bezzle: "The high prices Americans pay for generic drugs may have been cooked up by pharmaceutical salespeople on golf courses, at a New Jersey steakhouse or over drinks at "Girls Nights Out" in Minnesota" [Seattle Times]. "Details emerging from an investigation show that drug-company employees gathered regularly at such places and conspired to keep prices and profits high, according to interviews and a complaint filed in U.S. District Court by the attorneys general of 20 states, including Washington."
The Bezzle: "On Wednesday, a participant in JPMorgan's $21 billion 401(k) plan filed a class action lawsuit against the bank, claiming that its retirement fund managers picked in-house investment products over cheaper rivals, costing employees 'tens of millions of dollars in losses'" [DealBreaker]. "Not only did the retirement committee choose pricier JPMorgan products for its employee retirement funds, the lawsuit claims, they also failed to structure the investments as collective trusts, which are commonly used by large institutional investors to reduce costs. The suit also questions the retirement committee's use of JPMorgan business partner BlackRock for passive investments when other vehicles would have been cheaper." Tragic. If we would just hand over Social Security to Wall Street, they wouldn't be forced to go bottom feeding like this…
The Bezzle: "Uber ordered to pay $20m in fines following (probably last ever) FTC investigation into dishonest advertising" [Pando]. "You might have missed it, what with the world ending and all, but this past Thursday, Uber agreed to pay a total of $20m to drivers in 18 US cities after making false claims about the earning potential." For a moment, I thought that meant Uber made false claims about "earnings potential" to investors…..
The Bezzle: "In New York, a June study by two non-profits that advocate for affordable housing found that the top 20 neighborhoods for Airbnb listings in Manhattan and Brooklyn had average rent increases almost twice those found in the city as a whole between 2011 and 2015" [Bloomberg]. "A group of New Orleans-based volunteers published a paper that found that the average rent on an entire home on Airbnb in that city was $251 a night, compared with an average of $26 a night for a full-time renter. A study in San Francisco found that neighborhoods with the highest number of evictions in a one-year period also had the highest number of commercial hosts on Airbnb." And code enforcement in cities has been gutted, so renters have taken to hiring private investigators to catch the landlords doing this….
The Bezzle: "As privatized platforms like Academia.edu look to monetize scholarly writing even further, researchers, scientists and academics across the globe must now consider alternatives to proprietary companies that aim to profit from our writing and offer little transparency as to how our work will be used in the future" [Forbes]. "In other words: It is time to delete your Academia.edu account." Yes, that *.edu extension is deceptive.
The Bezzle: "Elon Musk hasn't given up on his vision to add a digital layer of intelligence to our brain" [Business Insider]. As long as the business model is software-as-a-service…
* * *
Political Risk: "[Transparency International] said populist leaders like U.S. President Donald Trump and French presidential candidate Marine Le Pen regularly drew links between a 'corrupt elite' and the marginalization of working people. But anti-establishment parties generally failed to address corruption once in office, the group said" [Reuters].
Political Risk: "̌The Fed is likely to respond to fiscal stimulus that requires borrowing by jacking up interest rates. That seems to be the signal that Yellen, and at least one of the central bank's other top officials, are sending" [MarketWatch]. The Donald better crank up "Audit the Fed." Which would be popular.
Today's Fear & Greed Index: 51 Neutral (previous close: 54, Neutral) [CNN]. One week ago: 59 (Greed). (0 is Extreme Fear; 100 is Extreme Greed). Last updated Feb 1 at 11:27am. Nervous stomachs…
Class Warfare
"Reclaiming the Commons" [Boston Review (DB)]. "The fact that people volunteer their time to work on community gardens, or that scientists openly share their research results with trusted colleagues, or that people post useful information on the Internet for free, seems aberrational or at least marginal in terms of conventional economic thinking. But while cooperation may not conform to the general rule of rationally self-interested behavior, the efficacy of social negotiation and cooperation can be seen in dozens of smaller-scale commons."
"It may come as a surprise that Americans are less likely to start a business, move to another region of the country, or switch jobs now than at any time in recent memory. But dynamism is in retreat nationwide and in nearly every measurable respect" [Economic Innovation Group].
"Workers at Trump's Washington hotel vote to join union, casting spotlight on potential conflicts" [WaPo]. Nice to read about the marches in favor of this. Oh, wait…. Seriously, you'd think this would be a golden opportunity for Democrats to frame themselves as being for — as in for something, anything — the working class. And the hotel is right in DC! But hotel workers are smelly proles, I guess. They don't work at Starbucks on their laptops…
News of the Wired
"The secret to living a meaningful life" [BBC]. The jargon is a bit thick, but the idea of "personal projects" is, to me, compelling. I have several, and they're helpful.
* * *
Readers, feel free to contact me with (a) links, and even better (b) sources I should curate regularly, and (c) to find out how to send me images of plants. Vegetables are fine! Fungi are deemed to be honorary plants! See the previous Water Cooler (with plant) here. And here's today's plant (Peter):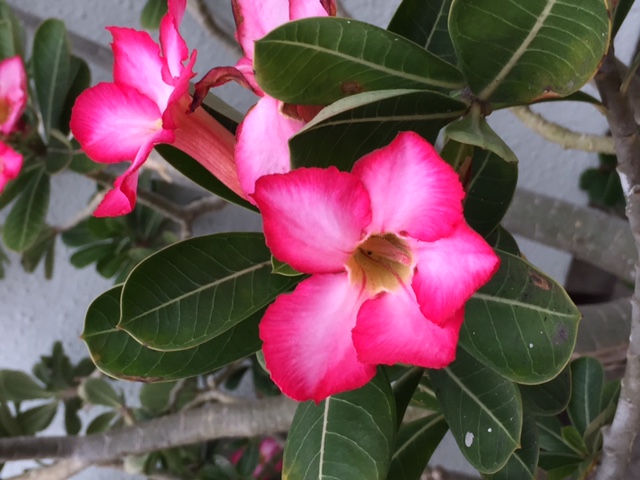 Mazatlan blossom. Winter's not the same everywhere…
Readers, Water Cooler is a standalone entity, not supported by the very successful Naked Capitalism fundraiser just past. Now, I understand you may feel tapped out, but when and if you are able, please use the dropdown to choose your contribution, and then click the hat! Your tip will be welcome today, and indeed any day. Water Cooler will not exist without your continued help.