By Lambert Strether of Corrente
Trade
"'We are certainly proceeding after discussions with the other countries to have a 12 minus 1 TPP and go ahead without the United States, and we still certainly encourage others to join,' [Joe Hockey, the Australian ambassador to the U.S.] said at an event hosted by the Chicago Council on Global Affairs on Wednesday. 'There are a number of countries that could join that haven't. Obviously China hasn't joined. They might choose to join'" [Politico].
"HOUSE DEMS, LABOR GROUPS UNVEIL NAFTA BLUEPRINT: Reps. Peter DeFazio (D-Ore.) and Rosa DeLauro (D-Conn.) will introduce a resolution today that urges Trump to begin the renegotiation of the North American Free Trade Agreement. They think the new negotiation should follow a blueprint backed by the AFL-CIO, the United Brotherhood of Teamsters, United Steelworkers and other labor groups. The resolution calls for binding and enforceable labor and environment standards, the elimination of the pact's investor-state dispute mechanism and a rule of origin that sets a 90 percent value threshold for automobiles, among other things" [Politico].
"Five months shy of his 73rd birthday, and with his place in business and cultural history secure, FedEx Corp. founder Fred Smith has embarked on what could be his most profound mission: To preserve decades worth of U.S. trade gains from Donald Trump's policy ax" [DC Velocity]. Makes me wonder if Amazon squillionaire Jeff Bezos, WaPo's owner, has the same views as Smith.
"Higher tariffs represent the biggest threat to trade with the potential to cut demand for cross-border purchases. This could become more complicated, however, as customers could choose to order directly from foreign retailers such as Alibaba keeping their purchases under the $800 limit and avoiding tariffs all together. The trade impact, in this case, would fall heavier on US retailers than on foreign ones" [DC Velocity]. "On Thursday, Fred Smith was in Washington testifying before Congress on the benefits of international trade. He has gone so far as to urge FedEx employees to contact their Congressional representatives urging them to oppose Congressional and Executive actions that hamper free trade."
Politics
Trump Transition
"President Trump is tapping [billionaire] New York financier Stephen A. Feinberg [a co-founder of Cerberus Capital Management] to lead a broad review of U.S. intelligence agencies at a time when the new president has cast aspersions on their work and integrity" [WaPo]. And: "The role for Stephen A. Feinberg, a co-founder of Cerberus Capital Management, has met fierce resistance among intelligence officials already on edge because of the criticism the intelligence community has received from Mr. Trump during the campaign and since he became president [New York Times]. Interesting if true; each story is sourced to "administration officials." If it pans out: Again, we get wonderful clarity, as Trump, an oligarch, deals directly with other oligarchs, as opposed to working through brokers (as liberal Democrats tend to do). We also get conflict worthy of a WWF All-Star Celebrity Cage Death Match. In a conflict like ★★★Cerberus vs. The Blob★★★, it's hard to pick a winner! So at least we get entertainment value for our voting dollar. (I hope that formatting isn't overwrought; sadly, the HTML <blink> tag has been deprecated….)

"President Trump is expected to announce [Alexander] Acosta as his new labor secretary nominee, according to a White House official. Acosta, the dean of the law school at Florida International University, is a former U.S. attorney for the Southern District of Florida and previously served on the National Labor Relations Board. He would be the first Latino appointed to Trump's Cabinet" [WaPo]. Oh, he's Latino. So that's alright, then.
Realignment and Legitimacy
If we view one of the drivers of the current legitimacy crisis as the refusal of a faction headed by Clintonites to accept a transition of power after having lost an election — that faction including a cabal of at least 9 intelligence officials, and many members of the press and the creative class — then we also need to view the on-going soft coup by the intelligence community and the installation of Perez as DNC head as two aspects of the same process, not as separate processes.

* * *

First, the Russkis:

As usual, Erica Garner gets it:

meanwhile … real questions left unasked… https://t.co/HZ2kc5ZiIK

— officialERICA GARNER (@es_snipes) February 16, 2017

As does Julian Assange:

Amazing battle for dominance is playing out between the elected US govt & the IC who consider themselves to be the 'permanent government'.

— Julian Assange (@julianassange) February 15, 2017

As does Rand Paul: "'That is not just a leak,' Paul said. 'We're talking about private information between high-ranking government officials and high-ranking foreign officials. If we're going to release that to the press, that is very, very worrisome. "

That's a rather remarkable confluence of opinion: Garner, Assange, Paul. Here's Bernie Sanders. Listen:

.@realDonaldTrump is tweeting about Russia and "FAKE NEWS" again. Here's why: pic.twitter.com/FyQK674U64

— Bernie Sanders (@SenSanders) February 16, 2017

Lambert here: Sanders makes about as lucid a statement of the state of play on the Russki matter as it's possible to make, and kudos for him for being quite clear on what we don't know (see on Democrats and CT below). And Sanders' request to have hearings before the Senate Intelligence Committee is, on the face of it, reasonable. After all, Sanders does want to at least cripple Trump, and there's nothing wrong with that, in my view ("gridlock is our friend," now that TPP is dead, and at least already we're not at war with Russia).

That said, some problems: Sanders does not mention what is, in my mind, the key issue: Giving intelligence agencies veto power over the choice of a President is a change in the Constitutional order that won't be undone. (Remember, we've never seen any actual evidence, or any named sources. Are we really going to impeach a President based on evidence the voters aren't shown?) Garner, Assange, and Paul are, each in their own way, saying that this is a crossing the Rubicon moment. Sanders doesn't say that, and I find that troubling. Second, and more diffusely: What the liberal Democrats have managed to foment with their Red Scare is a bubble ("epistemic closure") comparable to that fomented by Republicans when they were executing their own soft coup against Bill Clinton. I don't think Sanders, as a politician, has experience with that sort of voter or that sort of politics (granted, the BernieBros nonsense whipped up by the Marcottes of this world was bad enough, but "Clinton Derangement Syndrome" and the current Red Scare are orders of magnitude more freaky and deranged, like a horror movie where friends and neighbors turn into pod people). I don't know if Sanders knows how to manage those currents.

* * *

Now, the Democrats:

"Why More Democrats Are Now Embracing Conspiracy Theories" [Brendan Nyhan, New York Times]. Shorter: Because losing power — not to mention their rice bowls — has made them lose their minds. And it works the other way for Republicans, too.

"We need to make a realignment, and that means taking on and overturning not only the Republican Party but also the Democratic Party. That's the way every realignment has worked: it's not just one party that goes, but both parties that go in some way, shape, or form. I have no idea if the way forward is a third party, a reconstituted Democratic Party, or something more fundamental in the streets—or all three and something beyond all that, too. I do know that we on the left have to ensure that whatever comes out of this catastrophe is something more than a return to the status quo. Assuming of course we have time to turn it to our favor. Which I believe we do" [Corey Robin]. The element of time is key; I would prefer to have gridlock, rather than — as at least the elites who profess #resistance would have it — Restoration.

UPDATE I can't even on why the Clintonites are blaming Susan Sarandon for their loss, but this question to @deray on Perez seems to have been the trigger:

Does his vision include reinstating Obama's ban on lobbyist donations to the DNC that Debbie Got rid of last year? https://t.co/SAYDVZAZNh

— Susan Sarandon (@SusanSarandon) February 16, 2017

Read down for @deray shilling for Verizon. Doesn't he have to identify paid tweets? That's true for fashion bloggers, at least.

Interesting:

.@EllisonCampaign & @TomPerez walk out of restaurant. I ask Perez: "Did you guys cut a deal?" He respond: "Ah we're just getting together."

— Nomiki Konst (@NomikiKonst) February 16, 2017
Stats Watch
Philadelphia Fed Business Outlook Survey, February 2017: "The strength of the Philadelphia Fed's general business conditions index is impossible to exaggerate. February's 43.3 is not a misprint. It's the strongest since very far back, since January 1984" [Econoday]. And: "There is continuing significant strength in this survey from new orders – and now even unfilled orders. This was a positive report" [Econintersect]. "This is a very noisy index which readers should be reminded is sentiment based." "Sentiment-based" quite possibly means "Trumped up." Then again, this could be the oddest example of animal spirits EVAH.
Empire State Manufacturing Survey, February 2017 (yesterday): "It has been the Philly Fed report that has been signaling emerging strength in the manufacturing sector with Empire State showing constructive but less spectacular gains. That is until February with Empire State now coming in at 18.7 which is well beyond the 7.5 consensus. This is the strongest reading in 2-1/2 years" [Econoday]. "And strength is centered where it must be, in new orders which are at 13.5, also the strongest reading in 2-1/2 years. Unfilled orders, which are almost always negative in this report, are suddenly in the plus column at 8.2. Shipments are unusually strong, employment is in the plus column, inventories are being built, and delivery times are slowing as congestion builds in the supply chain." Tailwinds for Trump, if he can manage to take credit for it; this post-dates the Industrial Production survey, below.
Business Inventories, December 2016 (yesterday): "December was a very strong month for the economy based on the business inventories report where a moderate build was far offset by a surge in sales" [Econoday]. "Stuff" is starting to move? But: "Inventory/sales ratio came down but watch for a reversal in Jan as vehicle and other sales were down. And in any case they remain elevated" [Mosler Economics].
Industrial Production, January 2017: "A swing in utility output skewed what is, however, no better than a modest industrial production report for January. Industrial production, reflecting a 5.7 percent weather-related drop for utilities, fell 0.3 percent which is below Econoday's no-change consensus" [Econoday]. "But the real disappointment in the report is the manufacturing component which could muster no better than a consensus gain of 0.2 percent. This reading hasn't been able to build any momentum to speak of and was held down in January by a sharp 2.9 percent monthly downswing in vehicles." But: "utilities was the lone contributor to the decline, as output in manufacturing and mining rose 0.2% and 2.8%, respectively" [Economic Calendar]. And but so: "As previously discussed, it was weather related elevated utility output that supported the higher than expected report. Now last month has been revised lower and this month has reversed as utility output 'normalizes'" [Mosler Economics].
Consumer Price Index, January 2017 (yesterday): "There was pressure in yesterday's producer price report and there's pressure in today's report on consumer prices" [Econoday]. "This is the strongest showing in nearly 4 years."
Retail Sales, January 2017 (yesterday): [Econoday]. "Consumer spending data have been surprisingly moderate given the unusual strength in consumer confidence, but today's retail sales report, which includes an important revision, now moves spending more in line with confidence."" Interesting, if true; the optimistic Trump voters putting their money where their mouth is? And: "First the good news: Up more than expected and last month revised higher" [Mosler Economics]. And if Mosler thinks the news is good, you know it's good.
Housing Market Index, February 2017 (yesterday): "The big post-election surge in home builder optimism is over" [Econoday].
Housing Starts, January 2017: Fell but above consensus [Econoday]. "This report is always volatile and bumpy from component to component but in sum, housing starts and permits are pointing to continuing strength for new homes where lack of supply held down what nevertheless was a solidly positive 2016 for the sector." And: "There is, however, evidence that affordability issues are having an impact with a shift in emphasis away from the West with builders seeing scope for higher margins in other regions where prices are less stretched relative to incomes" [Economic Calendar].
Jobless Claims, week of February 11, 2017: "Good news seems to be building and includes surprisingly low jobless claims, data that had already been at the healthiest levels on record" [Econoday]. And but: "insignificantly worsened" [Econintersect].
Bloomberg Consumer Comfort Index, week of February 12, 2017: Up one point and a new high [Econoday].
Debt: "The total amount of debt held by American households climbed in 2016 by the most in a decade, driven by broad and steady increases in credit card debt, auto and student loans, and a fourth-quarter surge to the highest amount of mortgage originations since before the financial crisis" [MarketWatch]. "Total household debts are now just $99 billion shy of the all-time peak of $12.7 trillion set in the third quarter of 2008 just as the banking system began crashing down. The New York Fed estimates that debt is highly likely to set a new record in 2017. 'Debt held by Americans is approaching its previous peak, yet its composition today is vastly different as the growth in balances has been driven by non-housing debt,' said Wilbert van der Klaauw, an economist at the New York Fed."
Shipping: "Truck freight index shows demand surge in January to highest levels since early 2014" [DC Velocity]. "A monthly index released today found that for-hire truckload freight demand in January outstripped available capacity by the widest levels in nearly three years. It's unclear, though, if that signals an upturn in shipping activity, or if January's results are due to pent-up demand following a slowdown in factory production during the holiday season." Again, "stuff" is moving…
Shipping: "U.S. rail traffic inched up 2.6 percent in Week No. 6" [Progressive Railroading].
Shipping: "Do ports have a responsibility to check customs release documents? Port and Customs are two different entities and in a lot cases Ports are privately operated whereas Customs is always part of the Government" [Shipping and Freight Resource].
The Bezzle: "Mis-declaration continues to plague container shipping" [Lloyd's Loading]. "Mis-declaration of cargo continues to present major safety problems for the container shipping sector, with shipments that are identified as wrongly declared often cancelled and re-booked on a less-vigilant carrier, risk specialist TT Club has highlighted." Hmm. Wonder if the freight forwarding digitizers are taking this into account…
The Bezzle: "FedEx Bets on Automation as It Prepares to Fend Off Uber and Amazon" [Technology Review]. "Rob Carter, FedEx's chief information officer, says the shipping giant is considering small vehicles that could drive around neighborhoods and make deliveries without human drivers."
"You [will be able to] just talk your way through and [Alexa will] ask the right questions to make sure you've completed the work and then you can expect a truck to roll up to the front door of your office, pick up the shipments, and move them along," [Rob Carter, FedEx's chief information officer]d explains. By eliminating the tedium of filling out forms and searching through menus, the app could streamline the shipping process and boost customer satisfaction. It is still in an early development stage.
I'm sure the people who invented voice mail hell thought they were eliminating tedium, too. (Note that the data structures are exactly the same; underneath the hood, you're still filling out a form.)
Honey for the Bears: A scary chart [Mosler Economics]. "I understand that by the numbers we aren't currently considered in 'recession'…"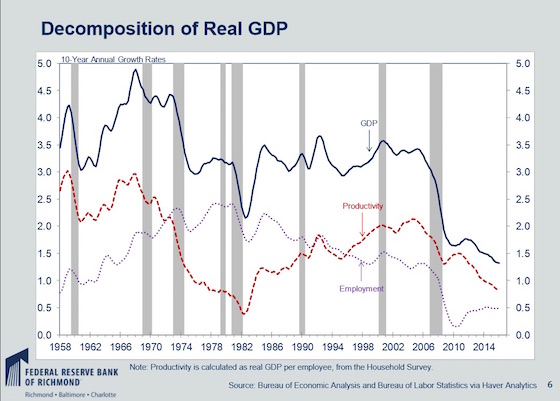 Maybe "scary" isn't the word. More like a grinding, doom-struck sense of bad turning to worse…
Today's Fear & Greed Index: 78 Greed (previous close: 80, Greed) [CNN]. One week ago: 66 (Greed). (0 is Extreme Fear; 100 is Extreme Greed).Last updated Feb 16 at 11:48am. Trump's not in trouble at the nineteenth hole, anyhow…
Health Care
"Will Obamacare Really Go Under the Knife?" [New York Times]. "There is no guarantee that Republicans in the Senate will sign onto legislation that risks leaving millions of their constituents suddenly without health care coverage while alienating key donors — drug makers, insurance companies and doctor associations — who helped shape and support the law Trump now seeks to replace. "The joke around Washington," the former Democratic congressman Jim McDermott told me, "is that the Republicans are going to repeal Obamacare — and they'll replace it with the Affordable Care Act." Which is a pretty good joke, since ObamaCare is, after all, a Republican plan. So you can see how Republicans would struggle to make it worse. My view is that if Republicans want to throw away swing states in 2020, they'll gut ObamaCare, which is why Trump gave them permission to punt. I guessing Republicans are more feral than principles (even if I don't agree with their principles). Yes, Trump guttted the mandate, but in the short term, does that send more Trump voters to HappyVille, or Pain City? I don't think we know.
"Prior to the Affordable Care Act, many state Medicaid eligibility rules had maximum asset levels. This was a problem when one member of a couple was diagnosed with a degenerative disease requiring expensive care. Draining the couple's assets so that the sick individual could qualify for Medicaid would leave no resources for the retirement of the other member; thus divorce and separating assets was often the only option. The ACA's Medicaid expansion removed all asset tests. Using a difference-in-differences approach on states that did and did not expand Medicaid, we find that the expansion decreased the prevalence of divorce by 5.6% among those 50-64, strongly suggesting that it reduced medical divorce" [NBER Working Paper No. 23139]. Just think what Medicare for All would do…
Gaia
"Greenland needs money. Is a uranium mine the answer?" [WaPo]. What could go wrong?
"Brazil's River of Mud" [Al Jazeera]. "Last November, the Fundao mining dam in Southeastern Brazil burst, unleashing a 50 million cubic metre tsunami of mud and mining waste which flowed across the region. Nineteen people died, 6,000 were displaced and entire towns were destroyed. It was the country's worst ever environmental disaster." Speaking of dams…
Guillotine Watch
"Wealth is the ability to fully experience life."

Henry David Thoreau#inspiration pic.twitter.com/euG8vvFaOp

— Billionaire Magazine (@BillionMagazine) February 12, 2017
Class Warfare
"[Senator Heidi] Heitkamp, a North Dakota Democrat who sits on the Senate Banking Committee, asked Yellen at a hearing Tuesday about whether the central bank has studied the issue [of the issue of automation taking away jobs] — she referenced a Bank of England study that showed up to 80 million U.S. jobs at risk — and how to draw attention to it. … The Federal Reserve chairwoman admitted the central bank hasn't really studied the issue and suggested that more training is needed for U.S. workers" [MarketWatch]. ""We need to think about ways to address the needs of those workers. They have seen chronic, long-standing downward pressure on their wages that have made it hard for them to cope,' Yellen said at the hearing. Yellen said automation has created huge disadvantages for workers with less education, particularly those in manufacturing. 'I hated that answer,' Heitkamp told MarketWatch in a phone interview. 'Every time, they throw job skills out there.'" Sounds like Heitkamp has been reading Thomas Frank. Good for her!
"What's the best way to make extra money?" [MarketWatch]. Not System D, apparently. Odd.
News of the Wired
"I'll never bring my phone on an international flight again. Neither should you." [Medium]. I suppose I could archive my entire laptop to DropBox. If I had a fast connection… Or mail myself a CD… And a backup. But…
"Apple Wants To Stop You Fixing Your iPhone And iPad: Source Says It Will Testify Against 'Right To Repair' Legislation" [TechDirt]. "For a company that likes to portray itself as serving its users better than its rivals, this is shabby behavior." Huh? Apple "protrays itself" as being "designed in California," i.e. thinner. Users come second, as Mac owners know.
"Entropy in Social Networks" [John L. Pfaltz, University of Virginia]. "It is shown that under continuous change/transformation, all networks tend to "break down" and become less complex. It is a kind of entropy. The product of this theoretical decomposition is an abundance of triadically closed clusters which sociologists have observed in practice. This gives credence to the relevance of this kind of mathematical analysis in the sociological context." Do we have any readers who can translate this? My intuition is that the formation of "bubbles" is a form of network breakdown, but my intuition and a buck will buy you a cup of very bad coffee…
"The Red of Painters" [The Paris Review]. How illuminators and painters created pigments before there was chemistry.
* * *
Readers, feel free to contact me with (a) links, and even better (b) sources I should curate regularly, and (c) to find out how to send me images of plants. Vegetables are fine! Fungi are deemed to be honorary plants! See the previous Water Cooler (with plant) here. And here's today's plant (EU):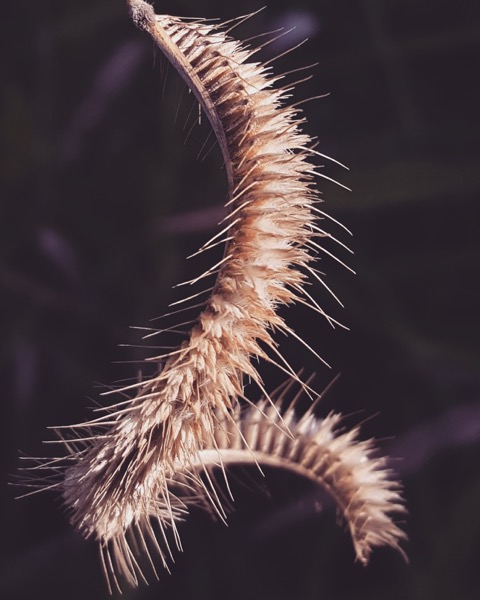 EU sends "more photos of the Southeast's charismatic flora"–
Ctenium aromaticum (toothache grass) – In North Carolina, a good indication that you should start looking for other botanical oddities. Asides from the handsome dried-out inflorescences, chewing on some leaves (or roots, especially) gives you a nice topical numbing sensation, in addition to an almost orange creamsicle-like flavor.
Yum!
Readers, Water Cooler is a standalone entity, not supported by the very successful Naked Capitalism fundraiser just past. Now, I understand you may feel tapped out, but when and if you are able, please use the dropdown to choose your contribution, and then click the hat! Your tip will be welcome today, and indeed any day. Water Cooler will not exist without your continued help.