By Lambert Strether of Corrente
Trade
"A record-high 72% of Americans believe foreign trade is good for the U.S. economy, and an equal proportion believe promoting favorable trade policies in foreign markets is a very important goal. Despite the often-negative characterization of U.S. trade deals throughout the 2016 campaign, there has been an increase among all party groups in perceptions that trade is good for the country. For Democrats, this may be a sort of rebellion against Trump's anti-trade pronouncements. Among Republicans, this sentiment may be up due to a belief that U.S. trade will flourish under a Trump administration" [Gallup].
Politics
Trump Transition
"'This is what it's like to be with Trump,' Christie said. 'He says, 'There's the menu, you guys order whatever you want.' And then he says, 'Chris, you and I are going to have the meatloaf.'" [WaPo]. That's the headline (many jokes on the Twitter, the best being "Christie = Reek." Six paragraphs down is the real story: "Trump and Christie discussed the nation's opioid epidemic during the lunch." You know, opioids, one of the main causes of deaths from despair? Tens of thousands of excess deaths in the flyover states? And all for a little crotte of snark because clicks. Here's a deeply sourced and spirited defense of meatloaf.

"What a Failed Trump Administration Looks Like" [David Brooks, New York Times]. "When you declare war on the establishment, it declares war on you." And what does Brook's Irish Setter, Moral Hazard, think of all this? Not much. Goes to show that Sanders — or Sanders 2.0 — would face exactly the same sort of assault, from exactly the same players (very much including the Clintonites, the intelligence community, and their assets in the press). I guess we'll have to see what happens when the rubble stops bouncing.

On today's Trump presser:

I watched the press conference. Trump played the press like a violin. Calling this "Meltdown" proves that Huff Post is low-IQ propaganda. https://t.co/RYMB8EsQBd

— NassimNicholasTaleb (@nntaleb) February 17, 2017




John Robb: "Concur." Not everybody is calling the Trump presser a trainwreck; Taleb and Robb are no dummies.
Policy
"Trump Weighs Mobilizing National Guard for Immigration Roundups" [Bloomberg]. "'There is no effort to do what is potentially suggested,' he said. Spicer called the AP report '100 percent not true, adding that there was 'no effort at all to utilize the National Guard to round up unauthorized immigrants.' A DHS official described the document as a very early draft that was not seriously considered and never brought to the secretary for approval." Some intern's gonna be in trouble…

Shorter: Signs that short term fixes for ObamaCare are destablizing the marketplace, and no visible replacement from the Republicans [Politico]. And it's difficult to see how the Republicans make ObamaCare even worse, which all their conservative nostrums will do, without losing counties in 2020 swing states (although it occurs to me now that the party that mastered gerrymandering ought to be able to tailor the impact of changes at the county level; handy that ObamaCare isn't a universal benefit, but has all that gatekeeping complexity in it….)

"Many congressional Republicans who had town meetings over the last week or two have gotten an earful from constituents upset over the proposed repeal of the Affordable Care Act or President Trump's immigration enforcement or both. Some of these highly unpleasant scenes don't look too different from what congressional Democrats encountered back in 2009 and 2013, rocky years that preceded calamitous midterm elections, when they lost their House majority in the former and their Senate majority in the latter" [Cook Political Report]. "Like Barack Obama, Trump has a very personal constituency. Obama's voters turned out in droves to elect him in 2008, but many of them didn't show up for Democratic candidates in the 2010 midterm elections. They came out again to reelect him in 2012, but again stayed home in the 2014 midterms. Obviously Hillary Clinton failed to energize them enough to come out this past November. It would not be hard to imagine Trump's loyal supporters not being sufficiently inspired to come out for Republicans in next year's midterms even if they again turn out for Trump in 2020…. In short, Republicans will be facing some political headwinds but are not overly exposed in terms of seats. That could mean some individual Republicans might have problems but that very large losses are unlikely."

"Speaking with reporters on Friday, McConnell also said he'll move to repeal and replace the Affordable Care Act "just as soon as we have the votes." Repealing Obamacare is a common goal of congressional Republicans and Trump's. Trump said Thursday he plans to roll out a health-care plan in March" [MarketWatch].
Realignment and Legitimacy
UPDATE "Political Networking (how social networking is changing politics forever)" [John Robb, Global Guerillas]. An interesting taxonomy of social networks:

We have three political networks to choose from:

1. Insurgency
2. Orthodoxy
3. Participatory

Trump's being insurgent:

An open source insurgency is a loose network (meshed) that is composed of many individuals and small groups working independently, but united by a single purpose (in this case: electing Trump).

And then there's "the" #resistance:

The second form of political social networking I'm seeing is found in the opposition to Trump's presidency.  Right now, it's known as the #resistance   The orthodoxy wasn't planned, it:

arose out of the ashes of the political parties and it is growing without any formal leadership
is ALREADY firmly in control of nearly all public forums
enforces opposition to Trump

The orthodoxy is an open source insurgency in reverse.  It uses social networking to crack down on deviation and dissent. 

The orthodoxy is tightly interconnected network that uses social networking to exert pressure on people to accept the orthodox position (in this case: #resistance to Trump).
Online orthodoxies grow through peer pressure and disconnecting deviants from the network.  It doesn't innovate.  It rejects, cajoles, and pillories.
This online orthodoxy is growing at an accelerated pace because Trump feeds the outrage that fuels it.

How will an orthodox network govern?  It will eventually formalize compliance with the orthodoxy. Compliance, evidenced by a long social networking history, will qualify people for positions of authority and power. Any deviation will result in bans, loss of income, etc. until the target repents.  This orthodoxy will work in parallel to the rule of law and likely exceed its coercive power over time.

(See below under "Class Warfare" for Neera Tanden enforcing orthodoxy.) There is also a third form, "participatory." I think that Robb's taxonomy is interesting, but I also think he's taking the national #resistance leadership as a proxy for all the activities taking place under the #resistance banner. If you read Toni Gilpin's post today "Wearing White: What Resistance Looks Like in America's Heartland," you'll see that heartland resistance would be more properly characterized as participatory ("combines the fluidity of the 'insurgency' with the solidarity of 'orthodoxy'). So it will be interesting to see what happens when the Neera Tandens of this world try to whip the locals into line, as they surely will.

"John Podesta: Trump's dangerous strategy to undermine reality" [WaPo]. I'll just leave this here.

"Just a month into his presidency – and following a week spent mired in fallout from his national security adviser's departure and reports of collusion between his campaign aides and Russian officials — the president will leave Washington for friendlier and more forgiving turf this weekend at a rally of supporters in Florida" [RealClearPolitics]. "[Trump] read from a script criticizing the media and listing accomplishments—including withdrawal from the Trans-Pacific Partnership trade deal and rolling back federal regulations—he believes have been undercovered or overshadowed." Well, withdrawing from the TPP is an accomplishment.

"Washington Lobbyist And Trump Advisor Paul Manafort Owns Brownstone In Carroll Gardens" [Pardon Me For Asking]. No visible wrongdoing, but interesting.

"Trump's Russian connections" [Financial Times]. This is an, er, innovative format for the FT. It's unlocked, to begin with, and the "Read more" links are not to original FT sources, but to (deeply tainted Beltway) venues like Politico and WaPo. Top line: "a mix of bling, business and bluster spanning 30 years" (this link to the FT, and so not unlocked).
Stats Watch
Leading Indicators, January 2017: "Leading indicators are coming to life, rising a sharp 0.6 percent in January on top of a 0.5 percent gain in December. Strength has been broad based with factory data giving the index a special lift" [Econoday]. "The coincident index, however, is still very soft at only plus 0.1 percent." And: "overall confidence surrounding the growth outlook should remain firm in the short term" [Economic Calendar]. Animal spirits, the Confidence Fairy, or Trumped Up Expectations? And but: "January 2017 Leading Economic Index Sharply Improves" [Econointersect]. "The rate of growth may be improving on this index. Because of the significant backward revisions, I do not trust this index."
E-Commerce Retail Sales, Q4 2016: "Online shopping was solid but not robust during the holidays based on fourth-quarter e-commerce sales which did, however, rise to $102.7 billion or 1.9 percent higher compared to the prior quarter" [Econoday]. "But as a percentage of total retail sales, e-commerce slipped to 8.3 percent from the third-quarter's 8.4 percent."
Rail: "Rail Week Ending 11 February 2017: Long Rolling Averages Slow Improvement Continues" [Econintersect]. "The rolling averages improved – but that is mostly due to coal and grain."
Shipping: "This month container movements were above or nearly above historical highs for Januarys, and the rolling averages improved. This data series is noisy and it is best to view the data using the 3 month rolling average. Imports and Exports remain on an improving trend line" [Econintersect].
Shipping: "Obituary: Hanjin Shipping" [247 Splash]. "Hanjin Shipping's qualities included a wavering business strategy of entering and exiting conference alliances, leaving its friends and enemies in a constant state of guessing. This youthful devil-may-care attitude was combined with an unfettered belief that commoditisation would never affect its status with customers, who would continue to happily pay high shipping rates no matter how attractive competitors' offers might be. Whenever the creditors were knocking on its doors, the company paid generously with IOUs and cosmetic changes to the network operations to the surprise of industry watchers and innocent bystanders."
Concentration: "Zuckerberg is rolling out a Business Pages section on the Facebook platform where users will be able to post job openings to the news feed. Also users will be able to host the openings on their page. One step even further is that users can hit the 'Apply Now' button, which will send information from the user's Facebook to form a cursory introduction to speed up the application process" [247 Wall Street]. "Much like a temp agency or a staffing service, Facebook could look to generate revenues akin to a finder's fee…. There are some key differences between the Facebook and LinkedIn platform. First, the jobs listed on each seem to have a wide difference; Facebook is offering more temp or part-time jobs, while LinkedIn is offering more skilled positions." So in other words, the precariat, who have less leverage, are likely to be forced to have a Facebook account, as a condition of employment.
Debt: "Opinion: 3 reasons the U.S. could be headed for a fresh debt crisis" [MarketWatch]. "Look at what's happening with subprime car loans, student loans and mortgage defaults for those with lower credit scores." If any of these are collaterized, the author doesn't say it.
The Bezzle: "Theranos, with no material revenue for 2 years, said to be down to its last $200 million" [MarketWatch]. Look at the photo of Holmes. She doesn't look well.
Today's Fear & Greed Index: 75 Extreme Greed (previous close: 78, Extreme Greed) [CNN]. One week ago: 68 (Greed). (0 is Extreme Fear; 100 is Extreme Greed). Last updated Feb 17 at 12:09pm.
Health Care
Great news:
Nurses will "mount a 'major mobilization' to try to enact a #SinglePayer system in California" – @RoseAnnDeMoro #Medicare4All https://t.co/ufwBPdeMTS

— NationalNursesUnited (@NationalNurses) February 17, 2017
Will the national Women's March leadership support it? How about the national #Resistance leaders?
"California legislation would create single-payer health care system" [San Francisco Chronicle]. State Sen. Ricardo Lara, D-Bell Gardens (Los Angeles County) plans to introduce legislation Friday to create a single system that would provide health insurance to every California resident. 'This is our opportunity to put ourselves on the record and be proactive against a Trump administration that is hellbent on eliminating the Affordable Care Act,' Lara said." Very good. Imagine, a Democrat who gets it. Strange days…
Gaia
"Iowa farmers getting squeezed out by land preservation tax credits, Farm Bureau says" [Des Moines Register].
Class Warfare
"United Automobile Workers (UAW) union President Dennis Williams said at a press conference on Thursday that the UAW plans to launch a "Buy American" advertising campaign. Details such as the size of the ad buy and when the campaign would start were absent, but the UAW's advertising is intended to encourage U.S. consumers to buy union-made vehicles manufactured in the United States" [247 Wall Street]. Hmm. Can't car companies do their own advertising? Shouldn't every penny go to organizing?
" The Secret Donors Behind the Center for American Progress and Other Think Tanks" [The Nation]. Context for Neera Tanden continuing to play her role as delusional yet thuggish Democrat enforcer:
Oh look it's Russia Today with views on the Democratic party….and defending Susan Sarandon, who campaigned for Jill Stein. #allmakessense https://t.co/lNdGVTy4EZ

— Neera Tanden (@neeratanden) February 16, 2017
Love me, love me, love me, I'm a liberal…
News of the Wired
"The Anatomy of Charisma" [Nautil.us]. Is the good orator necessarily a good person? Or, is ethos optional?
"Think you control what happens to your personal videos? Think again" [The Memo]. "One father who live-streamed his partner's labour on Facebook last May, has found out the hard way: he saw the birth of his son replayed on Good Morning America and numerous other media outlets. This week, he lost a high-profile court battle against the broadcasters."
"An official watchdog in Germany has told parents to destroy a talking doll called Cayla because its smart technology can reveal personal data" [BBC]. Again: Never play cards with a man called Doc. Never eat at a place called Mom's. And never buy a product that's called "smart."
"Use your OS X terminal shell to do awesome things" [herrbischoff]. I'm amazed Apple hasn't hidden the terminal. Who needs it? After all, iOS doesn't have one.
* * *
Readers, feel free to contact me with (a) links, and even better (b) sources I should curate regularly, and (c) to find out how to send me images of plants. Vegetables are fine! Fungi are deemed to be honorary plants! See the previous Water Cooler (with plant) here. And here's today's plant (LR):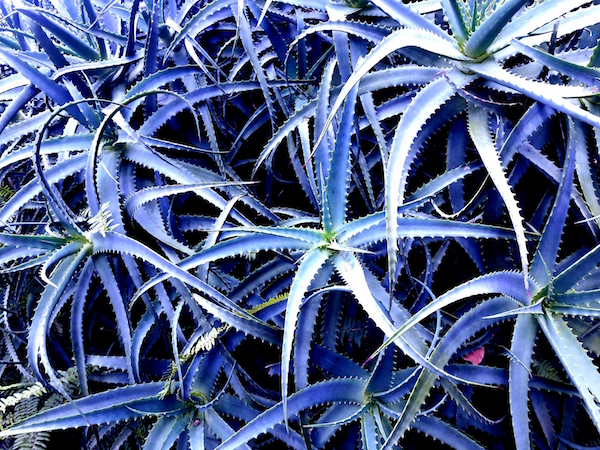 LR comments: "Another trip to the central cemetery in Montevideo Uruguay"
Readers, Water Cooler is a standalone entity, not supported by the very successful Naked Capitalism fundraiser just past. Now, I understand you may feel tapped out, but when and if you are able, please use the dropdown to choose your contribution, and then click the hat! Your tip will be welcome today, and indeed any day. Water Cooler will not exist without your continued help.