Monkeys and dogs judge humans by how they treat others New Scientist (martha r)
What Mirrors Tell Us About Animal Minds Atlantic (martha r)
The test used to see if animals are self-aware might not actually work Popular Science (Robert M)
We now know why mosquitoes find malaria victims so tasty ars technica (Chuck L)
Industrialized societies are changing the climate 170 times faster than natural forces Common Dreams (martha r)
India polio-free for three years: meet the people fighting to keep it that way Independent (J-LS)
EU gears up for WTO challenge to US border tax Financial Times
Brexit
Britons living in the EU face Brexit backlash, leaked paper warns Guardian

Citizens' initiative launched calling for UK citizens to be issued with EU passports after Brexit Independent
U.S. Puts Venezuelan Vice President Tareck El Aissami on Sanctions List Wall Street Journal
From teacher to lover to France's next first lady? Meet 'Madame Macron' The Local (EH)
Peru Asks Donald Trump to Deport Fugitive Ex-President Panama Post (Micael)
New Oliver Stone's documentary Ukraine on Fire (ENG SUB) Vineyard of the Saker (Glenn F)
22 refugees entered Manitoba near Emerson border over the weekend CBC (mark a)
Syraqistan
Weekend Protests Signal New Shi'ite Power Struggle in Iraq AntiWar (resilc)

The New Battle for Afghanistan American Conservative (resilc)
Big Brother is Watching You Watch
48 Questions the FBI Uses to Determine if Someone Is a Likely Terrorist Intercept (Bill B)

A sign of the times: Mazda's new billboard is watching you Globe and Mail

PayPal Kills Canadian Paper's Submission To Media Awards Because Article Had Word 'Syrian' In The Title Techdirt. Headline weirdly understates what happened.
Trump Transition
Flynn Resigns Associated Press. UserFriendly: "And there was much rejoicing amongst the neocons.​"

Embattled national security adviser Michael Flynn resigns Washington Post. See this from yesterday, The Spy Revolt Against Trump Begins Observer and the Moon of Alabama story below. The Blob won. This is a big deal.

Breaking: text of Flynn's resignation letter pic.twitter.com/KGue1cJFzL @ZekeJMiller

Michael Flynn out side door, establishment in back door? Asia Times (resilc)

The Kremlin Is Starting to Worry About Trump Foreign Policy. So if the Kremlin is worried, how exactly is Trump a Putin stooge?

Is Donald Trump's Inner Circle Already Collapsing? Vanity Fair (resilc)

Steven Mnuchin Is Confirmed by Senate to Be Treasury Secretary Bloomberg

More Wall Street Bankers Set to Join Donald Trump's Treasury Department Salon. Let us not forget that both the Democrats and Republicans are fine with this. The Obama Administration fought tooth and nail for an unqualified Lazard international mergers partner, Antonio Weiss, to have the number 3 job in Treasury, overseeing domestic banking regulations (note that due to the regulatory complexity guys who do bank M&A pretty much do only that, and Weiss was not one of them).

Federal judge says court proceedings will continue on Trump's travel ban The Hill

Trump's Watered-Down Ethics Rules Let a Lobbyist Help Run an Agency He Lobbied ProPublica (UserFriendly)

EPA scientists held back from conference: Cost-cutting or something more? Christian Science Monitor (furzy)

Members of Trump's Club Can Just Pose With the President's Nuclear Codes Guy Now Gizmodo

Donald Trump Is Selling Access to the 'Winter White House' for $200,000 The Nation (resilc)

Klein Takes New Role Exposing "Hidden Agenda" of Trump's Disaster Capitalism Common Dreams (martha r)

Libertarians split with Trump over controversial police tactic Fox (furzy)

The National Park Service Goes Rogue Jacobin (furzy)

What Geology Has to Say About Building a 1,000-Mile Border Wall Smithsonian (guust)

Republicans to predatory companies: Grab as much as you can Washington Post (Doug Smith)
Beyond Resistance Jacobin (UserFriendly). Important. However, the criticism of Occupy is silly. The movement was exactly two months old when it was crushed by a coordinated 17 city paramilitary crackdown, as we chronicled at the time. It's not clear whether Occupy would have grown up into being an effective focal point for bona fide leftist energies, but it needs to be well understood that it never had the chance.
Bernie Sanders cries foul over canceled town hall meeting in West Virginia Washington Post (furzy)
Oklahoma Lawmakers Want Men to Approve All Abortions Intercept
Democracy Without the People n+1 (martha r)
Obamacare
Florida Town Hall Erupts When GOP Official Spouts ACA 'Death Panels' Line TalkingPointsMemo. UserFriendy: "​Video is worth watching. ​I was surprised how many passionate people were there."

Conservatives Take Hard Line On Obamacare Repeal, Putting GOP In A Bind Huffington Post (furzy)
The Definitive Analysis of 'The Handshake' Between Donald Trump and Justin Trudeau Vice (furzy, BL)
GOP chairman: Town hall protests won't alter ObamaCare repeal plans The Hill
Oroville Dam
Expert: What You Need To Know About The Oroville Dam Crisis Chris Martenson, YouTube. A very informative interview with a dam expert. Consistent with reader bob's observations in Water Cooler yesterday.

Congressman LaMalfa requests disaster funding from President KRCR (martha r)
20% of dams in populated areas lack emergency plan USA Today (martha r)
For the First Time, Wind on the Plains Supplied More Than Half Region's Power Bloomberg (resilc)
Has this year's record rain finally ended California's epic drought? Not really. Washington Post
Chris Christie Says Asset Forfeiture Transparency Is Bad For Law Enforcement, Vetoes Unanimously-Supported Bill Techdirt (martha r)
Fake News
Organized Campaigns Hit At Trump's Foreign Policy Plans Moon of Alabama

The True History of Fake News Robert Darnton, New York Review of Books (resilc)
Sanders needles drug company for $89,000 price tag on Multiple Sclerosis drug The Hill (martha r)
A rash of invisible, fileless malware is infecting banks around the globe ars technica (Andreis)
Inflation Expectations Rise, Spending Projections Decline Michael Shedlock
Snap AV: Your potential Trump-Fed candidates FT Alphaville
Class Warfare
Antidote du jour. Craig C: My Great Pyreneese, Barrett, surveys his domain in the Willamette Valley of Oregon. (Yes, he climbed on the table all by himself.) Enough birds for awhile…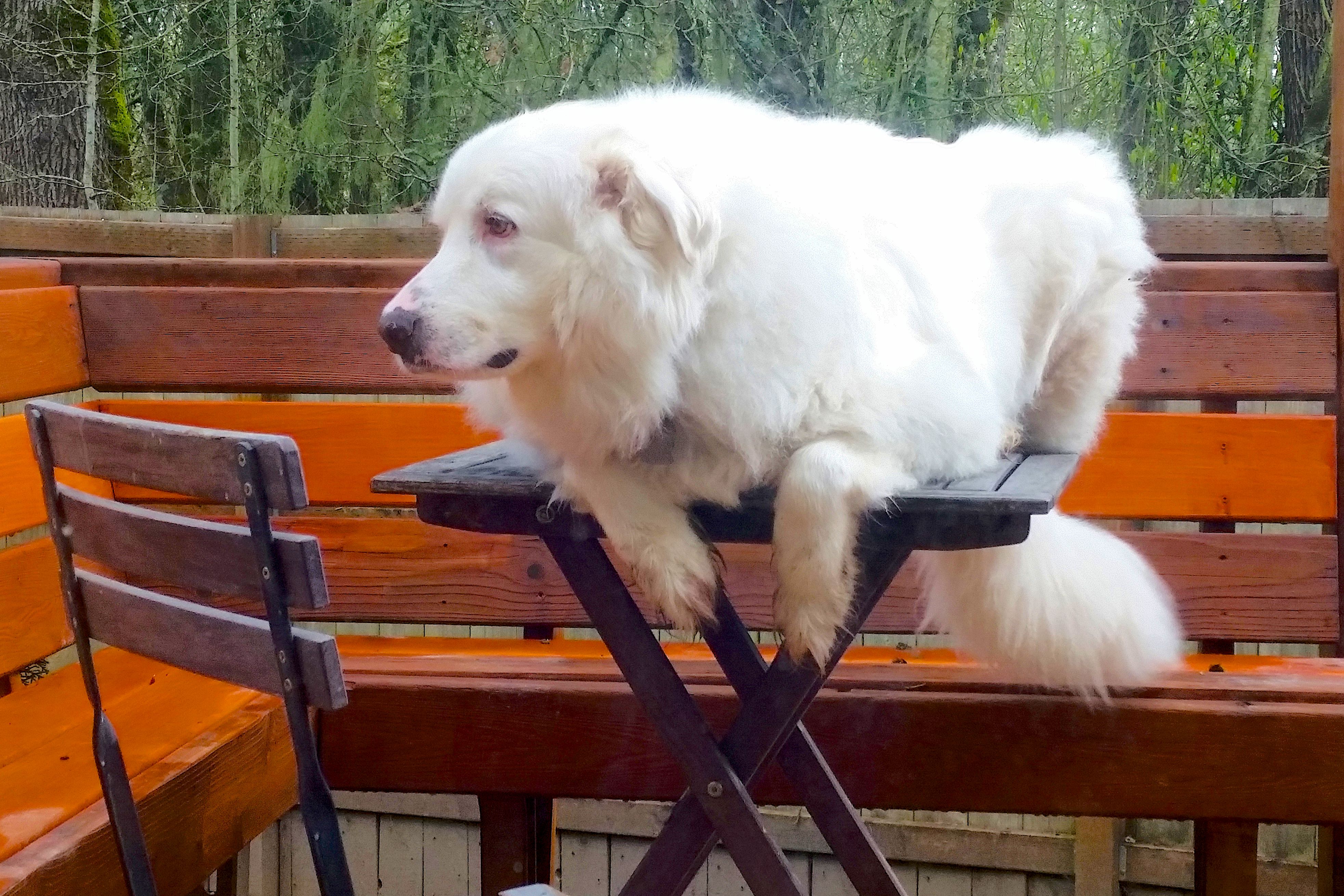 And a bonus video. This is a Valentine's Day feature of sorts, since it shows examples of animal empathy:
See yesterday's Links and Antidote du Jour here.