By Lambert Strether of Corrente
Trade
"In Chile, countries are all in on TPP: Despite Trump's efforts to kill what he considers to be a "horrible" deal, the Trans-Pacific Partnership will live on without the United States" [Politico]. "The work now begins on how to preserve the trade deal's innovations, which included new rules on digital trade, disciplines for state-owned companies and what have been touted as the toughest labor and environment protections of any modern trade agreement. The innovations also include new market access that countries negotiated on everything from milk powder to insurance services."
Politics
Health Care
"Trump should kill the Republican proposal for 'ObamaCare 2.0′" [Twila Brase, The Hill]. Brase (Citizens Council for Health Freedom) is far to the right of Ryan, but I have a soft spot for her because she doesn't make sh*t up. Her critique:

So why is GOP leadership offering a non-repeal replacement bill that looks and feels like ObamaCare?

The AHCA repeals most of the ObamaCare taxes and doubles contributions to Health Savings Accounts, but it restructures several other provisions, keeps much of ObamaCare intact, and maintains federal control over health care.

For example, the ACA's individual mandate and penalties will be zeroed out but the GOP adds a new federal "continuous coverage" mandate with a 12-month, 30 percent penalty paid to insurers. The 40 percent federal "Cadillac" tax will stay in place with an 8-year delay. ObamaCare's premium subsidies will be replaced by federal AHCA subsidies (refundable tax credits). The federally controlled ObamaCare exchanges, which have cost $9 billion, are kept in place. Three federal redistribution programs that led to insurer lawsuits and bailout attempts by the Obama administration (risk-adjustment, risk corridors, reinsurance) will stay in statute. The 'guaranteed issue' mandate for people with preexisting conditions is retained along with a $100 billion federal program to pay insurers for their care.

And the more than 40,000 pages of burdensome federal ACA regulations and guidance documents are not repealed.

The AHCA is a recipe for disaster. Republicans won't be able to say they repealed the law and Americans will know they didn't. The GOP will own the replacement plan and everything that goes wrong because of it.

To answer Brase's question: "Because ObamaCare is a Republican plan!"

"The only play right now is to get this bill through the House. The Senate is going to drastically change the legislation — some think it will never get through the other chamber. So Ryan and the White House's focus at this point is how to get it through the House. The White House legislative liaison team — which works out of an office next to House Majority Leader Kevin McCarthy's first-floor suite — is crawling through the Capitol, monitoring committee markups and making sure members are taken care of. Whatever passes the House is almost certainly never going to become law. This bill will be changed" [Politico].

"Pelosi Says Democrats Have A Responsibility To Look For Common Ground On Health Law" [NPR]. Nonsense. They have a responsibilty to support Medicare for All and get it passed. And then there's this:

Understand this about Republicans, and then you'll understand part of what our challenge is here: They always are gearing whatever they do to benefit the high end. This is the biggest transfer of wealth in the history of our country, in terms of hundreds of billions of dollars going into the pockets of the top 1 percent of the people in our country, at the expense of the good health of our middle class and to the middle class.

Isn't that precious? To multi-millionaire Pelosi, there is no working class. There are only those who "aspire" to be "middle class." Personally, I don't consider thoughts of becoming a rent-extracting broker, or a bloated union-busting university administrator, or a scrip doctor as aspirational, but maybe that's just me. Will no-one think of the aspirational Brooklyn artisanal pickle makers?
New Cold War
"Maintaining "plausible deniability" is likely key to any possible ties between Russia and WikiLeaks. But this deniability is also built into the organization" [Moscow Times]. Recommended by Mark Ames. "Both supporters and critics of Wikileaks told The Moscow Times that WikiLeaks' means of receiving leaks can often make it very difficult to trace their origins — or confirm their veracity. The organization accepts anonymous, encrypted submissions online."
Our Famously Free Press
You'll have to be subtle to get anyone who calls Rachel Maddow "Rachel" to watch this parody of Maddow's "scoop" on Trump's tax returns:
Trump Transition
"The legal limit on how much the United States government can borrow returns on Thursday, potentially setting up an intense political battle in Congress" [The Hill].

"Debt Ceiling Primer" [Across the Curve]. Useful, and read the whole thing for detail on "extraordinary measures": "Here's how it works: a law is passed that says the debt ceiling is suspended until a certain date. The last such legislation established March 15 as the deadline, so here we are. Republicans in Congress did not trust the Democratic Administration to avoid playing games with this new approach, so the legislation also stipulates that Treasury has to get the cash balance down to a specific level (otherwise, Treasury could manipulate the debt ceiling up by borrowing more than necessary). That level happens to be $23 billion…. Federal government cash flows are quite seasonal, and the biggest inflow of cash all year happens to be coming up (April 15 tax date). So, once we get over that hump, inflows will carry the Treasury for quite a while, probably through the summer and into the fall based on current estimates. Thus, from a market perspective, nothing happens today. Then, starting tomorrow, bill supply will begin to normalize and the cash balance will rise. And then, nothing for several months until the extraordinary measures near exhaustion. And then the political war over raising the debt ceiling kicks in and the Treasury market starts to get nervous."

"Trump's education budget boosts school choice and charter schools—and slashes everything else" [Quartz]. Too bad Obama worked so hard to reinforce Bush's work on charters, though to be fair, Teach for America scabs did yeoman work when it came time for Democrats to decapitate #BlackLivesMatter.

"President Donald Trump is calling for privatizing the nation's air traffic control operations in his budget proposal, a top priority of the airline industry" [CNBC]. "The National Air Traffic Controllers Association, the union that represents the FAA's 14,000 controllers, is also backing privatization. Union officials have complained that the FAA has been unable to resolve chronic controller understaffing at some of the nation's busiest control facilities, and they say they've become discouraged by the modernization effort's slow progress."

"Apple, Google, Facebook skip legal challenge to new travel ban" [Reuters]. Hmm.
2020
I've lost all will to live:

Exclusive: @ChelseaClinton announces new picture book, 'She Persisted' https://t.co/0PEuWGNObi pic.twitter.com/oBjZL9b4u6

— Entertainment Weekly (@EW) March 16, 2017

"Why I'm Moving Home" [J.D. Vance, New York Times]. "But there were practical reasons to move: I'm founding an organization to combat Ohio's opioid epidemic. We chose Columbus because I travel a lot, and I need to be centrally located in the state and close to an airport. And the truth is that not every motivation is rational: Part of me loves Ohio simply because it's home." Watch out for this guy; he's the Daniel Patrick Moynihan of the "white working class."
2018
"Last year, voters elected 241 Republicans and 194 Democrats to the House. Since then, vacancies have reduced the House to a 237-193 Republican advantage. Assuming the incumbent party holds all five of the vacancies (more on that below), Democrats would need to net 24 seats to take a House majority" [Larry Sabato's Crystal Ball]. "Overall, though, voters' perceptions of Trump and congressional Republicans will loom large next year — or at least history suggests those factors will be important. If perceptions are neutral or broadly positive, the GOP should have little trouble keeping the House. If they are negative, the House will be in play, and some of those Likely Republican districts — the districts that truly will make or break the GOP House majority — might start to slip away."
2016 Post Mortem
"What [David Cay] Johnston narrates, in almost nauseating detail, is how Trump's ascension to wealth and fame and power—long before he makes his 2016 run for the presidency—is dependent not on the weaknesses of the political system but on the systemic corruption of a rentier economy" [Corey Robin]. "At every step, Trump benefits, almost haplessly (it seems to require very little art), from the built-in advantages to wealth and the wealthy in our society: whether those advantages are in the tax system, the regulatory system, or the courts. (Trump actually spoke of this quite often during his campaign.) And in the same way that Hitler preyed upon his opponents' cluelessness in the face of his political rise, so does Trump profit from his opponents' cluelessness in the face of his economic rise. At every moment when Trump might have been stopped, when he might have been forced into bankruptcy, had his credit denied, had his loans called in, his licenses revoked, at every juncture where he might have been convicted of a crime or sent to jail—and, again, this is well before he makes his successful bid for the White House—some unplanned and unintended conspiracy of economic reason and political lowlifery mobilizes to protect him. (And it really is unplanned and unintended. The genius of the American system is how the Invisible Hand works to produce systemic vice rather than incidental virtue.)"

"Barack Obama to spend a month in French Polynesia" [France24]."Barack Obama arrived in French Polynesia where he will spend a month at a luxury resort frequented by Hollywood stars, according to local TV channel Tahiti Nui TV." Ka-ching.
Realignment and Legitimacy
"How the GOP Crackup Happens" [Rich Lowry, Politico]. Editor of the National Review, but: "Less than two weeks after the unveiling of the GOP Obamacare replacement, the party is already staring into the abyss…. This is a product of how the Republican sweep of 2016 was won on separate tracks. Trump tore up many Republican orthodoxies and went out and found a different way to unlock the electoral map, winning in the industrial Midwest. Congressional Republicans more or less stuck with the usual script, kept Trump at arm's length, and held their majorities in the House and the Senate." Interestingly: "There's almost no question that Trump would win any blame game. He would have the larger megaphone, the more intense supporters and much sharper elbows. He could instantly define Paul Ryan as a creature of the Washington swamp and decide to triangulate away from the GOP Congress rather than work with it. This would mean Trump would be a president not without a party necessarily, but without a Congress."

"The Deep State" [RealClearWorld]. "The deep state is, in fact, a very real thing. It is, however, neither a secret nor nearly as glamorous as the concept might indicate. It has been in place since 1871 and continues to represent the real mechanism beneath the federal government, controlling and frequently reshaping elected officials' policies. This entity is called the civil service, and it was created to limit the power of the president." I invite advocates of the "deep state" concept to debate whether this definition is compatible with (the many) other definitions, or not.
Stats Watch
Philadelphia Fed Business Outlook Survey, March 2017: "Robust is a modest description of activity right now in the Mid-Atlantic manufacturing sector, at least based on the Philly Fed index" [Econoday]. "All this is very positive for employment of course which is up more than 6 points to 17.5 for the best rate of hiring since November 2014. This report, followed by Empire State, have been signaling breakout acceleration for the nation's factory sector. ." Today's reports are larded with qualifications like this. I've never seen so many!
Empire State Manufacturing Survey, March 2017 (Wednesday): "Manufacturers in New York state, like their colleagues in the Mid-Atlantic, are having their hands full with exceptionally strong activity" [Econoday]. "New orders are up nearly 8 points this month to a 21.3 level that was last exceeded in April 2010. Unfilled orders jumped 6 points to 14.2 which is the highest reading since way back in March 2006. Delivery times, at 10.6 for a 3.5 point gain, show the most month-to-month slowing since May 2004. Slowing delivery times are the signal that activity may be getting too hot… This report had been lagging the Philly Fed in strength but not any more. The strength of these reports are inflationary, pointing to the risk of supply dislocations. Yet much at all to actual strength in the real economy, a disconnect that appears very likely, given the enormous strength of these regional reports, to resolve itself with outsized strength for the industrial production and factory order reports."
Retail Sales, February 2017 (Wednesday): "February and January have to be averaged but together they confirm strength in the consumer. Retail spending could manage only a 0.1 percent gain in February but January, which was already solid, is now revised 2 tenths higher to 0.6 percent" [Econoday]. "these headline gains, though less than astonishing, were made despite weakness in the motor vehicle component…. [R]etail , a mismatch that will play out in the months ahead."
Housing Market Index. March 2017 (Wednesday): "Strong optimism is the theme of so many reports including the housing market index which is up a very sharp 6 points in March to 71 for the best reading of the economic cycle" [Econoday]. " But for hard economic data and it's important to remember that new home sales have been struggling in recent months." And but: "Trumped up expectations" [Mosler Economics].
Housing Starts, February 2017: "Strength in single-family permits leads a mostly favorable housing starts report for February where however the headlines are mixed" [Econoday]. And: "The nature of this industry normally has large variations from month to month so the rolling averages are the best way to view this series – and it shows permits slowing, and completions also slowing. The strength this month is single family permits" [Econintersect]. "Looking at residential construction employment, the year-over-year growth of employment is now slightly above the growth of housing starts."
Business Inventories, March 2017 (Wednesday): "Inventory growth looks moderate and stable… The inventory-to-sales ratio is unchanged" [Econoday]. But: "Still high and still coming down and thereby weakening output and gdp. Auto inventories are particularly bloated due to lower sales" (charts) [Mosler Economics]. The "unchanged" ratio is high.
MBA Mortgage Applications, week of March 10, 2017 (Wednesday): "Sharply higher financing rates did not hold back home buyers or refinancing homeowners much" [Econoday]. But: "Depressed and moving sideways for over a year" (charts) [Mosler Economics].
Jobless Claims, week of March 11, 2017: "Conditions in the labor market remain strong and stable as initial jobless claims are holding at trend…. Continuing claims are also very favorable" [Econoday].
Bloomberg Consumer Comfort Index, week of March 12, 2017: "Continues to press to highs for the economic cycle" [Econoday].
JOLTS, January 2017: "[S]howing new acceleration is hiring which rose 2.6 percent in the month to 5.440 million for one of the best readings of the economic cycle" [Econoday]. Can't have that! And: "The BLS Job Openings and Labor Turnover Survey (JOLTS) can be used as a predictor of future jobs growth, and the predictive elements show that the year-over-year growth rate of unadjusted private non-farm job openings again were again insignificantly changed from last month" [Econintersect].
Consumer Price Index, February 2017 (Wednesday): "Consumer prices are inching ahead while the key year-on-year tally is getting a special lift from an easy 2016 comparison" [Econoday]. "By themselves, consumer prices are not pointing to an inflationary flashpoint though energy prices are a concern. What is a greater concern for the inflationary picture is the risk that wage gains, against full employment, will begin to kick in. This is the concern that will get attention at today's FOMC meeting."
Shipping: "Brokers are reporting good news for embattled containership owners this week in the container charter market, with a big rise in enquiries and improving daily hire rates" [The Loadstar]. "According to one broker source, a combination of aggressive scrapping, with some owners taking advantage of a surge in demolition rates, as well as a demand cascade from the larger sizes, has seen daily hire rates for classic panamax ships jump from a rock bottom $4,000 a day to $7,000-$8,000 for young vessels. Indeed, one London broker told The Loadstar this week: 'For the first time in months, owners have the upper hand.'" NC on the human cost of "aggressive scrapping" (and which humans pay it).
Shipping: The eastbound capacity crunch hitting shippers to Asia is not temporary, but the beginning of a more permanent shift in trading patterns, Maersk Line told The Loadstar today" [The Loadstar]. "The current capacity crunch on the Europe-Asia backhaul leg was originally attributed to a severe cull of westbound sailings during the Chinese new year holiday, but there has also been a big spike in demand, according to Maersk. Many shippers in North Europe are being refused space by ocean carriers – and even when bookings are accepted, they are seeing their containers rolled over and shipments split. Some believe they are 'being held to ransom' by carriers demanding more money to ship boxes already on the quayside. Shipping consultant Drewry said the situation was 'highly unusual' on the backhaul, where utilisation levels of less than 70% were common and slots used in the repositioning of empty equipment to Asia."
Search: "More than half of all travelers—specifically 60% of leisure travelers and 55% of business travelers—begin their journey to booking a trip on a search engine, according to the experts at Google" [Hotel News Notes]. Interestingly, "only 4% start by searching for a hotel brand."
The Bezzle: "Skip the Dishes co-founder defends government subsidy" [CBC (Lee)]. "'It takes a village to raise a startup,' says CEO Josh Simair."
The Bezzle: "I've discovered first-hand that more and more Uber drivers are calling ahead to ask for your destination to see if it's 'worth it' to pick you up" [Angelina Travels]. "Now let's talk about some new shadiness: Uber drivers aggressively hustling for a tip." Meet the new taxi business, same as the old taxi business. Except that the driver works in a corporate hellscape and has to sleep in their car, of course.
IT: "Delaware Blockchain Initiative: Transforming the Foundational Infrastructure of Corporate Finance" [The Harvard Law School Forum on Corporate Governance and Financial Regulation]. "The foundation for much of American corporate finance is Delaware corporate law. Later this year, a small change to Delaware corporate law, if enacted, could facilitate a major simplification of the plumbing of the financial system built on top of that foundation. The change is part of the Delaware Blockchain Initiative (DBI), which then-Governor Jack Markell introduced in May 2016. The initiative will allow for the application of distributed ledger technology to many of the private sector's most basic and critical legal documents, which companies currently file with the Delaware Division of Corporations"
Today's Fear & Greed Index: 50 Neutral (previous close: 53, Greed) [CNN]. One week ago: 61 (Greed). (0 is Extreme Fear; 100 is Extreme Greed). Last updated Mar 16 at 11:50am. Trump euphoria wearing off?
Guillotine Watch
UPDATE "On the [Royal Caribbean] Edge ships, you'll be able to do everything on your phone, from checking in to unlocking your stateroom door or controlling your room's temperature and lighting. It all happens via a proprietary Celebrity app, which also puts the concierge, ship map, and daily event schedule in each guest's pocket. 'We'll send you notifications for the things you've told us you're interested in and use it to reduce pain points across the entire experience,' said [Lisa Lutoff-Perlo, CEO of Celebrity Cruises]. It will help us personalize your cruise as we've never been able to do before'" [gCaptain (Hana M)]. Well, I've never considered food poisoning a "pain point," but then I'm not a CEO…
Class Warfare
"McDonald's Tweet Blasts President Trump, And Is Quickly Deleted" [NPR]. That was the set-up–
Not quickly enough, it appears:
1. This is just a bad tweet. It is nasty & condescending. It is also terribly uniformed. Go to any minority community. McDonald's are packed pic.twitter.com/mMH198MwVj

— Chris Arnade (@Chris_arnade) March 16, 2017
"No easy answers: why left-wing economics is not the answer to right-wing populism" [Vox]. Note the URL, sexed down by a Vox editor to look wonky and not tendentious: bernie-trump-corbyn-left-wing-populism. Some responses:
"For Beauchamp, politics is either about economics or it's about immigration and racism. He misses the possibility that these things intersect in complicated ways. The right splits working class whites off from the left by portraying left wing economic policies as racially favoring people of color, but it only gets away with this because for several decades left [liberal] wing parties have done little to protect the interests of the white working class, aiding and abetting the erosion of the systems which defended them in the 50s and 60s" [Benjamin Studebaker]. The white working class is nostalgic for the 50s and 60s because that's when New Deal and Great Society programs ensured they had a chance. But the far right misleads them about why that chance has diminished, blaming the left for giving the benefits of these programs away to minority groups. In reality the left has [liberals have] helped the right erode these programs for everyone, even people of color–the black percentage of white median income isn't higher now than it was in the early 90s, and it declined under Barack Obama."
"Liberals and diversity" [Matt Bruenig]. "The argument, offered by this text and some nice graphics in the piece, is that diversity leads to racism, which leads to lower support for the welfare state, and thus creates widespread economic immiseration at the bottom of society. Beauchamp does not explain why exactly he thinks this is, but other liberal commentators, such as Ned Resnikoff, have attributed it to the 'ancient, tribal section of the human brain'…. When I was coming up back in the day, this was not the liberal view on diversity, at least not the one I saw. The view then was that racism is a historical development, not an impenetrable feature of the tribal human brain."
"Before I start this post I should make one thing abundantly clear: I strongly support the idea of a Jobs Guarantee (JG) program. I think that the benefits it might bring to society so far outweigh its potential drawbacks that implementing it should be a no-brainer not simply for anyone with progressive tendencies, but for anyone who believes that people should have the right to be independent and earn a living for themselves and their families" [Philip Pilkington, Econintersect].
"California is a high cost of living state. … [T]he level of affordability oscillates up and down with the whims of the bubble economy. As of today the state faces a rental Armageddon trend where many families simply cannot afford to purchase a gorgeous, sturdy, and well-designed home (just kidding, most can't buy a 700 square foot funky looking crap shack). Whenever people even hint at the expensive nature of California the yelling begins with "then move out!" or "buying always makes sense!" which seems interesting since the housing market really got out of control in many metro areas starting in the late 1990s as Wall Street injected its casino antics into the industry. And many of those that protest the loudest are usually Taco Tuesday baby boomers living in granite countertop paradise that wouldn't have a chance affording their home today if they had to pay current prices. But in reality, many are moving out. From 2000 to 2015 more people left California than moved in from other states. The biggest destination is Texas" [Dr. Housing Bubble].
"Now, thanks in part to work led by Fargher's mentor Richard Blanton, an anthropologist at Purdue University in West Lafayette, Indiana, Tlaxcallan is one of several premodern societies around the world that archaeologists believe were organized collectively, where rulers shared power and commoners had a say in the government that presided over their lives" [Science]. "These societies were not necessarily full democracies in which citizens cast votes, but they were radically different from the autocratic, inherited rule found—or assumed—in most early societies. Building on Blanton's originally theoretical ideas, archaeologists now say these "collective societies" left telltale traces in their material culture, such as repetitive architecture, an emphasis on public space over palaces, reliance on local production over exotic trade goods, and a narrowing of wealth gaps between elites and commoners."
News of the Wired
"Scrolling on the web: A primer" [Windows]. I hate to link to a Windows source, but this is really interesting (if this is the sort of thing that interests you).
Boeing 737 assembly line:
* * *
Readers, feel free to contact me with (a) links, and even better (b) sources I should curate regularly, and (c) to find out how to send me images of plants. Vegetables are fine! Fungi are deemed to be honorary plants! See the previous Water Cooler (with plant) here. And here's today's plant (via):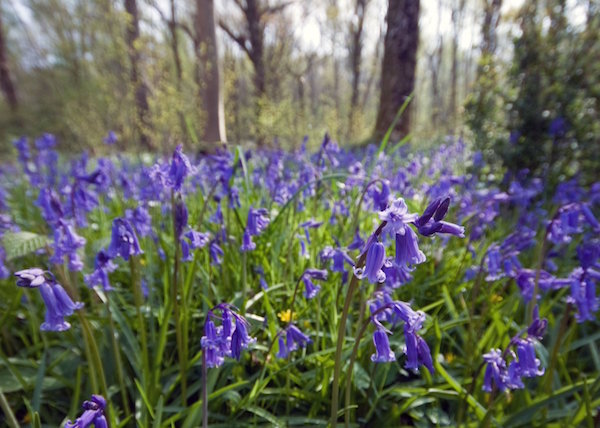 Bluebells…
Readers, Water Cooler is a standalone entity, not supported by the very successful Naked Capitalism fundraiser just past. Now, I understand you may feel tapped out, but when and if you are able, please use the dropdown to choose your contribution, and then click the hat! Your tip will be welcome today, and indeed any day. Water Cooler will not exist without your continued help.