By Lambert Strether of Corrente
Trade
"The Trump administration has drafted its notification to Congress saying it intends to renegotiate NAFTA, two House aides told Morning Trade — a formality required before a statutorily mandated 90-day consultation period can begin and a sign that the White House is moving closer to fulfilling its pledge to sit down with Canada and Mexico" [Politico].
Politics
New Cold War
"House Intelligence Chairman Devin Nunes apologized to members of his panel Thursday for not informing Rep. Adam Schiff, the ranking Democrat, before going public with allegations that Trump transition messages were inadvertently intercepted by U.S. intelligence agencies" [Politico]. "The apology from Nunes came as congressional Democrats on Thursday slammed him for his perceived allegiance to the Trump administration, into possible ties between Trump's associates and Russian officials." Ditto Schiff, as emptywheel points out.
Our Famously Free Press
"Wayne Barrett, Donald Trump, and the Death of the American Press" [Tablet Magazine (MsExPat)]. Grab a cup of coffee; this is a long read, but well worth it. One tidbit: "[T]he steady sound of drip-drip-drip is the telltale sign of a political campaign, where items are leaked bit by bit to paralyze the target. Journalists, on the other hand, have to get their story out there as quickly, and as fully, as possible because they're always worried the competition is going to beat them to it." And another: "The press at present is incapable of reconstituting itself because it lacks the muscle memory to do so. Look at the poor New Yorker. During the eight years of the Obama administration, it was best known not for reported stories, but for providing a rostrum for a man to address the class that revered him as a Caesar. Now that the magazine is cut off from the power that made it relevant, is it any wonder that when it surveys the post-Obama landscape it looks like Rome is burning—or is that the Reichstag in flames? The Russia story is evidence that top reporters are still feeding from the same trough—political operatives, intelligence agencies, etc.—because they don't know how to do anything else, and their editors don't dare let the competition get out ahead."
Health Care
Whip counts [Political Wire]. "GOP leaders can have no more than 22 defections from Republicans":

My head says that the votes aren't there in the House, and if the Republicans get the AHCA passed by turning it into a Christmas tree for the Freedom Caucus, they won't be able to pass the bill in the Senate. (Our system works!) My heart and my gut say that the Republicans get shit done, they're feral, and party tribalism will ultimately win the day.

"The fate of the bill now appears to hinge on a planned White House meeting Thursday between Trump and members of the hardline conservative Freedom Caucus, a bloc of about three dozen House Republicans who have long threatened to tank the bill because of what they say are inadequate measures to repeal Obamacare and reduce health care premiums for constituents" [Politico]. "'If this goes down, we're all screwed,' said one Republican lawmaker who requested anonymity." And then there's this:

After a day of ferrying between the Capitol and the White House, conservatives secured a commitment from House leaders to consider a proposal that would eliminate Obamacare's "essential health benefits" — a set of regulations that requires insurers to cover a broad array of benefits. Conservatives have argued that these requirements drove up the cost of health insurance and restricted consumer choice.

Yet after House leaders signaled they were open to that measure, : a repeal of all the Obamacare regulations, including protections for people with pre-existing conditions — a non-starter with most Republican lawmakers.

"[O]ffers to the right to eliminate the "essential health benefits" — the coverage areas that insurers are required to provide under ObamaCare — could cost the GOP the votes of centrists while not winning over every conservative" [The Hill]. If "the right" is the same as the Freedom Caucus….

"Vote 'no' on Ryancare: Our view" [Editorial Board, USA Today].
Trump Transition
"David Brock suffers heart attack" [Politico]. "Brock had the heart attack while working in the Washington office of his non-profit groups Media Matters and American Bridge, and was quickly transported to a nearby hospital, where he according to the statement from Bradley Beychok." If only every American could receive prompt medical treatment like Brock, eh?
Realignment and Legitimacy
"[T]he open-borders left wants to have mass immigration and a higher minimum wage and a generous welfare state, all at the same time. Never mind that the combination of a higher minimum wage, and refusal to enforce immigration laws, would simply create a huge gray market in labor and incentivize employers to pay workers off the books, causing a collapse in tax revenues among other things. Never mind that the taxpayers of any given nation-state will rebel if told that their country is to be converted into a global charity. Merely to raise such practical considerations is to mark oneself as a 'deplorable,' an 'ethnonationalist' bigot, in the eyes of the cosmopolitan wing of the loony left" [The Smart Set (DB)]. I don't know what the "cosmopolitan wing of the loony left" might be. But the contradictions of open borders are well urged.

UPDATE ""Write-In or Wrong-In?" Did Electioneering Steal a State Rep Seat?" [Spirit of the River Wards]. Shenanigans in Philly, as only Philly can. Ya know, I call them the Democrat Party for a reason. They're going to have to earn the "Democratic" label back.
Stats Watch
Kansas City Fed Manufacturing Index, March 2017: "The weakest of the regional reports is now solidly in line with other advance manufacturing surveys, pointing to breakout acceleration for the factory sector" [Econoday]. ". Watch for the durable goods report on tomorrow's calendar." And: "The Kansas City region was hit hard by the decline in oil prices, but activity is expanding solidly again. The regional Fed surveys released so far suggest another strong reading for the ISM manufacturing index for March" [Calculated Risk].
New Home Sales, February 2017: "New home sales shot 6.1 percent higher in February to a 592,000 annualized rate that easily beats the Econoday consensus for 565,000 and is near the top estimate of 600,000. Sales appeared to have gotten a boost from builder concessions as the median price fell" [Econoday]. "Today's report helps offset weakness in existing home sales and keeps the housing sector on moderately climbing slope." But: "This data series is suffering from methodology issues which manifest as significant backward revision – and this month the revisions were mixed. Home sales move in spurts and jumps – so this is why we view this series using a three month rolling average (rolling averages declined)" [Econintersect]. And: "The inventory of completed homes for sale is still low, and the combined total of completed and under construction is also low" [Calculated Risk]. And: "The median sales price declined to below $300,000 for the month from over $311,000 last year, but there was a strong increase in the average sales price to just over $390,000 from below $350,000 the previous year" [Economic Calendar].
Bloomberg Consumer Comfort Index, week of March 19, 2017: "The consumer comfort index continues to press to highs for the economic cycle" [Econoday]. "Strength in confidence readings points to strength for the jobs outlook and also for the stock market."
Jobless Claims, week of March 18, 2017: "In mixed results, initial jobless claims rose 15,000 to a 7-week high of 258,000 but the 4-week average, reflecting how low recent levels have been, rose only 1,000 to 240,000" [Econoday].
Shipping: "The [Cass Freight Index Report's] author, Avondale Partners analyst Donald Broughton, reiterated his thesis that the freight recession is over, adding that 'part of our growing confidence that the data (both from Cass and specific industries) is showing a turn in trend and is not just a false positive, is the underlying trend in inventories at all levels of the supply chain. At the manufacturing, wholesale and retail levels, inventory to sales ratios have been consistently falling'" [Logistics Management].
Shipping: "Overall confidence levels in the shipping industry fell to a record low in the three months to February 2016, according to the latest Shipping Confidence Survey from international accountant and shipping adviser Moore Stephens" [Moore-Stephens]. "A number of respondents continued to express concern about the level of overtonnaging… Particular concern was expressed about the state of the dry bulk market, with one respondent commenting, 'No dry bulk business makes any remote sense. There are too many players, too many operators, and too many vessels chasing too few cargoes. Most fixtures are concluded merely to keep the banks happy in the belief that some tiny amount of cashflow is coming in.' Elsewhere it was noted, 'Dry bulk is simply at the bottom of the bottom, and actually a little lower than that.' The need for accelerated demolition was also identified by a number of respondents, one of whom noted, "Scrapping activity is far from sufficient to compensate for incoming new tonnage.'"
"Toshiba Corp., reeling from an impending multibillion-dollar writedown in its Westinghouse Electric unit, has been battered to the point where a possible bankruptcy of the nuclear equipment business is being cheered by investors" [Reuters].
Today's Fear & Greed Index: 33 Fear (previous close: 32, Fear) [CNN]. One week ago: 51 (Greed). (0 is Extreme Fear; 100 is Extreme Greed). Last updated Mar 23 at 11:50am. Still hungover, but no worse.
Water
"Safety experts say there is no time for delay in a state plan to restore the 770-foot Oroville Dam, and they warn California would face a "very significant risk" if a damaged spillway is not in working order by fall, the start of the next rainy season" [AP]. "Water was even seeping from seemingly undamaged stretches of the main spillway, the five-member team found. Only 12 inches thick, the concrete spillway is heavily patched, at some places by clay stuffed into holes below the concrete…. Also Wednesday, the state Legislative Analyst's Office warned that tens of billions of dollars are needed for repairs and updates for aging dams, levees, wetlands and other projects in California's flood-management system."
Gaia
"There are about two pipeline incidents in the United States every day" [Corporate Crime Reporter]. "Half of those are significant incidents — incidents that kill someone, send someone to the hospital, cause $50,000 in property damage, or spill a large amount of fuel into the environment."
"Led by cutbacks in China and India, construction of new coal-fired power plants is falling worldwide, improving chances climate goals can be met despite earlier pessimism, [CoalSwarm, the Sierra Club and Greenpeace] said Wednesday" [AP]. "Construction starts for coal-fired plants in China and India were down by 62 percent in January from a year earlier while new facilities starting operations declined 29 percent, according to the report. It said older plants in the United States and Europe are being retired at a record pace."
"An avian influenza outbreak that may be the worst in seven years is upending the poultry industry in Asia. The human death toll in China is rising and chickens are being culled across Asia" [Wall Street Journal]. "The U.S. Department of Agriculture estimates that China's chicken imports will rise nearly 10% for all of 2017. If that happens, China would become the world's second-biggest poultry importer behind Mexico."
Imperial Collapse Watch
"Special Report : Aircraft carriers, championed by Trump, are vulnerable to attack" [Reuters]. "All told, since the early 1980s, U.S. and British carriers have been sunk at least 14 times in so-called 'free play' war games meant to simulate real battle, according to think tanks, foreign navies and press accounts. The exact total is unknown because the Navy classifies exercise reports…. At a naval symposium in 2010, then-Secretary of Defense Robert Gates called into question making such big investments in a few increasingly sinkable ships. Gates said ;a Ford-class carrier plus its full complement of the latest aircraft would represent potentially $15 billion to $20 billion worth of hardware at risk.'"
Guillotine Watch
"The 'it' color for private jets these days? Mattherhorn, named for a snowy peak in the Alps" [Money-ish]. "'Matterhorn is the new white,' says Viv Diprose, the head of communications for PrivateFly, a company that charters private jets. She says not only are brand-new jets getting the Matterhorn treatment, people who own older jets are refurbishing them with this 'icy white color.'… Jet owners are going full Matterhorn in a bid to blend in: 'Post financial crisis, people have a tendency to be less high profile with their jets,' says Eric Zipkin, founder of private jet company Tradewind Aviation. Owners want to fly under the radar and don't necessarily want people 'poking around in their business,' he says."
Class Warfare
The value of all the real estate in Ann Arbor, the home of the University of Michigan, is greater than all the real estate in Detroit. The numbers are based on a study by Bridge Magazine. Ann Arbor's population is slightly less than 118,000. Detroit's is just below 678,000. Ann Arbor occupies 28 square miles. The similar number for Detroit is 143 square miles: [247 Wall Street]. "One of the contributors to the low Detroit figure has to be the vast portion of the city that is in ruins, with tens of thousands of unoccupied homes. Among the way the local government has dealt with this is by bulldozing these homes. However, that is a job that is far from finished."
"The troubled demise of trucker Jevic Transportation will have an impact across the world of bankruptcy law. The U.S. Supreme Court handed the company's former truck drivers a victory, rejecting the tactic known as structured dismissal that put some creditors ahead of drivers for payment claims" [Wall Street Journal].
Another installment of Case-Deaton. Maybe while the Democrats are consumed with gaslighting Putin, the rest of us who are serious about politics can get to work on this:
"Mortality and morbidity in the 21st century" [Anne Case, Angus Deaton, Brookings Papers on Economic Activity]. From the executive summary:
Not only are educational differences in mortality among whites increasing, but mortality is rising for those without, and falling for those with, a college degree. This is true for non-Hispanic white men and women in all age groups from 25-29 through 60-64. Mortality rates among blacks and Hispanics continue to fall; in 1999, the mortality rate of white non-Hispanics aged 50-54 with only a highschool degree was 30 percent lower than the mortality rate of blacks in the same age group; by 2015, it was 30 percent higher. There are similar crossovers between white and black mortality in all age groups from 25-29 to 60-64.

Mortality rates in comparable rich countries have continued their pre-millennial fall at the rates that used to characterize the US. In contrast to the US, mortality rates in Europe are falling for those with low levels of educational attainment, and are doing so more rapidly than mortality rates for those with higher levels of education.

Many commentators have suggested that the poor mortality outcomes can be attributed to slowly growing, stagnant, and even declining incomes; we evaluate this possibility, but find that it cannot provide a comprehensive explanation. In particular, the income profiles for blacks and Hispanics, whose mortality has fallen, are no better than those for whites. Nor is there any evidence in the European data that mortality trends match income trends, in spite of sharply different patterns of median income across countries after the Great Recession.

We propose a preliminary but plausible story in which This account, which fits much of the data, has the profoundly negative implication that policies, even ones that successfully improve earnings and jobs, or redistribute income, will take many years to reverse the mortality and morbidity increase, and that those in midlife now are likely to do much worse in old age than those currently older than 65. This is in contrast to an account in which resources affect health contemporaneously, so that those in midlife now can expect to do better in old age as they receive Social Security and Medicare. None of this implies that there are no policy levers to be pulled; preventing the over-prescription of opioids is an obvious target that would clearly be helpful.
"New research identifies a 'sea of despair' among white, working-class Americans" [WaPo]. "A striking feature is the rise in physical pain. The pattern does not follow short-term economic cycles but reflects a long-term disintegration of job prospects."
"So the uptick in mortality for white mid-life people in America since the late 1990s is actually the final stage of a decades-long process" [Vox]. "'[T]he study authors don't buy the idea that one's income relative to what one expected is influencing mortality. Rather, 'It's the life you expected to have relative to your father or grandfather — it's just not there anymore,' Deaton said." This may also explain the fear and hate of the professional classes: If you conceive of credentials as a claim on future income — that is, a property interest, the basis of all faction, says Madison 00 not just for you, but for your children — and legacy admissions do just that — then you would do just about anything to avoid becoming one of "those people," and hence almost anything to protect your claims.
"What differentiates Case and Deaton's paper is this idea that as people get older and their fates deviate more and more from those of their parents, they struggle to keep their lives together. The very act of doing worse than their parents' generation—what Case and Deaton call 'cumulative disadvantage'—is killing them" [The Atlantic].
"Researchers who sounded the alarm on increasing white working-class mortality blamed the trend Thursday on economic upheaval that created a web of social issues so tightly interwoven that even successful policies would take years to unsnarl them" [Bloomberg]. Write them off, say I. After all, demographics is destiny. Right?
Readers, I'm sure we'll have more to say about this (see NC here, here, and here) so please share your thoughts! It would be especially nice to have evidence, or telling anecdotes, that confirm or refute the "cumulative disadvantage" disadvantage thesis.
News of the Wired
"Cricket beyond boundaries" [Al Jazeera]. "[Cricket is] the world's second most popular game with an estimated 2.5 billion fans worldwide." Photo essay, including blind cricket (!). " The ball chimes with the sound of bells as it bounces at least twice before reaching the batsman. The ringing of the bells helps the batsman and fielders who are blind to locate the ball."
Bug, patch….
Here is why a fix in software is sometimes called a "patch." It was once a piece of tape covering some punched holes. #DLD17 pic.twitter.com/VMtwgYSuL8

— Bill Gross (@Bill_Gross) January 15, 2017
"Unpaywall: The Browser Add-on That Finds (Legal) Free Copies Of Academic Papers You See As You Browse The Web" [TechDirt]. Cool!
44% of Tinder users — by far the largest percentage "said they were swiping for 'confidence-boosting procrastination'" [MarketWatch]. No.
"How to Become a More Positive Person in 21 Days" [Time]. No.
"Smartphone device can test sperm quality, provide results in minutes" [Japan Times]. No.
* * *
Readers, feel free to contact me with (a) links, and even better (b) sources I should curate regularly, and (c) to find out how to send me images of plants. Vegetables are fine! Fungi are deemed to be honorary plants! See the previous Water Cooler (with plant) here. And here's today's plant (CB):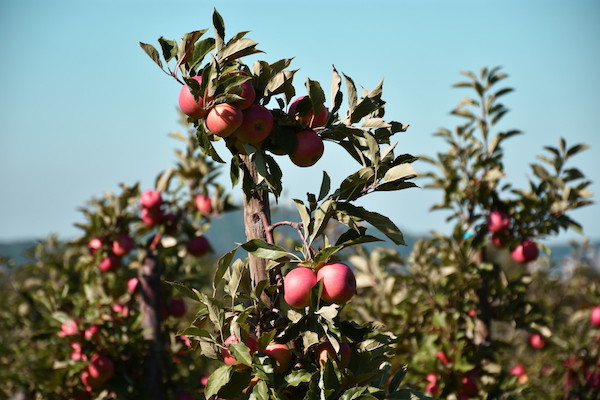 Once on more on apples. As we saw, from Michael Pollan's Botany of Desire, Johnny Appleseed became very successful by seeding the Ohio Valley with appleseeds, creating orchards. And why did the Ohio Valley — well over a century ago, before it became such a prominent part of the Rust Belt — desire apples so much? Hard cider, of course! So, the moral of the story: I view Bernie Sanders as the Johnny Appleseed of democratic socialism, and he plants an orchard every time he makes a speech. Of course, it takes a while for the seedlings to mature. But when they do, you have hard cider! Given a press. We need the press…
Thanks again to CB for the apple pictures!
Readers, Water Cooler is a standalone entity, not supported by the very successful Naked Capitalism fundraiser just past. Now, I understand you may feel tapped out, but when and if you are able, please use the dropdown to choose your contribution, and then click the hat! Your tip will be welcome today, and indeed any day. Water Cooler will not exist without your continued help.