By Lambert Strether of Corrente
Trade
"[P]rogressive Democrats on Capitol Hill have been calling on Trump to suspend procurement policies until they can be renegotiated, with Sens. Tammy Baldwin and Jeff Merkley arguing last week that without action, 'every government contract [the] administration signs risks sending hardworking Americans' tax dollars abroad'" [Politico]. First, where the heck where the Democrats on this when they controlled the Executive branch? Second, every time anybody deploys the "hardworking Americans" or the "tax dollars" trope I want to gag, and the effective isn't additive, but multiplicative.
"On Unhappy Fifth Anniversary of U.S.-Korea Free Trade Agreement, Deficit With Korea Has Doubled as U.S. Exports Fell, Imports Soared" [Public Citizen]. "President Donald Trump has been conspicuously silent about the U.S.- Korea Free Trade Agreement (FTA) since taking office, so whether the administration comments on the pact's March 15 fifth anniversary is being closely watched. Trump spotlighted the 'jobkilling trade deal with South Korea" in his nomination acceptance speech and on the stump, where he also often noted "this deal doubled our trade deficit with South Korea and destroyed nearly 100,000 American jobs.' Trump's approach to the pact was called into question when he appointed one of the Korea FTA's most persistent promoters, Andrew Quinn, to be special assistant to the president for international trade, investment and development."
Politics
New Cold War
"Full transcript: FBI Director James Comey testifies on Russian interference in 2016 election" [WaPo].

"Operatives for Russia appear to have strategically timed the computer commands, known as 'bots,' to blitz social media with links to the pro-Trump stories at times when the billionaire businessman was on the defensive in his race against Democrat Hillary Clinton, these sources [anonymous Federal investigators] said" [McClatchy]. "The investigation of the bot-engineered traffic, which appears to be in its early stages, is being driven by the FBI's Counterintelligence Division, whose inquiries rarely result in criminal charges and whose main task has been to reconstruct the nature of the Kremlin's cyber attack and determine ways to prevent another."

"The Domestic Conspiracy That Gave Trump The Election Is In Plain Sight" [HuffPo]. Another theory emerges. I can't comment on the substance, because I forgot my yellow waders, but this sentence stood out for me: "The effort to intimidate Comey into publicly commenting on the Clinton case—a win-win scenario for Trump, as either a comment from Comey or silence from Comey (the latter coupled with inaccurate, Hatch Act-violative leaks by the FBI, NYPD, and/or the Trump campaign) would sink Clinton—began…" So if anything Comey did would "sink Clinton," is it barely possible the problem isn't Comey?
Heatlh Care
"Trump to GOP critics of health care bill: 'I'm gonna come after you'" [WaPo]. "'I'm gonna come after you, but I know I won't have to, because I know you'll vote 'yes,' ' Trump said, according to several Republican lawmakers who attended the meeting. 'Honestly, a loss is not acceptable, folks.'" Nobody seems to know if Trump swayed any votes, though.

"1 million more Americans would have health insurance with a clean repeal than with the Republican replacement plan, according to C.B.O. estimates" [Margot Sanger-Katz, New York Times]. This is funny, in a grim way, but the Republicans are trying to make a Republican plan (ObamaCare) worse, so what result did anyone expect other than absurdity?

"'Disturbing.' 'Tragic.' 'Extraordinarily troubling.' 'Disconcerting.' ' Sad'" [HuffPo]. "Those are just some of the words original architects of the Affordable Care Act used in interviews with The Huffington Post to describe the effort by President Donald Trump and congressional Republicans to speed through a bill to repeal major parts of the law and 'replace' it with a more meager set of health care reforms." What's disturbing, tragic, extraordinarly troubling, disconcerting, and sad is that the liberal Demicrats, even if they weren't going to ram single payer through in 2009, could at least have given it "a seat at the table." They didn't even do that. So we had to wait eight more years — and thousands of deaths — for Sanders to do it. These clowns haven't learned a thing.

"I spoke recently with about a dozen Americans from around the country who worry the rug is about to be pulled from under them. Some are old and some young; some quit jobs so they could care for family members; some retired early; others left corporate America to launch their own start-ups" [Catherine Rampell, WaPo]. "One thing they have in common: They believe politicians don't appreciate how much anxiety the Obamacare-repeal debate is causing their families." Fair enough, and makes the Democrat health care debacle in 2009 all the more shameful (assuming Establishment Democrats can feel shame).
Trump Transition
"Some Republican lawmakers appear to be reassessing whether to make changes to a surveillance law that allows broad snooping of Internet communications, citing concerns over the handling of classified intercepts after leaks of conversations between Russian officials and American associates of President Donald Trump" [Reuters]. "The law, known as Section 702 of the Foreign Intelligence Surveillance Act, allows U.S. intelligence agencies to collect vast amounts of communications from foreigners, but often incidentally scoops up the communications of Americans. Until recently most Republicans have been quick to defend Section 702 and Congress had been expected to renew it without major changes before it expires at the end of the year." Good. And who cares about the motive?

"California-Based Apparel Company Sues Ivanka Trump Brand for Conspiracy, Unfair Competition" [The Fashion Law]. "The case is Modern Appealing Clothing, individually and on behalf of others similarly situated, vs. Ivanka Trump Marks, LLC, et al., CGC-17-557575." Nuisance? For real?
Realignment and Legitimacy
"Democratic Donors Gather in D.C. to Plot the Resistance" [Daily Beast]. Decapitation complete, if it ever needed to be complete. "The chairs of the Democratic National Committee and the party's House and Senate campaign arms will huddle with activists, operatives, and deep-pocketed Democratic financiers at a biannual conference hosted by the Democracy Alliance, a leading left-wing [ha ha] donor collaborative at Washington's ritzy Mandarin Oriental hotel. Alliance-backed organizations… include the Center for American Progress, a liberal policy shop that has turned its 501(c)(4) arm into an anti-Trump "war room," and Media Matters for America." Ka-ching. I wonder if the conference had a theme? How about: "Big Bucks for Losers!"?

"Now Democrats are taking a surprise turn as stalwarts of resistance, and I'm again on the front lines. Only this time, the opposition is about small-d democratic principles, not reflexive partisanship. Democrats are standing up to the Trump administration's dangerous impulses and wanton malfeasance. But a key test lies ahead: On Monday, Supreme Court nominee Neil Gorsuch will raise his right hand before the Senate Judiciary Committee. Democratic opposition must hold" [David Brock, Politico]. Given the contracts Brock surely has with #TheResistance, shouldn't Politico have added "Advertisement" above this piece?

"When registered voters were asked whom they view as the leader of the Democratic Party, 40 percent said it has no leader" [The Hill]. "Fifteen percent named former President Obama as the party's leader. Twelve percent said Sen. Bernie Sanders (I-Vt.), who has gone out of his way not to join the Democratic Party despite running for the its presidential nomination last year. Eleven percent view Sen. Elizabeth Warren (D-Mass.) as the party's leader, and 10 percent answered with former Secretary of State Hillary Clinton, the 2016 Democratic presidential nominee. On the question of who should be a Democratic presidential candidate in 2020, Sanders led the field, at 14 percent…."

"Donna Brazile Finally Admits Giving Hillary Clinton Debate Questions. Democrats Still Demand Unity" [H.A. Goodman]. Mistakes were made…

There was some question over whether Our Revolution would fund Green Party candidates:

Green candidate @CheriHonkala for PA's 197 is the most progressive candidate & is @OurRevolution endorsed. VOTE!https://t.co/Kgt7mxAWu4

— Green Party US ? (@GreenPartyUS) March 21, 2017
Stats Watch
Chemical Activity Barometer: "Consumer, Business Confidence Reach Levels Not Seen in Decades; Optimism Reflected in Increased Chemical Industry Activity" [American Chemistry Council]. "In March, production-related indicators were positive, with U.S. exports improving. Equity prices and inventory indicators were also positive while product prices remained stable. Overall the barometer suggests accelerating gains in U.S. business activity through the fourth quarter." And: "CAB has increased solidly over the last several months, and this suggests an increase in Industrial Production in 2017" [Calculated Risk].
Current Account, Q4 2016: "The oversized trade deficit in the fourth quarter was supposed to have fed a spike in the nation's current account deficit which, at $112.4 billion vs a revised $116.0 billion in the third quarter, instead came in much smaller than expected" [Econoday]. "Cross-border financial flows made the difference as the surplus on primary income, at $61.5 billion, was $19.9 billion larger than the third quarter. The trade gap was in fact very large…"
Commmodities: "So called dry powder – money ready to be invested – for natural resources now total $187 billion. That's double the tally at the end of 2011 mostly on the back of a sharp rise in energy-focused funds targeting North America with uncalled capital commitments" [Mining.com].
Retail: "Retailer shares have been unable to fully stabilize after sell-offs that accompanied their earnings for the 2016 holiday period. Some retailers shuttered stores. Others gave pessimistic guidance. The slide began in earnest again, as retail stocks got punished on Monday. Kohl's Corp. (NYSE: KSS), Macy's Inc. (NYSE: M), Gap Inc. (NYSE: GPS) and Nordstrom Inc. (NYSE: JWM) were among the largest losers in the S&P 500" [MarketWatch].
Retail: "U.S. retailers are focusing more than ever on their toughest inventory problem of all—too many stores. Once considered a competitive advantage, store footprints have become a burden for many chains as more shopping moves online, … adding to financial strains as the retailers try to place goods in right place to meet new consumer demands. Dwindling foot traffic and falling profit margins have forced many chains to pull back, with some second-tier retailers tumbling into bankruptcy while big department stores close hundreds of locations" [Wall Street Journal]. An optimist would predict a revival of the downtowns, if the malls die…
Shipping: "Freight shipments and expenditures both showed significant signs of improvement for the second straight month, according to the most recent edition of the Cass Freight Index Report from Cass Information Systems" [Logistics Management].
Shipping: "The global market for warehousing services is on pace to grow at a compound annual growth rate (CAGR) of nearly 6 percent over the next five years, due to rising demand from the manufacturing, pharmaceutical, and healthcare sectors, a report says" [DC Velocity]. If only warehouse jobs weren't crapified…
Shipping: "The dry bulk downturn has been declared officially over for now and US-listed firms are back in expansion mode. During this week's Capital Link event, many dry bulk executives were bullish based on the perception of improved supply-demand fundamentals" [Lloyd's List].
The Bezzle: "[Marty Pichinson of Sherwood Partners]: 'We're seeing two to four [start-up] companies wind-down a week, which we've never seen before. I think more [investors] are taking the Sequoia Capital approach, meaning if something isn't working, they're moving on" [TechCrunch].
The Bezzle: "Filing Taxes Could Be Free and Simple. But H&R Block and Intuit Are Still Lobbying Against It" [Pro Publica].
Today's Fear & Greed Index: 36 Fear Boy (previous close: 43, Fear) [CNN]. One week ago: 51 (Greed). (0 is Extreme Fear; 100 is Extreme Greed). Last updated Mar 21 at 12:30pm. The call is coming from inside the house….
Gaia
"Global warming and recurrent mass bleaching of corals" [Nature]. "The distinctive geographic footprints of recurrent bleaching on the Great Barrier Reef in 1998, 2002 and 2016 were determined by the spatial pattern of sea temperatures in each year."
"Major impacts of climate change on deep-sea benthic ecosystems" [Elementa]. "The large fraction of the planet covered in deep waters guarantees that most carbon sequestration and significant nitrogen cycling in the ocean occurs here. Presently the ocean absorbs approximately 25% of industrial area CO2 emissions, and 93% of the heat; much of this absorption occurs in deep waters below 200 m (Levin and Le Bris, 2015). Non-market supporting services are provided by deep-sea ecosystems in the form of habitat provision, nursery grounds, trophic support, refugia, and biodiversity functions provided by assemblages on seamounts, coral and sponge reefs, banks, canyons, slopes, fjords and other settings." An excellent, if sobering, review of the literature.
"Fracking led to more than 6,000 spills in 10 years, study finds" [Christian Science Monitor]. "researchers calculated that between 2 and 16 percent of wells will spill contaminated water, hydraulic fracturing fluids, or other substances every year, with the majority of incidents occurring in the first three years after a well becomes operational."
Health
"A new kind of doctor's office could lead to much cheaper prescriptions" [Business Insiders]. "[Dr. John] Burrell runs a direct primary-care practice. Instead of accepting insurance for routine visits and drugs, these practices charge a monthly membership fee that covers most of what the average patient needs, including visits and drugs at much lower prices. Direct primary care is a small but fast-growing movement of pediatricians, family-medicine physicians, and internists who are opting for this different model." Readers, do any of you have experience with this sort of practice?
Guillotine Watch
"A legal battle is brewing between Los Angeles-based celebrity event planner Mindy Weiss and [Washington A-listers Joan and Bernard Carl]. Weiss, who designed the Southampton ceremony — which the Carls acknowledge cost upward of a million dollars — is suing the couple for more than $340,000 in unpaid fees and expenses, plus $1.4 million in damages. The Carls claim that Weiss went on an unauthorized spending spree on their dime and is holding the bridal video hostage unless they pay her inflated bill" [WaPo (Kokuanani)]. I cannot forbear from quoting:
The mother of the bride commissioned monogrammed napkins for each place setting and a custom fabric for the tables and the flower girl's dress. There was a beachfront rehearsal dinner. The reception included a specialty cocktail served in an ostrich eggshell; the after-parties offered a Calvados and cigar bar, plus hot chocolate and brownie stations.

A week later, the couple exchanged vows in a small candlelight ceremony in the 16th-century chapel at the family chateau in the Loire Valley, followed by hot-air ballooning the next morning.
"The public will be able to dine with Googlers at a planned new campus" [Recode]. "People will be able to walk through the middle of the building, where they can shop in retail stores and dine at cafes also frequented by Googlers." Next, celebrity bus tours!
Class Warfare
"When Federal Reserve officials gathered last week to raise interest rates, they reviewed the data that says the economy is near "full employment." That notion is laughable to millions of regular Americans. We all know, or at least observe, plenty of working-age males who could be working but are not. They don't appear in the stats as unemployed unless they are 'actively looking' for work. Or they may count as 'employed' because they spent an hour or two doing odd jobs that month. But for all practical purposes they're unemployed, and someone else is supporting them" [John Mauldin, EconIntersect]. "[Nicholas] Eberstadt digs into the data and estimates that for every unemployed American male between ages 25–55, there are three more who are neither working nor looking for work. The number of those males presently in the labor force is down almost 4 percent since 2000. That's about 5 million men who, for whatever reason, have dropped out of the labor force."
"Atlantic City and Miami Beach: two takes on tackling the rising waters" [Guardian]. "Retreat isn't on the agenda, but [in Miami] as in Atlantic City there's an equity issue at play. The affluent can afford to raise their homes, lobby for sea walls and water pumps, and stay in a nice hotel if it all gets a bit much. Poorer residents are less able to do this, nor can they foot the bill for the work – Miami Beach has eye-watering average water bills of $350 a month in order to pay for the street work. Some people may have to leave if the costs mount further. Even some of the wealthier residents are buying insurance properties in areas of the mainland, farther from the coast. Valencia Gunder calls this phenomenon "climate gentrification". Gunder is a nascent climate campaigner and resident of Liberty City, a Miami district known for its problems with crime and poverty.
"How human rights law has been used to guarantee corporations a 'right to profit'" [The Conversation]. "There is a highly controversial principle in human rights law that allows corporations and other "legal persons" to apply for the same protections as real persons at human rights courts. This principle is made more controversial by the fact that profit-making corporations are as likely to be the authors of human rights violations as public authorities, often in precisely the same circumstances, involving precisely the same types of violations. But corporations cannot be held accountable for human rights violations. So, while corporations can be protected by human rights law, they can at the same time enjoy impunity for committing human rights violations." Eesh. Who needs ISDS?!
News of the Wired
"CERN experiment discovers not one, but five new particles" [Science and Technologies Facilities Council].
"The 7 Best Selfie Sticks on Amazon, According to Hyperenthusiastic Reviewers" [New York Magazine]. News you can use!
* * *
Readers, feel free to contact me with (a) links, and even better (b) sources I should curate regularly, and (c) to find out how to send me images of plants. Vegetables are fine! Fungi are deemed to be honorary plants! See the previous Water Cooler (with plant) here. And here's today's plant (CB):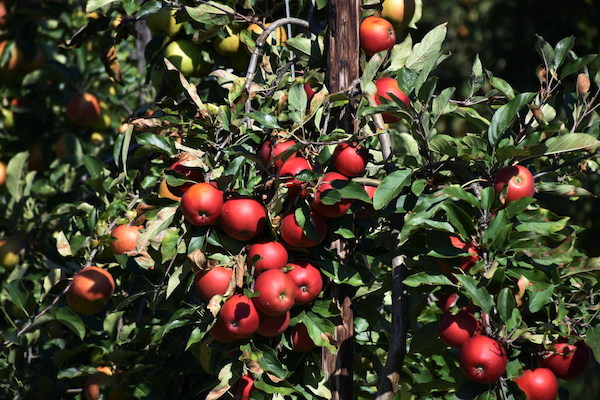 CB writes: "You've probably read Michael Pollan's Botany of Desire, with the chapter dedicated to the apple, in particular the making of hard cider, which in the 19C and before was a staple (and still is, in such enlightened places as northern Spain)." I have. In fact, Botany of Desire was the first Pollan book I read!
Readers, Water Cooler is a standalone entity, not supported by the very successful Naked Capitalism fundraiser just past. Now, I understand you may feel tapped out, but when and if you are able, please use the dropdown to choose your contribution, and then click the hat! Your tip will be welcome today, and indeed any day. Water Cooler will not exist without your continued help.