By Lambert Strether of Corrente
Trade
President Donald Trump today will sign two executive orders relating to trade: one to examine the causes of trade deficits with China and other major U.S. trading partners, and one to stop the undercollection of anti-dumping and countervailing duties on unfairly traded foreign products" [Politico]. "A report from the Commerce Department and Office of the U.S. Trade Representative on the trade deficits is due to Trump within 90 days and could set the stage for potential trade actions. 'This will represent the first systematic analysis of what are the causes [of the deficit] country by country and product by product," Commerce Secretary Wilbur Ross told reporters at the White House on Thursday evening. 'It will form the basis for decision-making by the administration subsequently and that will be decision-making that will be based on hard facts, not theories.' Both orders come less than a week before Trump is set to host Chinese President Xi Jinping at his Mar-a-Lago resort in Florida, though both Ross and National Trade Council Director Peter Navarro insisted the move was not meant to send any sort of signal to Beijing. But China, with its nearly $350 billion trade surplus with the United States in 2016, will be at the top of the list for review."
"[A] draft proposal circulating in Congress shows strong attention to "Buy American" and tariff provisions. The administration would allow a Nafta nation to reinstate tariffs in case of a flood of imports that cause "serious injury or threat of serious injury" to domestic industries. And rules of origin—the share of a product that must be produced in Nafta countries—would be set to support "production and jobs in the United States." A seeming compromise between trade hawks and moderates, the document could change, and it doesn't take into account proposals Canada and Mexico might seek. So far, however, the approach may amount to an update rather than a full rewrite" [Wall Street Journal].
"TRUMP NAFTA RENEGOTIATION DRAFT NOTICE EXPOSES AN ALL-TALK NO-ACTION PLAN" [Sierra Club]. "Sierra Club Executive Director Michael Brune released the following statement: 'For all his grandstanding and bluster, Trump failed to put forth a plan to renegotiate NAFTA in the American people's interest. As a candidate and now in office, Trump promised a serious renegotiation that would put American workers first and end corporate giveaways, but this plan fails to keep that promise and instead looks an awful lot like the TPP deal defeated by a movement of millions and decried by Trump himself. The American people deserve a real renegotiated NAFTA that will protect our workers, our communities, and our environment, not the same broken deal with Trump's logo printed on it.'" It's all going pear-shaped…
Politics
New Cold War
"What Devin Nunes Knows" [Kimberly Strassel, Wall Street Journal]. Why Nunes left his cab:

Around the same time, Mr. Nunes's own intelligence sources informed him that documents showed further collection of information about, and unmasking of, Trump transition officials. These documents aren't easily obtainable, since they aren't the "finished" intelligence products that Congress gets to see. Nonetheless, for weeks Mr. Nunes has been demanding intelligence agencies turn over said documents—with no luck, so far.

Mr. Nunes earlier this week got his own source to show him a treasure trove of documents at a secure facility. Here are the relevant details:

First, there were dozens of documents with information about Trump officials. Second, the information these documents contained was not related to Russia. Third, while many reports did "mask" identities (referring, for instance, to "U.S. Person 1 or 2") they were written in ways that made clear which Trump officials were being discussed. Fourth, in at least one instance, a Trump official other than Mr. Flynn was outright unmasked. Finally, these documents were circulated at the highest levels of government.

To sum up, Team Obama was spying broadly on the incoming administration.

Mr. Schiff's howls about Mr. Nunes's methods are bluster; the Republican was doing his job, and well.

It would be interesting to know if this was still going on. And from the other side of the aisle:

RETWEET if you want a complete #Russiagate primer in just THREE Twitter threads (attached). pic.twitter.com/siRfLpFEFq

— Seth Abramson (@SethAbramson) March 28, 2017

Readers, those of you who can endure tweet storms and clicked through, what do you think of these three?

"The Senate Intelligence Committee turned down the request by former National Security Adviser Michael Flynn's lawyer for a grant of immunity in exchange for his testimony, two congressional sources told NBC News" [NBC].

"Russians used 'Bernie Bros' as 'unwitting agents' in disinformation campaign: Senate Intel witness" [Raw Story]. You knew this was coming, right? The story is just as sloppy and misleading as the headline. For example: "Over time the anti-Clinton online faction became known by the nickname 'Bernie Bros.'" Note lack of agency in "became known"; #BernieBro was in fact propagated by Clinton supporters. And then there's this: "'Senator, I think what they were trying to do was drive a wedge within the Democratic Party between the Clinton group and the Sanders group," said [Retired Gen. Keith Alexander — former director of the National Security Agency]. "And then in our nation between Republicans and Democrats.'" Where to begin? Can Alexander really mean that Sanders and Clinton supporters wouldn't be in conflict if it weren't for the evil Russkis? Or Republicans and Democrats? I hope when Alexander analyzes Lower Slobovia he does a better job.
Trump Transition
"In four weeks Republicans must pass a funding bill to keep the government operating, either with the votes of the GOP conservatives Trump is targeting or with Democrats. Trump and his team have talked a lot — since members of the Freedom Caucus brought the Obamacare replacement bill down last week — about the need to reach across the aisle. But the time to woo Democrats has likely come and gone" [RealClearPolitics].

"The problem for Schumer and his caucus is this: Republicans are not bluffing when they say Gorsuch will be on the court one way or another. The squishes, the institutionalists, even the erstwhile "Gang" members are unwavering in their support. Gorsuch is well-qualified for the job, acquitted himself admirably by any measure, and if an unprecedented partisan filibuster is the only thing standing between him and the bench, the Reid Rule will be invoked for the second time" [Politico]. "The cloture rule now faces an existential paradox. Call it Schrödinger's Filibuster. Assuming Schumer can hold the line within his caucus—and he has seven votes to give—the 60 vote threshold for Supreme Court nominations is dead. Do the right thing and it lives to see another day."

"President Trump brought his chaos-and-loyalty theory of management into the White House, relying on competing factions, balanced by trusted family members, with himself perched atop as the gut-instinct decider. He now realizes this approach has flopped, and feels baffled and paralyzed by how to fix it, numerous friends and advisers tell us" [Mike Allen, Axios]. "'Trump is thinking through his frustrations,' said one Washington wise man close to the West Wing. 'The team didn't put the windows in right.'" I didn't know there were "wise men" in DC any more. As Nooners (and I) keep asking, "Where is Trump's James Baker?" Because Jeff Bannon sure is heck isn't James Baker.

"Nobody knows where this nas­cent Don­ald Trump pres­id­ency is go­ing. New ad­min­is­tra­tions start off with an in­fin­ite num­ber of po­ten­tial tra­ject­or­ies, but this one is even more un­pre­dict­able than oth­ers. Trump could still turn out to be a suc­cess­ful pres­id­ent. As an Amer­ic­an, I cer­tainly hope he will. But today at least, it looks more like a 'death by a thou­sand cuts'" [Charles Cook]. The NAFTA news makes me incline toward Cook's view; something like Trump = Carter + Executive Orders + Bush/Obama's national security powers. On the other hand, Trump rode "chaos and loyalty" all the way to the White House in his campaign, and all the same people yammering then are still yammering now.
Realignment and Legitimacy
"Bernie Sanders visits Boston for three sold-out events Friday" [Boston Globe]. "'The guy, who is not even a Democrat, is being treated like a rock star in deep-blue Kennedy Massachusetts, and it's because he is a rock star,' said Erin O'Brien, chairwoman of the political science department at the University of Massachusetts Boston. 'It speaks to the vacuum that Hillary Clinton left. She never had the same kind of passionate support that Bernie Sanders had.'" "This guy"? "Rock star"? Really? More from O'Brien:

Hillary Clinton: Doing the fucking homework since 1947. pic.twitter.com/b7P2p828Qc

— Erin O'Brien (@Prof_EOB) September 27, 2016

"Can a Sanders-Style Democrat Win Montana's House Seat?" [RealClearPolitics]. "[B]anjo-playing country/folk musician Rob Quist is the Democratic candidate in the race to fill Montana's vacant At-Large congressional seat. Republican Ryan Zinke left the seat earlier this year to serve as secretary of the interior in the Trump administration. Quist, a self-proclaimed Sanders-style Democrat, is scheduled to face off against Republican businessman Greg Gianforte on May 25".

Lambert here: I don't understand. This Quist guy isn't a centrist carpetbagger and London-based documentary film-maker who's never run for office but has raised millions and appeals to suburban Republicans, especially suburban Republican women. I mean, is Quist even a Democrat? (And do read the whole RCP article on Montana, because it contrasts how Democrat Jon Tester won to how Clinton lost at the county level.)

"GA-06 Special Election Moves to Lean Republican" [Charles Cook]. "It's hard to remember the last time a House race became as much of a national fixation as the race in GA-06 to replace HHS Secretary Tom Price. With less than three weeks left until the initial April 18 primary, minor celebrities and Democratic staff continue to pour into suburban Atlanta, and left-leaning donors – with few other ways to channel their anger towards the Trump administration – continue to pour millions into the coffers of Democrat Jon Ossoff." (Ossoff is, of course, the Perez- and DCCC-fave contrasted above to Quist.) "It's possible Ossoff could hit 50 percent on April 18, but the mostly likely scenario is still for this race to head to a runoff on June 20. You can bet the contest's national prominence will only snowball in the next few weeks, and that may not be the worst thing for Republicans, who badly need their base to wake up. This race moves to the Lean Republican column, and that's probably being generous to Republicans." Because celebrities worked so well for Clinton in 2016. Georgia readers, what's going on?
Stats Watch
Personal Income and Outlays, February 2017: "A second month of weak spending on services pulled down on consumer spending which could only manage a 0.1 percent rise in February, one that follows a nearly as weak 0.2 percent gain in January. February's result is below consensus and at the low end of the Econoday forecast range" [Econoday]. "Income data are more favorable headlined by an as-expected 0.4 percent gain and a very solid 0.5 percent increase in the wages & salaries component. And consumers moved money into the bank as the savings rate climbed 2 tenths for a second straight month to 5.6 percent. Increases in savings are a factor behind the weakness in spending." And: "Remember these are average numbers – not median. The rate of growth of consumption is slowing which does not bode well for 1Q2017 GDP. On the bright side, this is a corrrection as consumption has outpaced income growth recently which historically the two have remained in balance" [Econintersect]. And but: "Using the two-month method to estimate Q1 PCE [Personal Consumption Expenditure] growth, PCE was increasing at a 0.4% annual rate in Q1 2017. (using the mid-month method, PCE was increasing 1.0%). This suggests weak PCE growth in Q1" [Calculated Risk]. And but: "There was further evidence of a partisan divide in the data which has not shown any significant sign of easing since November's Presidential election" [Economic Calendar]. "There has also been evidence that consumers have lowered their underlying expectations with relatively subdued growth rates in the economy viewed more positively than would have been the case in previous years."
Consumer Sentiment, March 2017: Below consensus but still a gain [Econoday]. "A puzzle in the report is a noticeable decline in inflation expectations, down 2 tenths for the 1-year outlook to 2.5 percent and down 1 tenth to 2.4 percent for the 5-year outlook. The declines aren't due to gasoline prices which have been edging higher, not lower, and raise questions over the consumer's outlook for wages and general economic strength."
Chicago Purchasing Managers Index, March 2017: "[B]eats the consensus" [Econoday]. "This report falls in line with the breadth of anecdotal data that are signaling a pivot higher for the economy, one however that ." And but: "The results of this survey continue to agree with district Federal Reserve manufacturing surveys – and aligns with the overall trend of the ISM manufacturing survey" [Econintersect].
Rail: "We review this data set to understand the economy. If coal and grain are removed from the analysis, rail over the last 6 months been declining around 5% – but this week improved +7.8 % (meaning that the predicitive economic elements improved year-over-year)" [Econintersect]. So, on the one hand we have the anecdotal/survey data saying "Everything's gonna be peachy!" On the other hand, we have the real data saying "Not so fast, I don't see a thing!" On the third hand, we have "stuff is moving," as here. Is anyone actively pursuing a state of non-baffflement on this? Can this "stuff" all be a "lump in the python" brought about by shippers' fears of Trump tariffs? And if that's the theory, how does that account for the Chemical Activity Barometer?
Commodities: "China's internal shifts on energy production have already sent coal markets into sharp swings, and experts say the country's outsize role in commodities from aluminum to zinc leaves other markets open to sharp swings. That's created a market for what's essentially detective work, as consultants use satellite imagery and measure truck movements to check official figures. The results may have a crucial impact on commodity shipping operations that are finally flexing some financial muscle. The Baltic Dry Index measure of dry bulk shipping rates reached a 28-month high this week, suggesting demand is on the upturn and could stay there unless commodity markets become oversupplied" [Wall Street Journal].
Shipping: "Container manufacturer Singamas suffered its biggest loss ever in 2016, but chairman Teo Siong Seng believes the worst is over.Hit by a $59.4m net loss, Mr Teo told a press conference on Thursday that since late last year demand had gone up and so had box prices" [Lloyd's List].
Shipping: "Who's fooling who as alliance reshuffle falls tomorrow?" [Splash 247]. "Did the world's liner planners not clock the irony of tomorrow's date when choosing a time to launch the new dawn for container shipping? April Fool's Day does seem appropriate however for the start of THE Alliance, the Ocean Alliance and 2M redux. It's just hard to see who are the fools – the lines for their slovenly planning for tomorrow's big day, their clients for putting up with them or the regulators for letting the lines get away with this monopolistic move. Shippers seeking to move goods from Europe to Asia have been struggling this month thanks to a large drop of available slots for containers on almost every shipping line. The confusion and growing anger was always likely when one looks at how last-minute so much of the planning has been for tomorrow's big day. Ports were kept in the dark about the alliances' final network details until a couple of weeks ago giving scant time to prepare their landside operations. Then there's the whole competition question to ponder as we count down to tomorrow. The [European Shippers Council] has also drawn the attention of the regulation authorities to the upcoming market structure where from Saturday three major alliances control close to 90% of the capacity on the major trades. The council's concerns follow hot on the heels of the FBI raiding a meeting of the Box Club, the annual get together of the world's top liners."
Today's Fear & Greed Index: 48 Neutral (previous close: 43, Fear) [CNN]. One week ago: 30 (Fear). (0 is Extreme Fear; 100 is Extreme Greed). Last updated Mar 31 at 12:00pm. Dodging a bullet?
Our Famously Free Press
"Is it any coincidence that the race to the bottom in media—toward clickbait headlines, toward the vulgar and prurient and dumb, toward provocative but often exaggerated takes—has accelerated in lock-step with the development of new technologies for measuring engagement?" [The Atlantic].
" Two journalists who say they have been targeted by the United States have filed a complaint against the American government, accusing it of putting them on a "kill list" and demanding to be taken off it" [Al Jazeera]. "The complaint was filed in the US District Court of the District of Columbia on Thursday on behalf of Ahmad Muaffaq Zaidan – a dual Pakistani-Syrian citizen who works for Al Jazeera and Bilal Abdul Kareem, an American who has freelanced for Al Jazeera." Sure hope Trump doesn't follow Obama's precedent of whacking Americans with drones. That would be bad.
Gaia
"Major Fracked-Gas Pipeline Leak Shuts Down Rhode Island Interstate" [Ecowatch].
"Two lawsuits were filed in Montana on Thursday aiming to stop construction of the TransCanada Corp.'s (NYSE: TRP) Keystone XL pipeline. Both suits argue that the U.S. State Department erred when President Trump signed the executive order to permit construction because the environmental impact statement used as the basis for the permit was outdated and incomplete" [247 Wall Street]. "Among the groups filing one of the suits in federal district court were the Northern Plains Resource Council, Natural Resources Defense Council and the Sierra Club. The Indigenous Environmental Network and the North Coast Rivers Alliance filed the other."
Guillotine Watch
"One of the main concepts behind 'Hamilton' is the idea that people with vastly different backgrounds and feelings can come together and create something that matters, such as the United States of America" [Iowa State Daily]. Gag me with a spoon. That's not what Hamilton is about at all.
Class Warfare
"'One of the mantras I heard the steelworkers repeat over and over again was 'We invested so many years in this factory, and they don't see us. We're invisible,' [playwright Lynn] Nottage said" [The New Yorker]. "'I think it profoundly hurt their feelings.'" I think that's the most New Yorker sentence ever.
"Killer Debt: The Impact of Debt on Mortality" [Federal Reserve Bank of Atlanta]. "Worsening creditworthiness and increases in severely delinquent debt are found to lead to increases in individual mortality risk. This result has implications for the benefit of policies such as the social safety net, which aims to protect individual finances, by adding reduced mortality to the benefit of any intervention." They call it "class warfare" for a reason…
"Wages for college graduates across many majors have fallen since the 2007-09 recession, according to an unpublished analysis by the Georgetown University Center on Education and the Workforce in Washington using Census bureau figures. Young job-seekers appear to be the biggest losers" [Bloomberg]. We really do need a debt jubilee. See the link above.
News of the Wired
"DEADLY DECISION: Malheur County murder suspect feigned insanity for 20 years to avoid prison" [Malheur Enterprise]. No particular reason to pick this link, except to give throw an old-school reporter at a local paper some hits on a terrific (in all senses) story.
"No, Twitter Didn't Just Ruin Twitter by Changing How Replies Work. It Improved Itself" [Slate]. "Nine years and three CEOs later, replies on Twitter finally work roughly the way you might expect replies to work on a modern social networking service." Of course, the users hate it. Just like Twitter hates them!
"Meditation's Calming Effects Pinpointed in Brain" [Scientific American]. I'm very dubious about any study that "pinpoints" effects in the brain. Surely an infinitely plastic brain is adaptive?
"Public computers at libraries have become an extension of the classroom, and they're an important resource for children who don't have unfettered access to broadband Internet at home. The cloud has only made those public computers more effective" [Ars Technica].
* * *
Readers, feel free to contact me with (a) links, and even better (b) sources I should curate regularly, and (c) to find out how to send me images of plants. Vegetables are fine! Fungi are deemed to be honorary plants! See the previous Water Cooler (with plant) here. And here's today's plant (JM):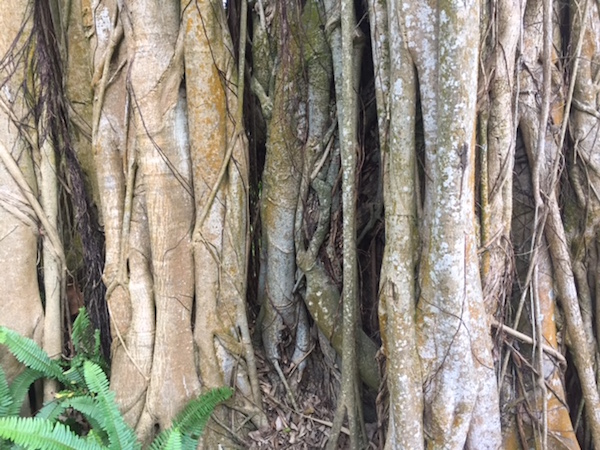 Last of the gnarls!
Readers, Water Cooler is a standalone entity, not supported by the very successful Naked Capitalism fundraiser just past. Now, I understand you may feel tapped out, but when and if you are able, please use the dropdown to choose your contribution, and then click the hat! Your tip will be welcome today, and indeed any day. Water Cooler will not exist without your continued help.