Michigan to offer prize in fight against invasive Asian carp AP
Sea Ice Extent in Antarctica Bottoming Out at Lowest on Record Weather Underground
7 Major Experiments That Still Haven't Found What They're Looking For Nautilus
Why the Fed means business this time FT
Deutsche Bank to Raise $8.5 Billion and Reorganize Some Operations NYT
Heavy-Duty Truck Orders Rose for Fourth Straight Month WSJ
Trends in Merger Investigations and Enforcement at U.S. Antitrust Agencies: 2006–2015 Harvard Law School Forum on Corporate Governance and Financial Regulation
As Israel-based financial fraud soars, police swoop on 20 suspects as part of global, FBI-led sting Times of Israel
Brexit
Brexit: Ending free movement will not reduce immigration, peers warn Independent
More than 600 health quango chiefs on six figure salaries amid cash crisis Telegraph. Yes, minister.
'No one can stop me' standing in French election, says Fillon France24
China?
China overtakes eurozone as world's biggest bank system FT

Words Count: Chinese State of the Nation Speech All About the 'Party' WSJ
Japan, South Korea markets muted after North Korean missile tests MarketWatch
New Cold War
Eat Your Spinach LRB
2016 Post Mortem
DNC has No Plans to Publicly Post Officer Election 'Roll Call' Tally Progressive Army. From the DNC bylaws:

[A]ll meetings of the DNC, the Executive Committee, and all other official Party committees, commissions and bodies shall be open to the public, and votes shall not be taken by secret ballot.

During the election for DNC chair, the ballots were not disclosed. Asked to disclose the ballots, and not mere tally sheets, the DNC responded:

To review actual ballots, please see the process below:

1. DNC officer election ballots will be available for review beginning Monday, March 6th at 10:00am, at Democratic National Committee offices, 430 South Capitol Street, SE, Washington, DC 20003.

2. To schedule a viewing session, please contact Julie Greene, Director of the Secretary's Office, at greenej@dnc.org. Appointments may be booked in one hour increments, and multiple sessions may be reserved, based on availability.

At least one journalist is following up:

For those asking, I've set up an appointment to see the dozens of ballots votes of 442 DNC members. They are giving us one hour. No cameras.

— Nomiki Konst (@NomikiKonst) March 5, 2017

For the record, I don't think even Donna Brazile would be stupid or corrupt enough to alter the paper ballots. But you'd think that, after the primary, the DNC would be making every effort to live up to that "ic" suffix following the "D." Even if it gives all the consultants who voted themselves fat contracts with Perez a smidge of agita. Apparently not.
Special elections spark Democratic hopes Politico
Trump's win revealed the hollowness of US politics. Stronger leaders will exploit this. Fabius Maximus
Trump Transition
Leashes Come Off Wall Street, Gun Sellers, Polluters and More NYT. Look! Over there! Trump is tweeting again!

Do You Feel Lucky? Econbrowser. On Trump's trade policies.

* * *

Trump's 'evidence' for Obama wiretap claims relies on sketchy, anonymously sourced reports WaPo. Were there nine?

Why the White House defense of Trump wiretap accusation is misleading Politifact

Former DNI James Clapper: 'I Can Deny' Wiretap of Trump Tower NBC News (Furzy Mouse). There are Five Eyes, though. The U.S. is only of of them.

If Trump Tower Was Wiretapped, Trump Can Declassify That Right Now The Intercept

Nunes, acceding to White House, says Trump's wiretap claim will be investigated Los Angeles Times

How Trump's Tantrum May Lead Trump Transition Official Devin Nunes to Delegitimize the Investigation emptywheel. I think I've entered "Can't tell the players without a scorecard" territory. Nunes is chair of the United States House Permanent Select Committee on Intelligence. Is "transition official" then irony? Anyhow, interesting wrap-up…

Axelrove's tweets are the best tweets:

If there were the wiretap @realDonaldTrump loudly alleges, such an extraordinary warrant would only have been OKed by a court for a reason.

— David Axelrod (@davidaxelrod) March 4, 2017

The FISA Court is Caesar's wife, apparently.

* * *

The Russian election hack: bullshit Hatuey's Ashes

The Dirty Secret Behind the Jeff Sessions Mess T. A. Frank, Vanity Fair. I'm re-upping this, and if you didn't read it last time, read it. Not all Vanity Fair writers are has-beens phoning in brand fumes.

* * *

The Wall Explore the US-Mexico border fence Reveal. Interactive map. Plenty of wall right now…

Schumer's plan to stop the wall Axios. "Chuck Schumer has concluded that denying President Trump his wall is perhaps the surest major defeat Democrats can hand the President in his first year."
After travel ban, interest in trips to U.S. declines Seattle Times
Guilllotine Watch
Around the World by Private Jet: Cultures in Transformation New York Times.

Fly around the world in a customized Boeing 757 jet for the ultimate in luxury travel. Spend 26 days visiting such places as Iran, Cuba, Colombia, Australia, Myanmar and Iceland. Four award-winning New York Times journalists will accompany you, each for several days as you visit areas where they have expertise.

Departures: Feb 8–Mar 5 2018

Cost: $135,000; Deposit of $7,500 per person; For full payment schedule, see terms and conditions.

Looks to me like the catchphrase "limousine liberal" might need an update? And did I miss the "Advertisement" label?

SpaceX to fly two space tourists around the moon in 2018 CNN.
Class Warfare
Texas is the Future Harpers
802.eleventy what? A deep dive into why Wi-Fi kind of sucks Ars Technica
The plane so good it's still in production after 60 years BBC
Vietnam's architectural gems are disappearing USA Today
The Magic Lantern Show The Archdruid Report. Fun with Schopenhauer!
Antidote du jour. I think it's time for a cute, or at least a skeptical, cat (more here):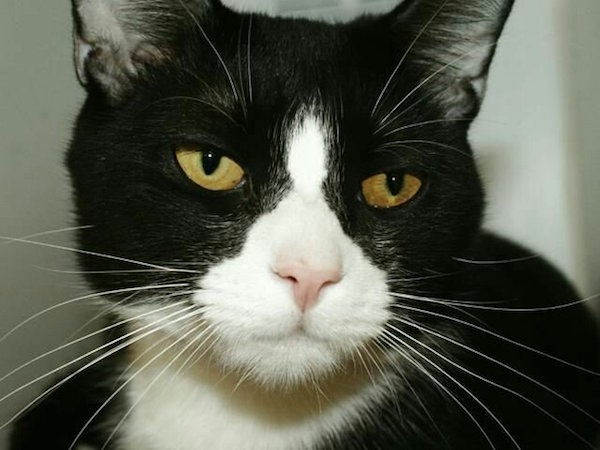 See yesterday's Links and Antidote du Jour here.