By Lambert Strether of Corrente.
First, a word on the headline: It's inspired by Eliot A. Cohen and John Gooch's wonderful Military Misfortunes: The Anatomy of Failure in War. The authors begin their account of "defeats and disasters on the field of battle" by discussing methodology: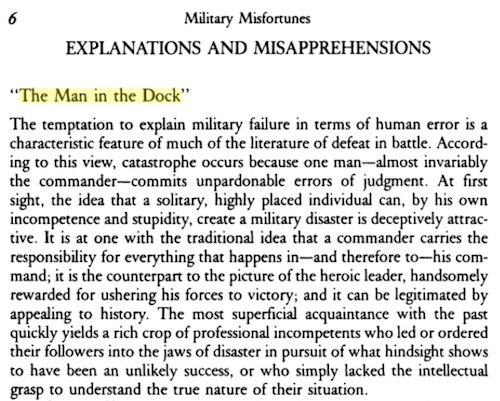 For example, the "man in the dock" at Pearl Harbor might be Rear Admiral Husband Kimmel; and the man in the dock for a hot take on the debacle of the Clinton campaign might be Robbie Mook, or Jill Stein, or Vladimir Putin, or even [genuflects] Clinton herself. Or the "man in the dock" might be collective: #BernieBros, or white working class racists. However, failure in war, like failure in politics, follows complex, cascading pathways with multiple points of failure, for which Cohen and Gooch have devised a clever representational technique that I shall apply in part two (that is, not today, but tomorrow). Today, I'll put forward two narrative approaches that I strongly believe are inferior to Military Misfortune's approach: The Poll-Driven "Horserace" narrative, and the Electoral College narrative. Both narratives will be useful to fix the sequence of events of campaign 2016 in your mind, in case you have forgotten or repressed them, but as the election results showed, and as I shall show in part two, they lack explanatory power. (Obviously, giving an account of why the Clinton campaign lost is challenging, time presses, and I might not be up to my usual standards on linky goodness. So please correct me where I go wrong, and, if you will, supply any lacunae.)
The Poll-Driven "Horse Race" Narrative
Rather than go deep into the weeds on timelines[1], I'm going to construct a narrative of inflection points based on the Los Angeles Times "Daybreak" poll, the one poll that (more or less) "got it right," in that it predicted a Trump victory. (As it turns out, the Daybreak poll over-sampled rural voters, a technical failing that serendipitously matched increased 2016 rural voter turnout, as we show in part two. O felix culpa!) Then I'll look for those same inflection points at the Huffington Post, Nate Silver, and Real Clear Politics. Here is the Daybreak poll: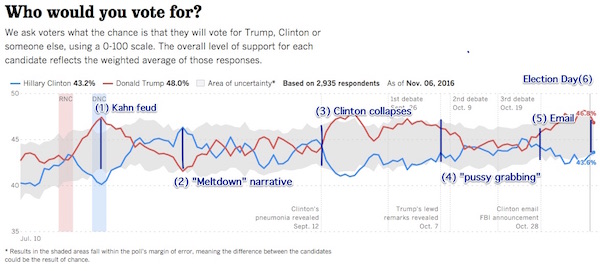 Two points on the "horse race" as a whole: First, It's obvious that Clinton (blue) could never quite pull away from Trump (red). Every time Clinton took a lead, she'd lose it. Second, Clinton's lead (or, for that matter, Trump's) was within the margin of error the whole time. Until Trump won by a nose. Now, to the inflection points:
(1) The Kahn Feud: I suppose I can't say that the Clinton campaign used Khizr Khan's son, Humayun, killed in the war she voted for, as a prop at the Democratic National Convention, because the elder Khan consented to be so used. Trump wasn't happy about it, expressed himself, but more to the point, couldn't let the "issue" drop, which voters (presumably) saw as unbecoming and perhaps even disqualifying in a President. So Trump's numbers went down, and Clinton's went up.
(2) "Meltdown" narrative: Trump reaches a trough, and there are a number of stories about the "meltdown" of his campaign (most of them using that word, as if they got it from somewhere). Bannon was hired at this time, and coincidentally or not, that arrests Trump's decline, and the numbers stay choppy and flat.
(3) Clinton Collapses: Clinton faints at a 9/11 memorial and has to be hauled into her van, days after calling half Trump's supporters a "basket of deplorables. Her numbers fall. Trump's rise.
(4) "Pussy Grabbing" : Access Hollywood leaks a Trump "hot mike" tape with Billy Bush where Trump boasts he grabs women "by the pussy" [2]. Trump's numbers wilt; Clinton's swell.
(5) Email: Hero of the Republic Russian stooge FBI Director James Comey, produces an October Surprise: He's looking into Clinton email again (actually, mail that Clinton confidante Huma Abedin sent to her odd husband, Anthony Weiner, that might have included sensitive mail from Clinton's account). The story broke just before the election, and may (or may not) have affected the outcome by reinforcing voter's priors about Clinton.
(6) Election Day: Trump wins. (Daybreak got the outcome right.)
Surely a coherent narrative at least? Well, maybe. Let's lay it against another series, this one from Nate Silver: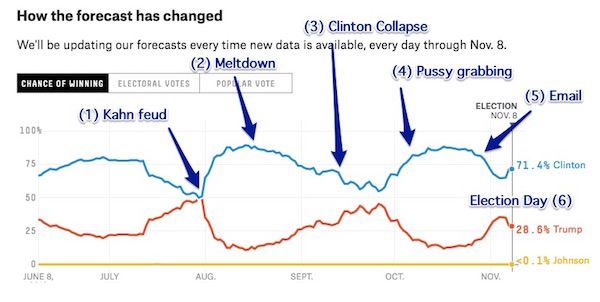 (I used Silver's "Chance of Winning" series, basically because the curves were bigger! That "within the margin of error" thing seems to have made Silver's other curves too flat. Scientific, I know!) Some differences:
(2) "Meltdown" narrative: This doesn't seem to have affected either candidate's chances of winning at all; in fact, the post-Bannon choppiness isn't there.
(3) Clinton Collapses: The swing is much smaller.
(4) "Pussy Grabbing" : Clinton's upswing before the story breaks is much smaller.
(6) Election Day: Clinton wins. (Silver got the outcome wrong.)
Now let's look at a third series, from Real Clear Politics (a poll of polls):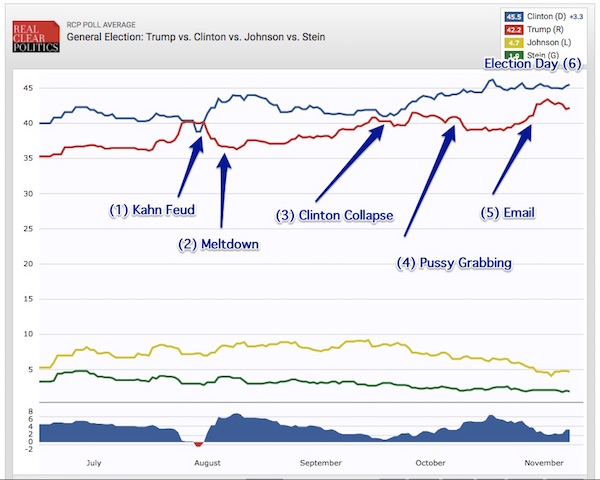 Some differences:
(3) Clinton Collapses: There is virtually no effect, by comparison to (2) the Kahn Feud or (3) the Meltdown phase.
(6) Election Day: Clinton wins. (RCP got the outcome wrong.)
Finally, let's look at a fourth series, from HuffPo. (The general election is to the right, but I wanted to save the proportions by not cropping the chart.)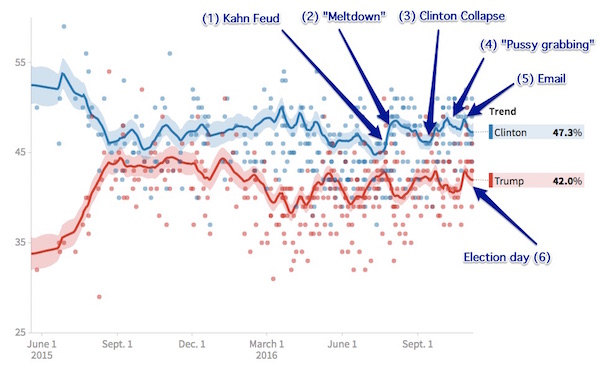 Some differences:
(3) Clinton Collapses: Clinton's numbers go up.
(4) "Pussy Grabbing" : Clinton's numbers go down.
(6) Election Day: Clinton wins. (HuffPo got the outcome wrong.)
My point in comparing these narratives is not to say that "Better methodology is needed"; in fact, the Daybreak poll achieved its (more) correct results to due methodology failure. Rather, my point is that three similar "Horse Race" narratives — each of them coherent — nevertheless have serious differences in detail at their inflection points. (The fourth, HuffPo, really does seem to be an outlier). The only consistent inflection point is, in fact, the post-Democratic National Convention Kahn Feud. RCP doesn't include the Clinton collapse; Silver doesn't include the Meltdown. The horse race narratives, then, are just that: Narratives. They are interesting, perhaps even revealing moral tales, but they aren't in any sense scientific, let alone predictive. And yet vast digital reams are consumed doing, day after day, what I just did in short form, above. Anybody who is paid a lot of money to write or opine on polls shouldn't be; you or I could tell each other the same stories. In fact, we do!
Finally, all but the Daybreak poll got the outcome wrong. Of course — and I would like any Clinton supporters reading this post to follow me closely here — winning the popular vote isn't the same as winning the Presidency. It takes the Electoral College to do that, to which we now turn.
The Electoral College Narrative
I'm going to do a little happy dance here, because I had the luck or skill to take a more appropriate methodological approach. (Not that I didn't write plenty of horse race material; I did. It's fun, especially for a humanities major. "What is government itself," Madison asks, "but the greatest of all reflections on human nature?") The New York Times had a useful interactive, "The 1,024 Ways Clinton or Trump Can Win the Election", that shows the "paths to victory" in interactive, tree form. Here's what I wrote based on gaming out the paths to victory based on state polls, and what I read in the papers:
Using the Times interactive, if we simply plug in the values from Polling Margin column, Clinton wins decisively, after picking up OH, FL, and WI.

However, if we assume that the SoS's control of the electoral machinery could give Trump the win in low margin states*, then we initially give Trump OH, NV, and FL, after which the Times interactive shows that Clinton has only 17 paths to victory, and Trump 45. We give WI to Trump, despite the polls, because of Scott Walker, [the significant Republican voter suppression effort, and] the Republican A.G. At that point, Trump can win with PA. Na ga happen; we give PA to Clinton. NC becomes decisive. NC has a Democrat SoS, but there is also an active Republican voter suppression effort going on in that state. If Trump wins NC, he wins.

Of course, this is just light-hearted punditry, and not serious analysis. Nevertheless, it's still a horse-race. If Trump, against all the odds-making of the political class, eats into Clinton's lead in the coming week, it's even more of a horse race. (I also don't mean to imply that Democrats wouldn't use their own institutional advantages, as the Clinton campaign/DNC did in the primaries, but from the margins in the states the Democrats are winning with Democrat SoS's, they won't need to, NC being the exception).
Unfortunately for Trump, there's no path to victory for him for now, based on the above polls (assuming he defines victory as winning the Presidency). In a close race, the party Establishment might help him steal the election (that's what the Secretary of State and Attorney General columns are for) but even assuming the Establishment wanted to, it might not be close enough.
Assume Trump wins Ohio and Iowa. Trump (in the Times interactive) has 117 ways to win; Clinton, 136. Clinton's largest leads are Colorado and Virgina (both 8.0%). Give those to Clinton. Clinton now has 46 ways to win; Trump 18. Let's assume Trump pulls off a miracle in Florida: Clinton 15; Trump 16. Give Clinton Pennsylvania because of women 10%ers in the Philly burbs. If Trump wins North Carolina, Wisconsin, and Nevada or New Hampshire, Trump wins. Na ga happen. Even assuming Walker and the Republicans mastermind the mother of election thefts in Wisconsin — and it's not like they wouldn't — Trump still has to win North Carolina and Nevada. And even assuming the North Carolina Republicans mastermind the mother of election thefts in North Carolina — and it's not like they wouldn't — Trump still has to win Nevada. Hi, Harry! [waves].
Erosion for Clinton across the board. Again, remarkable (and Friday's Weiner/Abedin email bombshell cannot have worked its way through the electorate yet (nor whatever garbage dumps of oppo are yet to come). Let's see if Trump flipping Florida provides him with an easier path to victory (and I bet it does). To the Times interactive once again:

Remember the interactive focuses on swing states, listed in the table above. We give Trump Ohio, Florida, and Iowa. Clinton has 26 paths to victory; Trump has 99 (!). We give Clinton (neo-con infested) Virginia, and Pennsylvania (ladies who lunch in MontCo, DelCo, Chester, and Bucks). Clinton now has 18 paths; Trump 11, and all paths lead through North Carolina. We look at the table, note Clinton's lead, and note that Democrats control both the Secretary of State and Attorney General in North Carolina, and assume that will nullify Republican voter suppression efforts, and award the state to Clinton. If Clinton wins Wisconson (up by 5.7, though dropping) she wins. If Trump wins Wisconsin (and Scott Walker and the Republican Attorney General can get past the Democrat Secretary of State in case of any irregularities) he needs to win Colorado to win. Na ga happen. Still, his chances are better than they were last week!
Still very much a horse-race; Clinton flipped Florida (though by a tiny amount); but Trump flipped Nevada and North Carolina. (All this data is averaged over the 10/26 – 11/6 time frame, and I can't imagine they capture late shifts in any direction.) To the Times interactive once again:

Remember the interactive focuses on swing states, listed in the table above. We give Trump every state where he is ahead: Ohio, North Carolina, Nevada (!), Iowa. Trump has 44 paths to victory; Clinton, 19. We reserve Florida and New Hampshire, because Clinton's margin in both states is razor thin, and give her Virgina, Pennsylvania, Wisconson, and Colorado: So even if Trump wins Florida, he has to win New Hampshire, too. . And to think all this campaign had to do was gag him and take away the Android phone he was tweeting from. The slightest bit of self-discipline on Trump's part, and . Shows her extreme weakness as a candidate, and the decadence of the Democrat nomenklatura that forced her nomination through, not to mention the decadence of the political class, which can't seem to get approximately half the electorate to accept their view that Trump is history's worst monster, despite extraordinary unity of purpose and a deluge of propaganda. Prediction: This election will resolve nothing, and volatility will increase.
This is the happy dance part: I don't know of many other analysts who said "Hoo boy" the day before the election, and said that Clinton was in "the race of her life." Certainly not mainstream ones! (Just so my head doesn't swell so much I can't get it through the door on my way out: Obviously, I got it wrong on Pennsylvania suburban women, and in other places.)
However, I would urge that the style of narrative is superior to a poll-driven narrative, for the following reasons:
(1) A focus on states is a focus on "what it takes" to actually win the election. Which is the whole point, no?
(2) A focus on states is a focus on voters in their social context, as opposed to voters on the phone answering questions[3].
(3) A focus on states is a focus on what the campaigns are actually doing on the ground; in a perfect world with a level of effort, we could try reverse engineering a campaign's internal polling and algorithms from their behavior.
Conclusion
Tomorrow I'll use Cohen and Gooch's representational technique to flesh out the intuitions provided by the "Electoral College" narrative style. Spoiler alert: Clinton didn't lose because of white working class racists.
NOTES
[1] There have been a number of timelines created for election 2016:, AOL, the Guardian, NPR, Reuters, Scholastic, UpGruv, the Wall Street Journal, Wikipedia.
[2] I've never understand why the Clinton campaign had to go with a "hot mike" tape in September when there are probably miles of tape of Trump saying identical things on the Howard Stern Show that could have been played in, say, January. I guess it was the "Pied Piper" theory, where Clinton wanted Trump as her opponent.
[3] And possibly lying. Real Clear Politics:
In an exhaustive YouGov poll of some 5,000 voters, Clinton held a consistent, if narrow, lead in the national numbers. A large cohort of respondents consistently wouldn't choose a candidate, however, saying they couldn't abide either one. When pressed, just as many said they'd vote for Clinton as Trump, but this didn't quite turn out to be true. A majority of those who told exit pollsters they disliked both candidates ended up picking Trump. Call it the hold-your-nose-and-vote mandate. Could 2016 have ended any other way?