Vanity Fair has never been shy about its fealty to people with money and power, including Mike Milken, Blackrock's Larry Fink, Theranos founder Elizabeth Holmes, and Democratic Party elites.
One of the magazine's better-known writers, James Wolcott, is so unhinged at how a Trump presidency has upended the natural order that he savaged an eclectic group of writers, movie celebrities, and public figures that he regards as insufficiently hostile to Trump. He included Naked Capitalism in his hit list.
As far I can can tell, Wolcott's targets share one characteristic: They are known for doing high quality work. That, and they refuse to buy into the proposition that having the losing factions in a Presidential election – including the "intelligence community" – engineer a soft coup against the winning candidate is a consummation devoutly to be wished.
We don't share his enthusiasm because we've contemplated what rule by President Pence or military/surveillance community coup-meisters would amount to. Yet Wolcott explicitly advocates turfing Trump out by non-political means: "Go, State, go."
Wolcott doesn't seem to think much of his readers' discernment. Is he casting them a "See Spot Run" or World Wide Wrestling fans? Plus he has gone out of his way to features Hollywood names prominently in a political story, apparently to cater to what he sees as a low information following.
Wolcott's screed has such a high noise-to-signal ratio that he offers little concrete criticism. In fact, it's both sad and revealing when a writer esteemed for his phrase-making descends into incoherent blather that we are supposed to regard as incisive because there are a lot of big words in there. It's the rhetorical equivalent of the naked Emperor not realizing that the sight of his bouncing bum isn't very enticing.
Nevertheless, one can discern that Wolcott is upset because he thinks those who invoke hoary ideas like Constitutional norms are just hiding their status as "dude-bros… fun guys," meaning what really motivates them is sexist antipathy to Clinton. In the World According to Democratic Loyalists, there's no such thing as not liking Clinton for her policy positions, for instance, favoring the TPP, refusing to recant her "superpredators" slur of young black men, her Philippines-level casualness about where to draw the line between personal enrichment and public business, or her warmongering. Wanting to bring American politics up to the level of, say, Italy is just too much to ask.
And Wolcott is apparently unable to see the contradiction in classifying Eileen Jones of Jacobin, Jill Stein, and Susan Sarandon as "dude-bros." Evidently "derision of liberal Hollywood pieties" is enough to earn you honorary testosterone points.
Throw Stuff in a Pot and Call It Soup
Wolcott's targets fall into two groups. The first includes Glenn Greenwald, Truthdig, Mark Ames, Consortiumnews, and your humble bloggers. Some of us had the honor of appearing on the PropOrNot List as well, along with a seemingly random assemblage that also included Ron Paul's website, the Drudge Report, ZeroHedge, Natural News, Paul Craig Roberts, and about 200 others. Wolcott has done a passable job of staying more focused – as much as half of his list consists of critics of liberalism, defined by Thomas Frank as identity politics covering for economic policies that favor affluent professionals and increase income inequality. The members of the first group provide extensive, informationally dense posts on a wide variety of subjects. Wolcott accordingly has nothing concrete to say about them.
Wolcott's second group is unserious targets. They are designated villians, chosen so he can attack them personally. In a classic guilt by association approach, slinging mud on this bunch serves to dirty up the serious skeptics.
His bad guys include individuals like Oliver Stone, Mickey Kaus, and Susan Sarandon who have almost no connection with the first group, plus ones who are respected by some writers in the first group but have little influence on their ideas (Tulsi Gabbard, Jill Stein, Dennis Kucinich, Cornel West). Lest his readers become alarmed by a discussion of issues, Wolcott cherry-picks the Eileen Jones post in Jacobin about Meryl Streep as if it epitomizes…. something, presumably what all the named parties really stand for if you got a few too many drinks into them.1
In fact, Wolcott's essay consists largely of "snarkish" remarks of the very sort he derides at the top of his piece. They are aimed at the individuals mentioned in the last paragraph, alternating with formulaic invective aimed at right-wingers. @KateAronoff captures his technique….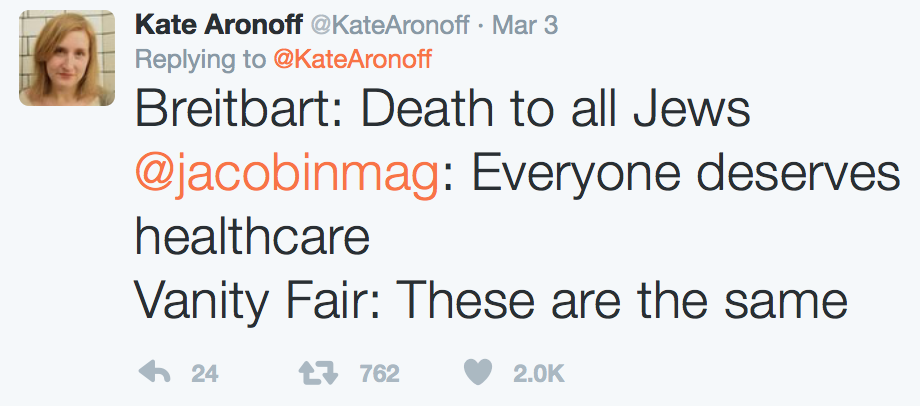 …except Wolcott is more dishonest than that. He has no interest in presenting what any of the objects of his ire said or did. A Vanity Fair reader would have no clue that Jacobin, Naked Capitalism, and Truthdig agree generally on the need for more economic justice yet often differ on how to go about it. The only relevant issue, per him, is that we don't regard toppling Trump as being of paramount importance.
And while Wolcott throws Susan Sarandon a link (perhaps due to Vanity Fair deference to Hollywood agents) along with Eileen Jones, presumably because Vanity Fair readers would find it hard to believe that anyone would really say bad things about the sainted Streep, he fails to link to any of the sites or individual writers he browbeats. Perhaps it's because his audience might fall into our oh so "powerful reality distortion field"? Apparently Wolcott has such a dim view of his readers' critical thinking skills that he doesn't dare encourage them to make their own assessment.
Wolcott's Orthodoxy Policing
Wolcott makes no bones about engaging in doctrinal enforcement. His targets are "apostates" who "foster factionalism."
Gee, what about democracy don't you understand? It's the job of politicians to win votes, not of citizens to be slavish followers.
But Wolcott's version of a healthy polis is devoid of ideas or of leaders focused on the betterment of citizens. He's recycling the failed Democratic party strategy of "promise little and hope you can get away with less" that led to yet more losses at all levels of government in 2016. Wolcott acts as if his "more cowbell" tactic of vigorous enforcement by a rump of hard core Democratic establishmentarians will change electoral outcomes. He uses "noble" and "quixotic" as epithets. Critiques are "caterwauling" due to "disillusionment" after hoping for too much too quickly. Those who refuse to buy in are to be vilified some more. And when that fails, they will be ostracized as "fringe" and "anomalous."
Similarly, Wolcott sees no inconsistency in depicting Democratic party refusniks as having a romance with revolution that might lead to violence and dictatorship, when it is his allies that are obsessed with #Resistance, punching fascists, and fantasizing about coups.
There is No "Alternative"
Even though Wolcott's article is a festering mass of overheated blather, most readers don't get past the headline and subhead. Wolcott can therefore hope that his use of "alt" will tarnish leftie critics of Team Dem.
Yet the very existence of this piece is a sign of desperation in the Acela corridor. It's one thing for a bunch of amateurish opportunists like PropOrNot who were openly looking to get their noses into the military-surveillance feeding trough to go after a hodgepodge of independent sites. For them, that was still punching up. Wolcott is punching down, way down, in terms of power relations, to go after the likes of ConsortiumNews and Naked Capitalism.
In other words, Democrat operatives remain unwilling to do a proper post mortem and figure out what they did wrong, yet on some level they know that their list of preferred scapegoats isn't adequate as an explanation for their colossal meltdown over the past ten years. Hence the need to intensify the demonization of the "other," which is no longer just the deplorables in the flyover states, evil Rooskies, and those fifth columnists, the Sanders voters. No, it's anything "alternative," anything non-orthodox.
But they can't take the NewSpeak as far as they'd like. For older techies and Netizens, "alt" groups were the epitome of cool, unfettered days of the Internet. Similarly, "alternative" once referred to a experimental rock bands. Then "alternative rock" went mainstream while managing to maintain a veneer of hip-ness. Similarly, many of these same Good Liberals use alternative medicine. Yet here we are, with Wolcott and his fellow propagandists trying to repurpose "alternative" into something unspeakable and terrifying.
What is the immediate purpose of Wolcott's cack-handed effort, aptly skewered in Kate Aronoff's tweet, of a false equivalence between the strident, shock-jock right and anyone else who is not a card-carrying member of Team Dem, by slapping the label "alternative" on both?
Who would want to convince people that anyone who is not left-liberal and who is alienated from the Republican Party is unwholesome and should be shunned?
Well, it's pretty obvious. Anyone, "left" or "right" who wants to prevent the economically disaffected from talking to each other in spite of tribal signifiers. The Democrats have decided they will continue to ignore them and therefore you must too.
___
1 To be clear, I like the Eileen Jones piece and am a big fan of well-done righteous indignation, which has a proud tradition going back to Christ's cleansing of the temple of Jerusalem of money-lenders.
Robert Fitch neatly depicted how the Democratic party pretense that everyone just needs to get along stymies parties with demands. From a must-read speech at the Harlem Tenants Association a mere ten days after Obama's 2008 election, Exclusive: How Obama's Early Career Success Was Built on Fronting for Chicago Real Estate and Finance:
The haves and the have-nots have different and opposing interests—landlords want to get rid of rent stabilization; tenants have an interest in keeping it. Workers want to save their jobs; bosses want to save their capital, which means cutting workers. In pursuing their opposing interests, the have-nots are forced take up the weapons of the weak— demonstrations, direct action; filling the jails with conscientious objectors; taking personal risks. Who benefits when one side gives up without a struggle? The Haves or the Have nots? Frederick Douglass reminds us: "Power concedes nothing without a demand. It never did. It never will."

When the Third Way advocates insist that we share a common good; when they refuse to recognize that the interests of the oppressed and the interests of the oppressors don't exist on the same moral plane; when they counsel us to stop being partisans of those interests—they're not being non or post partisan; they're siding with the powers that be.
In other words, insisting on polite norms of elite discourse makes it impossible to depict abuse and exploitation and name names without implicating members of the club. Can't have that, now can we?