The Wall Street Journal published an important story on how states and communities throw money at companies via tax incentives and other gimmies in a desperate effort to win or hold jobs. These subsidies are a big drain on government budgets:
Economic-development tax incentives more than tripled over the past 25 years, offsetting about 30% of the taxes the companies receiving incentives would have otherwise paid in 2015, compared with about 9% offset in 1990, according to an analysis of incentives covering more than 90% of the U.S. economy.

By 2015, the total annual cost of these incentives was $45 billion, according to the analysis, by Timothy Bartik, a senior economist at the W.E. Upjohn Institute for Employment Research in Kalamazoo, Mich. The study looked at 47 cities in 32 states plus the District of Columbia.
Bear in mind these incentives drain budgets. Even though property tax rebates are only the second largest incentive, and property taxes are the foundation of school budgets, it's hard to imagine that the biggest items listed below, "job creation tax incentives," does not also come substantially from property tax revenues.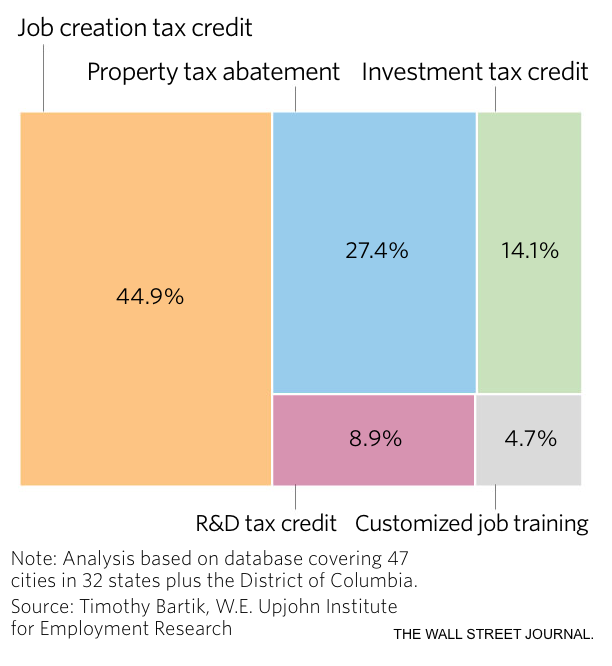 Yet one of the complaints of American employers is that prospective worker are weak in basic capabilities like reading, writing, and mathematics. While this is often the result of companies getting what they pay for, that is, if you offer rock bottom wages you should expect only minimally skilled workers to respond, clearly another factor is the ongoing starvation of public school budgets.1
Moreover, the $45 billion is almost certainly low because it excluded some types of incentives, like city income tax rebates. And of course these expenditures aren't equally distributed. Areas of the country that are seeing an influx of people, due to weather, proximity to universities, or a spurt for area businesses (think North Dakota in the oil boom years) aren't as aggressive as throwing dollars at prospective employers, since the competition can become so fierce that the city doesn't come out ahead on a net basis. As author Ruth Simon points out:
Critics say tax incentives do little to spur job creation or economic growth. Most incentives are "redundant," meaning, "they have no impact on behavior," said Nathan Jensen, a professor of government at the University of Texas, Austin, who compared job creation numbers for firms in four states that received tax incentives to similar firms that didn't receive the benefits.

The Florida House of Representatives this month approved legislation to eliminate the state's main provider of tax incentives and other development assistance. Florida has attractions such as a good climate and no income tax, said Paul Renner, a Republican who sponsored the bill, and would be better off focusing on other forms of economic development, such as education and infrastructure.
If you read closely, consultants are an important source of information for the article. It should come as no surprise that government bodies hire outside help to try to structure and pitch their "Come hither" schemes. But the consultants have every incentive to encourage the idea that winning one of these contests is a good idea.
One correspondent, who sits on the city planning commission of a small shrinking rust belt town that lost the smaller of the two manufacturing plants that had been its main employers, has remarked over the years how his town has over time paid a hefty amount in fees to consultants trying to give them a path out of their predicament. In their case, the big beneficiaries have been development experts. This town does have some assets: it's on one of the Great Lakes and so could be a waterfront play. But the flip side is that some of the best area is tied up in unsightly ore docks, and the contract to the dock operator would prohibitively expensive to exit or to pay him to relocate a mile or two away. Another impediment is that unless you are outdoorsy, say a sailor, hunter, or hiker, there's not a lot happening in the area.
Yet the town has hired a series of experts, and they all come up with variants of the same idea: high end condo development targeting upper middle income buyers. This is even less likely to get off the ground there than elsewhere since a university town with much better amenities 60 miles away already has gone down that path. He's suggested other ideas to help rebuild the town that would be lower cost and could attract more tourists, such as an aquarium (there are none within 500 miles), but the consultants are all wedded to their pet models and don't even seem equipped to consider ideas that aren't based on subsidizing speculative residential development.
The article includes the efforts of number of Midwestern cities, such as St. Louis, which is becoming more stringent about its programs, versus ones that are more desperate, like Lansing, Michigan, and Elyria, Ohio, whose mayors believe they have to offer whatever it takes as a matter of survival.
Having said that, some approaches are more clever than others. For instance, while Elyria, which is near Cleveland, has employed standard approaches like tax breaks and real estate assemblages that might appeal to manufacturers, has tried to create jobs more directly:
The city's Lorain County Community College operates a startup incubator with the help of state and county funding. Over the past decade, the incubator's startups have created more than 1,200 jobs, mostly in biotech and software, said Cliff Reynolds, co-director of the program. But only about a third of those jobs have remained in Elyria, he estimated. Often ventures move to nearby Cuyahoga County to get closer to programming talent and funding in the Cleveland area, he said.
And the other incentive programs haven't halted manufacturer exits:
The latest blow to Elyria's manufacturing base came in November, when 3M Co. announced it would close a plant that employs 150 to make cellulose block used in sponge production. The company, which says it wants to get out of the cellulose block business, plans to shift the work to a larger and more efficient plant in western New York where the product is also made, a company spokeswoman said.

Bendix Commercial Vehicle Systems LLC, a supplier of safety and braking systems for commercial vehicles that had been headquartered in Elyria since 1941, in 2015 turned down an offer worth as much as $17 million to stay. It is moving its headquarters and roughly 460 jobs to a new site 10 miles away in Avon, Ohio, also in Lorain County.
Ten miles isn't much of a commute, so Elyria might not wind up suffering that much. But a vacant plant is a powerful image of a community in decline. Mind you, this is only a small slice of the approaches the city has tried, and the article discusses recent and current negotiations, including another loss:
Riddell, a unit of BRG Sports Inc., determined it needed more space in early 2015 and started exploring location options. It liked Elyria, but "the geometry and size of that lot could not accommodate our plans," said Allison Boersma, BRG and Riddell's chief operating officer. Parking space was also a problem.

The company hired a site selection firm that brought in Incentis to consult on tax incentives. Riddell looked at 17 sites in Ohio, plus options in Illinois and Texas, weighing 30 criteria including access to and visibility from the interstate, quick movement on permits, services such as roads, sewage and electric, and the possibility of future expansion. It also said it valued moving quickly into a new facility and retaining its existing workforce.

Ms. Brinda, Elyria's mayor, said Riddell's decision to hire a site selection firm was a red flag, because it meant the company was seriously considering other options. In November 2015, Elyria offered Riddell the best alternate locations it could find, including one that straddled the Elyria-North Ridgeville line. The mayor said she also asked county officials for assistance.

The deal, the city said, would reduce the costs of expanding the existing facility or building a new one by as much as 50%.

In the meantime, Riddell's representatives had approached North Ridgeville about a company "engaged in light manufacturing," without naming the company, according to North Ridgeville's mayor, G. David Gillock. "They asked what incentives could we put on the table," he said.

The community had an undeveloped site that could be built to company specifications and offered up to $7 million in tax incentives.

Ms. Boersma said the company saw it as the best option, and Riddell will make the move across the railroad tracks to the new site next month. Riddell said it is adding about 50 new positions, which will increase its workforce by roughly 15%….

"If we had said we don't have any incentives, but we have a low income-tax rate and we would love to have you, they would not be here," said North Ridgeville's Mr. Gillock. "If you don't have something on the table, you are going to lose."
The point the article fails to make is that the ability of companies to play towns off against one another is yet another proof of inadequate demand in the economy. If labor markets were tight, employers would need to be more attentive to workers, and that alone would create incentives for them to expand in place rather than look for places where the need to retain or generate jobs gives them the upper hand.
Yet the Fed raising rates, based on its claim on its view some signs of life in the labor market means the economy needs cooling off. In reality, the big driver of the central bank's eagerness to tighten is super-low rates are a failed experiment and banks, who first benefitted enormously but are now suffering a hangover, are pushing the Fed for higher interest rates. But the odds are that we are in "two wrongs don't make a right" category. The US needs more deficit spending but the Fed and mainstream economists continue to double down on the failed orthodoxy that created this mess. Just as using interest rates to goose asset prices prevented debt restructuring, produced only a spotty recovery, and by increasing inequality, helped usher in Trump and with him, political instability, so to will increasing interest rates for the wrong reasons do more harm than good.
____
1 International studies show a high correlation between how countries rank in skill measures of public school students and the pay and status level of teachers.