By Jerri-Lynn Scofield, who has worked as a securities lawyer and a derivatives trader. She now spends most of her time in Asia and is currently researching a book about textile artisans. She also writes regularly about legal, political economy, and regulatory topics for various consulting clients and publications, as well as scribbles occasional travel pieces for The National.
Despite all the media sound and fury lamenting the chaos engulfing the new administration, one area in which Trump certainly delivers when he has the authority: making good on his campaign promises.
Today, as expected, Undersecretary of State for Political Affairs Thomas A. Shannon issued a presidential permit authorizing TransCanada to construct, connect, operate, and maintain pipeline facilities at the U.S.-Canadian border in Phillips County, Montana for the importation of crude oil:
In making his determination that issuance of this permit would serve the national interest, the Under Secretary considered a range of factors, including but not limited to foreign policy; energy security; environmental, cultural, and economic impacts; and compliance with applicable law and policy.
The project is more popularly known as the Keystone XL pipeline and would transport about 800,000 barrels of heavy crude per day from oil sands located in the Canadian province of Alberta to Nebraska, before linking to a pipeline system that leads into an existing network of refineries and export terminals along the Gulf of Mexico.
Trump announced the permit at a White House event attended by TransCanada's CEO, Russell Girling; Sean McGarvey, the president of North America's Building Trades Unions; various cabinet members; and other administration officials.
Route of Pipeline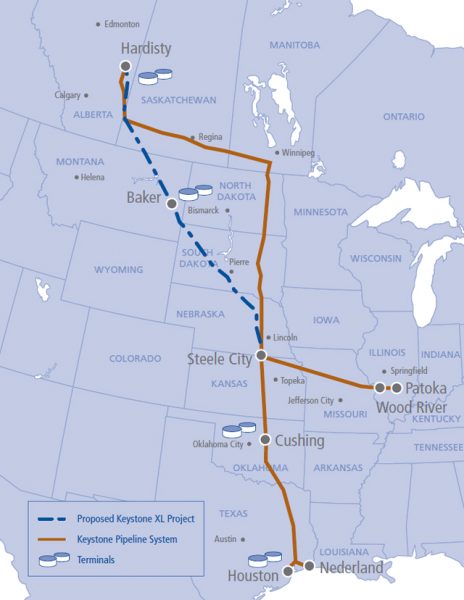 Reversal of 2015 Decision
Today's decision to approve the pipeline reverses a 2015 decision to scupper the project. That earlier decision was made over concerns that to do otherwise would undercut the apparent US leadership role in efforts to fight climate change, as reported in 2015 by The New York Times in Citing Climate Change, Obama Rejects Construction of Keystone XL Oil Pipeline:
"America is now a global leader when it comes to taking serious action to fight climate change," Mr. Obama said in remarks from the White House. "And, frankly, approving this project would have undercut that global leadership."
Despite those ostensible concerns, the previous administration allowed major expansion of US fossil fuel production via fracking (and withheld a key report on environmental consequences until well into lame-duck status, as I described in this December 2016  post, EPA Concludes: Fracking Harms Drinking Water).
The Trump administration, however, has abandoned even the pretense of concern over climate change.
Hurdles Ahead
Environmentalists have vowed to fight the project, with Greenpeace saying it would pressure banks to deny financing, according to a Reuters report, Trump greenlights Keystone XL pipeline, but other obstacles loom.
Inevitable lawsuits also lie ahead. Per Reuters:
Since Obama had nixed the pipeline based on an environmental assessment commissioned by the State Department in early 2014, opponents will likely argue in court that Trump can't reverse the decision without conducting a new assessment.

Fred Jauss, partner at the international law firm Dorsey & Whitney and a former attorney with the Federal Energy Regulatory Commission, said local permitting would also be a challenge.

"The Presidential Permit is only one part of a web of federal, state, and local permits that must be obtained prior to starting construction," he said. "Other federal agencies, such as the Army Corps of Engineers, state regulatory commissions, and even local planning boards may have requirements that need to be fulfilled by Keystone prior to construction."

"In addition, TransCanada may still need to reach deals with hundreds of potentially affected landowners on the pipeline's route. There is a lot of work ahead for TransCanada."
The Nebraska Public Service Commission has yet to approve pipeline construction and  has promised a final decision by September 14, while Montana and South Dakota have already approved the pipeline, according to the Financial Times, in a piece headlined Trump approves Keystone XL oil pipeline.
Opposition from Native American groups is also expected. These groups succeeded in temporarily halting the Dakota Access pipeline via an effective protest strategy– although Trump has reversed that apparent victory. It is not clear how effective future protests would be faced with an administration that does not have to worry about alienating its base if it takes vigorous efforts to allow construction to proceed.
Creating US Jobs and Stimulating US Steel Production?
McGarvey's presence at the signing ceremony evidences union support for the project– but the number of jobs the project might produce in the United States looks unlikely to reach the 28,000 claimed by Trump, as reported by Reuters. A 2014 State Department study instead predicted Keystone XL would create a mere 3,900 construction jobs (with an even more paltry 35 permanent jobs).
Although in January Trump issued a Presidential Memorandum Regarding Construction of American Pipelines that "use materials and equipment produced in the United States"– meaning steel– the White House has subsequently conceded that Keystone XL is exempt from that pledge, which would only apply to new pipelines or those being repaired, as the the Wall Street Journal reported in Keystone Pipeline Won't Have to Use U.S. Steel Despite Trump Pledge. The Financial Times further reports that most of the necessary pipe was purchased years ago. The Arkansas operations of India's Welspun would supply about half the necessary total pipe–and this figure includes an already-constructed US section– while the remainder would come from Canada, Italy and India.
Oil Price Wildcard?
One possible wild card is if weak oil prices cause TransCanada to reconsider the Keystone XL project. But at this point, as The New York Times reports in U.S., in Reversal, Issues Permit for Keystone Oil Pipeline, that looks unlikely:
In addition, interest among many oil companies in the oil sands is waning amid sluggish oil prices. Extraction from the oil sands, situated in the sub-Arctic boreal forest, is expensive. Statoil and Total, two European energy giants, have abandoned their production projects. In recent weeks, Royal Dutch Shell agreed to sell most of its oil sands assets for $8.5 billion. And Exxon Mobil wrote down 3.5 billion barrels of reserves, conceding the oil sands were not economically attractive enough to develop for the next few years at least.

Nevertheless, Canadian production continues to grow as projects that were conceived when prices were higher begin to operate. And the Keystone effort is central to the future of TransCanada, the pipeline builder and a major force in the Canadian oil patch.
Bottom Line
Although the Keystone XL project us still far from completion, today's announcement allows the project to proceed, and to fulfill yet another Trump campaign pledge.