By Lambert Strether of Corrente
Readers, this is another travel day for me, and so I'm posting a bit early, hence no statistics, although plenty of other business news. But there's plenty happening, and if these topics don't do it for you, talk amongst yourselves! –lambert
Trade
"Is globalisation dead?" [Ann Pettifor, Prime]. "[C]ontrary to Hayek's expectations, financial globalisation has proved that it is market fundamentalism, and not the regulatory state that is leading the world into an era of authoritarianism and totalitarianism – in the US, Eastern Europe, India and China. In the UK, average real wages are today lower than in 2008, no higher than they were in 2005, and in general we have to look back to Victorian times for such a stark period of stagnation. In the US, the position has been even more severe for huge numbers of working people. Median annual earnings in the Bretton Woods period rose steadily until just after 1970. Then throughout the age of 'globalisation' or financial deregulation, American male real wages have stagnated. This, I contend, explains the rise of Donald Trump. It is an explanation, not a defence of his authoritarianism or of his administration's irrational protectionism."
Politics
Syraqistan
G-a-a-a-a-a-a-h:

.@SenSanders: "Yes, we have to get rid of Assad…But we cannot do it unilaterally." #MTP pic.twitter.com/Vg5EZQNwSt

— Meet the Press (@MeetThePress) April 9, 2017

Sanders has never been good on foreign policy, and I don't think this is good (although, to be fair, the war fever in the Beltway is just as crazypants as it was before Iraq; I mean, Democrats rehabilitated George W. Bush! So I can see Sanders getting caught up in the madness, and wishing to appear responsible). That said, this is a "self-own" by Sanders for two reasons: (1) It muddies the clarity of his message on voting against the Iraq War. Now he's lying down with the Clintonite/neocon dogs of war, and he's sure to get up with fleas. (2) There are Trump voters who are rightly very angry at Trump for flip-flopping on Syria, and I'm guessing some of them would be reachable with a hitherto by Sanders. Now he's written them off. Sanders may think he's being clever, since multilateral solutions are as far to the left as the Overton Window allows, and a multilateral solution isn't visible anywhere, leaving Sanders free to be against whatever unilateral solution The Blob comes up with. But that's 11-dimensional chess, and I don't think we want or need that right now; Sanders should stick to one-dimensional chess — a solid and consistent message on policy, endlessly repeated — most especially because it's worked for him. And I would argue that foreign policy realism ought to be part of his message. The American people can take it.
2016 Post Mortem
"Forthcoming research by Alexander Hertel-Fernandez of Columbia University suggests that limits on collective bargaining, which are mainly aimed at public-sector unions, made government workers in Indiana and Wisconsin less likely to take part in political campaigns, or to vote. In a study of 111 border counties in Indiana, Michigan and Wisconsin, he also calculates that the right-to-work laws they introduced between 2012 and 2016 could account for two percentage points of Mrs Clinton's underperformance in those states compared with Barack Obama in 2012. Given that Mr Trump's victory in the electoral college was based on a combined total of 70,000 votes across Michigan, Pennsylvania and Wisconsin, that could have cost her the presidency" [The Economist].

"Even if Sen. Bernie Sanders (I-Vt.) had won last year's Democratic presidential primary, he wouldn't have defeated Donald Trump in the general election, says former Maryland Gov. Martin O'Malley (D)" [HuffPo]. "'I don't believe so,' O'Malley speculated Friday on DC/BS, a political podcast hosted by Jon Allen and Peter Ogburn." O'Malley 2020… The choice of a new generation!
Realignment and Legitimacy
"The coming constitutional convention train-wreck" [Alice Marshall, Medium]. Both the Koch Brothers and TYT's Wolf PAC are pushing for a Constitutional convention, the latter with the goal of "getting money out of politics":

The idea that you could open a Pandora's box like a constitutional convention and confine it to getting money out of politics is delusional. When Louis XVI called the estates general he intended it to confine itself to solving the nation's fiscal crisis, but as we all know, it overthrew the entire French ancien regime.

The difference between myself and Bernie Sanders is that Bernie thinks that we need a political revolution whereas I think that we are going to get one whether we want it or not. Our 18th Century constitution is coming apart at the seams.

We need to study the revolutions of Eastern Europe of 1989, we need to study the Philippines snap election, and the Costa Rican revolution of 1948. In short, we need to study every revolution that left people better off than they had been before and learn from their example. Above all, we need to put aside all illusions about our present situation.

GA-06: "The Democratic Congressional Campaign Committee (DCCC) released a memo Monday detailing the group's efforts in the district, noting that the number of paid staffers to help 30-year-old Democratic candidate Jon Ossoff has significantly grown, from eight staffers to more than 70 over the past month" [The Hill]. "The race, which President Trump won by only 1 percentage point, has become a center of Democratic efforts to show evidence of a growing anti-GOP wave." Nonsense. The race is important to the Democrat Establishment (unlike Quist and Thompson) because if they can win a race with a vacuous no-message candidate who raises enormous amounts of money and appeals to suburban Republicans, especially women, then Clinton's 2016 strategy was correct and nothing needs to change.
Stats Watch
Public Relations: Dragging a bloodied Asian guy off a plane isn't a good look in China. More on the United United Express Flight 3411 debacle:
wow. More than 64 million Weibo views for #UnitedForcesPassengerOffPlane. Nothing goes viral like China viral pic.twitter.com/lPztwUm6uP

— Te-Ping Chen (@tepingchen) April 11, 2017
That's unfortunate: "China is the second largest aviation market in the world and a key focus for United, which claims it 'operates more nonstop US-China flights, and to more cities in China, than any other airline'" [CNN].
Public Relations: Here's the first paragraph of the CEO's letter to United Staff [Hong Kong Standard]:
Dear Team,

Like you, I was upset to see and hear about what happened last night aboard United Express Flight 3411 headed from Chicago to Louisville. While , especially with respect to why this customer Chicago Aviation Security Officers the way he did, to give you a clearer picture of what transpired, I've included below a recap from the preliminary reports filed by our employees….

Oscar
Leaving aside Oscar's nauseating "Dear Team" verbiage — a team is the very last thing United is, as this comment by JerryDenim makes clear — notice: (1) "facts and circumstances" do not "evolve," although our interpretations of them may, and (2) what clearly gets Oscar's goat is a failure to comply ("defied"). Corporate America!
Public Relations: "United chief defends staff after screaming man dragged off flight" [Financial Times]. Nice headline! And about the cops that did the dragging:
The Chicago department of aviation, whose officers were involved in the incident, said in a statement that the handling of the situation was "not in accordance with our standard operating procedure" and was not condoned by the department.

"That officer has been placed on leave effective today pending a thorough review of the situation," it said.
Where the heck does the "Chicago department of aviation" work out of? Homan Square? Somebody should ask Rahm about this, although not will never happen.
Public Relations: "A man wouldn't leave an overbooked United flight. So he was dragged off, battered and limp" [WaPo]. Their wrap-up. For "battered," read "bloodied." Fixed it for ya. Democracy dies in darkness, ya know.
Public Relations: "A top public-relations outlet named United CEO 'communicator of the year' weeks before a passenger was dragged off a United flight" [Business Insider]. Oopsie.
Concentration: "'We determined that variation in airline service quality related substantially to changes in the level of competition within airline markets,' the DOT inspector-general's report [here] concluded. 'Specifically, reduced airline competition increased both the length of delays in some markets and the number of flight cancellations in others'" [Buzzfeed]. "Less competition means you don't have to worry as much about annoying people with delays or overbooked flights. It also means you can make a lot more money. There's less pressure to cut ticket prices — even when the price of oil, an airline's biggest cost, is plummeting — and its easier to introduce ever-more obnoxious fees and charges."
Concentration: "Now we find ourselves at a moment when nearly all the promises of the airline deregulators have clearly proved false. If you're a member of the creative class who rarely does business in the nation's industrial heartland or visits relatives there, you might not notice the magnitude of economic disruption being caused by lost airline service and skyrocketing fares. But if you are in the business of making and trading stuff beyond derivatives and concepts, you probably have to go to places like Cincinnati, Pittsburgh, Memphis, St. Louis, or Minneapolis, and you know firsthand how hard it has become to do business these days in such major heartland cities, which are increasingly cut off from each other and from the global economy" [Washington Monthly]. In some ways, then, "BlueSession" has already taken place. And not in a good way.
Concentration: "After years of 15 percent growth, the craft sector is down to the single digits. Part of that is to be expected in a maturing part of any market — but it's also a result of a pushback by a handful of gargantuan global brewers, aided by slack government antitrust oversight" [New York Times].
We have seen a dramatic consolidation in our industry in recent years. It started in 2008 when the Department of Justice approved the creation of a duopoly in the beer industry by greenlighting a joint venture between Molson Coors and SABMiller (creating MillerCoors) and, five months later, the merger of Anheuser Busch and InBev.

Overnight, about 90 percent of domestic beer production was in the hands of two brewing giants.
Today's Fear & Greed Index: 37 Fear (previous close: 40, Fear) [CNN]. One week ago: 46 (Neutral). (0 is Extreme Fear; 100 is Extreme Greed). Last updated Apr 10 at 4:56pm. Per note, quite early.
Health Care
"Another state is at risk of having only one Obamacare health insurer" [WaPo]. No death spiral here, no sireee bob.
"How Many Americans Will Die Needlessly Before Congress Finally Passes National Improved Medicare for All (NIMA)?" [Joe Firestone, Medium].
Class Warfare
"Service Employees International Union cutting headquarters staff" [The Hill]. "The Service Employees International Union is reportedly laying off staff at its headquarters after spending about $60 million on politics and lobbying and $19 million on the Fight for 15 movement in 2016."
News of the Wired
"HG Wells made a series of utopian predictions 100 years ago and was right about nearly all of them" [Quartz]. And so did H.P. Lovecraft. So there!
"Terry Gilliam Reveals the Secrets of Monty Python Animations: A 1974 How-To Guide" [Open Culture]. This animation technique is really neat, and looks like it would be fun to learn and do.
* * *
Readers, feel free to contact me with (a) links, and even better (b) sources I should curate regularly, and (c) to find out how to send me images of plants. Vegetables are fine! Fungi are deemed to be honorary plants! See the previous Water Cooler (with plant) here. And here's today's plant (DB):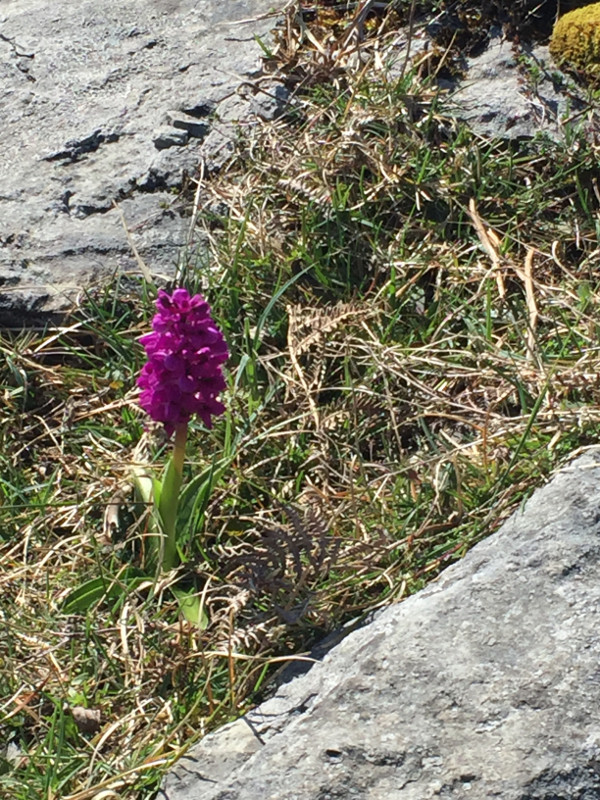 DB writes: "Taken in Ireland last week, on a hike up a mountain in the Burren." Reminds me of the Maine Coast…
Readers, Water Cooler is a standalone entity, not supported by the very successful Naked Capitalism fundraiser just past. Now, I understand you may feel tapped out, but when and if you are able, please use the dropdown to choose your contribution, and then click the hat! Your tip will be welcome today, and indeed any day. Water Cooler will not exist without your continued help.