By Lambert Strether of Corrente
Politics
2020
"Gov. Andrew Cuomo's memoir made him $245 a copy" [The Journal-News]. Not bad for the remainder bin!
2017
""If you are a Democrat and you are not raising a lot of money right now, there's something wrong with you,' [Nathan Gonzales of Inside Elections] said, noting the record sums flowing into a Georgia House race to back Democrat Jon Ossoff, a 30-year-old political novice competing in a Tuesday special election" [USA Today]. "'Democratic donors and Democrats in general are itching for the next fight,' Gonzales said."

"In the first two special congressional elections of the Trump Era, Democratic candidates are performing 10 to 20 points better than they did in 2016" [NBC]. "The question is: Can they sustain it — for the June 20runoff in Georgia, for the 2018 midterms, and even for the May 25 special in Montana (Republicans won that at-large district 56%-40% in 2016)?" They certainly won't maintain it for Montana; Quist is associated with Sanders, so they surely want him to lose.

GA-06: "Republicans were hoping that the 2016 results were race-specific, and that without Trump on the ballot, this district would revert to Republican form. The reason is that there is a host of historically Republican suburban districts such as Texas 7, California 45, Texas 32, Illinois 6, and Virginia 10 where Trump ran well behind the traditional GOP baseline. If those numbers stick, there will be a lot of races that we haven't seen as competitive in the past pop up on our radar screen. Additionally, this will help recruiting, as a bevy of Democratic officeholders will be thinking, "If a novice can do this, just think what I can do!" [RealClearPolitics].

GA-06: "Democrats believe that Jon Ossoff's performance, coming up less than two points shy of the 50 percent threshold he needed to win outright, validated their emerging strategy of focusing on dozens of across the country in advance of next year's elections" [WaPo]. As I keep saying. The Democrat Establishment wants to run the Clinton 2016 campaign all over again; this isn't an "emerging strategy" at all.

GA-06: "A top Clinton aide believes Democrats' best hope still lies with " [Vox]. "[Top Democratic strategist Brian] Fallon's argument is that the most winnable districts for House Democrats are those that largely fit the profile of the Georgia Sixth — suburban, affluent, and full of voters who may be traditionally Republican but who voted against Donald Trump this fall. (Clinton only lost Ossoff's district by one point.)" As I keep saying… Clearly, it's critically important for liberal Democrats that the working class continue to be written off. But Fulton County is no more a viable defensive position than the Hamptons are.

GA-06: "It is also notable that the candidates who most closely embraced President Trump finished poorly. As I write this, just after 1 a.m., the most pro-Trump candidates finished a distant third (Bob Gray), fifth (Dan Moody) and 10th (Bruce LeVell). (UPDATE: With the final votes tallied, Moody moved barely into fourth place, for what that's worth.) The Republican whose campaign was least hitched to the president, Karen Handel, is the one who very easily advanced to the run-off with a total just higher than Gray's and Moody's combined" [Atlanta Journal-Constitution].

KS-02: "Both party cam­paign com­mit­tees played the Kan­sas spe­cial elec­tion smartly. The Demo­crat­ic Con­gres­sion­al Cam­paign Com­mit­tee and the Kan­sas Demo­crat­ic Party did not spend any­thing un­til the last couple of days be­fore the elec­tion; to do so would have been the kiss of death in such a rock-ribbed Re­pub­lic­an dis­trict. They wanted this cam­paign to fly un­der the radar and not be­come a red-Re­pub­lic­an-versus-blue-Demo­crat­ic race in the minds of re­li­ably con­ser­vat­ive GOP voters. The the­ory was to let GOP voters stay leth­ar­gic, some dis­il­lu­sioned with what is go­ing on with their party in Wash­ing­ton, while the Demo­crat­ic voters in the dis­trict would vent their an­ger at Pres­id­ent Trump and the GOP. This reas­on­ing may not im­press lib­er­al act­iv­ists, arm­chair ana­lysts on the Left, and the net­roots, but any­one ar­tic­u­lat­ing the op­pos­ite line pat­ently doesn't un­der­stand con­gres­sion­al elec­tions in gen­er­al or spe­cial elec­tions in par­tic­u­lar" [Cook Political Report]. Cook's "arm­chair ana­lysts on the Left" reminds me of David Broder's "vituperative, foul-mouthed, bloggers of the Left," and for much the same reasons. I believe the Democrats ought to contest every seat; Dean's famous 50-state strategy. Cook, and his Democratic strategist sources, don't. Of course, the 50-state strategy has been proven to work (in 2006), and the DCCC strategy has been proven to fail (see chart below) but Cook's right, it's a judgment call. The famous chart:

"With the political map glaringly free of obvious near-term win opportunities, [Hawaii Sen. Brian Schatz] believes the party's messaging needs some refining. In his view, that means officials at the DCCC should cut the doom-and-gloom messaging in their fundraising emails — a significant way the party communicates with backers" [Politico]. Idea: #MedicareForAll. Never, ever…

"Perhaps there will come a time when Trump voters actually do turn on him and either vote for Democrats or don't turn out at all. So far, though, there is no actual evidence that's happening now. There is enough polling and anecdotal evidence to conclude that Trump voters have enough patience to give their candidate more than 90 days to get his agenda accomplished. They seem to have more patience than the media does in jumping to conclusions, at any rate" [The Week]. Idea: Democrats should get behind a policy proposal that voters in both parties can support…
2016 Post Mortem
"In May 2015, Clinton's aides started planning her first national TV interview of the campaign, and her communications director Jennifer Palmieri asked top aide Huma Abedin to find out who Clinton wanted to interview her. The answer Palmieri got back was 'Brianna,' which Palmieri interpreted to mean Brianna Keilar of CNN. Palmieri then got to work setting up the live TV interview" [Business Insider]. "But Clinton had actually said 'Bianna,' in reference to Bianna Golodryga of Yahoo News. Golodryga is married to Peter Orszag, who worked for the Clinton administration before going on to become President Barack Obama's budget director." So where is Choi Soon-sil Huma these days? Hunkered down working on her book?
Realignment and Legitimacy
"Poll: Bernie Sanders country's most popular active politician" [The Hill]. Clearly, if you're a fan of intersectionality, Sanders is the candidate for you:

"Remember how Sanders was the candidate of white men? Among the demographics shown, he's least popular among whites and men" [Doug Henwood].

Contrast this by Corey Robin to Ossoff's vacuous proposal to turn Atlanta into the Silicon Valley of the South:

What makes Sanders so significant is that he's the first left (visible) politician in decades to offer a political analysis of the economy. pic.twitter.com/877U8SfdKv

— corey robin (@CoreyRobin) April 19, 2017

"[Feinstein] heard loud boos when she said she was 'not there' on supporting complete single payer healthcare and didn't oppose Trump's missile strikes on Syria. During the very first question, one man stood up and shouted at Feinstein while the crowd yelled back and forth. Later on, a barking dog joined in the cacophony" [Santa Cruz Sentinel].

"A Millennial Feminist Explains the New Feminism to a Boomer Feminist Philosopher" [Katie Halper, Paste]. "While the personal is, of course, political, it is worth considering how much your own personal identification with Clinton and your shared experiences prevent you from seeing her for what she was and is: a former senator, Secretary of State, primary candidate, presidential nominee and human being. Is it possible the feminists who weren't and aren't as enmeshed in the journey of Hillary Clinton might have a clearer, more rational and less self-centered view of her and her policies, political activity and campaign?" Interesting, despite the horrid generational headline.
Stats Watch
Philly Fed Coincident Index, February 2017: "The reality is that most of the economic indicators have moderate to significant backward revision – but this month it seems the majority rear view mirror says the USA economy is slowing, flat or improving. Out of this group of coincident indicators discussed in this post, only ECRI and the Aruoba-Diebold-Scotti business conditions index have no backward revision – and both have a good track record of seeing the economy accurately in almost real time" [Econoday]. "For February, it show that the economy is weak but not recessionary."
Architectural Billings Index, March 2017: "Architecture Billings Index continues to strengthen" [American Institute of Architects]. "As a leading economic indicator of construction activity, the ABI reflects the approximate nine to twelve month lead time between architecture billings and construction spending." And: "his index was positive in 9 of the last 12 months, suggesting a further increase in CRE investment in 2017 and early 2018" [Calculated Risk].
MBA Mortgage Applications, April 4, 2017: "Purchase applications for home mortgages fell a seasonally adjusted 3 percent in the April 14 week" [Econoday].
Retail: "The lines between digital and physical stores are blurring even more. PayPal Holdings Inc. will make its transaction service available on Alphabet Inc.'s Android Pay, in the payment company's biggest step yet to bring its digital wallet into the brick-and-mortar world" [Wall Street Journal].
Commodities: "Ecuador, until recently only known by its oil resources, will continue to attract investors to its mining sector, with the value of the dawning industry set to jump from $1.1 billion this year to $7.9 billion in 2021, a new report [from BMI Research] shows" [MIning.com]. ""While left-wing candidate Lenin Moreno won the April presidential election over the traditionally more business -friendly centre-right candidate Guillermo Lasso, we expect the incoming administration to continue to support mining development, as initiated by Moreno's leftist predecessor Rafael Correa," the analysts write."
Commodities: "Out of the sand trap: Golf sand supplier transforming into large frac sand mine" [Houston Express]. "The energy sector is increasingly relying much more on sand for fracking, and in some cases using up to 1,000 truck loads of sand for a single well." That's a lot of trucks!
Shipping: "Little more than 2 1/2 years from now, the global fleet of merchant ships will have to reduce drastically how much sulfur their engines belch into the atmosphere. While that will do good things — like diminishing the threat of acid rain and helping asthma sufferers — there's a $60 billion sting in the tail" [Bloomberg]. "That's how much more seaborne vessels may be forced to spend each year on higher-quality fuel to comply with new emission rules that start in 2020."
Shipping: "High hopes abound for the dry bulk sector, even if analysts cannot agree on why" [Lloyd's List]. "Interestingly enough they are placing the same bet but for a different main reason, one arguing that it will be primarily demand-driven [Chinese steel] and another arguing that it will be primarily supply-driven [sulphur emission controls will lead to slow steaming, in effect a supply reduction]…. This may be a risk worth taking for a market segment that a mere 12 months ago was given up for dead."
The Bezzle: "JPMorgan accused of fraud over tech company sale" [Financial Times]. "The lawsuit filed on behalf of some shareholders of Good Technology, a security software provider, accuses the bank of committing "fraud on the board" over the advice it gave when directors were debating whether to pursue a public listing or a sale in 2015. Good, once a 'unicorn' valued at more than $1bn, was sold to BlackBerry in September 2015 for just $425m, amid a cash crunch."
The Bezzle: "Tesla Drivers Are Paying Big Bucks to Test Flawed Self-Driving Software" [BackChannel]. "Some of the [Tesla Autopilot] system's quirks are common enough that they have earned their own nicknames. 'Truck lust" describes the cars' tendency to shimmy up alongside 18-wheelers on highways, while 'lane dancing' is a wiggle in the Tesla's dashboard display as it hunts for the right position on the road." Hoo boy. You could argue that Tesla owners signed up to take the risks, but what happens when an innocent bystander gets whacked because Musk released buggy software into his cars?
Tne Bezzle: "Here's one fintech that's still going head-to-head against banks" [American Banker]. The "fintech" is an app that advances money to musicians based on projected future sales. Do we have any musician readers — or digital sharecroppers — who can comment?
Concentration: "Your Broadband is About to Get Much More Expensive" [DSL Reports (DK)].
Fodder for the Bulls: "The global economy is looking up, as long as those trade and geopolitical tensions stay tamped down. The International Monetary Fund is forecasting the kind of world-wide expansion that hasn't seen in some time, the WSJ's Ian Talley and Harriet Torry report, nudging up its outlook to the highest level in five years in a broad based rebound. The IMF points to growing global investment, manufacturing and consumer confidence in advanced and emerging markets in projecting global growth of 3.5% this year. And growth in cross-border trade of goods and services is projected to nearly double to 3.8%. The outlook is more restrained in the U.S., where growth has remained tepid this year, with manufacturing output falling 0.4% in March for the first time in eight months. But the IMF report suggests businesses generally are shrugging off unease over politics and trade and instead priming supply chains for expansion" [Wall Street Journal].
Today's Fear & Greed Index: 32 Fear (previous close: 30, Fear) [CNN]. One week ago: 28 (Fear). (0 is Extreme Fear; 100 is Extreme Greed. Last updated Apr 19 at 12:20pm.
Health Care
Medicare for All polls well:
Americans favor single-payer health care, 60%-23%. Dems favor it, 75%-12%—Independents favor 58%-21%—Repubs 46%-38%. https://t.co/nwhZzeNoIh pic.twitter.com/L7Bne5pw0x

— Steven Greenhouse (@greenhousenyt) April 18, 2017
It's almost like the people really standing in the way are a tiny faction of elite Democrats….
"Obamacare's Insurers Struggle for Stability Amid Trump Threats" [Bloomberg]. ObamaCare, as a "market," is a lot like an aerodynamically unstable, fly-by-wire aircraft; constant corrections are needed to keep it from nosediving into the ground.
"When it comes to health care, why do we settle?" [Citizen Times]. "From sports to businesses (think free market economy and capitalism) to elections, competition is what we all understand. Being No. 1 is the goal we have been taught to seek. Yet, we are totally complacent about being No. 37, according to the World Health Organization, in the world. Most of us don't even realize that's where the USA stands. In what, you ask? The answer is in health care." I like that framing.
Our Famously Free Press
Google demonetizes streamer (readers will remember Tim Pool's work on Occupy):
Youtube age restricted and demonetized my livestream from the Berkeley event, but at this point I don't think anyone is surprised.

— Tim Pool (@Timcast) April 16, 2017
Ditto Benjamin Dixon (readers will remember Dixon's interview with Adolph Reed):
.@YouTube seriously wants me to convert my channel into cute babies laughing to paper being ripped. pic.twitter.com/iziRUN0yEv

— Benjamin Dixon (@BenjaminPDixon) April 17, 2017
However Dixon, at least, is getting a bit of his own back:
So tomorrow I'm taking over @theintercept's Facebook page for a live stream with @ggreenwald, professors and other guests. Tune in. https://t.co/SOdhdvtFsu

— Benjamin Dixon (@BenjaminPDixon) April 18, 2017
Hat tip to The Intercept for doing this, but what happens when Facebook shuts down independent voices as Google's YouTube is?
"The Washington Post Ran a Correction to Its Disability Story. Here's Why It's Still Wrong" [Talk Poverty].
Big Brother Is Watching You Watch
"[T]ens of thousands of individuals around the world are unwitting targets of powerful, relatively cheap spyware that anyone can buy. Ordinary people—lawyers, teachers, construction workers, parents, jealous lovers—have bought malware to monitor mobile phones or computers, according to a large cache of hacked files from Retina-X and FlexiSpy, another spyware company" [Motherboard].
Class Warfare
"The top and the very top" [Occasional Links and Commentary]. Chart from this morning's NBER link: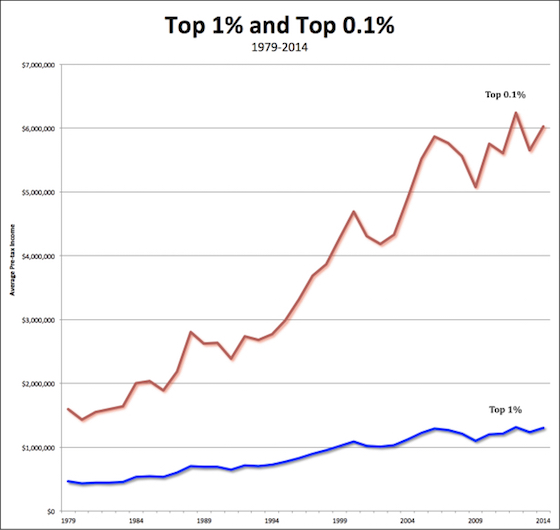 "If your plan lost 40% in the Great Recession, getting back to even in the ensuing years did not make up for the lost money that was theoretically supposed to come from that 40% compounding at 8% a year" [John Maldin, Econintersect]. No duh! Mr. Market can't provide retirement security!
"Too poor to retire and too young to die" [Los Angeles Times]. From 2016, still relevant (not that parallel choices don't have to be made no matter the age cohort).
"Watch Workers Learn How to Filter Obscene and Violent Photos From Dating Sites" [Wired]. Symbol manipulation has a dark side: Emotional labor (underpaid, of course).
News of the Wired
"Steve Ballmer Serves Up a Fascinating Data Trove" [Andrew Ross Sorking, New York Times (Tertium Squid)]. At "USA Facts" ("facts," like "innovation," being a word I'm thinking of flagging. Sadly). And some MMTer needs to get Ballmer's attention on sectoral balances…
"Climbing out of Facebook's reality hole" [Buzzfeed]. "The proliferation of fake news and filter bubbles across the platforms meant to connect us have instead divided us into tribes, skilled in the arts of abuse and harassment. Tools meant for showing the world as it happens have been harnessed to broadcast murders, rapes, suicides, and even torture. Even physics have betrayed us! For the first time in a generation, there is talk that the United States could descend into a nuclear war. And in Silicon Valley, the zeitgeist is one of melancholy, frustration, and even regret — except for Mark Zuckerberg, who appears to be in an absolutely great mood."
"Browser Security: Google Will Fix Phishing Exploit On Chrome Already Patched On Safari And Edge" [International Business Times]. See also "This Phishing Attack is Almost Impossible to Detect On Chrome, Firefox and Opera" [The Hacker News]. Yikes, at the image at the top of the page. How about Lynx?
"The Monster at 'the End of Capitalism'" [Medium]. Actually a game review. I'd be interested in reactions from readers who play online games; that is a generational difference!
"I went 200 days without buying anything new and learned how toxic our need for possessions is" [Medium]. "Going through my father's old things, I felt the loss of my father with each and every item I sorted. And there was a lot of sorting to do. It took weeks to clear out the lifetime of possessions in my single father's small apartment. Weeks to sell, donate, recycle or throw out the boxes and boxes of kitchenware, clothing, furniture, office materials, and so much more. I threw away a normal life of accumulation."
* * *
Readers, feel free to contact me with (a) links, and even better (b) sources I should curate regularly, and (c) to find out how to send me images of plants. Vegetables are fine! Fungi are deemed to be honorary plants! See the previous Water Cooler (with plant) here.
And here's today's plant (MH):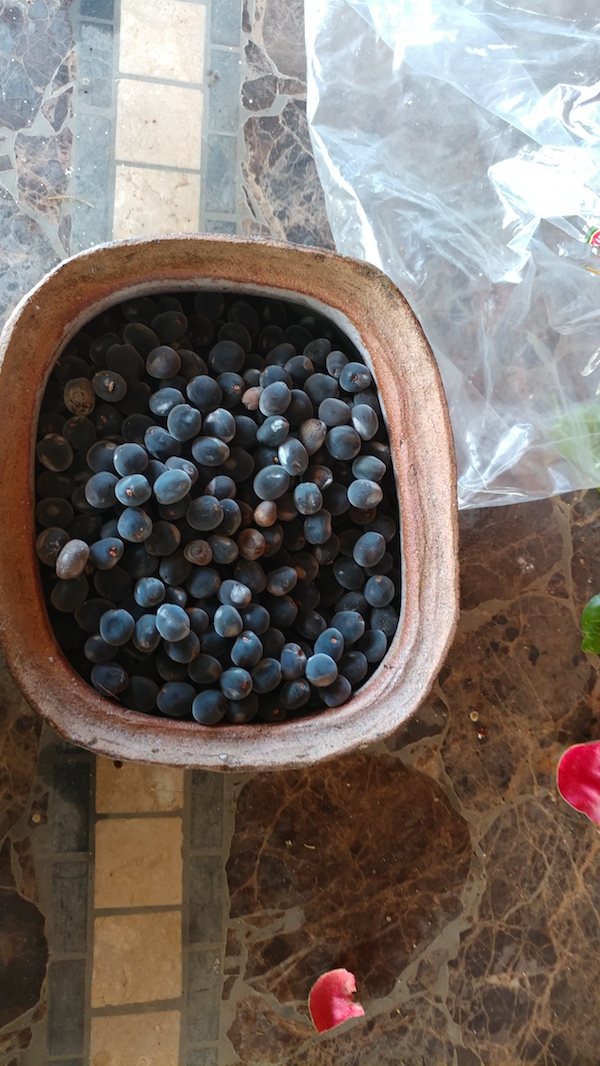 What a glorious blue!
MH writes: "The plant is similar to the shower trees, the blooms produce a small fuzzy seeds that are then strung into jewelry, worth about a dime a piece. I harvested two bucks worth this morning. Called magambo beads. Color on the blooms never fades. Enjoy Hawaii! Aloha!"
* * *
Readers, Water Cooler is a standalone entity, not supported by the very successful Naked Capitalism fundraiser just past. Now, I understand you may feel tapped out, but when and if you are able, please use the dropdown to choose your contribution, and then click the hat! Your tip will be welcome today, and indeed any day. Water Cooler will not exist without your continued help.