By Lambert Strether of Corrente
Trade
"The Trump administration announced it will impose a 20 percent tariff on imported softwood lumber from Canada" [NPR]. "The dispute is not new — the United States and Canada have sparred over imports of forest products for decades. But the action comes as the two nations prepare to renegotiate the North American Free Trade Agreement, or NAFTA, which President Trump has harshly criticized."
"Canada pursues possible trade deal with China as softwood lumber dispute with U.S. heats up" [CBC].
"The U.S. business community is OK with the idea of modernizing NAFTA and using the upcoming renegotiation as an opportunity to address e-commerce and the digital economy, but any changes "must be done the right way," Chamber of Commerce President Tom Donohue told a group of business leaders in Mexico City on Monday. In a speech geared toward reassuring the Mexican business community that their partners to the North remain interested in "maintaining a rocksteady strategic and economic partnership," Donohue outlined a handful of key objectives he said should guide officials when they sit down to reopen the agreement" [Politico].
Politics
Corruption
"Obama's $400,000 Wall Street speaking fee will undermine everything he believes in" [Matthew Yglesias, Vox]. Oh, man… I know editors write the headlines — the URL reads "obama-speaking-fee," which likely indicates Matty was so gobsmacked he couldn't come up with anything, and submitted a placeholder — which is why I'm so surprised there's a glaring copy error: "will undermine everything" should read "shows what." Fixed it for ya. And yes, it's corruption: The use of public power for private ends, though to be fair Obama gets bragging rights over Hillary Clinton at Goldman on the numbers. The beauty part is that Obama's cashing in at a health care conference (sponsored by the bond firm Cantor Fitzgerald), so the fee is also Obama's upraised middle finger to the "little single payer advocates." Well-played, all. And somebody should ask Tom Perez what he thinks about this.
New Cold War
"Is Senate's Trump-Russia probe going anywhere? This panel member is doubtful" [McClatchy]. Have any primary sources have gone on the record? You'd think that in a case of treason, it wouldn't be all that difficult to get somebody to come forward…
Our Famously Free Press
"The Media Bubble Is Worse Than You Think" [Politico]. This is very good:

Where do journalists work, and how much has that changed in recent years? To determine this, my colleague Tucker Doherty excavated labor statistics and cross-referenced them against voting patterns and Census data to figure out just what the American media landscape looks like, and how much it has changed.

The results read like a revelation. The national media really does work in a bubble, something that wasn't true as recently as 2008. And the bubble is growing more extreme. Concentrated heavily along the coasts, the bubble is both geographic and political. If you're a working journalist, odds aren't just that you work in a pro-Clinton county—odds are that you reside in one of the nation's most pro-Clinton counties. And you've got company: If you're a typical reader of Politico, chances are you're a citizen of bubbleville, too. This isn't just a shift in medium. It's also a shift in sociopolitics, and a radical one. Where newspaper jobs are spread nationwide, internet jobs are not: Today, 73 percent of all internet publishing jobs are concentrated in either the Boston-New York-Washington-Richmond corridor or the West Coast crescent that runs from Seattle to San Diego and on to Phoenix. The Chicagoland area, a traditional media center, captures 5 percent of the jobs, with a paltry 22 percent going to the rest of the country. And almost all the real growth of internet publishing is happening outside the heartland, in just a few urban counties, all places that voted for Clinton. So when your conservative friends use "media" as a synonym for "coastal" and "liberal," they're not far off the mark.

Think the Acela is gonna get funded, no matter what?

"New Mega Wall of Shame Update: Clara Jeffery" [Nina Illingworth]. "Wanted: for crimes against the memory of Mother Jones; both the magazine and the labor activist." Good clean fun! For example–

"The Young Turks Really, Really Don't Want You to Compare Them to Breitbart" [Mother Jones]. The headline — followed by the deck "and yet…" — presumably approved by Jeffery, is an out-and-out smear. I'd like to hear from readers on the content, but it doesn't strike me as that bad:

At the same time [Young Turks founder Cenk] Uygur is gearing up to do battle in Democratic primaries, he's mounting a major expansion at TYT. Since the election, TYT has raised $1.4 million in crowd-sourced donations and hired eight new staffers and contributors. The new hires largely fit Uygur's combative model. One new recruit is Michael Tracey, a bomb-throwing former Vice writer who recently called the media's "bizarre new obsession with (allegedly) rising anti-semitism" a "moral panic." Other recent hires include Shaun King, the Black Lives Matter activist and former New York Daily News columnist, and Nomiki Konst, a reporter and commentator who was chosen by the Sanders campaign to serve on the Democratic National Committee's post-election unity commission. The Huffington Post's Washington bureau chief Ryan Grim signed on as a TYT commentator, as did David Sirota, a popular progressive journalist who has recently specialized in business reporting.

Gotta say I was put off by the YT comments section last time I was there, which was some time ago. Again, readers?
Democrat Unity
"'We must conclude that the current model, the current process by which the Democratic Party does business, is a failed process,' Sanders said minutes after Perez left the stage in Mesa. 'That is why I am here tonight. Enough is enough'" [CNBC]. But is that why Perez was there?

"Warning its audience, 'This post contains profanity and language readers might find offensive,' CNN reported Monday on the Democratic national chairman's newfound cussing habit. At a rally in Las Vegas over the weekend, with children standing behind him, he said President Donald Trump 'doesn't give a shit about health care.' That followed a rally in Portland, Maine, one week ago, where Perez declared 'Republican leaders and President Trump don't give a shit about the people they were trying to hurt.' The chairman used the s-word to describe GOP budget proposals that day, and last month he said, simply, 'Republicans don't give a shit about people.' All of this appears to be part of " [The New Republic]. I can remember back in 2003 or so, when using the F-word was not only fun, it was a way to epater le Christian Right. But it didn't work out that well, did it? But everything old is new again, and woke liberals have appropriated the light-hearted trope once deployed by "vituperative, foul-mouthed bloggers on the left."

GA-06: At this point we recall that Ossoff doesn't support #MedicareForAll:

@jimmy_dore #UnityTour in Utah today wouldn't allow this sign: pic.twitter.com/swmGpfPfXW

— SallyTomatoPi (@SallyTomatoPie) April 22, 2017

GA-06: "Rep. Hank Johnson's (D-GA) office removed from the congressman's website articles about Democrat Jon Ossoff and the special election in Georgia's Sixth District over the weekend after the Atlanta Journal-Constitution inquired about them" [Talking Points Memo]. Official sites aren't supposed to be used for campaign activity.

"But in Omaha, the DNC's response was greeted with dismay. 'It was Heath [Mello]'s credibility with pro-life legislators that enabled him to take mandatory ultrasounds off the table and substitute a bill that stated that women had a choice to have one and to see the image,' said Jane Kleeb, chair of the Nebraska Democratic Party, of the ultrasound legislation. The competing bill not only required ultrasounds before an abortion; it also required clinics to position the screen so that women would be forced to view the fetus" [The Nation]. "'I wish the national organizations would respect the relationship we have been nurturing, instead of just assuming we don't know what we're doing,' [ Sofia Jawed-Wessel, who teaches sexual health at the University of Nebraska] told me afterward. 'Then they might have reframed their statement in a way that added momentum to someone we consider a strong ally.'" Of course the DNC knew what it was doing: (1) A candidacy endorsed by Our Revolution was wrecked, which is natural because the Democrat Establishment hates Sanders and all his works and (2) a 50-state strategy became harder to implement with abortion as a litmus test, which makes a lot of Democrat strategists very happy. Oh, and Randi Weingarten gets to flex some muscle, making (3) the Clintonites happy. Well-played.

"The Waffling On Abortion Isn't Sanders, It's Coming From The Democratic Party" [Mike the Mad Biologist]. Of course, principle has nothing to do with any of this. Wake me when the NNU cares. "*That Clinton's vice-presidential running mate Senator Tim Kaine of Virginia went out of his way to support the Hyde amendment has been studiously ignored by Sanders' critics. One might conclude that something else is going on with the Sanders-specific criticism."
Realignment and Legitimacy
"Are Wisconsin and Pennsylvania Changing Color?" [Inside Elections]. "If 2016 was a realignment, it was a shallow one. Yes, the Republican presidential nominee carried Wisconsin and Pennsylvania, but the margins were extremely narrow: just over 44,000 votes out of over 6 million cast in Pennsylvania and under 23,000 out of almost 3 million in Wisconsin. Since some Obama-Trump voters in both states undoubtedly voted on candidate style and "change" rather than ideology, Republican nominees can't count on the "Trump coalition" holding in 2018 and beyond. Democrats found that out during the right years of the Obama presidency. Moreover, if the president fails to deliver on key promises (or reverses himself), some of his 2016 supporters could sour on him, and his party. " In other words, the notion of a Trump Coalition is as vacuous as the notion of the Obama Coalition was, and is likely to fail the test of battle for the same reason: Inability to deliver on promises — "hope and change", "make American great again" — along with a corrupt and stagnant political class.

"[T]he threats the White House issued to members of the House Freedom Caucus for opposing that bill, which would have repealed much of the Affordable Care Act, aren't resonating. And it's evidence that, even in the Trump era, many of these hardline conservative members face little pressure from constituents to toe the party leadership line as more legislative fights loom" [McClatchy].

"Exiting the Vampire Castle" [The North Star]. " The Vampires' Castle specialises in propagating guilt. It is driven by a priest's desire to excommunicate and condemn, an academic-pedant's desire to be the first to be seen to spot a mistake, and a hipster's desire to be one of the in-crowd. The danger in attacking the Vampires' Castle is that it can look as if – and it will do everything it can to reinforce this thought – that one is also attacking the struggles against racism, sexism, heterosexism." From the UK, but oddly familiar. For example–

"Bye bye, Bernie: He's not fit to captain the Democratic ship if he can't stop chasing the great white male" [Salon]. Well, either Sanders never started, he stopped, or he tried and failed. Whatever:

The #bernieBro myth was debunked by a Harvard Harris poll and yet… they persisted. #TheResistanceToFacts pic.twitter.com/Qa2YuAqf2S

— katie halper (@kthalps) April 24, 2017
Stats Watch
New Home Sales, March 2017: "All elements are kicking in for housing right now with prices showing strength, permits moving up, and also sales on the climb" [Econoday]. And: "This month the backward revisions were small and the rolling averages significantly improved. This was a good month for new home sales" [Econintersect]. But: "Even with the increase in sales over the last several years, new home sales are still fairly low historically" [Calculated Risk]. And: "New home sales better than expected, but remember it's about permits, as no home is built without one" [Mosler Economics].
S&P Corelogic Case-Shiller Home Price Index, February 2017: "The depth of strength is striking with lagging cities now reporting stronger price growth" [Econoday]. And: "Many pundits believe home prices are back in a bubble. Maybe, but the falling inventory of homes for sale keeps home prices relatively high. I continue to see this a situation of supply and demand. It is the affordability of the homes which is becoming an issue for the lower segments of consumers" [Econintersect].
FHFA House Price Index, February 2017: Double consensus [Econoday]. "Rising home values are a significant plus for consumer wealth and spending and the economic outlook in general. They may also help explain the sharp rise underway in consumer confidence." There's no such thing as "consumer wealth," if wealth be capital.
Consumer Confidence, April 2017: "Readings remain strongly favorable including jobs-hard-to-get" [Econoday].
Richmond Fed Manufacturing Index, April 2017: "[T]he smaller than expected decline shows that the strong current conditions and optimism reported in March remains virtually unabated" [Econoday]. "Manufacturing executives continued to be exceptionally optimistic."
State Street Investor Confidence Index, April 2017: The rise in the confidence of global institutional investors was driven by North America, followed by Europe, with Asia weakening [Econoday]. "State Street noted that the improvement in North America and Europe is occurring despite geopolitical tensions and policy uncertainty in the U.S. and abroad, bolstered by a better glow growth outlook and expectations of higher inflation. However, the index is still shy of the 100 level mark, indicating that risk appetite is neutral and awaits details of the new U.S. tax plan and possible resurrection of the health care reform act."
Auto Sales: "Annualized rate of total sales keeps working its way lower from last year's peak of about an 18.5 million pace, which also coincides with the deceleration in auto lending" [Mosler Economics].
Shipping: "Container Freight Rates up 102% in a Year [Sourcing Journal]. But: "Box shipping revival too early to call" [Lloyd's List]. "The first few months of 2017 has offered carriers some encouragement for the year ahead with demand relatively healthy and fleet growth kept to a minimum, but it is far too early to gauge whether the year will signal a turning point for the beleaguered liner sector."
Shipping: "China's economy has continued to slow and is projected to grow by 6.6% in 2017, the latest numbers from the International Monetary Fund's World Economic Outlook show.Despite this, China remains a key support in the dry bulk market" [Lloyd's List].
The Bezzle: "If Tesla someday invents transformational batteries, then it will cease to be a car company and will become a battery company. The value the company creates will be in the battery, and the exoskeleton of the car will be superfluous and interchangeable with those of other car makers. Tesla is not the next GM or Ford. Investing in Tesla is really a bet that the company can transform battery storage, not a bet on its future success as a car maker" [Forbes].
The Bezzle: "For now, Amazon doesn't intend to build a fleet of vehicles, according to people familiar with the project. Instead, the team serves as an in-house think tank to figure out how to leverage autonomous vehicles. The initiative, still in its early phases, puts a major consumer of transport services into the arena with tech giants and auto makers that are studying how to put self-driving vehicles on the road. The technology could help the Seattle-based company overcome the logistical and cost challenge of how to deliver packages quickly. And it could bring new investment to a technology some believe may see its biggest early benefits in trucking services" [Wall Street Journal].
The Bezzle: "Last October's 120-mile beer run of a self-driving Otto truck for brewery titan Anheuser-Busch InBev "as a citizen, put me off," [Danny Hefner, safety director of MCO Transport Inc., and a commercial driver] said. Noting the driver was in the sleeper cab for the entire trip, Hefner wondered what would happen, in a similar scenario, if a self-driving truck suffered equipment failure such as a blown tire?" [DC Velocity]. "Would the system be properly designed and programmed to adjust to a crisis with no human available to take the wheel to make a split-second decision, he asked? The government has created five levels of vehicle autonomy, ranging from "Level 0," where no operational functions are automated, to "Level 4," where the driver directs the vehicle where to go, and then relinquishes control. At that level, vehicles can be operated unoccupied, perform all safety-critical driving functions, and continuously monitor roadway conditions. For the foreseeable future, Level 3 appears to be the most realistic objective for industry and regulators to focus on. At that level, drivers can, at their discretion, turn over control of all safety-critical functions under certain traffic or environmental conditions. However, drivers are expected to remain in the vehicle and to be ready to take over its operation if necessary."
Concentration: "Consolidation among hospitals is triggering new tie-ups among medical equipment suppliers… Hospitals have been striking deals in recent years to narrow the number of suppliers they use, in part to negotiate better discounts by purchasing more volume" [Wall Street Journal].
Today's Fear & Greed Index: 46 Neutral (previous close: 39, Fear) [CNN]. One week ago: 30 (Fear). (0 is Extreme Fear; 100 is Extreme Greed). Last updated Apr 25 at 12:14pm.
Gaia
"New study pegs Deepwater Horizon spill damage at $17.2 billion" [WorkBoat]. "The tally, published Thursday in the journal Science, is based on a survey of thousands of Americans that asked what they'd be willing to pay to prevent the kind of impacts unleashed by the spill, which began with an explosion on the Deepwater Horizon drilling rig on April 20, 2010."
Black Injustice Tipping Point
Remember Deray asking what neoliberalism was? This may help (and please click through to the whole thread, since Twitter's miserably inadequate and random embed function isn't showing the full scope of Deray's seemingly commercial activities):
— liberalism.txt (@liberalism_txt) April 21, 2017
Deray's continuing practice of product placement could be important: "In a landmark bout of activity, the Federal Trade Commission ("FTC") has announced that it is, in fact, watching celebrities, athletes, and other influencers on Instagram. According to a statement from the government agency, after reviewing Instagram posts by celebrities and influencers, its staff has sent out more than 90 letters reminding influencers and marketers that they must clearly and conspicuously disclose their relationships when promoting or endorsing products through social media" [The Fashion Law]. Somebody should ask Deray about this.
Our Famously Free Press
"The Alphabet Inc. company is making a rare, sweeping change to the algorithm behind its powerful search engine to demote misleading, false and offensive articles online. Google is also setting new rules encouraging its 'raters' — the 10,000-plus staff that assess search results — to flag web pages that host hoaxes, conspiracy theories and what the company calls 'low-quality' content" [Bloomberg]. Sure seems odd that there's no way for the public to contact this 10,000-plus staff in any way. Normal editorial platforms have mastheads, named editors and publishers, and channels to the public in the form of letters to the editor, ombudsman, and reporters out in the community. So what exactly does Google mean by "low quality" content? Would Google have downrated the New York Times for Judy Miller's fake WMD stories? Or is official propaganda deemed high quality?
"Google said it has updated its algorithms to better prioritize 'authoritative' content. Content may be deemed authoritative based on signals such as affiliation of a site with a university or verified news source, how often other sites link to the site in question and the quality of the sites that link" [Recode]. So would that mean economics links to, say, the University of Chicago would be deemed more "authoritative" than links to the University of Missouri at Kansas City? Seems to me the meritocracy is starting to eat its own tail, here.
"The co-founder of Wikipedia, Jimmy Wales, is launching a new online publication that aims to combat fake news. The project is called Wikitribune, and it will bring together professional journalists and a community of interested readers to produce and publish news stories. The site will be financed by a crowdfunding campaign (that launches today) and will focus on a range of issues — from US politics to specialists science and technology subjects" [The Verge].
Class Warfare
"Days after a National Labor Relations Board official ruled that Harvard improperly conducted a November student unionization election, union organizers are again gearing up to convince eligible students to form a union ahead of a possible re-vote" [Harvard Crimson]. "Last week, NLRB hearing officer Thomas A. Miller wrote in a recommendation that Harvard did not conduct a fair election in November and failed to provide accurate lists of students eligible to vote in the election. Miller also recommended that 195 remaining challenged ballots from the election be opened and counted—at least 186 of these ballots would need to support unionization for the union to win. Unless the final results favor the union, Miller wrote that a re-vote should be conducted." We've learned an important lesson today, kids…
"Although some countries most likely will de-cash in a few years, going completely cashless should be phased in steps. The de-cashing process could build on the initial and largely uncontested steps, such as the phasing out of large denomination bills, the placement of ceilings on cash transactions, and the reporting of cash moves across the borders. Further steps could include creating economic incentives to reduce the use of cash in transactions, simplifying the opening and use of transferrable deposits, and further computerizing the financial system. ["The Macroeconomics of De-Cashing," Alexei Kireyev, International Monetary Fund (PDF)]. "The private sector led de-cashing seems preferable to the public sector led decashing. The former seems almost entirely benign (e.g., more use of mobile phones to pay for coffee), but still needs policy adaptation. The latter seems more questionable, and people may have valid objections to it. De-cashing of either kind leaves both individuals and states more vulnerable to disruptions, ranging from power outages to hacks to cyberwarfare. In any case, the tempting attempts to impose de-cashing by a decree should be avoided, given the popular personal attachment to cash. A targeted outreach program is needed to alleviate suspicions related to de-cashing; in particular, that by de-cashing the authorities are trying to control all aspects of peoples' lives, including their use of money, or push personal savings into banks. The de-cashing process would acquire more traction if it were based on individual consumer choice and cost-benefits considerations." Frogs in the pot….
"Cracking the Mystery of Labor's Falling Share of GDP" [Noah Smith, Bloomberg]. Oddy, or not, no mention of unions!
Good jobs:
Uber's internal slide deck saying it's top two competitors for drivers are Lyft and McDonalds tells you a lot about the Gig Economy.

— Downtown Josh Brown (@ReformedBroker) April 24, 2017
Not the best chart I've ever seen, but:
BREAKING: 2016 General Social Survey shows highest percent of US since 1970s call themselves "lower class," lowest % ever now "middle class" pic.twitter.com/7JkpGC0wo3

— Philip N Cohen (@familyunequal) April 24, 2017
News of the Wired
"Dandelion Time….Again" [How Plants Work]. I don't like dandelions because I think they are a sign of neglect (and even though I have no lawn, I still have dandelions!). But I dig them up. Don't use pesticides! Anyhow, this link has lots of interesting information about the dandelion, which I just maligned so unfairly.
Today in science:
Published #OnThisDay in 1953: A structure for Deoxyribose Nucleic Acid https://t.co/KvCuQVrfp9 pic.twitter.com/6fmg2IWkoR

— nature (@nature) April 25, 2017
* * *
Readers, feel free to contact me with (a) links, and even better (b) sources I should curate regularly, and (c) to find out how to send me images of plants. Vegetables are fine! Fungi are deemed to be honorary plants! See the previous Water Cooler (with plant) here.
And here's today's plant (KH):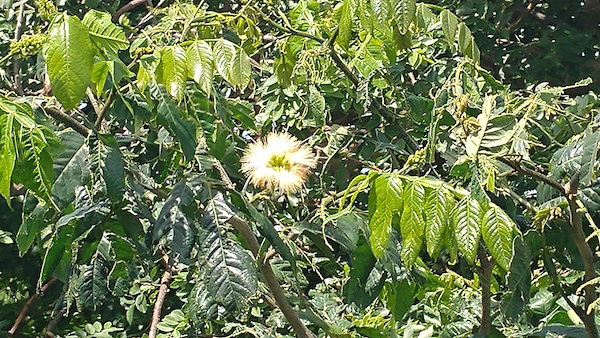 It's an ice cream bean plant. KH writes: "So, this is the bloom, eventually, in late summer, the tree will produce beans that taste remarkably like vanilla ice cream. A treat for Earth Day. Aloha!"
* * *
Readers, Water Cooler is a standalone entity, not supported by the very successful Naked Capitalism fundraiser just past. Now, I understand you may feel tapped out, but when and if you are able, please use the dropdown to choose your contribution, and then click the hat! Your tip will be welcome today, and indeed any day. Water Cooler will not exist without your continued help.