By Lambert Strether of Corrente
Trade
"Trump is expected be accompanied in Florida [for his meeting with Xi] by a team of Cabinet officers and senior White House officials, including Secretary of State Rex Tillerson, Defense Secretary Jim Mattis, Treasury Secretary Steven Mnuchin, Commerce Secretary Wilbur Ross, chief of staff Reince Priebus, chief strategist Steve Bannon, senior adviser Jared Kushner, National Economic Council Director Gary Cohn, and National Security Adviser Lt. Gen. H.R. McMaster" [Politico]. I don't think I'd agree much about anything with anybody on that list, but it's interesting because there don't seem to be any of the usual Republican players on it (unless you count Priebus). And except for Bannon (see below) I don't see any crazypants people on it, or at least no more crazypants than The Blob as a whole. No John Bolton! No Madeline Albright! The missing figure, of course, is Trump's James Baker equivalent, as Nooners keeps pointing out.
"AFL-CIO President Richard Trumka took a less positive view of the direction the administration is taking on NAFTA, calling the draft letter [see here] 'very, very timid.' 'NAFTA will be the real test, and despite the president having called it the worst trade deal in history, it appears that the Trump administration could leave its most oppressive pieces in place,' he said in a speech at the National Press Club on Tuesday" [Politico].
"The guidance released just before this year's H-1B filing period got underway suggested companies wanting to sponsor H-1B workers as computer programmers would be subject to more scrutiny, especially if those jobs are promised low wages. It was a relatively small step, one the U.S. Citizenship and Immigration Services insists is simply reiterating an existing policy. But it sends the message, according to immigration attorneys, that application reviewers can — and should — weed out visa applications for jobs that are lower-level, lower-paying and do not meet the bar of the specialized technical jobs H-1B visas are meant for" [Axios]. Another damp squib, and very good news for the wage-fixing cartel in Silicon Valley.
Politics
New Cold War
UPDATE "Graham: Rice Has History of 'Political Manipulation' of Nat'l Security Informatio share this" [Fox News]. I'm linking to this because Lindsay Graham is both an Establishment figure and an opportunist, so if he's swinging toward Trump on this, it's an interesting indicator. I mean, Graham's not getting all huffy about process, or the patriots who work in our national security apparatus, or anything like that.
Trump Transition
UPDATE "Window closing for Republican stealth assault on U.S. regulations" [Reuters]. Last Friday was the deadline for introducing any new [Congressional Review Act] resolutions on regulations enacted by Obama's administration. Now Republicans must complete voting on resolutions already in the legislative pipeline by mid-May.

"President Donald Trump reorganized his National Security Council on Wednesday, removing chief strategist Stephen Bannon from a key committee and restoring the roles of top intelligence and defense officials, according to a person familiar with the decision and a notice published in the Federal Register" [Bloomberg]. "The realignment increases the influence of National Security Adviser H.R. McMaster, whose public stances were sometimes at odds of those of Bannon. In addition to gaining greater control over the NSC, McMaster will have the Homeland Security Council under his authority." McMcaster being the guy The Blob wanted, rather than Flynn.

"Senate Republicans are preparing to abolish the final vestige of power that the minority has to block Supreme Court nominations through a filibuster. Many senators in both parties now worry that the final and biggest domino — the power to filibuster legislation — will be next" [New York Times]. Well, if the Republicans get rid of it, at least the Democrats won't be able to whine about it any more.

"Gorsuch merits confirmation: Our view" [USA Today]. "Overall, Gorsuch is about the best choice the country can expect from this president; in fact, the nomination was one of the least objectionable things Trump has done since taking office."

"Neil Gorsuch's 11th-hour plagiarism scare" [WaPo]. Two words: Joe Biden.

UPDATE "Many of us were wrong, myself included, about Donald Trump. We saw in the jut-jawed, brow-furrowed Mussolini-like posturing, in the blatant narcissism, in the reckless disregard for truth, the anger and incitement to hatred, the declamations that he would fix everything single-handedly on Day One of his presidency, his disdain for democracy and hints that he would lock up his opponents — we saw in all of these things incipient fascism" [Todd Gitlin, Moyers and Company]. "And then, last Friday, with the demise of the Republican attempt to repeal Obamacare and replace it with… well, with a massive tax giveaway to the rich, we discovered — I discovered — that I was fearing the wrong thing. It's not Trump's ability to marshal the forces of repression that should terrify us. It's his inability to marshal forces to conduct even the most basic governance." Gitlin's pivot is a fine example, amazingly enough, of the schema outlined by Scott Adams here.
2018
"In fact, if you look back at the last four midterm elections where the party in the White House lost control of one or both houses of Congress, you see that they share the following traits in common: the president has approval ratings among his own partisans under 85 percent and approval ratings among independents in the 30's or low 40s" [Amy Walter, Cook Political Report]. "We've got a long way to go before the 2018 midterms. But, the current situation of Republican-infighting, a lack of legislative accomplishments and a President determined to keep stoking political divisions is a very dangerous path for the GOP. The good news for Trump: Compared to the last three presidents in their first term, he has about half as many "vulnerable" House members of his own party to worry about. The bad news: if Trump's numbers continue to look this bad, it helps Democrats recruiting efforts to challenge these incumbents and more. In fact, Trump's numbers now look more like those of a president who is about to be hit by a wave election that wipes his party out of power in the House, than one who is going to be able to ride a wave of success. This should worry Trump, not just because it means he loses legislative leverage for his agenda, but it means that Democrats now get subpoena power. If you think the Russia/Trump stories are bad for the administration now, just imagine what they'll look like with Democrats in charge of the oversight committees. I'm guessing the Perez/DNC/Clintonite theory of the case is like this; and if there's going to be a wave election in 2018, they want the Ossoffs of this world running, not the Quists.

"Historically, Price's affluent, suburban Atlanta district has been solidly Republican. However, Trump beat Hillary Clinton in the district by only 1.5 percentage points in 2016 — well below the usual Republican performance — giving Democrats hope that Ossoff could win the April 18 special election" [Politifact]. In other words, as I keep saying, the DNC is doubling down on Clinton's 2016 strategy. No smelly proles! (The link also includes lengthy discussion of how Ossoff, mildly inflated his resume, primarily interesting because it shows how difficult it is to get Democrats to tell the truth about one of their own.)

UPDATE "I'm definitely not the right person to run to defeat [President Trump] in 2020. , the answer is no," Clinton said on CBS's 'This Morning.' 'But I think we all need to be asking ourselves that question periodically,' the former first daughter added" [The Hill]. That's not a Sherman Statement. In fact, it's the opposite of a Sherman Statement.

UPDATE "Against Chelsea Clinton" [Matt Bruenig, Jacobin]. "Rumors are that Chelsea Clinton is gearing up to run for office. This is troubling news insofar as it might keep the Clinton machine and its hangers-on in politics. It also seems like a questionable idea insofar as Clinton is a nepotist legacy case whose whole career to this point has been hopping from one dodgy patronage job to another, not exactly the ideal image for the Democratic Party." Oh, Matt. Neera's gonna get you fired again!
2016
"Since her stunning election loss, Clinton has been taking the time to figure out what she wants to do next. 'She's taking a look at her life and wants to try some different things,' said one ally who has spoken to Clinton in recent weeks. 'She's not tying herself to something that's always been an option. She wants to figure out what she wants to do'" [The Hill]. "One thing the former presidential nominee wants to do is figure out how she can best use her voice for the benefit of the Democratic Party, sources say." Oddly, or not, retiring from public life isn't an option.
Realignment and Legitimacy
"The DCCC has $6.6 million cash on hand, and three races it could spend it on. Seems it's bothering with all of one: Jon Ossoff's in Georgia" [Wonkette]. "But it wouldn't break the DCCC to give money — ANY MONEY — to Rob Quist, or James Thompson in Kansas (running to fill new CIA chief Mike Pompeo's House seat in KS 04). Thompson's election is April 11, and his state Dems wouldn't even give him $20,000 for mailers." Quist endorsed Sanders; Thompson says Sanders inspired him to run. Is it possible — follow me closely here — that the DCCC hates Sanders and wants any candidate associated with him to lose? (Not that the dog-in-the-manger DCCC has done such a great job of winning itself.)

UPDATE And speaking of suburbanites:

You'll never see a piece called "Be happy for suburban white women losing abortion access. They're getting exactly what they voted for."

— Kevin T. Baker (@kevinbaker) March 29, 2017

Yes, that seems odd.

"Montana filed three tax liens to collect about $15,000 in back taxes against the Democrat running for the state's only congressional seat, which the political newcomer blamed on health problems that nearly led to his financial ruin…. The liens against Quist and his wife, Bonni, were issued in 2015 and cover the 2007, 2011 and 2012 tax years, according to documents obtained by The Associated Press. He settled the debt with the Department of Revenue last May" [AP]. "But some rank-and-file party members said they knew little about Quist, and some prominent Democrats have privately groused that Quist had not been properly vetted." Good, so far as I'm concerned; Quist knows what real life is like. And that "privately groused" line does make me wonder — completely without evidence, I admit — who it was who fed AP those documents.

UPDATE "McCaskill to Sanders backers: 'I need you. I want you'" [The Hill]. This isn't hard. Endorse #MedicareForAll.

"Perez unveils new DNC communications shop" [The Hill]. And just guess who's running it! "Xochitl Hinojosa, a top adviser to Perez both during his time at the Labor Department and during his bid for the DNC spot, will serve as the DNC communications director. Adrienne Watson will shift over to the spot of new deputy communications director. Both she and Hinojosa worked together on Democratic nominee Hillary Clinton's 2016 campaign. Before that, Watson worked for the pro-Clinton super PAC 'Ready for Hillary.' In her new role, she'll continue work on the party's anti-Trump 'war room.'" Nothing like rewarding success, eh? And speaking of the War Room, I've been wondering for some time who the War Room actually funds. There seem to be curiously few details in the press. And juxtaposing–

UPDATE "By the numbers: How activists organized to save Obamacare" [Yahoo News]. Anti-AHCA call numbers and who made them. And then there's this on Indivisible: "', but I can tell you that our 5,800 groups around the country made a huge impact in the fight to save the ACA,' Indivisible's Sarah Dohl told Yahoo News. 'The ACA was a major theme during the February recess where over 100,000 people took part in nearly 300 nationwide events.' The group's congressional district-level ACA data was accessed more than 75,000 times online, and its 'Save the ACA' toolkit was accessed about 25,000 times." To me, this demonstrates Indivisible's mysterious (?) ability to get enormously good press without a lot of hard data. You could drive a truck through that "some of our partners" qualifier.

"Pepsi debuted a new protest commercial featuring Kendall Jenner. Everyone hates it" [Sacramento Bee]. "The video features a protest of young people and people of color in the streets, that is joined by a cello player, then a by a Muslim photographer and finally by Jenner, a model who sheds a blonde wig and wipes away her lipstick. The protesters eventually come into contact with a line of policemen. Jenner hands one of the police a can of Pepsi, who opens it and takes a drink, much to the delight of the protesters." There's a lot of this going around:

Y'all know @Deray heart hurt over Pepsi not putting him on in addition to his other product placements. pic.twitter.com/AEFeDiXVo2

— C I L L My Landlord (@GuruBluXVIII) April 5, 2017
Stats Watch
Yesterday's as well as today's.
ADP Employment Report, March 2017: Greatly exceeds consensus [Econoday]. "Details in the ADP report include a strong 49,000 gain for construction and a 30,000 increase for manufacturing. Professional & business services are another strong positive, up 57,000." And: "The data continues to suggest a strong labour market and there will be expectations that the Federal Reserve will push for another interest rate hike at the June meeting" [Economic Calendar]. And but: "This report is very good with growth in almost every sector" [Econintersect]. "ADP employment has not been a good predictor of BLS non-farm private job growth."
Gallup U.S. Job Creation Index, March 2017: "46 percent of employees said their company was hiring, up from 44 percent in February. Meanwhile, the percentage who said their company was letting workers go held steady at 9 percent" [Econoday].
Purchasing Managers' Services Index, March 2017: "New orders are at their slowest growth rate in a full year and service providers were keeping busy working down backlogs which are at a 9-month low. Employment growth is at a 5-month low. Despite the slowing in activity, wages and input costs are on the rise as are selling prices though only modestly" Econoday]. "This report points to a quarter-end fizzle for the bulk of the economy." And: "Markit purchasing managers index survey shows trumped up expectations continue to fade" [Mosler Economics].
Institute For Supply Management Non-Manufacturing Index, March 2017: "Employment growth slowed abruptly in the month" [Econoday]. "The big gain for export orders is a reminder that foreign demand for U.S. services is very strong in what is a major contrast with soft demand for U.S. goods. But the overall slowing centered in employment makes this report an unwelcome signal of weakness going into Friday's jobs data." And: "This suggests slower expansion in March than in February" [Calculated Risk]. And: "Both [PMI and ISM services indexes] are down – but both are in expansion. Just one more piece of data showing a slowing of the consumer segment of the economy" [Econintersect]. And: "Given that both the ISM and PMI reports slowed, there is likely to be some speculation that the services sector overall is slowing, although the data still suggests solid growth and more evidence of a significant deterioration will be needed to cause a major shift in sentiment" [Economic Calendar].
International Trade, February 2017: "In favorable news for first-quarter GDP, the nation's trade gap hit Econoday's low estimate in February at $43.6 billion and reflects a 1.8 percent drop in imports but only a 0.2 percent gain for exports" [Econoday]. "For GDP these data are very positive and help offset not only January's large trade deficit but also what's evolving as a weak quarter for domestic consumer spending. For cross-border trade, this report is not upbeat, showing less demand for goods and services both here and abroad." And but: "The trade deficit was a bit less than expected, all due to lower imports. The question is whether this means there were more domestic purchases, whether this is an indicator of lower aggregate demand" [Mosler Economics].
Gallup US Economic Condidence Index, March 2017: "March economic confidence index (ECI) averaged plus 9 for the third month of 2017. Weekly readings of the index, however, show that confidence was strongest in early March after massive gains in the Dow in February. More recent index readings in March have been slightly positive, but are much lower than the high scores from early March" [Econoday]. "As Gallup has previously noted, the 2016 election dramatically affected economic confidence, with Republicans becoming largely positive in their views of the economy and Democrats becoming negative."
Factory Orders, February 2017: "Factory orders may not be showing the same kind of strength that the ISM and Philly Fed are pointing to but they are solid, hitting Econoday's February consensus at a 1.0 percent gain" [Econoday]. "But there are cracks that perhaps betray the strength and one is a second weak month for core capital goods (nondefense ex-aircraft) where orders fell 0.1 percent after managing only a 0.2 percent gain in January. Yet given strength of prior orders, shipments of core capital goods — which are an input into first-quarter GDP — rose a very solid 1.0 percent to help offset January's disappointing 0.4 percent decline…. morning's trade report poses further questions especially for capital goods exports which have been stubbornly flat. Still, on a total basis, factory orders are showing the directional lift that advance anecdotal reports have been signaling with rare strength."
Motor Vehicle Sales, March 2017: "Big drop, and in line with collapsing bank loan reports" [Mosler Economics].
MBA Mortgage Applications, week of March 31, 2017: "Purchase applications for home mortgages rose a seasonally adjusted 1 percent in the March 31 week, but refinancing activity continued to decline" [Econoday].
Commericial Real Estate: "Despite dire reports of store closures in major brands across the country, the overall retail real estate statistics recorded very little change in the quarter as the neighborhood and community shopping center vacancy rate held steady at 9.9%, unchanged from year-end 2016 as well as from the first quarter of 2016. The average national asking rent increased 0.3% in the first quarter while effective rents, which net out landlord concessions, increased 0.4%"[Calculated Risk]. Hmm.
Gentlemen Prefer Bonds: "As delinquencies on loans rise, some ratings firms are walking back their grades on bonds tied to properties like shopping malls and office towers, just a few years after assigning them" [Bloomberg]. "The reversals underscore how forces that brought trouble to financial markets before are still percolating through Wall Street today. No one sees the dangers as being nearly as grave as they were during the home mortgage bust. But the same ratings business model used during that period still prevails — meaning that the banks that put together debt securities still pay for the credit grades, and they can shop around for the firm that will give them the highest ratings under the loosest criteria." Well, nobody went to jail the last time, so why would the business model change? Reputational risk? [snort]
Retail: "Payless has filed for bankruptcy and will immediately close 400 stores" [Business Insider]. "Additional store closures are likely. The company said it planned to 'work to aggressively manage the remaining' stores through additional closures — beyond the initial 400 — or modified lease terms. Payless has 4,400 stores in 30 countries and employs nearly 22,000 people."
Shipping: "What do the markings on a container mean?" [Shipping & Freight Resource]. This is really neat (for shipping container geeks anyhow). "Weight" is "heavily contested"!
Shipping: "The intense battle between US west and east coast ports for Asian imports is being won on the Atlantic seaboard, despite ocean freight rates, according to Drewry" [The Loadstar]. "The shift in momentum from the second half of 2016, following the opening of the enlarged Panama Canal, has continued apace, said the consultant. Drewry said that according to Piers data, which only records US traffic, January and February volumes from Asia to the US east coast were up by 4%, year-on-year, to 760,000 teu, with Gulf port throughput leaping by 32% to 82,000 teu during the period. This compares with a 9% throughput drop in the two months, to 1.5m teu, for US west coast ports."
Shipping: "Container lines this week succeeded in imposing rate increases across most routes covered by the composite Shanghai Containerised Freight Index (SCFI), which recorded a jump of 9.4%" [The Loadstar]. So, consolidation and sending the excess capacity stupid money built to the shipbreakers did the trick?
Political Risk: "Dimon Warns 'Something Is Wrong' With the U.S." [Bloomberg]. Like Dimon still walking the streets, but never mind that. From Dimon's shareholders letter: "It is understandable why so many are angry at the leaders of America's institutions, including businesses, schools and governments. This can understandably lead to disenchantment with trade, globalization and even our free enterprise system, which for so many people seems not to have worked.'" Seems? Average life expectancy declines — average, mind you, and it seems there's a problem?
Rapture Index: Unchanged [Rapture Ready]: Record High, October 10, 2016: 189. Current: 183.
Today's Fear & Greed Index: 48 Neutral (previous close: 48, Neutral) [CNN]. One week ago: 34 (Fear). (0 is Extreme Fear; 100 is Extreme Greed). Last updated Apr 5 at 1:43pm.
Health Care
It's really useless trying to follow health care politics in the mainstream press because they're hopelessly contaminated by either fearmongering or triumphalism (and propaganda in either case). I like Health Affairs a lot, and if they aren't full-throated single payer advocates, at least they don't make sh*t up, and they keep a level tone. Plus, they're genuine subject matter experts, as opposed to Voxoids.
"CBO Provides A Roadmap For Improving AHCA" [Health Affairs].
"ACA Round-Up: Negotiations To Revive AHCA, Alexander-Corker Bill, And Risk Adjustment" [Health Affairs].
Class Warfare
"True cost of Philippines gold-mining: Poverty-stricken workers risk health for precious metal" (photo essay) [International Business Times]. "Artisanal mining."
News of the Wired
"Living a Lie: We Deceive Ourselves to Better Deceive Others" [Scientific American].
"Grammarians rejoice in the $10 million comma" [The Conversation]. Damn straight!
* * *
Readers, feel free to contact me with (a) links, and even better (b) sources I should curate regularly, and (c) to find out how to send me images of plants. Vegetables are fine! Fungi are deemed to be honorary plants! See the previous Water Cooler (with plant) here. And here's today's plant (PM):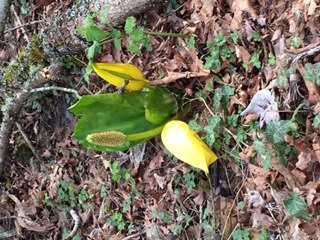 Love the skunk cabbage, and also love the last of the snow (look at that horrid rotting crust of it, top right. One of mud season's most dislikable features).
Readers, Water Cooler is a standalone entity, not supported by the very successful Naked Capitalism fundraiser just past. Now, I understand you may feel tapped out, but when and if you are able, please use the dropdown to choose your contribution, and then click the hat! Your tip will be welcome today, and indeed any day. Water Cooler will not exist without your continued help.