The Wall Street Journal gave us yet another a taste of the World According to Corporate America.
Companies are unhappy that employees are dipping into their 401(k)s, although they've managed to devise one of those agency-free words, "leakage," to the process.
Why are they upset? Because lower savings means their employees will want (as in need) to stay wage slaves longer. Can't have that, dammit. Need to clear those cobwebs out so as to make room for young, frisky workers.
American companies are trying to stop employees from raiding their 401(k)s, in an attempt to ensure that older workers can afford to retire and make room for younger, less-expensive hires….

Tapping or pocketing retirement funds early, known in the industry as leakage, threatens to reduce the wealth in U.S. retirement accounts by about 25% when the lost annual savings are compounded over 30 years, according to an analysis by economists at Boston College's Center for Retirement Research.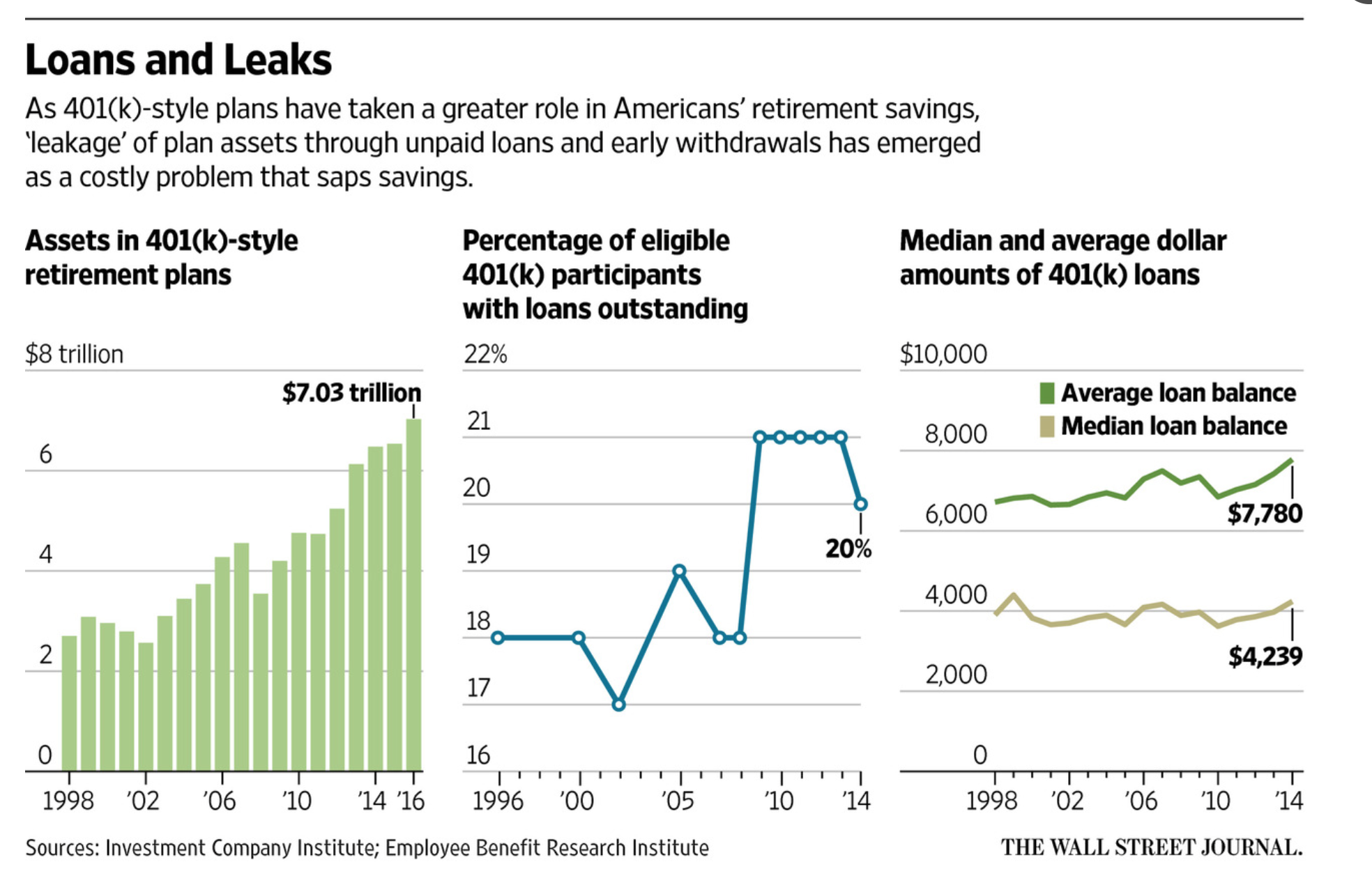 Now let's get real. First, 401(k) were never designed to be a primary retirement vehicle. They were a supplemental retirement savings account for people who had defined benefit plans, as the Journal 'fessed up in January:
Herbert Whitehouse was one of the first in the U.S. to suggest workers use a 401(k). His hope in 1981 was that the retirement-savings plan would supplement a company pension that guaranteed payouts for life.
And the promoters admitted 401(k)s were not well-suited to serving as primary retirement vehicles:
Many early backers of the 401(k) now say they have regrets about how their creation turned out despite its emergence as the dominant way most Americans save. Some say it wasn't designed to be a primary retirement tool and acknowledge they used forecasts that were too optimistic to sell the plan in its early days.

Others say the proliferation of 401(k) plans has exposed workers to big drops in the stock market and high fees from Wall Street money managers while making it easier for companies to shed guaranteed retiree payouts.

"The great lie is that the 401(k) was capable of replacing the old system of pensions," says former American Society of Pension Actuaries head Gerald Facciani, who helped turn back a 1986 Reagan administration push to kill the 401(k). "It was oversold."
But even with their shortcomings, why are workers dipping into the closest thing they have to a pension? While moralists with stable, well-ordered lives like to finger-wag at spendthrifts, and that is no doubt the cause in some cases. The Journal's sources paint the picture that some of these withdrawals are due to not understanding the true costs, and some employers like Home Depot have implemented "Don't touch that dial" programs that have had some success in reducing borrowing against 401(k)s, which in its case has helped reduce the amount of borrowings by 17%. While that is progress of sorts, the modest level of reduction is an indirect confirmation that most of these withdrawals are driven by real needs, particularly in light of the fact that most American have almost no emergency savings (While 401(k)s do allow for hardship withdrawals, such as for preventing foreclosures and medical expenses, the Journal notes, " ….the employee must demonstrate an 'immediate and heavy financial need,' according to the Internal Revenue Service.").
A more employee-friendly approach, adopted by Redner's Markets, is to let workers make low-cost borrowings instead. But how about plain old better wages, or alternatively, a more concerted effort to crack down on the monopolies and oligopolies that are successfully squeezing American laborers?
The article also laments that 30% to 40% cash out their 401(k)s when they change jobs, which means they pay taxes and fees and presumably spend the dough. The wee problem with this argument, while true, is again it may reflect cold financial realities: in some cases, the need to pay moving and costs related to getting housing in a new location (transaction costs on homes eat considerably into equity). And some of those people may roll over their money into an IRA; they have 60 days to do so.
Wall Street Journal reader Marc Jones got down to the real issues:
Oh heck, lets make this easy. At age eighty, it is the oven for you. I mean, everybody knows once you reach fifty, you are just becoming an bigger burden and you represent nothing more than an impediment to those younger than you.

The whole 401k structure was a scam to strip older workers of deferred compensation. It allowed the corporate sector to cut pay without anyone noticing. It brought a huge new source of revenue into financial institutions and all those political contributions were as sweet as candy to the parliamentary strumpets.

But, those oldsters are still a problem. They hang on and they have the audacity to vote! Ovens! That's the answer! Ovens!
The methods may not be quite so obvious as mass roastings but as Lambert has been saying for a while, one of the tenets of neoliberalism is "Die sooner!" So in a perverse way, it's encouraging to see even Journal readers starting to figure that out.