Readers, there are way too many links, but I had a lot teed up before Trump's Syria strikes, and I couldn't bear to triage too much. And there's plenty on Syria! –lambert.
Extraterrestrial Origin Of Fast Radio Burst Phenomenon Confirmed Universe Today
Squid and octopus can edit and direct their own brain genes New Scientist
Cannibalism not so nutritious for early humans, study finds Japan Times
Private equity is breaking records left and right as funds rake in money CNBC. Fund-raising, not returns.
Fall, recover, repeat: Munis rebound from sharp drops, again AP
Former RBA governor Bernie Fraser says penalty rate cut will produce inequality, not jobs Sydney Morning Herald (DM).
It's Lit: A Guide to What Teens Think Is Cool Google (GP).
Brexit
Britain: An Economy on the Brink NYRB (Re Silc).

What is 'global Britain'? A financier and arms merchant to brutal dictators Guardian
Syraqistan
U.S. strikes Syrian military airfield in first direct assault on Bashar al-Assad's government WaPo. "Tuesday's apparent nerve gas attack in northern Idlib, with its widely circulated images of lifeless children, appears to have galvanized Trump and some of his top advisers to harden their position against the Syrian leader." "Widely circulated images."

Full text of President Trump's statement after Syria missile strikes NY Daily News

Trump should have talked to this guy:

Be prepared, there is a small chance that our horrendous leadership could unknowingly lead us into World War III.

— Donald J. Trump (@realDonaldTrump) August 31, 2013

Russia condemns U.S. missile strike on Syria, suspends key air agreement WaPo

Tillerson to visit Moscow as US, Russia face fresh tensions AP

China warns of deterioration in Syria with Xi in US Agence France Presse. Foreign Ministry spokesperson: "We oppose use of chemical weapons by any country, organisation or individual in any circumstance, for any purpose."

Israel welcomes U.S. airstrikes in Syria, will keep to sidelines Reuters. "Let's you and him fight."

Turkey's Erdogan Would Support U.S. Military Action in Syria: Hurriyet Reuters

* * *

Trump's Most Diehard Media Defenders Turn On Him After Strikes On Syria BuzzFeed

This Isn't the Foreign Policy Trump Campaigned On The American Conservative

* * *

Donald Trump Is An International Law Breaker by Publius Tacitus Sic Semper Tyrannis (Re Silc). "In the coming days the American people will learn that the Intelligence Community knew that Syria did not drop a military chemical weapon on innocent civilians in Idlib. Here is what happened."

Syria: New U.S. Air Support On Request Scheme For Al-Qaeda Moon of Alabama

'The dead were wherever you looked': inside Syrian town after gas attack Guardian. No questions about hazmat suits, oddly, or not.

Nearly 300 died in Mosul airstrike, making it one of the deadliest attacks on civilians in recent memory Los Angeles Times. No children, presumably.

Whose sarin? Seymour Hersh, LRB (from 2013, but still useful today).

* * *

Trump's Syria strikes divide Congress — but not along partisan lines Politico. Pelosi: "The crisis in Syria will not be resolved by one night of airstrikes." Schumer: "Making sure Assad knows that when he commits such despicable atrocities he will pay a price is the right thing to do."

Can the president attack another country without Congress? AP. By custom and practice, that depends on which party holds the Presidency, and which partisan is asking the question, right? I think the real issue is what new powers does the Executive gain should war be declared, and cui bono?

* * *

Iran to Allow Russia to Use Military Bases 'on Case-by-case Basis' VOA (March 28, 2017, pre-strike).

Government of Kuwait – Facilities and Infrastructure Construction Support Service Defense Security Cooperation Agency (April 6, 2017, pre-strike). $319 million for…

Syria's 'moderate rebels' to form a new alliance Al Jazeera (April 6, 2017, pre-strike).

Hillary Clinton: US should 'take out' Assad's air fields CNN (April 7, 2017, pre-strike).

Pentagon: Russia alerted in advance of Syria strike The Week. Word of the day: "Deconfliction."
Imperial Collapse Watch
Police State Watch
Why Cops Shoot Tampa Bay Times

When Warriors Put on the Badge The Marshall Project

Southern Missouri Sheriff Framed 77-Year-Old for Kidnapping, AG Says Riverfront Times
New Cold War
Devin Nunes recuses himself as House Intel chair during Russia probe PBS

Hillary Clinton says Vladimir Putin must be held to account for election 'meddling' in first interview since election The Independent. "Held to account."
Trump Transition
Our Famously Free Press
These high school journalists investigated a new principal's credentials. Days later, she resigned. WaPo. Heaven forfend the Post should throw these journalists a link. Here it is. "Democracy dies in darkness," after all. (In a later story, The Times does better.)
Health Care
Thousands of brokers exit HealthCare.gov as plan commissions go unpaid Modern Healthcare

Risk Adjustment, Reinsurance Improved Financial Outcomes For Individual Market Insurers With The Highest Claims Health Affairs

Why workers don't always take family or medical leave when they need to Pew Research. You'll never guess!
Class Warfare
Every story I have read about Trump supporters in the past week WaPo. A pastiche fictional interview, like Stephen King's, but worse. "Tempe Work Only, Ariz" is a real knee-slapper, don't you agree?

Bigger Corporations Are Making You Poorer Matt Stoller, Vice

Why You Probably Work for a Giant Company, in 20 Charts WSJ

Jamie Dimon Forgot to Mention Mergers Are Part of the Problem Bloomberg

Americans Are Pretty Skeptical That Hard Work Will Pay Off The Atlantic (Re Silc).

This company's drugs helped fuel Florida's opioid crisis. But the government struggled to hold it accountable. WaPo (Re Silc). The medicalization (and carceralization, if that's a word) of "deaths from despair" continues apace (and now with clickbait: "" in the headline).

Prescribing Crisis Jacobin. And Jacobin's headline adopts the same frame.

Penn State opposes graduate students' effort to unionize Centre Daily Times

Activists fight North Carolina law barring cities from raising minimum wage Guardian
Your way of life would not be remotely possible without Wall Street LA Times (Re Silc).
Does Everyone Always Act in Their Self-Interest? Ian Welsh. The many subtexts of "voting against their interests"….
Antidote du jour, because at a time like this, cats: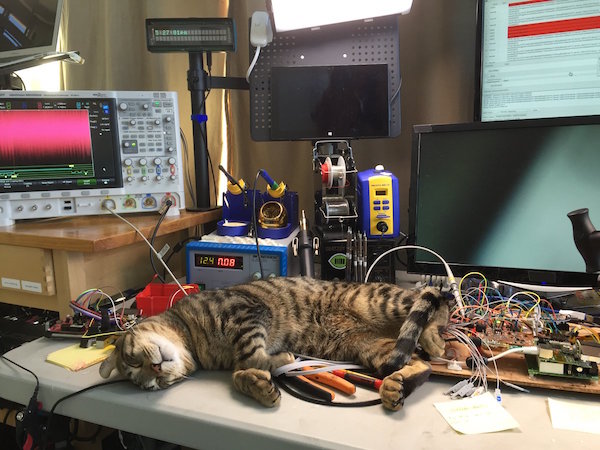 Cozy!
See yesterday's Links and Antidote du Jour here.