By Lambert Strether of Corrente
Trade
"[T]he most significant growth in cross-border flows now comes in the form of data. Like other flows, data flows can demonstrate imbalances among exports and imports. Some of these flows represent 'raw' data while others represent high-value-added data products. Does any of this make a difference in national economic development trajectories? This paper argues that the answer is yes" [Cambridge University Press].
Politics
2016 Post Mortem
"Clinton's Defeat: Outside Factors Hurt, but Blame Falls on the Candidate" [Charles Cook, The Cook Report]. Two quotes, since Cook is about as close to a dean of political reporting as we have these days, David Broder [genuflects] having passed away:

But those [DNC and Podesta email] leaks and Comey's pro­nounce­ments would not have made a dif­fer­ence had Clin­ton run a bet­ter cam­paign. In­stead of try­ing to win over mal­le­able voters, her team tried to re-cre­ate the Obama co­ali­tion of minor­it­ies, mil­len­ni­als, lib­er­als, and urb­an voters—nev­er mind that the can­did­ate was a 69-year-old white wo­man who had been in the pub­lic eye for 25 years, not a young, cha­ris­mat­ic, fresh face seek­ing to be­come the first Afric­an-Amer­ic­an pres­id­ent.

And:

But you have to give cred­it to Trump and his cam­paign. He tapped in­to fear, an­ger, and re­sent­ments that polit­ic­al pros had either ig­nored or dis­missed. He settled down and be­came as fo­cused as he is cap­able of be­ing in the fi­nal two weeks, when it really mattered. And his cam­paign blew through cracks in the vaunted blue wall of states that Demo­crats thought was im­pen­et­rable.

The 2016 pres­id­en­tial elec­tion had a lot of mov­ing parts, a lot of vari­ables that alone might not have af­fected the out­come but col­lect­ively cer­tainly did. No one or two things ex­plain a race that be­low the radar was closer than na­tion­al polls in­dic­ated—and that on Elec­tion Day el­ev­ated to the pres­id­ency a polit­ic­al novice whose strength among or­din­ary voters was masked by the loath­ing of the elites.

Worth a read, if only for the refreshing lack of hysteria.

I know this is only one example, but:

before anyone spews any more shit about the korean people being ""mindlessly devoted"" to their ""glorious leader"" pic.twitter.com/sgXJIO8qp0

— Great Tweets! Daily. (@classicwebjokes) April 27, 2017
2018
"Gov. Paul LePage will not enter the 2018 race for the U.S. Senate seat now held by Angus King, said LePage's former gubernatorial campaign strategist and current political adviser in a prepared statement Wednesday night" [Portland Press-Herald].
2020
"The new ["Onward Together "] super PAC, if that's what it is, would put the Clintons in the role of kingmakers, using money to help candidates they favor. And it will look suspiciously like a framework in the making for Hillary's still-not-ruled-out 2020 campaign" [Los Angeles Times]. On the other hand, if only Clinton could lure the entire political class into the Great Sept of Baelor…
Trump Transition
"Transcript: Interview with Donald Trump" [The Economist].

"NBC News' Lester Holt to Interview President Trump" [NBC]. On the news tonight.
Realignment and Legitimacy
"If Bernie says working class and you hear white working class, it is on you not Bernie" [Alice Marshall, Medium]. Yep.

"'Berniecrats' roil state Democratic Party leadership fight" [Capitol Weekly]. "At stake is the party chairmanship held by the departing John Burton, a liberal icon, a longtime lawmaker and former Senate leader who became chair in 2009…. "We're hoping to get Kimberly Ellis elected, that's probably the primary goal, but the other is to get Bernie people involved in local government," said Alexis Edelstein, founder and CEO of the 300-member Berniecrats of California. They surprised insiders by dominating the obscure process — electing a third of the delegates for the state convention, scheduled for May 19-21 in Sacramento. They believe they have turned the once-sleepy race for a new party chair into a serious contest with Bauman, long viewed as the front-runner."

"No One Expected Obama Would Deport More People Than any Other U.S. President" [WNYC].

"Advocate: Trump's Deportations are Possible Because Obama & Congress Failed to Protect Immigrants" [Democracy Now!]
Stats Watch
Producer Price Index (Final Demand), April 2017: "March was an unusually weak month for inflation and April, after yesterday's import & export price report followed by today's producer price report, is shaping up to prove an unusually strong month" [Econoday]. "Because of the size of the monthly swings and questions surrounding Easter, March and April will have to be taken together when assessing inflation data, as it is when assessing retail sales for the two months. Today's report points to another set of upside surprises in tomorrow's consumer price report." And: Mostly the data shows Producer Price data was treading water. In general, Goods inflation surge trend has moderated whilst services inflation is now on the high end of readings seen over the last year. This month's inflation data is worse than expectations" [Econoday].
Atlanta Fed Business Inflation Expectations, May 2017: "Price expectations, both in this report and on the consumer side, have been muted, a factor that may limit the Federal Reserve's efforts to reinflate the economy" [Econoday].
Bloomberg Consumer Comfort Index, week of May 7, 2017: "Consumer confidence readings are beginning to edge back from expansion highs including the consumer comfort index which fell a sizable 1.2 points" [Econoday].
MBA Mortgage Applications, week of May 5, 2016 (yesterday): "[R]ose a seasonally adjusted 2 percent … to a level 6 percent higher than a year ago and the highest reading since October 2015. Refinancing applications also revived and were up 3 percent" [Econoday]. "[T]he housing market is having a remarkably good Spring selling, as underscored by government housing data showing a very fast start for housing in March, when new home and existing home sales both reached expansion highs."
Import and Export Prices, April 2017 (yesterday): "Price data were unusually weak in March and now the first indication in April is unusually strong" [Econoday]. "The shift from March weakness to April strength points perhaps to the effects of seasonal issues, specifically March's heavy weather (which hurt March) and Easter's calendar shift into April (which also hurt March to the benefit of April). Today's results suggest that March's 16-year low for the core PCE price index is likely to be quickly reversed and that Thursday's producer prices and Friday's consumer prices may both come in higher than expected."
Jobless Claims, week of May 6, 2017: Lower than expected [Econoday]. "Confirming the positive signal from initial claims are continuing claims," a 29-year low. Jobless claims were low under feudalism, too.
Shipping: "The Where's my container app will allow shippers and their freight forwarders to find the status of any container in the operator's ports simply by inputting the container number" (DP World announced) [The Loadstar]. So much for the premise of Spook Country (2007). Life comes at you fast.
Shipping: "Maersk Executives Call a Bottom in the Shipping Container Market" [Wall Street Journal]. Cartels work!
Shipping; "The U.S. Postal Service (USPS) today posted a $474 million year-over-year decline in fiscal second-quarter operating revenue, due in large part to the April 2016 expiration of a 4.3-percent emergency surcharge that went into effect in January 2014, and a $69 million increase in so-called controllable expenses stemming from higher labor costs" [DC Velocity].
Political Risk: "Firing Comey and Trump Agenda" [Across the Curve]. I can't find this on Google, so maybe AtC got it off the Bloomberg terminal. It's a good round-up, and well worth a read. My favorite comment is that the situation on Capitol Hill is "almost unimaginably fluid." The thing is, I can't frame that the deliberate creation of "fluidity" in Machivellian terms, and it's a safe bet that most of the players on the Hill are Machiavellian. Creating volatility is strategic if… If… You're properly hedged? Readers?
Political Risk: "Supply chain managers are being told that three of the most pressing risks to business performance in the 21st century are cyber attack, natural hazards and supply chain failure" [Logistics Managment]. "For companies concerned by the increasing incidence of cyber attack, oil-rich Saudi Arabia has emerged as a country with above-average inherent cyber risk. Its high internet penetration, combined with a limited cyber security industry, make it a more vulnerable target…. [F]ood-prone Bangladesh, a major manufacturing hub for apparel and textiles, ranks toward the bottom of the index…. For companies with global supply chains, Germany, a major exporter and importer, ranks near the top in resilience, driven in part by its strong ability to demonstrate where parts, components or products are in transit. Russia ranks below average in this respect."
War on Cash: "Mastercard, Visa and UnionPay International have introduced a standardised QR code platform for payments in Thailand that will let consumers make a transaction with their mobile device at any supporting location. The service has been designed to support the Bank of Thailand's cashless agenda which aims to "drive innovation, interoperability and security in payments" across the country" [NFC World].
Political Risk: "Although some [Silk Road] projects such as a new China-Europe freight rail line have gotten plenty of attention, analysts say investments by China's development banks have been modest and out of step with the soaring official rhetoric. Expected beneficiaries in the belt-and-road countries are still waiting for the gusher of Chinese infrastructure funds to open up and draw their backwater economies into global supply chains. With China's economy stretched, however, companies there are largely sticking to safer markets. Some analysts say that's just as well since bigger investment in belt-and-road projects could prove disastrous in other countries if the money goes to dud projects" [Wall Street Journal]. Then again–
Political Risk: "Lessons for China in failed US Silk Road initiative" [South China Morning Post]. "The United States' New Silk Road initiative [under SoS Clinton] was 'basically a collection of interesting, somewhat promising but cash-poor ideas about regional connectivity', said George Gavrilis, author of the 2008 book Dynamics of Interstate Boundaries, a study on border control in Central Asia since the 19th century. Beijing's plan had 'a lot more money behind it in the form of loans, grants, soft loans, low-conditionality and no-conditionality loans.'" And Trump has yet to appoint an Ambassador to Afghanistan, which "sits at the center" of the Silk Road.
The Bezzle: "Wal-Mart Stores Inc.'s international expansion efforts are about to get much more costly. U.S. authorities are asking the company to pay $300 million to settle a five-year investigation into allegations of foreign bribery, the WSJ's Aruna Viswanatha and Sarah Nassauer report. That possible settlement comes on top of some $840 million the retailer has already spent on an internal investigation and to upgrade its own compliance operations. The penalty would allow the company to clear away a cloud that has been hanging over its business and its global expansion in several countries, where Wal-Mart has been aggressively adding big storefront and logistics operations" [Wall Street Journal]. A billion dollars is real money, even for Walmart, but how come nobody ever goes to jail?
Five Horsemen (yesterday): Rest day for the Fab Five" [Hat tip: Jim Haygood].
Today's Fear & Greed Index: 62 Neutral (previous close: 61, Neutral) [CNN]. One week ago: 45 (Neutral). (0 is Extreme Fear; 100 is Extreme Greed. Last updated May 11 at 12:28pm. I take a day off, and Mr. Market flips 10 points to greed. I dunno… .
Health Care
"How Economic Incentives have Created our Dysfunctional US Medical Market" [Elizabeth Rosenthal, Medium]. 10 rules. Here is #8: "There is no such thing as a fixed price for a procedure or test. And the uninsured pay the highest prices of all." Which plenty of NC readers would agree with. How are you supposed to be a smart shopper when you can't know the right price for the goods? Or if there even is a right price?
Our Famously Free Press
"Publishers are realizing that upward of 75% of digital ad spend goes to two companies that get almost all of their content for free from those same publishers. Premium content trade association Digital Content Next (DCN) did its own calculation recently to show that without Google and Facebook in those otherwise rosy quarterly reports on digital ad growth, the real online ad economy for other publishers may be growing at a 1% rate. DCN CEO Jason Kint told me recently, 'It's a completely unhealthy marketplace, considering the industry continues to pump out press releases bragging it's growing at 20% year-over-year. It's simply not true'" [EContent Magazine].
Imperial Collapse Watch
"NYU Accidentally Exposed Military Code-breaking Computer Project to Entire Internet" [The Intercept]. "The supercomputer described in the trove, "WindsorGreen," was a system designed to excel at the sort of complex mathematics that underlies encryption, the technology that keeps data private, and almost certainly intended for use by the Defense Department's signals intelligence wing, the National Security Agency."
Class Warfare
"That means 32 percent more robots were bought this year than at the same time in 2016 — it's the strongest first quarter on record for robots ordered by North American companies, according to the Robotic Industries Association" [recode].
News of the Wired
"[In American culture] we have very high levels of self-esteem and narcissism. I think because of the big self-esteem movement, people just got it in their heads that the key to psychological health was self-esteem. Jean Twenge and Keith Campbell showed that because of this emphasis on self-esteem, we actually got a generation of narcissists. I think it's generally out there in the culture, but maybe especially among parents and educators" [The Atlantic]. By contrast, self-compassion "means treating yourself with the same kind of kindness, care, compassion, as you would treat those you care about—your good friends, your loved ones.
"What Emotion Goes Viral the Fastest?" [Smithsonian]. "[R]esearchers at Beihang University in China… gauged various online emotions by tracking emoticons embedded in millions of messages posted on Sina Weibo, a popular Twitter-like microblogging platform. Their conclusion: Joy moves faster than sadness or disgust, but nothing is speedier than rage…. The one emotion that outpaced anger in Berger's study was awe, the feelings of wonder and excitement that come from encountering great beauty or knowledge, such as a news report of an important discovery in the fight against cancer."
* * *
Readers, feel free to contact me with (a) links, and even better (b) sources I should curate regularly, and (c) to find out how to send me images of plants. Vegetables are fine! Fungi are deemed to be honorary plants! See the previous Water Cooler (with plant) here.
And here's today's plant (via):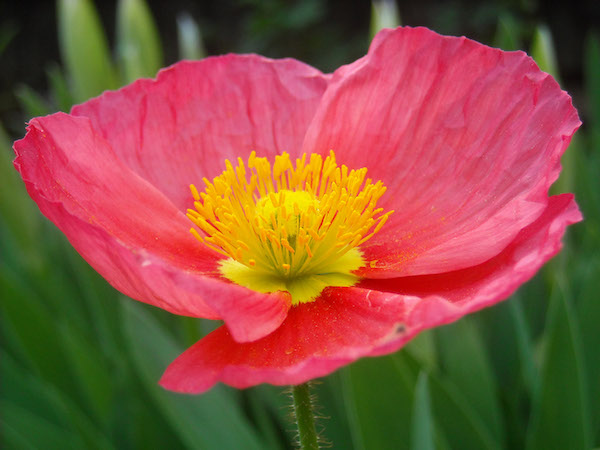 One of my summer projects will be learning how to photograph poppies properly, when my wildflowers come in.
* * *
Readers, Water Cooler is a standalone entity, not supported by the Naked Capitalism fundraisers. Please use the dropdown to choose your contribution, and then click the hat! Your tip will be welcome today, and indeed any day. Water Cooler will not exist without your continued help.