By Lambert Strether of Corrente
Readers, I'll have more on politics in a sec. –lambert
Trade
"What's the Likelihood that TPP Actually Carries on Without US?" [Sourcing Journal]. "Japan seems to want the Trans Pacific Partnership to happen—U.S. or not—but with certain stipulations outlined in the original deal, pushing it forward could prove just as tricky as trying to get it signed. The first hurdle to get over will be the provision that stipulates at least six of the agreement's original signatories, which combined account for at least 85 percent of the collective GDP, have to agree to implement the TPP for the trade agreement to come into force. With the U.S. accounting for upward of 60 percent of that GDP, reaching the 85 percent threshold would be impossible. The question now is whether that threshold might be amended or if that 85 percent will be based on the total GDP of the remaining 11 member countries."
Politics
Policy
"Does the FCC Actually Care About Net Neutrality?" [PC Magazine]. "As for what we as citizens and consumers can do to preserve net neutrality, Clyburn pointed right back to this Thursday's official call for open comments. For a quick path around the red tape and directly to the FCC public comment section on the forthcoming vote, you can use this link, courtesy of Last Week Tonight with John Oliver. Once public comment officially opens on Thursday, the link will work. To those looking for resources to register their opinion, [FCC Commissioner Mignon Clyburn] said that's where you start."
2020
"Joe Biden most likely to beat Donald Trump in 2020 if he runs, poll finds" [Indepedent]. "[Biden's] brand — an authentic guy with working class roots — has led many to speculate that he would be a good choice to take on Mr Trump in 2020." [Oh gawd! [runs from room seeking bucket as stomach heaves]]. The headline is deceptive: Biden beats Trump by 14, Sanders by 13, and Warren, Franken, and Booker also beat Trump. Franken!

I went to the Onward Owned Together contributions page, and found this at the bottom:

I have to be a member to give them money? What does membership entail? Nowhere explained. Then there's the motto:

As Jezebel points out, this is a proverb of unknown origin. Now, generally it's cited as an African proverb, so kudos to the Clinton campaign for leaving that out, but the vagueness and pseudo-profundity remain.

Then there is the matter of what "Together" really means. Together with whom? Politco:

Specifically, Clinton mentioned Swing Left, Emerge America, Color of Change, Indivisible and Run for Something as the five groups Onward Together will initially support. "In some cases, we'll provide direct funding to these organizations. For others, we'll help amplify their work and do what we can to help them continue to grow their audiences and expand their reach," she emailed.

So, apparently "togetherness" doesn't apply to Our Revolution or Brand New Congress. So I'm guessing that Clinton and her party faction will continue their passionate opposition to #MedicareForAll.

"At Center for American Progress, a Tryout for 2020 Ideas" [Roll Call]. "But the surprise star for the liberal audience, maybe because of the current series of foreign policy and intelligence crises plaguing the Trump administration, was former national security adviser Susan Rice." Swell.

"Many top Democrats are furious that Bernie Sanders appears to be running for president again, or at least planning to drag out his decision long enough to freeze the race around him" [Politico]. Too funny. The most popular active politician in America should sit down and shut up, while the Democrat candidate who collected $1.4 billion, stuffed it down the toilet of her campaign, and flushed, isn't whipped from the field with scorpions, but instead is forming a new PAC.
Trump Transition
"Pressed by another reporter as to whether he was concerned about Trump's handling of sensitive information, McConnell paused and said simply, "No'" [Roll Call]. No Drama Mitch…

"[T]he 25th Amendment to the Constitution, which allows for the removal of the president if the vice president and a majority of the cabinet informs the Congress that he is "unable to discharge the powers and duties of his office" and (should the president contest his own removal) a two-thirds vote by Congress confirms the cabinet's judgment" [Ross Douthat, New York Times]. Well, that seems likely.
Realignment and Legitimacy
According to a PPP poll released Tuesday that 10 percent of Trump voters now wish they'd voted for Clinton [New York Magazine]. You can divide Trump's vote, nationally, into his base and his margin of victory. As many have pointed out, Trump's voters skew upper income on the average; there are plenty of Trump supporters out there in the wealthy suburbs Clinton (and Ossoff (and the DNC)) hope to win over. That's Trump's base. However, at the margin, Trump's voters are in the counties that flipped from Obama to Trump (as I show and even CAP agrees). And those voters will happily flip again, if Trump doesn't deliver.

"The Impeachment Trap: Be Careful What You Wish For" [In These Times]. Indeed:

I am most concerned about the scenario where one or more leading Republicans come on board and entice Democrats to lead a successful impeachment. [T]he robot-like Pence—despite his extreme right-wing views—would be packaged as a comforting return to normalcy. The relief at no longer having an egotistical lunatic at the helm could provide Pence with a long and generous public opinion honeymoon. Republicans could claim that Trump was "never one of theirs," and approach the 2020 campaign with the benefit of incumbency and without Trump's liabilities.

Democratic ownership of impeachment would also cement the loyalty of working-class Trump voters to the Republican Party. Republican incumbents in swing districts could spin impeachment as a partisan witch hunt. Trump would become a martyr, and his voters would blame Democrats. This is a terrible outcome for progressives who want to move the Democratic Party back to its economic justice roots.

Most important to progressives, Democratic ownership of impeachment would sacrifice the historic opportunity to integrate the massive anti-Trump resistance into a revitalized progressive movement and Democratic Party. A short-term focus on impeachment would divert the focus of many activists away from less glamorous, but more important, grassroots organizing, coalition building, and policy advocacy, and decrease the likelihood of mass grassroots mobilizations on critical issues such as health care, immigration, Planned Parenthood, electoral reform, climate change, and so many others.

"America's military and intelligence services are therefore [sic] faced with a difficult dilemma. The only way to preserve America's assets will be to routinize the violation of the chain of command by cordoning off the president from information that he properly needs to make informed decisions. Moreover, in order to reassure foreign allies, military and intelligence services will need to show their willingness to violate the chain of command in this fashion. It will need to become an open secret that the president of the United States is, in effect, no longer the president" [The Week]. "The threat this poses to America's democratic and constitutional system should not be minimized." Makes you wonder whether this has already happened, where "already" means "in previous administrations."

"In Defense of the Blob" (podcast) [War on the Rocks]. The sycophancy and self-congratulation is really thick. But we won the Cold War! And we built the Imperium post-war security architecture! Yeah, but what have you done for me lately? Iraq, Afghanistan, Libya….

"Krasner, who has represented clients including Occupy Philly and Black Lives Matter, has won the Democratic primary and will represent the party on the November ballot. And in a city with a 7-to-1 Democratic voter registration advantage, the odds are high that come January, he's going to be the DA" [Billy Penn]. "Krasner's win is politically significant. For one thing, a civil rights attorney winning a local election like the Philadelphia district attorney's race has national implications. It's one of the first tests of the anti-Donald Trump resistance movement in Philadelphia, and it showed nationalizing a race in this way — thanks to George Soros, John Legend, Susan Sarandon, etc. — can work." Soros? Oh, no….
Stats Watch
MBA Mortgage Applications, week of May 12, 2017: "Mortgage applications activity retreated from 8-year highs " [Econoday]
Debt: "NY Fed: "Household Debt Surpasses its Peak Reached During the Recession in 2008" [Calculated Risk]. "While most delinquency flows have improved markedly since the Great Recession and remain low overall, there are divergent trends among debt types. Auto loan and credit card delinquency flows are now trending upwards, and those for student loans remain stubbornly high."
Five Horsemen: "Ward … I'm worried about the Faceborg" [Hat Tip Jim Haygood].
Today's Fear & Greed Index: 52 Neutral (previous close: 66, Greed) [CNN]. One week ago: 61 (Neutral). (0 is Extreme Fear; 100 is Extreme Greed. Last updated May 17 at 1:52pm. Big swing!
Dear Old Blighty
We think we have it bad, I:
This. pic.twitter.com/W5RFaGMZ7J

— Simon Myerson QC (@SCynic1) May 12, 2017
We think we have it bad, II:
Is there a problem? pic.twitter.com/Fj9PEEJ7xL

— Stop The Wars (@leftjew) May 13, 2017
We think we have it bad, III:
"The alacrity with which certain Labour Rightists are working to throw the election, urging people not to vote for the party or to consider a punt on Tim Farron's salvation army, while MPs queue up to resign and burden the party with maximum organisational difficulty in the coming weeks, gives the lie to their moral browbeating of Corbyn supporters. The latter are routinely accused of sacrificing electoral adequacy for fanatical objectives, imagined to be lurking behind the current leadership's iteration of Wilsonite social democracy. However, the putchists' claim that through their sabotage they are only trying to limit the damage of a hard left leadership rings hollow: Labour, under Corbyn's first embattled year, was weak, but not in the dire polling straits it is in now. They are destroying the party because they have lost control of it: a fanatical objective if ever there was one. Yet, hypocrisy aside, these tactics work and demonstrate an almost admirable single-mindedness – a willingness to raise the stakes to the point of mutual destruction, a suicide attack of sorts" [Salvage]. This attitude seems strangely familiar…
Our Famously Free Press
"Doxing the hero who stopped WannaCry was irresponsible and dumb" [The Next Web]. "Enter the British tabloid press, which late last night doxxed the man behind MalwareTech for literally no apparent reason. And I don't use the term 'doxxed' lightly. They pored through his online footprint until they eventually had enough evidence to identify someone who literally didn't want to be identified."
"'People want it to be true': Inside the growing influence of a mysterious anti-Trump website" [Business Insider]. The body is more nuanced than the headline.
"A Conversation With Liz Spayd, the Controversial Public Editor of The New York Times" [The Atlantic]. Spayd: "I'd first like to say that the definition of the job as public editor is to collect and absorb the reader email."
Class Warfare
"Notes from an Emergency" [Maciej Cegłowski, Idle Words]. This is really a must-read; it's an angle on the tech world (and Haygood's FIve Horsemen) that we rarely see. Here's a sample, and save us from squillionaires with bright ideas:
Given this scary state of the world, with ecological collapse just over the horizon, and a population sharpening its pitchforks, an important question is how this globalized, unaccountable tech industry sees its goals. What does it want? What will all the profits be invested in?

What is the plan?

The honest answer is: rocket ships and immortality.

I wish I was kidding.

The best minds in Silicon Valley are preoccupied with a science fiction future they consider it their manifest destiny to build. Jeff Bezos and Elon Musk are racing each other to Mars. Musk gets most of the press, but Bezos now sells $1B in Amazon stock a year to fund Blue Origin. Investors have put over $8 billion into space companies over the past five years, as part of a push to export our problems here on Earth into the rest of the Solar System.

As happy as I am to see Elon Musk and Jeff Bezos fired into space, this does not seem to be worth the collapse of representative government.

Our cohort of tech founders is feeling the chill breath of mortality as they drift into middle age. And so part of what is driving this push into space is a more general preoccupation with 'existential risk'.

Musk is persuaded that we're living in a simulation, and he or a fellow true believer has hired programmers to try to hack it.

Peter Thiel, our most unfortunate German import, has built a survival retreat for himself in New Zealand.

Sam Altman hoards gold in Big Sur.

OpenAI, a religious cult thinly disguised as a research institution, has received $1B in funding to forestall the robot rebellion.

The biggest existential risk, of course, is death, so a lot of money is going to make sure that our big idea men don't expire before the world has been received the full measure of their genius.

Google Ventures founded the very secretive life extension startup Calico, with $1.5B dollars in funding. Google loses $4B a year on its various "moon shots", which include life extension. They employ Ray Kurzweil, who believes we're still on track for immortality by 2045. Larry Ellison has put $370M to anti-aging research, as anybody would want to live in a world with an immortal Larry Ellison. Our plutocrats are eager to make death an opt-out experience.

Now, I'm no fan of death. I don't like the time commitment, or the permanence. A number of people I love are dead and it has strained our relationship.

But at the same time, I'm not convinced that a civilization that is struggling to cure male-pattern baldness is ready to take on the Grim Reaper. If we're going to worry about existential risk, I would rather we start by addressing the two existential risks that are indisputably real—nuclear war and global climate change—and working our way up from there.

But real problems are messy.
World-class invective, but Cegłowski has serious and interesting policy concerns and proposals as well.
* * *
Readers, feel free to contact me with (a) links, and even better (b) sources I should curate regularly, and (c) to find out how to send me images of plants. Vegetables are fine! Fungi are deemed to be honorary plants! See the previous Water Cooler (with plant) here.
And here's today's plant (AM):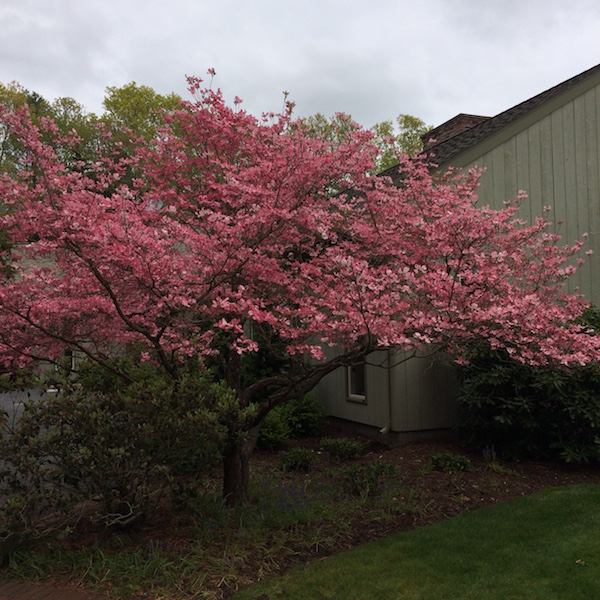 AM writes: "Continuing the pink flowering tree theme, here is a dogwood from my mother in law's house in Rehoboth, MA. Things are a couple weeks behind NYC up there."
* * *
Readers, Water Cooler is a standalone entity, not supported by the Naked Capitalism fundraisers. Please use the dropdown to choose your contribution, and then click the hat! Your tip will be welcome today, and indeed any day. Water Cooler will not exist without your continued help.