By Lambert Strether of Corrente
Readers, this also is a travel day for me. Yesterday, I posted briefly on Robert Frank, the photographer (hoping also that the photo Butte, Montana, would prompt more comments on Montana from readers). Today, a few words on photography.
I'm too lazy to dig out the link, but at some point in the past year or so I posted a link to the effect that taking up projects is one way to keep the mind sharp (and that goes, I think, for people of any age, and not only those of advanced years). For example, since I began taking photographs more or less regularly, and thinking about what I was doing, I noticed that my dreams were much more colorful and realistic. So, the mycelial mat of my brain was putting forth new filaments!
Which brings me to the pictures of plants for Water Cooler. I am very grateful to readers who send them in, and what follows is in no way a criticism. The purpose of Water Cooler is documentary — these are your photos — and I don't want to turn NC into an art gallery, even if I could. We like text!
That said, photographic projects are really wonderful. I notice a number of you take regular walks, and look at the plants on your route; my father did the same when he walked to work, noting the trees in their seasonal cycles. For my project this summer, I'm going to do the same thing; I'm going to find a plant, or a patch, and photograph it every day, and see what I get.
I encourage those inclined to take a similar approach. And here are some ways — I'm rushed, so I have to allude to these concepts, rather than link to them — to make your photographs more of a pleasure to the eye (aside from the pleasure one takes in simply having nurtured a plant, or watched it grow).
1) If you must shoot into the sun, avoid lens flare, unless the effect is consciously sought.
2) The horizon must be level.
3) If you can't answer the question "What is the subject of this photograph?" consider reshooting the same subject tomorrow.
4) The subject doesn't have to be in the middle of the frame; try the Rule of Thirds.
5) Omit needless things by moving closer in or reframing.
Professional photographers and visual types please chime in!
* * *
If you start thinking about taking photographs, you'll be amazed at how fun it is (and how different the many styles and techniques of photography are). This summer, I'd especially like to see images of entire beds or gardens, as opposed to individual plants. That might not be so easy! And gardening is another project, eh?
See you at tonight's extravaganza!
* * *
Readers, feel free to contact me with (a) links, and even better (b) sources I should curate regularly, and (c) to find out how to send me images of plants. Vegetables are fine! Fungi are deemed to be honorary plants! See the previous Water Cooler (with plant) here.
And here's today's plant (AM):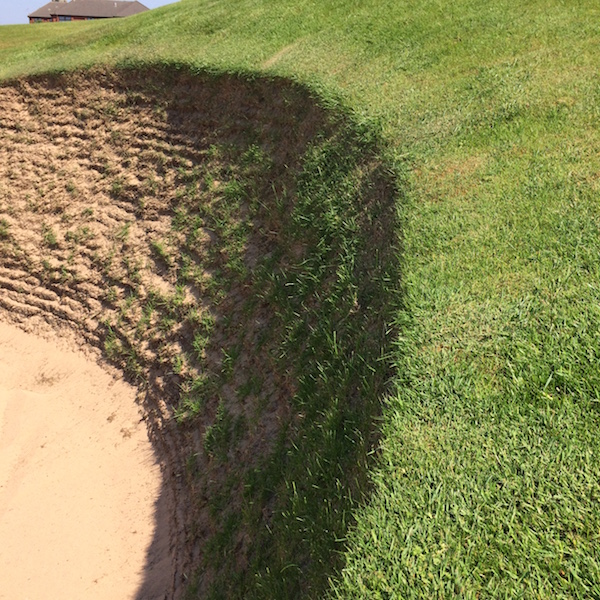 AM writes: "I can report that it has been unseasonably warm and sunny in northern Wales. Grass here is tenacious, clinging to the bunkers at Royal St David's GC in Harlech and at Conwys GC in Conwys."
* * *
Readers, Water Cooler is a standalone entity, not supported by the Naked Capitalism fundraisers. Please use the dropdown to choose your contribution, and then click the hat! Your tip will be welcome today, and indeed any day. Water Cooler will not exist without your continued help.