By Lambert Strether of Corrente.
By now everybody knows that Montana Republican Greg Gianforte won comfortably against Democrat Rob Quist, after body-slamming Guardian reporter Ben Jacobs for asking a question about the CBO report on the AHCA. Shortly thereafter, The Atlantic — You remember The Atlantic? The magazine that turned David Frum into a liberal icon? — ran this piece by Adam Serwer, "The Lesser Part of Valor," which analogizes Gianforte body-slamming Jacobs to South Carolina's Preston Brooks caning Massachusetts' Charles Sumner on the floor of the Senate, before the Civil War. Serwer's piece at the very least reinforces the "Bluexit" frame — that is, secession by Blue States — as proposed by Kevin Baker in the New Republic (see also Salon and Alternet, among others). But there are other reasons the piece is problematic. First, I'll review the caning of Sumner, and then I'll pick apart Serwer's analogy.
From the United States Senate:
On May 22, 1856, the "world's greatest deliberative body" became a combat zone. In one of the most dramatic and deeply ominous moments in the Senate's entire history, a member of the House of Representatives entered the Senate chamber and savagely beat a senator into unconsciousness.

The inspiration for this clash came three days earlier when Senator Charles Sumner, a Massachusetts antislavery Republican, addressed the Senate on the explosive issue of whether Kansas should be admitted to the Union as a slave state or a free state. In his "Crime Against Kansas" speech, Sumner identified two Democratic senators as the principal culprits in this crime—Stephen Douglas of Illinois and Andrew Butler of South Carolina. He characterized Douglas to his face as a "noise-some, squat, and nameless animal . . . not a proper model for an American senator." Andrew Butler, who was not present, received more elaborate treatment. Mocking the South Carolina senator's stance as a man of chivalry, the Massachusetts senator charged him with taking "a mistress[1] . . . who, though ugly to others, is always lovely to him; though polluted in the sight of the world, is chaste in his sight—I mean," added Sumner, "the harlot, Slavery."

Representative Preston Brooks was Butler's South Carolina kinsman. If he had believed Sumner to be a gentleman, he might have challenged him to a duel. Instead, he chose a light cane of the type used to discipline unruly dogs. Shortly after the Senate had adjourned for the day, Brooks entered the old chamber, where he found Sumner busily attaching his postal frank to copies of his "Crime Against Kansas" speech.

Moving quickly, Brooks slammed his metal-topped cane onto the unsuspecting Sumner's head. As Brooks struck again and again, Sumner rose and lurched blindly about the chamber, futilely attempting to protect himself. After a very long minute, it ended.

Bleeding profusely, Sumner was carried away. Brooks walked calmly out of the chamber without being detained by the stunned onlookers. Overnight, both men became heroes in their respective regions.
The Civil War Podcast concludes:
One of the most shocking and provocative events in American history, the caning of Charles Sumner by Preston Brooks destroyed any pretense of civility between North and South. …. While Sumner eventually recovered after a lengthy convalescence, sectional compromise had suffered a mortal blow. Moderate voices were drowned out completely, extremist views became intractable, and both sides were locked on a tragic collision course.
That's the caning of Sumner. Now let's see what Serwer has to say:
Despite Brooks's public bravado, many of his contemporaries understood that what he had done was an act of cowardice…. The antebellum South was a society built on the violent exploitation of defenseless people; it is in no sense strange or odd that slaveholders would see no incompatibility between their concept of freedom and valor, and ambushing and caning a man who said something that hurt their feelings. Brooks was a hopelessly craven bully who bludgeoned a man in ambush and then shrank from a fair duel with an equal once he realized he would lose….

I don't mean to fetishize courage, which can be possessed by good and evil alike. I tell this story to show that in politics, one defends cruelty or cowardice by cloaking it in a delusion of valor….

Gianforte attacked a man professionally obligated not to fight back. He initially accused Jacobs of being the aggressor and justified the assault by describing him as a "liberal reporter." He hid from reporters all through election day, and as Brian Beutler points out, apologized only after he had won the seat….

Physically attacking journalists for asking questions is cowardly. Every single person who defends it is engaging in an act of cowardice. The notion that Gianforte was merely channeling the rugged frontier culture of Western mountain men when he attacked someone who asked him a question is laughable and patronizing….

It is not 1856, but these are the politics of a false valor forged by fear…. It is the political logic of frightened people who need to tell themselves they are brave. This is not valor; it is the celebration of violence against those who cannot respond in kind….

[2]…Brooks is long dead, but the heirs to his peculiar notion of bravery govern America still.
The basic structure of Serwer's analogy is this: Jacobs is to Gianforte as Sumner is to Brooks, except in today's America, not pre-Civil War America; the connection between the two pairings is the cowardice cloaked in valor shown by both Gianforte and Brooks, and the victimhood of Jacobs and Sumner. Let's pick that apart.
Trivially, Jacobs, unlike Sumner, wasn't beaten bloody and unconscious, and didn't undergo a lengthy convalesence, the latter unmentioned by Serwer (I say this not to minimize Gianforte's assault, but to contrast the strength of feeling behind the two events, about which more in a minute.)
Less trivially, Serwer presents Jacobs as "a man professionally obligated not to fight back." Literally, at the mano-a-mano level, Serwer is correct. Systemically, Serwer is not correct, in the sense that the institution backing Jacobs — the Guardian — has all sorts of ways to "fight back," the pen being mightier than the body-slam. Again, I say this not to minimize Gianforte's assault, but to resist the Serwer's implicit metaphor that reporters are like referees — the key word is "professionally"MR SUBLIMINAL Paging Thomas Frank! which implies neutrality — who may not be tackled, as opposed to players on the field, who may be. But, as the Guardian's coverage, or non-coverage, of Sanders[3] proves, as of 2016 the press are most definitely players. Now, it may be that the press are defenseless players who cannot be tackled, but players they are, and not referees[4].
Importantly, Serwer equivocates on the force of his analogy. True, he qualifies: "It is not 1856," but then he immediately goes on to explain why it might as well be: "[T]hese are the politics of a false valor forged by fear." So, if the politics are the same, we're on the same path now as then, right? So maybe it's not 1856, but we're at the Compromise of 1850? The Nullification Crisis of 1832? Where? 18XX, I suppose. In any case, the whole tone of the piece leads me to speculate that the qualification was inserted by a careful editor; if you crossed it out, no one would notice.
More importantly, Serwer gets slavery wrong. Again he writes:
The antebellum South was a society built on the violent exploitation of defenseless people
No. The antebellum South was a society built on treating human beings as chattels who could be bought and sold. (Wage labor is also "[t]he violent exploitation of defenseless people," although the nature of the violence and the nature of the exploitation are different.) Let me at this point quote Lincoln's Second Inaugural Address, helpfully deleting the conceptual aspects of slavery that Serwer omits:
Yet, if God wills that it continue until all the wealth piled by the bondsman's two hundred and fifty years of unrequited toil shall be sunk, and until every drop of blood drawn with the lash shall be paid by another drawn with the sword, as was said three thousand years ago, so still it must be said "the judgments of the Lord are true and righteous altogether."
Most importantly, Serwer, by framing the caning of Sumner and the body-slamming of Jacobs in terms of the personal and ahistorical characteristics ("cowardice") of Brooks and Gianforte — a liberal deformation professionelle — omits any mention of systemic causes, and the moral question at the heart of Sumner's caning. In 1856, the country was divided over slavery — a great moral question, as well as a great economic question[5]. That accounts for the strength of feeling both Brooks (the slaver) and Sumner (the abolitionist) shared. If Serwer is going to reinforce today's Civil War tropes, as he does, and identify with one side of that war, as he does, and with a protagonist on one side of that war, as he does, then it would behoove him to explain why he is on the side he sees as today's version of the Civil War side he supports. Where is the moral issue on the scale of slavery? Is it racism? Not with Obama's record on foreclosure in Black communities, or with the Clinton Dynasty's carceral and welfare policies. Is it sexism? Not with Obama enshrining the Hyde Amendment into the ACA. Is it "give me your tired, your poor"? Not with Obama's deportation record. Is it the rule of law? Not when you contrast Bush's prosecution of criminal CEOs with Obama's failure to do so. Is it the social contract? Not with real wages flat for a generation and income inequality increasing under Obama. Is it "life, liberty, and pursuit of happiness"? Not with thousands of excess "deaths from despair" as shown by Case-Deaton.
And so on. I'm sure readers can think of other examples. My point is that you can't claim Charles Sumner for your own — identify, that is, with Sumner's victimhood — without taking into account what made Summer who he was, as a man, as a politician, and as Brooks's enemy: Abolition. Where is the equivalent cause for liberals today? I'm not seeing it. "Trump is a bad person" (as he is, as Buchanan was) doesn't cut it. Nor does "Jacobs was a professional." If you analogize A to B, and then leave out the most important aspect of A, then your analogy is no analogy at all. That is what Serwer has done; he has written Hamlet without the prince.
NOTES
[1] See, e.g., the Civil War diary of Mary Boykin Chesnut, a "lady of society" in Charleston, South Carolina, as quoted in Charles Joyner's Shared Traditions: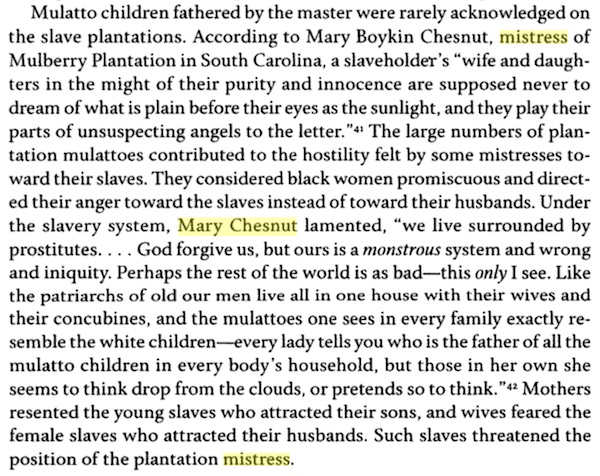 [2] I left out the Trump indictment in Serwer's peroration, not because the claims are untrue, but because this post is not about Trump. In the previous paragraph, I'm omitting all mention that everything Serwer lists has also been enabled by liberals.
[3] Here's an interesting compilation.
[4] Always excepting the small blogs, especially the family ones.
[5] The slave states developed a sophisticated ideology that slavery was a "positive good," contrasting it to the ills of wage labor, and justifying it Biblically. Defeating the slave power entailed enormous capital destruction (that is, the slaves). McPherson's Battle Cry of Freedom estimates that the 4 million slaves freed were "worth" $3.5 billion dollars, more than Northern rail and manufacturing combined.